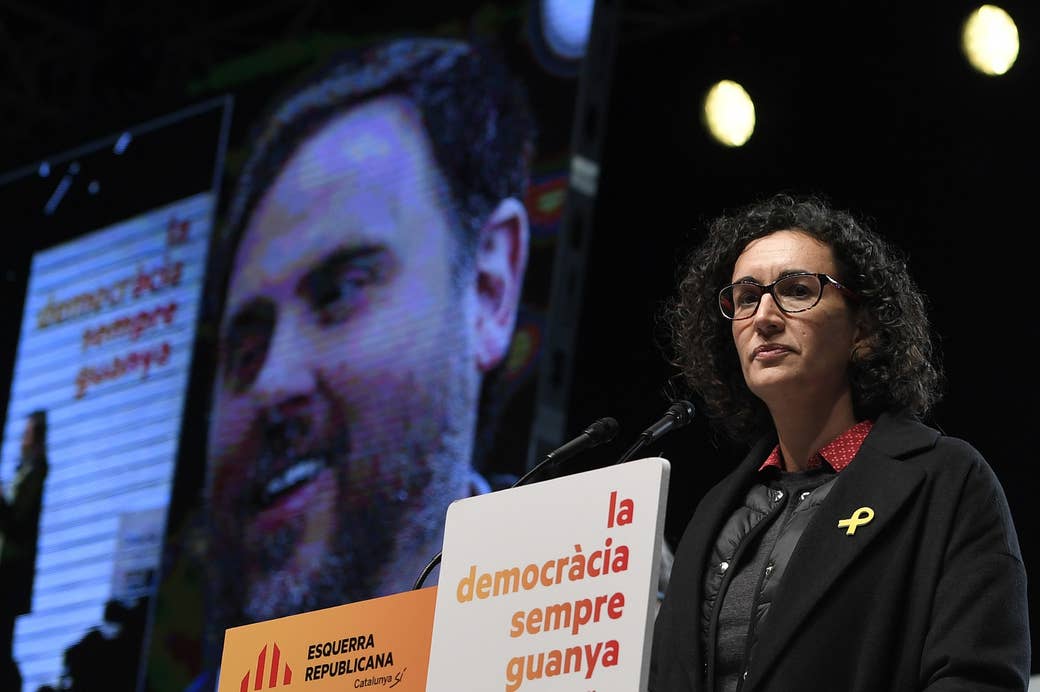 BARCELONA — On Tuesday night, a Google Hangout video feed on a large screen came to life above a crowd of several hundred people in Sant Vicenç dels Horts, Spain. The supporters of the left-wing Catalan political party, Esquerra Republicana (ERC), who decided to brave the dry December cold to attend the party's last campaign rally, were greeted by ERC's minister of health, Toni Comín. He greeted the crowd on a bit of a fuzzy delay from the other side of the screen and apologized for being in Brussels and not there in person. If he did try to return to Spain, there was a very good chance he'd be arrested by the Spanish government and join the party's leader, Oriol Junqueras, in a Madrid prison.

As Comín excitedly talked about the election, his feed began to buffer and freeze up.
"It's the 155, holy shit," one man in the crowd said under his breath. The stream resumed playing normally a minute or so later.

The worry in the crowd, though unfounded, is based on a very real uncertainty in Spain. Spanish Prime Minister Mariano Rajoy announced on Oct. 21 that his government would trigger Article 155 of the country's constitution if need be, a political nuclear option that would strip away the sovereignty previously granted the country's northeast region of Catalonia. The decision to follow through days later ended a month of chaos after Catalonia's parliament opted to hold what it called a binding independence referendum.
The faultlines between the Catalan "independistas" and Spanish nationalists following October's referendum madness have opened up into huge chasms of paranoia and polarization and led to an all-out information war that has only made things more aggressive and disorienting. October's street protests have relocated online and turned platforms like Twitter into battleground. And the entanglement of identity politics and information technology that's happening here in Spain provides a startling glimpse of not just this country's future, but a new confusing roadmap for democracy everywhere.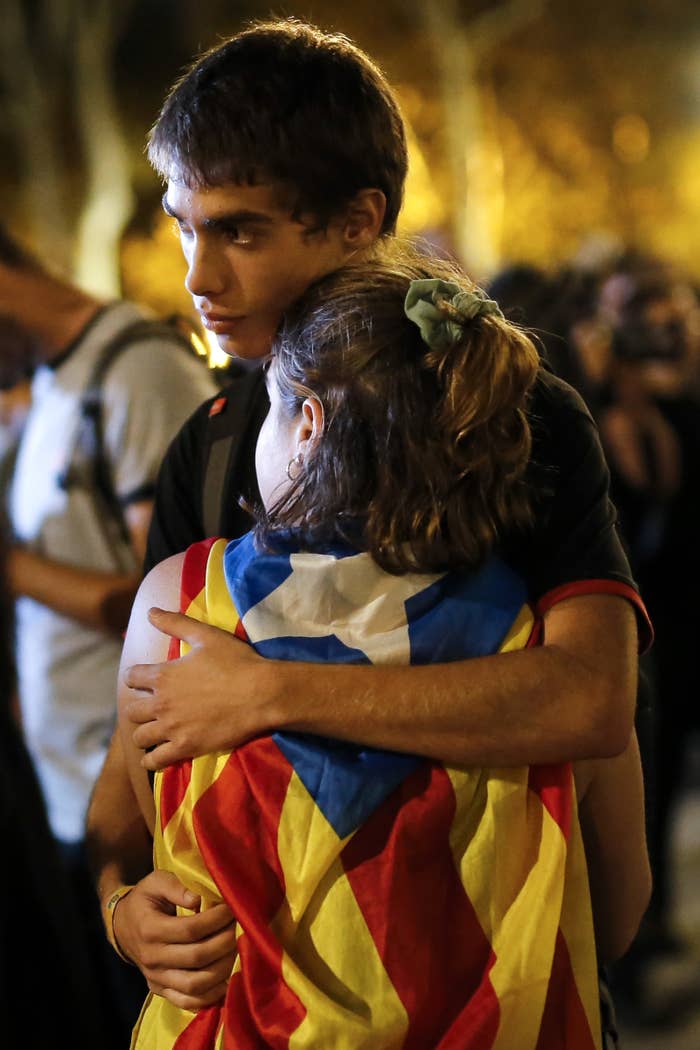 The problems that would cause the crisis to spiral were clear for weeks before the first ballot was cast. Ahead of the vote, Spain's constitutional court declared the Oct. 1 referendum illegal; the federal government sent thousands of Civil Guard national police officers and riot police into the region to shut it down. The violence was intense, with reports from Catalan authorities estimating that more than 900 people were injured in the police crackdown. The videos and images of Spanish police attacking voters flooded Twitter and shocked the world.
Ten days later, a crowd of thousands swarmed Barcelona's Arc de Triomf, hanging off lamp posts, many draped in the starred "La Estelada" flags of Catalan independence. There, they watched as Catalan President Carles Puigdemont addressed Catalonia's parliament and declared the results of the referendum — 43% of Catalans who dared to go to the polls voted overwhelmingly to leave Spain. This result, Puigdemont said, had created a mandate to establish a sovereign republic. But he then concluded his address by saying that he would not be immediately pushing ahead with independence from Spain.

Confused? So was everyone else, including Prime Minister Rajoy. Following the address, Rajoy had to ask Puigdemont to clarify if he was going to try to declare independence or not. From there, Spain's political crisis spun completely out of control.
Then on Oct. 27, the Catalan parliament voted to unilaterally declare independence from Spain. Back in Madrid, Article 155 was triggered and Spain imposed direct rule on the region the next day. Puigdemont and part of his cabinet fled to Brussels, while eight members of Catalonia's parliament were arrested, taken to Madrid, and thrown in jail. The Catalan parliament was dissolved and Rajoy called for a new Catalan regional election to be held on Dec. 21.
Clara Jiménez Cruz, a journalist from Madrid and cofounder of Maldita.es — a Spanish fact-checking project — said that fake news existed in Spain before October's referendum campaign, but it wasn't anything that actually mattered.

"It didn't affect your life," Cruz said. "Like if you get a story about a priest that won a Christmas prize in a whore house, that doesn't affect your life. It's a fake story, but it doesn't affect your life. But when it gets into politics, that's when it affects your life. And that didn't happen until the country became extremely polarized."
A team of nine journalists and one engineer run Maldita.es in their spare time. Cruz said that Catalan social media is definitely more engaged, but people on both sides of the issue are sharing misinformation. She said that as the country has become more divided and the political system broken down more and more, social media here became filled with more junk.
The traditional media has been ill equipped so far in debunking the fake stories as they spread, Cruz said. "The media were picking up these stories, not saying that they were true, but saying like, 'this is a story that's gone viral about the voting cards that arrived to the wrong houses,'" Cruz said. "And that makes them go even more viral. And they're not saying that they're true, they're just saying that they're viral. And people are being taken in by them."
If you were to believe the voting card story as it was told, voting cards were being sent to the wrong homes, which was allowing people outside of Catalonia to tamper with the election. But as Cruz explained, "It was simply that people were receiving voting cards at the wrong address because the mailman got the wrong mailbox."
That's usually how things go here, she said. A rumor gets started on Twitter or WhatsApp, people start forwarding it along because of how it reinforces whatever their personal politics are, and then it snowballs from there. Over the last few months, though, there's been a shift: One of the largest sources of fake news has become Catalan and Spanish politicians, who appear to be trying to use the digital free-for-all to help their political agendas.
In a recent video from Xavier García Albiol, a candidate for Prime Minister Rajoy's People's Party, firemen in Catalonia were putting up flyers demanding the freedom of the political leaders currently imprisoned in Spain. It caused ripples of outrage against Catalan firefighters, who were accused of being too politically active, particularly after they went viral for creating a blockade on Oct. 1 to protect voters from Spain's Civil Guard during the referendum.
"And it didn't happen like that! But he posted the fucking video and he went to interviews and said that it did happen," she said. "And his tweet is still there, he didn't make a correction, he did nothing."
Fake news isn't just being weaponized by Spanish nationalists: Puigdemont, the Catalan president currently in exile in Brussels, shared a video recently that claimed two Spanish soldiers had gotten hold of a tank and were threatening him with it.
"We checked the story and they weren't soldiers. They were civilians that went on a tank because someone made a huge mistake. But they weren't soldiers. And everyone was taken in by this story of them being soldiers," she said.
The triggering of Article 155 directly resulted in a temporary end to Catalonia's sovereignty and the imprisonment of several political leaders, and allowed the Rajoy government to call for the election of a new regional parliament. But its more insidious — and perhaps more permanent — effects aren't as tangible. The article has immense legal power because of how vague it is, allowing the Spanish government to "take all measures necessary to compel" any "self-governing community" to fulfill the "general interest" of Spain.
This lack of transparency about what exactly Spain can and cannot legally do under Article 155 has created a deep and inescapable paranoia throughout the region. Combine that with the erosion of trust of traditional media — Catalan media is too pro-independence, Spanish media is state propaganda — and you get an ecosystem where no one can really trust anyone or anything.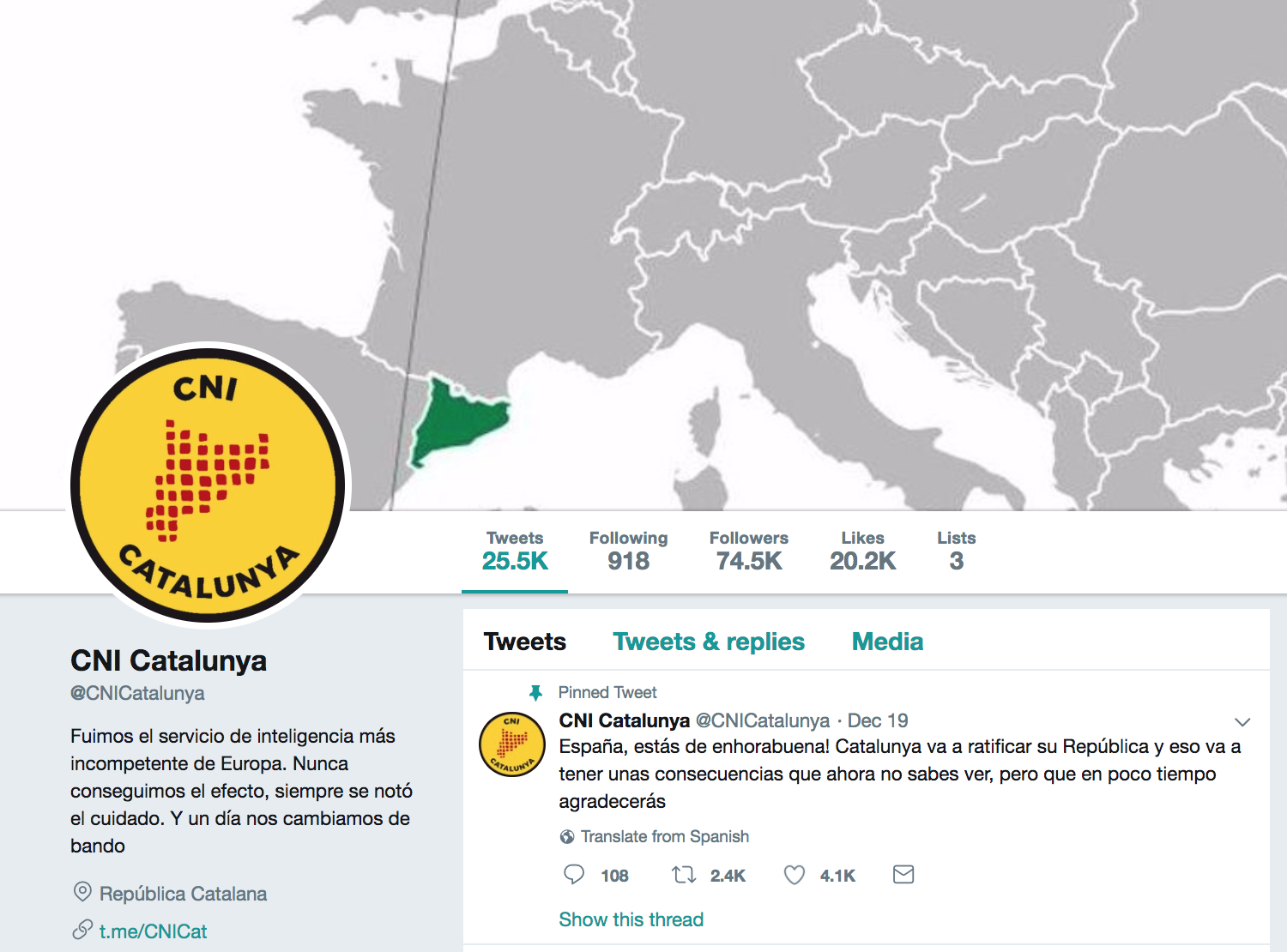 One of the larger pro-Catalan Facebook pages to gain influence in this new post-factual nightmare is called "Som CATALANS!" or "We Are Catalans!" The administrator of the page declined to be interviewed for fear of retaliation from the Spanish government.
"It wouldn't be secure for those of us behind this page," they wrote in response to BuzzFeed News' interview request. "We, as Catalans, are facing strange and dark times as Spain increases its hostilities towards everyone that challenges and questions the status quo."
The administrator of another fairly influential pro-Catalan social media account, CNI Catalunya, echoed the same concerns. "Nobody knows me personally, nobody know[s] who I am and I wish this to continue this way," they said, requesting to stay anonymous. "Pro-republic politicians are imprisoned without trial, exiled or in conditional release."

The Twitter account — a parody of Spain's CIA equivalent, the National Intelligence Center — doesn't just tweet memes, news videos, and election information, it has also quietly been networking with other covert pro-Catalan political groups.
Among CNI Catalunya's contacts: "Birres per la República," or "Beers for the Republic," a network of bars and pubs that let Catalan activists quietly organize in public; "Raons per la República," or "Reasons for the Republic," an online chat service that connects undecided voters with 300 pro-Catalan volunteers; and "Carteles per la República," or "Posters for Republic," a 30-person team who defied Spanish police and distributed over 100,000 political posters across Catalonia.
"There's strong censorship in the media. There's a lot of people wanting to know more about what's happening," CNI Catalunya said. "You would never believe what's happening in Spain with media. It's frightening."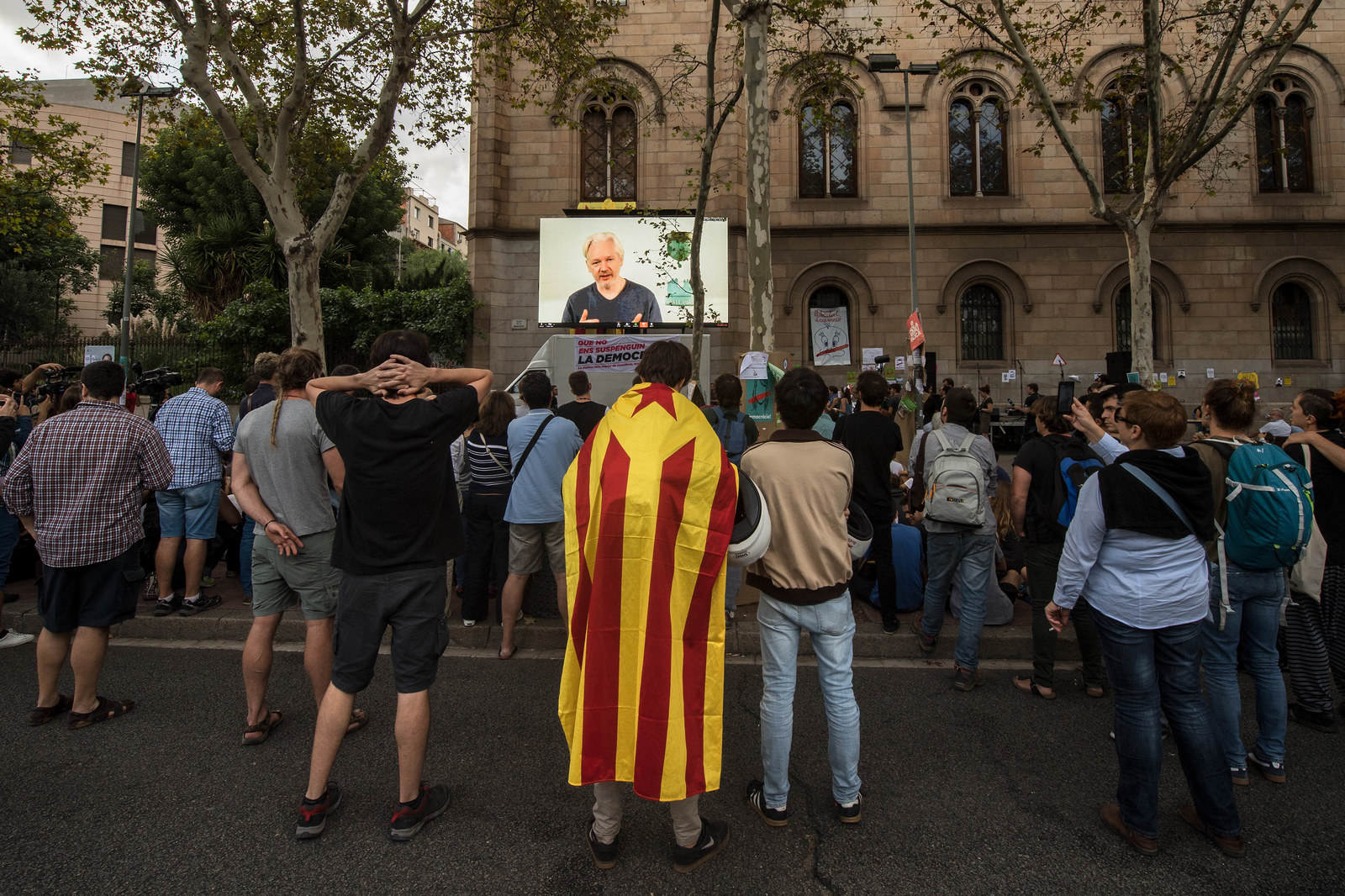 Outside of the larger social networks, Catalans are also trying to crowdsource the fight against misinformation with things like the "L'Alerta" Telegram chat room, which currently has 31,000 members. The Russian chat app was instrumental during the October referendum and subsequent protests, when activists created a Telegram bot called "Alerts 1O," to update voters on which polling stations needed more people to defend them from police. The bot stayed active after the vote and has become a way to send short, pro-independence push alerts.

Telegram became popular among activists here after a September video call with Julian Assange, in which the WikiLeaks founder showed them how to use apps like it, WhatsApp, and Twitter, to mobilize. Assange's intense interest in the Catalan referendum, his direct contact with local activists, and the fact he suggested they use a Russian app that has been dogged by accusations that it has direct ties to the Kremlin, didn't go ignored.
In November, Spanish Defense Minister Maria Dolores de Cospedal accused Russian trolls of flooding social media with pro-Catalan independence content. "What we know today is that much of this came from Russian territory," Dolores de Cospedal told reporters at the time. "These are groups that, public and private, are trying to influence the situation and create instability in Europe."
Adding to the international dogpile, Catalonia's independence became a major talking point among Europe's far right.
"EU supporters wilfully ignore violence in Spain against Catalans. This will be the EU way of dealing with dissent in the future," Britain's former UKIP leader Nigel Farage tweeted after the Oct. 1 referendum. "Any pretence that Catalans can have free and fair elections on December 21st has been destroyed by the charges of rebellion and sedition," he tweeted a month later.
Former MailOnline columnist Katie Hopkins wrote after the referendum: "There is jubilation in voting for independence, and the hope that goes with it. Ask any Brexit voter how they felt on June 24. Most, like me, danced in their kitchens."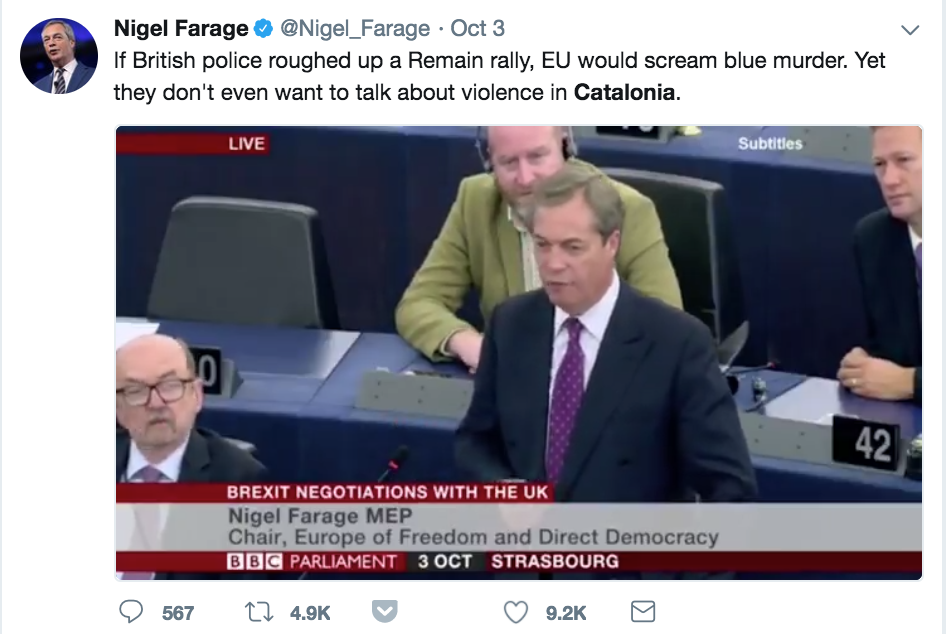 But it's not just Russian trolls and far-right European populists that have become sucked into Spain's information war. According to the Spanish constitution, it's illegal to share polls in the five days leading up to an election. The National, a pro-Scottish independence news site, has continued to publish polls, however, which are being shared across Catalan social media, nicknamed "the forbidden polls."

All of this static coming from both inside and outside of Spain has made it virtually impossible to get a handle on what's going on. Before Esquerra Republicana's campaign rally on Tuesday, ERC's press secretary, Raúl Murcia Tobalo, said people are probably flocking to Twitter because they don't know where else to go for information.
"It's possible people are following our account because they don't trust the media," he said. "We try not to be too sensationalist with our account, we don't tweet radical stuff, even when we get death threats."
Tobalo has perhaps one of the strangest jobs of anyone involved in Catalan politics at the moment. His boss is ERC's party leader, Oriol Junqueras. Junqueras is a candidate for Catalan president, but he was also arrested after the referendum and has been in a Madrid jail cell since October. Tobalo runs Junqueras' Twitter account, which has become hugely popular in the last few months — which most likely has a bit to do with the sheer audacity of trying to run a Twitter account for a politician everyone knows is in jail.
"I've been working with Junqueras for many, many years, so I can tweet what I think he would say, but I also actually get calls from him once a day, and he sends me some tweets and some written letters, every day," Tobalo said.
The day Junqueras was being arrested, he threw Tobalo his phone. Since then, as far as the internet is concerned, Tobalo has been Junqueras.
"I think we're in a dictatorship, especially after what happened on the first of October, when the Spanish government went into the Google headquarters looking for information," he said. "They interrogated people who used Twitter accounts for independence. But it's what's been happening, not just from Twitter, but from other stuff, like newspapers, the radio, and public and private media."
Making things even weirder is that Tobalo knows for a fact that everything he tweets from Junqueras' account will be used as evidence in his eventual trial. "We're being very closely followed," he said.
Tobalo took out his phone to show a series of 30 texts. "Someone tried to hack our Twitter account a few days ago," he said. He thinks it was a coordinated attack and doesn't think it was by a civilian. "We hope that the aggression on Twitter will decrease after the election."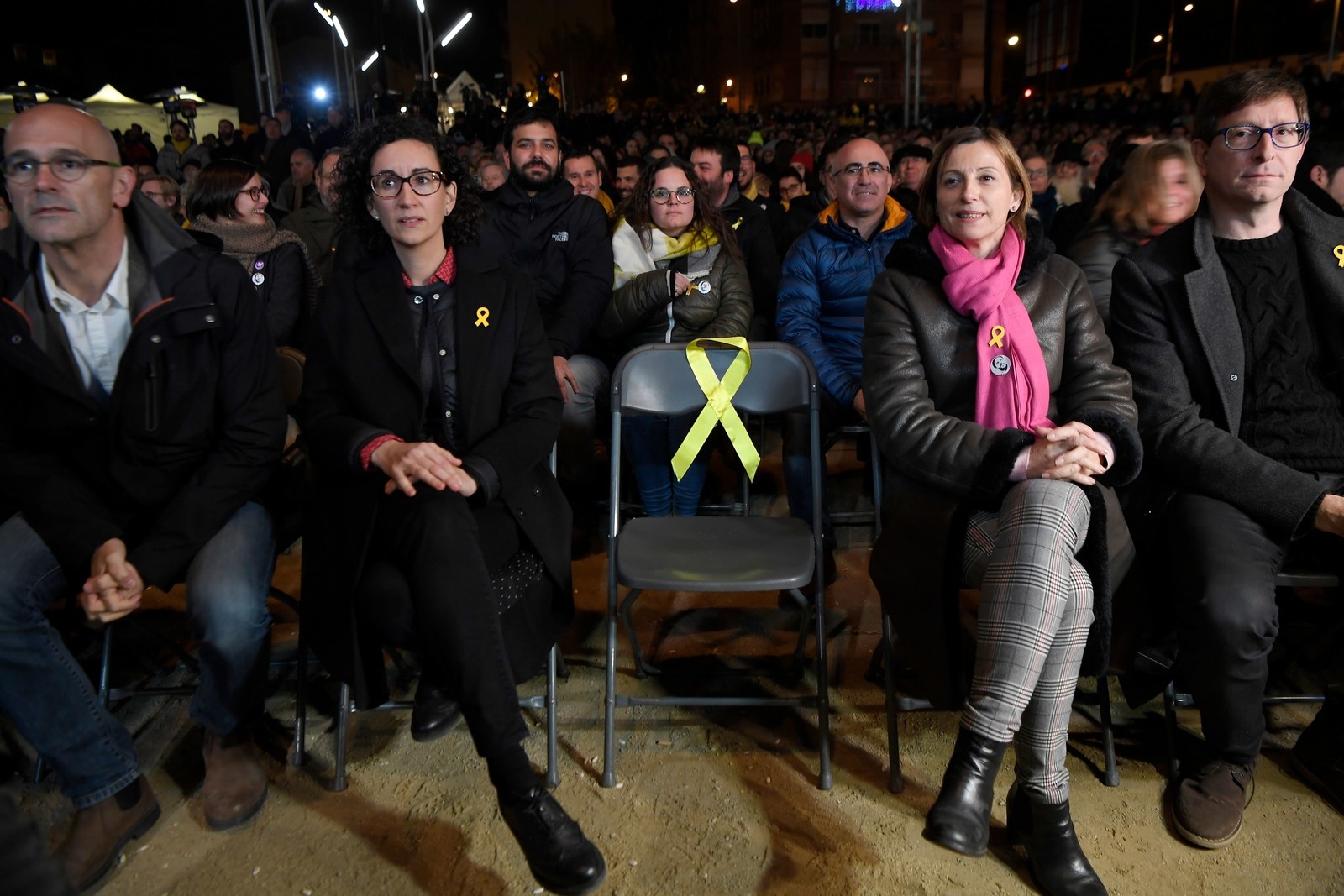 After the lagging Google Hangout on Tuesday, ERC's General Secretary and Junqueras' number two in command, Marta Rovira, played an audio clip of Junqueras from prison. The crowd went wild. Sant Vicenç dels Horts, the little town just north of Barcelona where ERC decided to hold their last rally, is Junqueras' hometown. It was a surreal moment. Sant Vicenç dels Horts is part of Spain's version of the rust belt — the "cinturón rojo," is a working-class independista hotbed. In the '70s, the region led the fight against the fascist regime of then-dictator Francisco Franco.
"This is not about flags. This is about stopping being blocked by the elites," Rovira said. "The dictatorship of the 155." As Rovira finished her speech, the crowd swelled and began chanting "Freedom." For a second, it felt like the normal end to a normal campaign in a normal election.

But things are far normal and maybe never will be again. There is a shadow hanging over every part of Catalonia's election and it's inescapable. At the front of the crowd, a chair was left empty in honor of Junqueras. It was ordained with a yellow ribbon, a symbol Catalans are using to protest the imprisonment of their politicians.
Less than an hour later, ERC's main rival in the election, the economic liberal unionist party, Ciudadanos, had to mass-WhatsApp their supporters saying that their email had been hacked. Their email database was stolen and all of their supporters were sent a phishing email.
They said they didn't know who was behind it, but they had reported it to the authorities. But who knows how the fake news vortex will spin it in the meantime. •