Wal-Mart, Amazon, Etsy and Other Major Retailers Will No Longer Carry Confederate Flag Merchandise
"We never want to offend anyone with the products that we offer," a Walmart spokesperson said.
There's a national debate currently happening over the Confederate flag after the shooting at Emanuel AME Church in Charleston, South Carolina last week.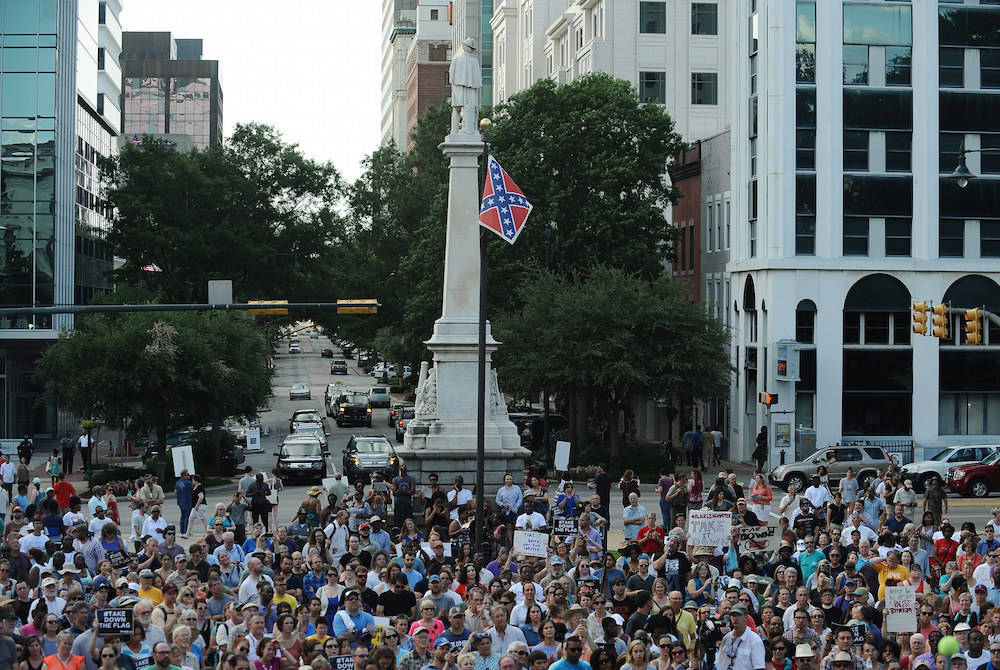 Protesters held a rally in front of the South Carolina Statehouse on Saturday calling for its removal from the Statehouse grounds.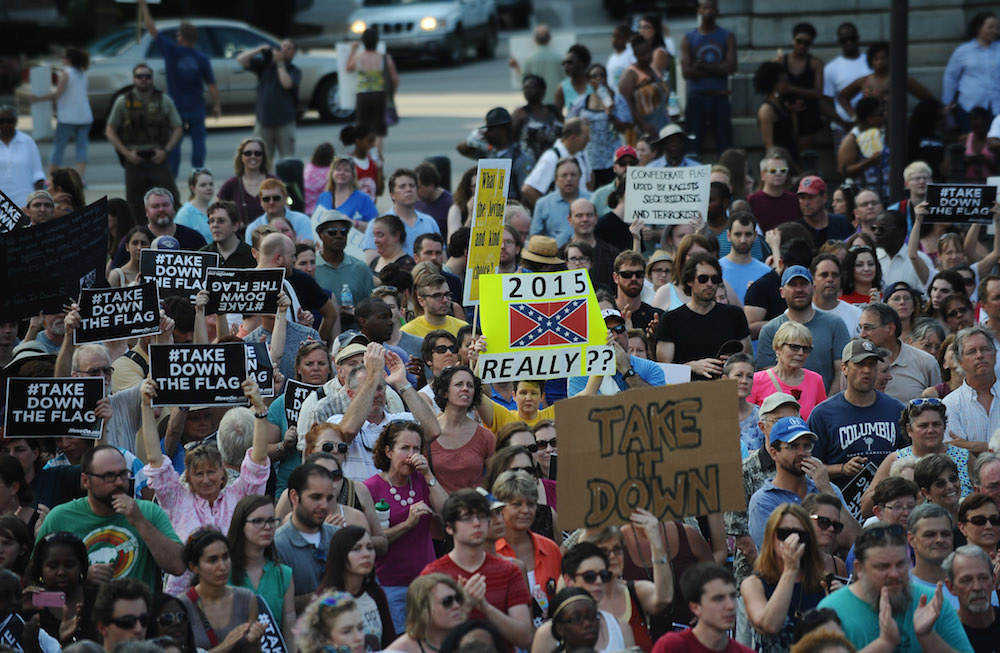 On Tuesday, Walmart confirmed to CNN that they have removed the Confederate flag and any merchandise containing it from the both their physical and online stores.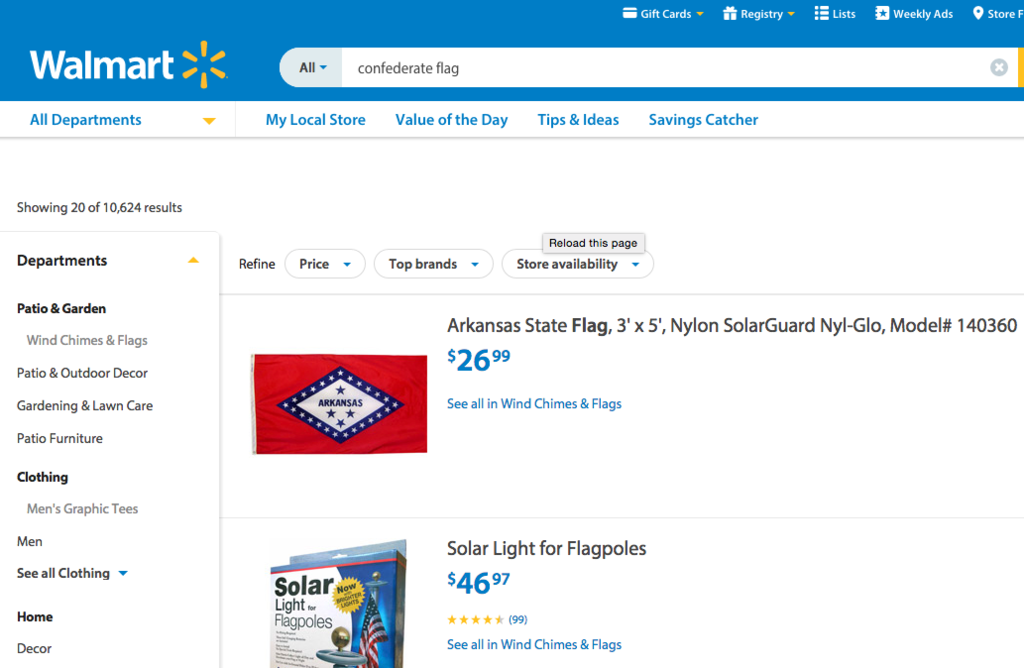 A Walmart spokesperson said they never intended to offend customers and that any Confederate items they were carrying made it into their inventory improperly:
"We never want to offend anyone with the products that we offer. We have taken steps to remove all items promoting the Confederate flag from our assortment — whether in our stores or on our website. We have a process in place to help lead us to the right decisions when it comes to the merchandise we sell. Still, at times, items make their way into our assortment improperly — this is one of those instances."
The giant Chinese online retailer, Alibaba, also said it would remove all links to merchandise with images related to the Confederate flag.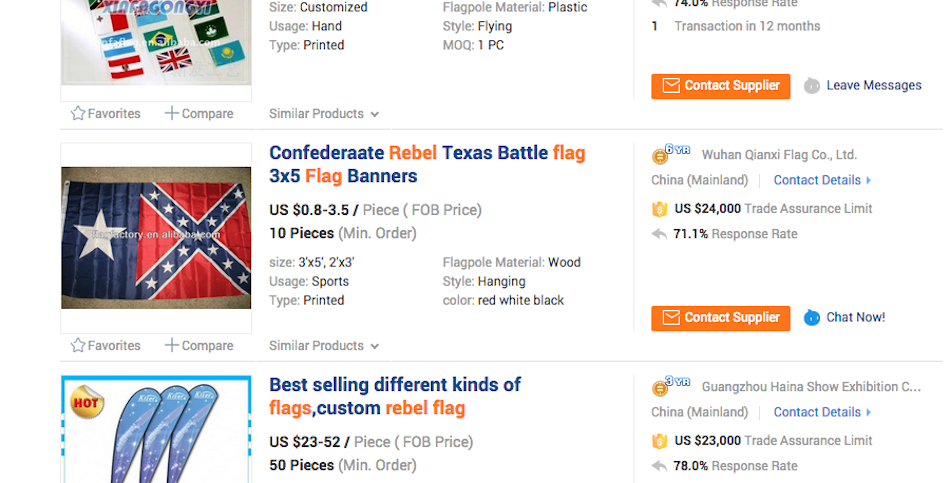 In an email to Reuters, Alibaba spokeswoman Rachel Chan said the company "prohibits listings of materials that are ethnically or racially offensive across its platforms."
"As such, we will be removing listings for flags, clothing and other memorabilia that display the Confederate flag imagery," Chan added.
Sears has removed Confederate merchandise from both Sears and Kmart, and told Reuters it would no longer allow Confederate merchandise to be sold online by third parties either.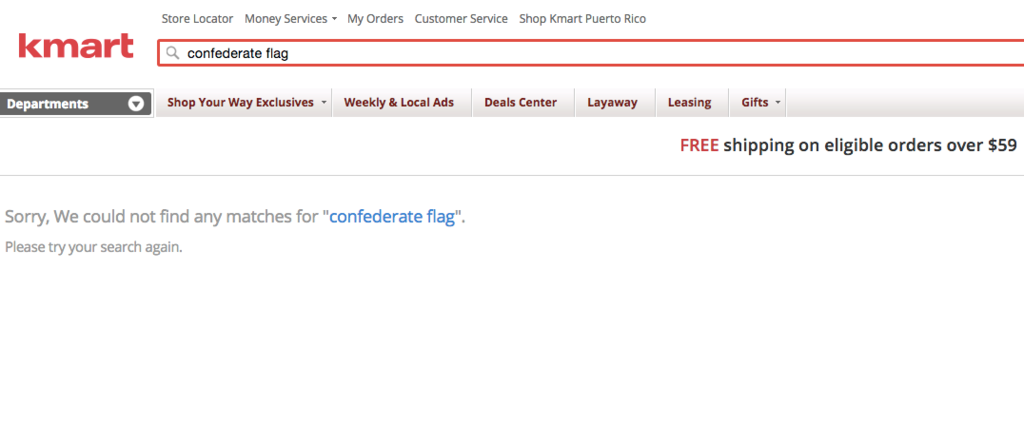 While the Kmart store no longer shows the flag in their inventory, it doesn't seem that Sears has pulled it from their online store just yet.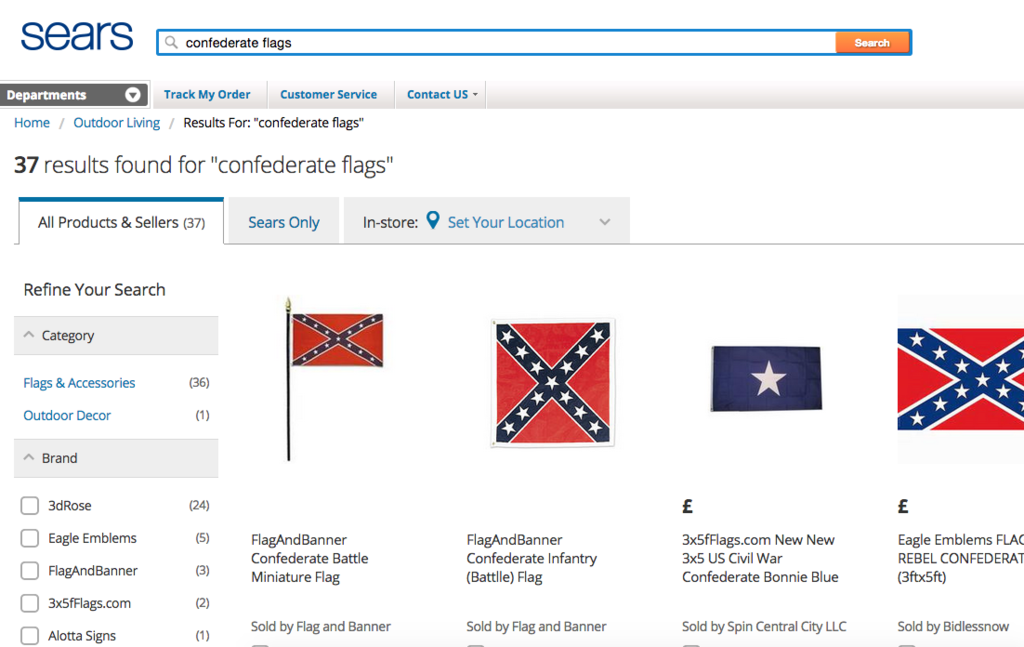 Amazon and eBay have yet to comment on the sale of the flag and still show Confederate merchandise listed for sale.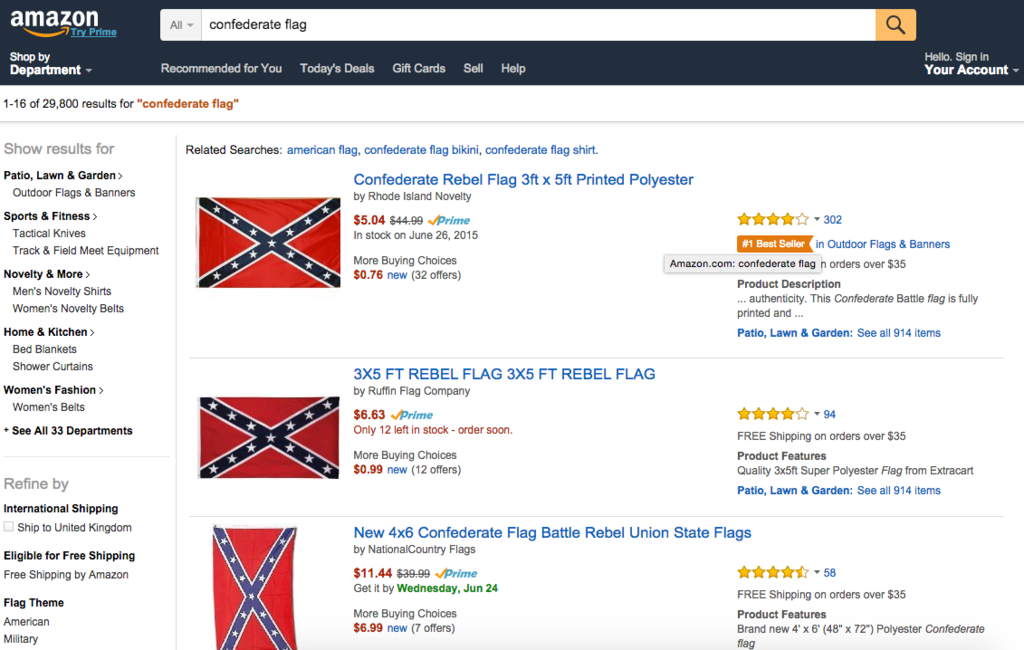 BuzzFeed has reached out to both companies for comment.
eBay has released a statement to BuzzFeed confirming that they will be prohibiting the sale of the Confederate flag on their site:
eBay is a global marketplace and community and we continually monitor the approximately 800 million items on our site, and evaluate our policies to ensure they are consistent with our core purpose. We have decided to prohibit Confederate flags, and many items containing this image, because we believe it has become a contemporary symbol of divisiveness and racism. This decision is consistent with our long-standing policy that prohibits items that promote or glorify hatred, violence and racial intolerance.
Etsy, an online marketplace where users can "sell and buy unique goods" has also announced that it will no longer carry Confederate-themed merchandise, which includes bikinis, phone covers, and wedding cups, in addition to the flag.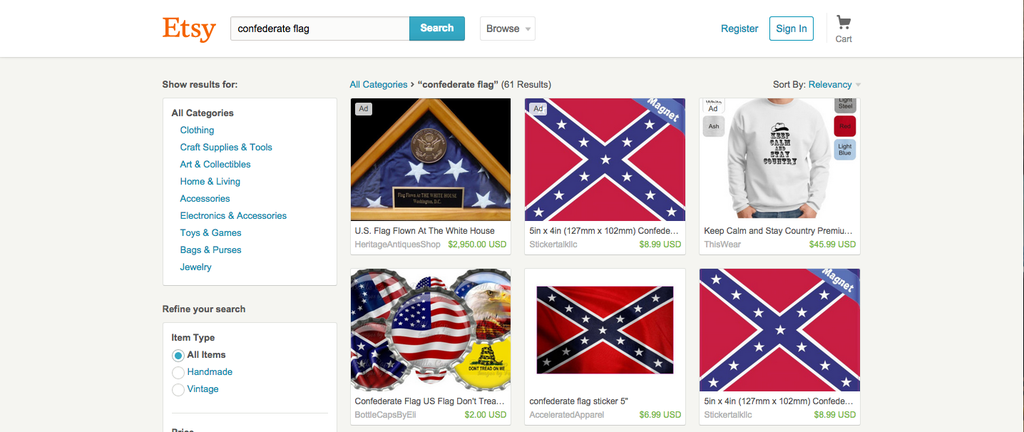 Etsy released a statement to BuzzFeed News detailing the reasons behind its decision, citing it's "Policy on Hate Items."
Today, we are removing confederate flag items from our marketplace. Etsy's policies prohibit items or listings that promote, support or glorify hatred and these items fall squarely into that category.

With each new application of our policies, we strive to strike the right balance between creative freedom, Etsy's values, and establishing a safe and respectful marketplace for members. The challenge of defining and eliminating offensive items raises deep and complex issues -- both philosophical and pragmatic -- which we at Etsy wrestle with regularly. We strive to think about our site holistically and determine what is best for the entire community.

Due to the nature of our platform, it is possible that a prohibited item may appear for sale on the site before our enforcement teams have a chance to remove it. Members are welcome to report these items to us; we have a timely review process for all reports.

You can find the list of other items that are prohibited on Etsy here and further information about our hate items policy below. We are continuously reviewing our policies to ensure they are in line with our values, and they will continue to evolve accordingly.

Etsy's Policy on Hate Items: Items that Promote, Support, or Glorify Hatred

We want Etsy to be a community where people of all backgrounds, nationalities, religions, political affiliations, and even different types of artistic taste and humor feel welcome. Art is incredibly subjective, and what is offensive to one is not necessarily offensive to others. Vintage items can have educational and historical value, but they can also trigger painful memories of tragic events throughout history.

More Details:

Etsy does not allow items or listings that promote, support or glorify hatred toward people or otherwise demean people based upon: race, ethnicity, religion, gender, gender identity, disability, or sexual orientation (collectively, "protected groups") or items or content that promote organizations or people with such views.

The following items are not allowed on Etsy:

Items that support or commemorate current or historical hate groups, including propaganda or collectibles. Examples of hate groups include Nazi or Neo-Nazi groups, Ku Klux Klan (KKK) groups, white supremacist groups, misogynist groups, or groups that advocate an anti-gay, anti-immigrant, or Holocaust denial agenda.

Items that contain racial slurs or derogatory terms in reference to protected groups.

Examples of What is Allowed:

We tend to allow items that have educational, historical, or artistic value, but we know that even those items are subject to a variety of valid and sometimes conflicting interpretations.

Recognizing that there may be no consensus on their educational, historical, or artistic value, the following items are generally allowed on Etsy:

1) Vintage (but not newly-created) Black Americana items (such as "golliwog" dolls)

2) Religious symbols, including swastikas when used in peaceful or religious context (often in Hinduism, Buddhism, and Jainism)

3) Items that use idiomatic expressions that include the word "nazi," such as "grammar nazi" or "soup nazi"

4) Items denouncing or mocking groups or historical figures that have a history of organized, targeted violence against protected groups
Confederate merchandise has also been pulled from the virtual shelves at Amazon, a representative confirmed to BuzzFeed News.