A video surfaced last month that appeared to show 19-year-old Vine star Carter Reynolds attempting to pressure ex-girlfriend Maggie Lindemann, 16, into performing oral sex.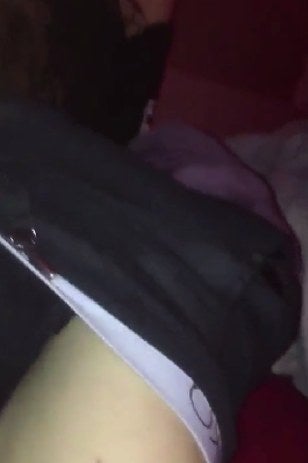 Reynolds has 4.3 million followers on Vine and 2.9 million followers on Instagram. Lindemann is a social media star too, with 924,000 followers on Instagram. She posted at the time that she broke up with Reynolds because he "makes me feel like shit."
Reynolds addressed the video last month when it began going viral, tweeting, "Shoutout to the people who are so understanding and are not making false accusations and blowing things way out of proportion."
Lindemann began Snapchatting photos of herself in the hospital Sunday night. Her fans began speculating that it had something to do with her relationship with Reynolds.
The fan speculation appears to have provoked Reynolds into responding a few minutes later.
Reynolds told his fans that he was just with Lindemann and that she was fine.
Lindemann then apologized to her followers.
Reynolds then denied that he had anything to do with Lindemann being in the hospital.
Several minutes later, Lindemann tweeted a screenshot explaining that Reynolds was making fun of her for being in the hospital.
Reynolds then began tweeting that he had reached his "breaking point" and that he was contemplating suicide.
Reynolds' Twitter account then went dark. Lindemann responded, writing that "suicide isn't a fucking joke."
Lindemann then wrote she would be taking a break from Twitter.
After a few hours of silence, Reynolds posted he was also headed to the hospital, but "will be fine."
BuzzFeed News has reached out to Carter Reynolds for comment.
If you have any information about Carter Reynolds, please email ryan@buzzfeed.com.
If you are struggling with suicidal thoughts, please seek immediate help:
National Suicide Prevention Lifeline (USA): 1-800-273-TALK (8255)
Samaritans (UK): 08457 90 90 90
Suicide Prevention (Aus): 13 11 14