In the northwest of Mumbai there sits Madh Island, a group of fishing villages nestled together, full of twisty roads that take you to pockets of secluded bungalows. And in one of those bungalows, local YouTube stars All India Bakchod are filming their biggest and most expensive video to date.
AIB, as they're more commonly known, are the ultimate homegrown Indian YouTube success story. They're four comedians who use YouTube as a platform to tackle topics that definitely wouldn't be talked about so frankly on TV, let alone brought up in a Bollywood movie.
AIB originally started as a podcast by Gursimran Khamba and Tanmay Bhat in 2012. Bhat and Khamba's close friends Rohan Joshi and Ashish Shakya joined the group a year later and the group transformed the podcast into a YouTube channel. They're all in their late twenties, early thirties — a bit older than the average YouTuber — and they have over a million subscribers. At the time of writing, their top video has over 10 million views.
Their name literally translates in Hindi to something close to "All India Idiot-Fucker," a play on India's most famous radio station, All India Radio. A "bakchod" is basically an impolite word for a loudmouthed asshole, AIB tell me later, and it was a huge deal when they got the Times of India to print the name on the front page.
In the west, YouTube culture already has an established look and feel to it, but in places like India, it's still unclear to what extent traditional local culture will be successfully integrated. All India Bakchod are currently at the forefront of figuring out what Indian YouTube looks and feels like, and that can get pretty intense.
They've done videos like "Rape — It's Your Fault," "India reacts to ban of pornography," and "When India Spoke to Pakistan." Most recently, AIB found themselves at the center of a national scandal when, in January, they released AIB Knockout, a comedy roast for actors Arjun Kapoor and Ranveer Singh. Although relatively tame, especially compared to what you might see on Comedy Central, the show was considered the first of its kind in India, and AIB were accused of breaking obscenity laws and formally charged with offending religious sentiments. This only intensified their reputation as internet folk heroes and thrust them into a culture war against the old guard of Indian pop culture. Police complaints were filed, and an official probe was launched. One particular local Christian organization filed a complaint saying AIB's comedy was "against Christ."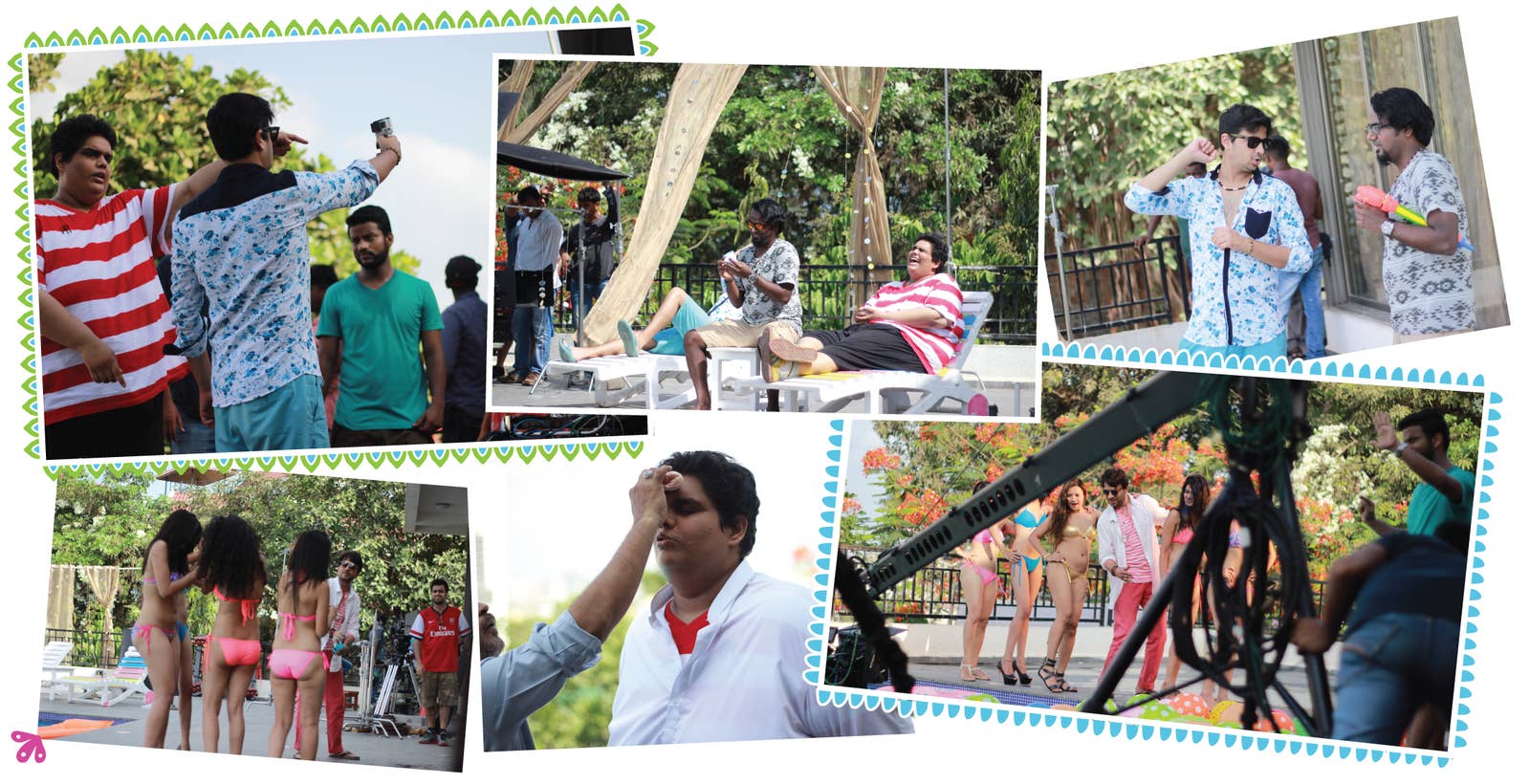 The bungalow they're filming in today is a large unfurnished mansion. Models in bikinis are being led up a staircase to a separate dressing room as I walk in. A team of grips are breaking down a massive camera rig and moving it to a different side of the pool in the back.
The video AIB are currently working on is called "Every Bollywood Party Song Ever," and as the name would suggest, it's a spoof of Bollywood party music. It's a big production: Not only does it require a complex, multiday shoot, it stars award-winning Indian actor Irrfan Khan. Americans might recognize Khan from movies like Slumdog Millionaire, The Amazing Spider-Man, and, most recently, Jurassic World.
Khan, dressed in bright Bollywood shades of orange and pink, is casually lying on a blanket in the corner of the dressing room when I walk in – it's the only part of the bungalow that has air conditioning. An assistant preps him with some makeup, then he's given a big pair of plastic sunglasses and heads out to the pool with a bottle of champagne. The women in bikinis are walked back down the staircase.
The large camera rig is loaded into the right spot. The sun is setting and the temperature is slightly less boiling than before. The director yells action.
AIB members Tanmay Bhat, Ashish Shakya, and Rohan Joshi — all dressed just as Bollywood as Khan — watch with huge smiles, though visibly drowsy from the heat, as Khan gyrates his hips and sprays champagne over four models in bikinis. The group's song plays in the background. Khan and the Bollywood bikini babes then make their way to the edge of the pool, where they finish the scene by doing a synchronized dance together.

Social media — YouTube in particular — is having an interesting moment in India right now. According to the India Times, there's a very real possibility India will have the largest number of Facebook users of any country by 2017. Also, WhatsApp's user base broke 70 million in November of last year. That's a lot of people sharing content. Put those figures next to the fact that between 2011 and 2013, Indian online video consumption doubled. According to a YouTube spokesperson, total watch time in India has grown 80% from 2014 to 2015. During that same time period, the amount of videos being uploaded in India has doubled. They said they get around 70 million unique views a month from India.

Popular western YouTubers like Lilly Singh, who performs under the name Superwoman, and Jus Reign — both Punjabi Canadians — have already discovered that India has a big appetite for YouTube right now.
Singh's top videos right now include a song called "#LEH," which features Sikh rapper Humble The Poet, and videos like "How to Stop Parents From Comparing Kids" and "The Difference Between Brown and White Girls." Jus Reign's top YouTube videos right now include sketches like "Shit White Guys Say to Brown Guys," "Desi Parents and Money," and "Desi Parents Are CRAZY."
Singh is arguably one of the biggest YouTube acts among Indian teenagers. She's a self-described tomboy from Ontario who began vlogging in 2011. Her videos are about dealing with annoying parents and dating, and sometimes she makes up goofy songs. But she's also incredibly vocal on YouTube about her heritage. Her first video, "How to Tie a Side Turla Bhangra Pugh," was an instructional video about the proper way to tie up a turban.
At YouTube's FanFest in March, Singh and Jus Reign joined 30 other huge YouTube acts on stage in Mumbai, along with local stars like The Viral Fever, Enna Da Rascalas, and Kanan Gill. The event was anchored around a huge secret announcement Singh was supposed to make to the crowd of thousands at the end of the night.
Singh, the night's last act, came out and announced that she'd be kicking off her first world tour in Mumbai. The crowd went crazy. It was a massive deal – a global acknowledgement that India is the place to be for YouTube in southeast Asia.
Singh's announcement was beat out, though, by another surprise that happened earlier in the night. Three members of All India Bakchod came out on stage to receive YouTube's Golden Play Button, an award for hitting 1 million subscribers. It was their first public appearance since the now-infamous roast, and the audience didn't know they were supposed to be there. The crowd erupted in a thundering "A, I, B" chant.

The moment became part of AIB's growing reputation. There are at least three versions of the story floating around. One was that they couldn't perform because the event's sponsor, Pepsi, thought they were too inappropriate. Another was that YouTube didn't know they were going to show up at all. The reality, of course, is that the whole thing was planned.

YouTube and Pepsi both knew the group was going to accept their Golden Play Button, Bhat and Shakya said. "YouTube gives you this really heavy golden button," Bhat said. "It just goes up on your wall and really does nothing."
"But it's a shiny golden button," Shakya said.
AIB did a video with Singh last year called "NRI travellers vs Desi travellers." In the video, AIB's Rohan Joshi says, "There are two kinds of Indians: The Indians who live in India and occasionally go abroad..."
Singh fires back: "...and the Indians who live abroad and occasionally come to India."
"Huge differences between the two," Joshi says.
Perhaps the biggest of those differences, at least when it comes to making YouTube videos, is that creators based in India, like AIB, feel the consequences of trying to create honest conversations online.

AIB's office, an apartment with one of the bedrooms converted into an editing suite, is located in a neighborhood full of production houses and film studios.

As you head northwest, away from the heart of Mumbai, the Portuguese influences in the city's architecture dissolve entirely. The cosmopolitan Mediterranean feel of the south turns into the bustling tightly compacted suburbs of Bandra, piled along the coastline. The ocean salt in the air mixes with the smell of garbage, dust, petrol, and nearby street food. Thanks to a heat wave, today every scent in the air is amplified.
One of Mumbai's more important landmarks is the home of Bollywood actor Salman Khan. People are spilled out along the sidewalks in front and across the street from Khan's house. They take photos of his mailbox and wait, hoping they'll have a chance to see the famous actor. There is no time of day or night in which there isn't a crowd outside his house.
It's the day after the shoot on Madh Island, and Shakya is watching footage in a back room while Bhat sleeps on a couch in the main room. Bhat wakes up and he, Shakya, and I find a cool spot underneath an air conditioner in a corner of the dark office. I tell them some of the stories I've heard about their infamous appearance at FanFest.
"Yes, please let the rumors of us getting louder cheers than Lilly [Singh] continue," Bhat jokes. "That would be great."
"Nobody would believe you, but sure," Shakya says.
As much as they enjoy their bad-boy reputation, they say they're jealous of the kinds of fans a YouTuber like Lilly Singh has here in India. They say she gets the nice fans. They jokingly describe their own fans as laundes, a Hindi word they say roughly translates to "college kids who have recently learned how to masturbate," or somewhere between a slacker and bro.
According to them, most young Indians feel like India's cultural conservatism needs to be taken down a peg, and they're happy to oblige. Particularly, when it comes to lovingly punching up at Bollywood.
"What has happened in Bollywood over the last few years," Shakya says, "is that you will notice a ton of shitty films have come out, and I would say this without regret: All the shitty films have one song that I have shamelessly danced to."
"It's just something that's there to be parodied," Bhat adds, describing the video they're currently working on. "Like someone needed to do it."
AIB's most successful video is a 10-minute mockumentary starring Bollywood actress Alia Bhatt that the group released after the actress became a huge meme in India last year because she was asked who the president of India was and said the wrong name.
"The biggest video on the YouTube circuit right now is the Alia video, which hit 10 million," Bhat says. "Which is, I don't know if many other videos... Like, a video which goes viral internationally can maybe hit that." Which is true. Ten million is a big deal for any creator on YouTube, but it's especially good for a 10-minute video that is essentially an inside joke about Indian social media.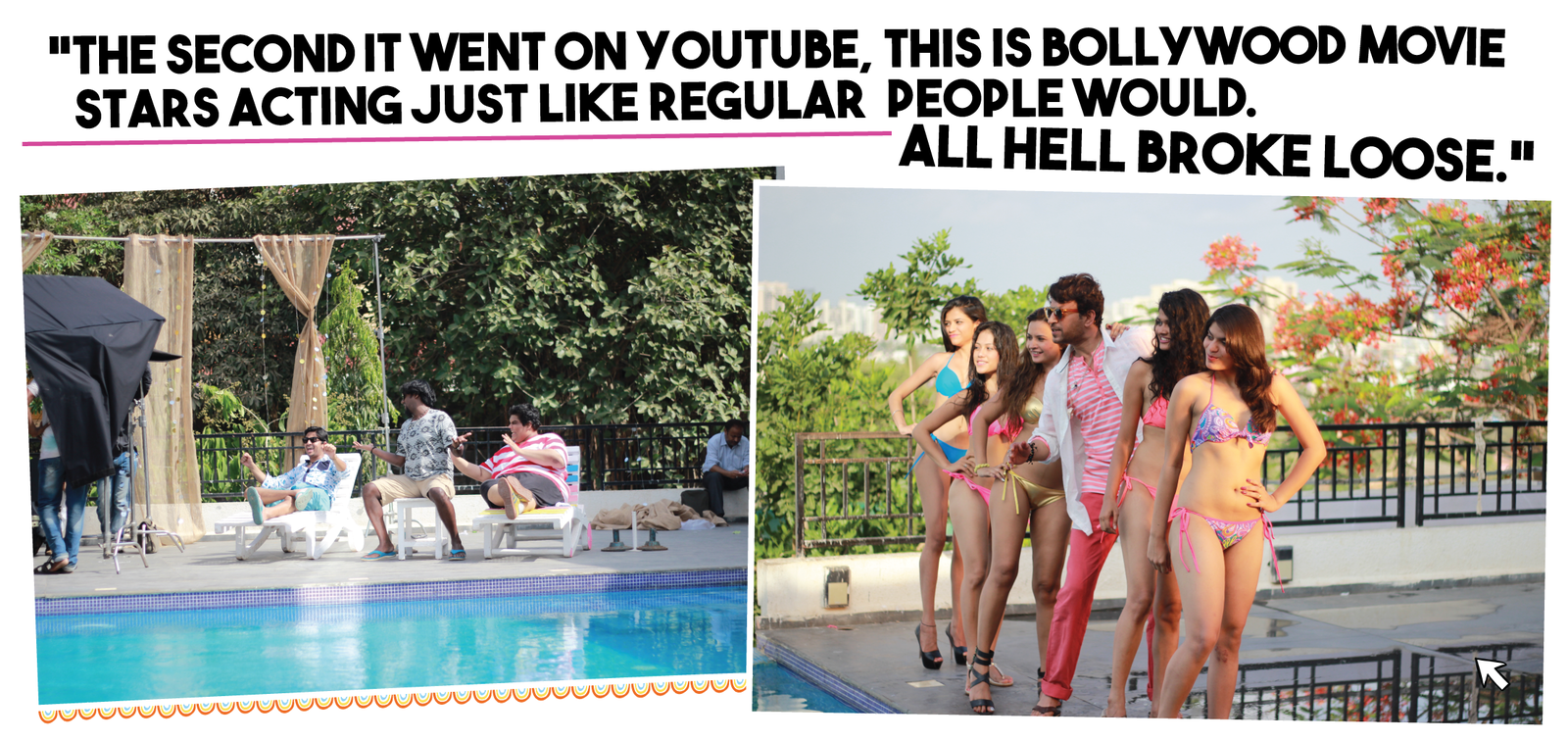 It was their next collaboration with Bollywood, their roast of Arjun Kapoor and Ranveer Singh, that showed them the real price of pushing the envelope, however.
"We roasted two movie stars," Bhat says. "The roast master was possibly the biggest director in Bollywood right now, Karan Johar. It's a format that's never been done in India. Especially in Bollywood. Bollywood stars are known to be slightly uptight, they won't take any jokes about themselves, studios like to clamp down on creators who do jokes about themselves."
Shakya says: "When you meet these stars you realize — especially the younger lot — they've grown up on the same content, the same pop culture, the references are the same, they're so much like us in that sense. They're also able to disregard that PR machine and say, 'OK, let's do some fun stuff.'"
There's a division in Bollywood right now, old versus new, Shakya and Bhat say, and that fault line is exactly where their roast landed. They filmed the event in front of an audience of 4,000 people. Everything went great.
"Didn't have any problems, no problems," Bhat says. "The second it went on YouTube, this is Bollywood movie stars acting just like regular people would. All hell broke loose."
Viewers complained to Mumbai police about obscenity and abusive language. First Information Reports, or FIRs, which are the way Indian penal cases begin, were filed against the director and the two actors. They were all charged with breaking obscenity laws.
AIB offered public apologies and eventually pulled down the video from YouTube, but not before it was viewed over 10 million times and pirated on bootleg DVDs.
"It became mainstream pop culture," Shakya says, "it was talked about everywhere."
"It's to the point where the word 'roast' is now abused in India," Bhat laughs. "Everything's a roast."
"I read a headline saying some passengers had been held up due to an airline delay," Shakya says. "The headline was 'Airline Roasts Passengers' and I was like, no, it didn't."


Bhat and Shakya aren't allowed to discuss many of the details surrounding the roast because the case is in court currently. But they say it essentially boiled down to a collection of fringe groups using the roast as a political point. As far as public opinion goes, the roast was divisive to say the least. Quartz India called it "proof that India's moral police is fighting a losing battle." On Twitter, "AIB National Shame", #AIBRoast, and "We Stand by AIB Knockout" all started trending when the FIRs were being filed.

The episode might have made All India Bakchod an infamous household name, but getting huge results from playing with Indian cultural pressure points is nothing new for them. One of their most well-known videos, "Save the Internet," is a tongue-in-cheek public service announcement about net neutrality. The video was viewed over 2 million times, and the group say, resulted in over a million emails to the Telecom Regulatory Authority of India.
"It's the biggest consultation — public consultation — that's ever happened in this country," Bhat says of the video's impact. "Which could have only happened because of the internet. I genuinely feel that younger India is more progressive than older India is. I think if you get them involved in the conversation, things automatically blow up a lot more."
Things are "blowing up" on Indian internet constantly, Shakya and Bhat agree, and they say the Indian internet runs on outrage. "We're angry every day," Shakya says. "Before I roll out of bed, I will check my Twitter and I'm angry."
A lot of that outrage stems from the way India's class divide plays out online, especially when more and more Indians are creating their own YouTube videos. Shakya estimates that there are about a hundred new YouTube creators a day. Both Bhat and Shakya say they've seen platforms like YouTube give Indians exposure to things that Bollywood and traditional Indian television would never have shown them.
"The dude who sells my mother vegetables — I was buying vegetables with my mother the other day," Bhat says. "And he was like, 'You were on the roast thing.'"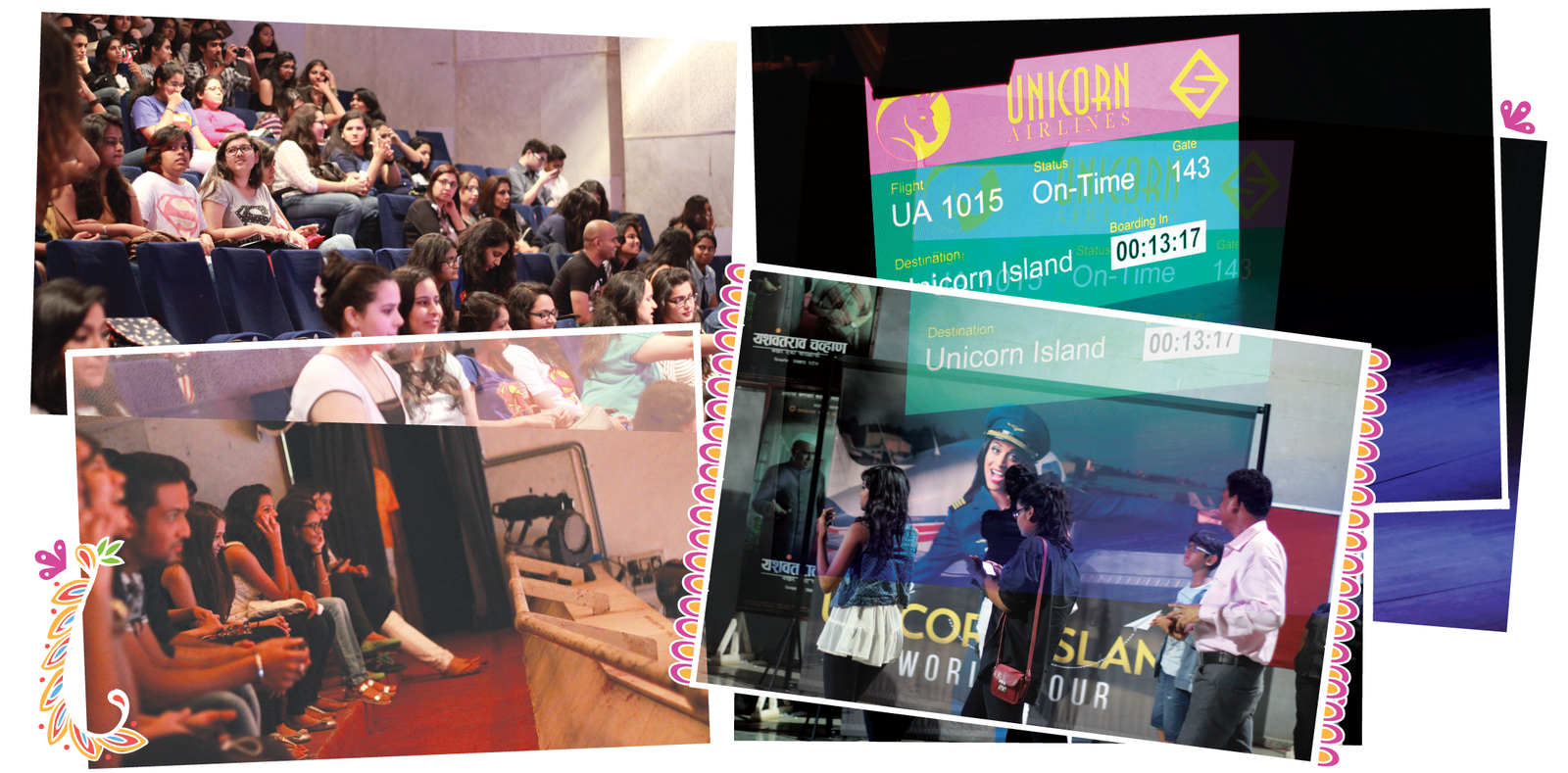 A week earlier, about a thousand teenage girls were gathered outside of The Jamshed Bhabha Theatre in south Mumbai. It was the second night of Lilly Singh's world tour (her first night in Mumbai sold out). Due to the heat wave, even at night it was 90 degrees.

Singh is known for a very particular look: a flat-brimmed hat, skinny jeans, and brightly colored sneakers, and about 80% of the girls waiting to get into the show were wearing some combination of the three. Many of them wore flat-brimmed baseball hats and blue T-shirts adorned with a yellow "S" for "Superwoman" — imagine if a North American mall food court was picked up and all the kids inside were shaken out onto a random sidewalk in Mumbai. The young crowd made for a jarring contrast with their aunties chaperoning in sarees. A giant poster of Singh dressed as an airline captain sat by the door; there were lots of selfies being taken in front of it.
"YouTube! We love YouTube!" Dhana Joshi, Niyati Shah, and Preeti Shah screamed in unison at me before I could finish asking them what they thought about Superwoman.
"We love Superwoman," Joshi said as we entered the theater. "I've watched every video like, a million times! Not kidding."
The three girls quickly rattled off the huge YouTube stars they love to watch: Bethany Mota, Pew Die Pie, Connor Franta. But it's when I asked them about All India Bakchod that the girls really lit up.
"Ohhh! AIB," they said.
"AIB get in a lot of trouble," Joshi said with a smile. "Indians take themselves so seriously sometimes."
"They're speaking honestly, they're speaking what everyday people talk," Niyati Shah said.
"Indians cannot take jokes," Joshi tacked on as they all laughed.
I took my seat in the packed theater. The giant LCD clock on the stage counted down to "0:00". Lilly Singh and her backup dancers burst through the stage's curtains. She greeted out to her "Unicorns" in the audience — the nickname for her fandom. The dancers onstage launched into a medley of songs like Beyoncé's "Crazy in Love" and a dubstep remix of "Let It Go" from Frozen. The crowd of teenagers absolutely lost it, and the levels on my audio recorder peaked until they distorted entirely.

Two of Singh's most popular moments during her live show included her dressed up like her parents, complete with traditional Punjabi costumes and accents.
There was also a moment towards the end of the concert, however, that felt like a clear picture of where Indian — if not all — YouTube culture is headed. As she began winding down the night, Singh wanted to thank her Unicorns for supporting her over the years and allowing her to turn her vlog into a world tour. She launched into an a cappella version of Ed Sheeran's "Thinking Out Loud," only with the words changed.
"Will you still know what's in the combo?" Singh sang to the packed audience. "Because Unicorns, I will love you until we're 17 / There's no other place I would rather be / And I'm thinking about how people fall in love in mysterious ways."
As Singh hit the chorus, with words here and there changed to references from her videos, the auditorium swelled and the crowd started singing along. It was a large theater full of hundreds of Indian teenagers sharing a big inside joke, singing along with a Canadian Punjabi to a pop song originally written by an English guy.
It was weird. It was incredibly earnest. It was a moment created by strangers who would have never met without the internet. And like one of All India Bakchod's videos, it was young Indians taking apart the pop culture of the west and putting it back together to make something new and wholly original.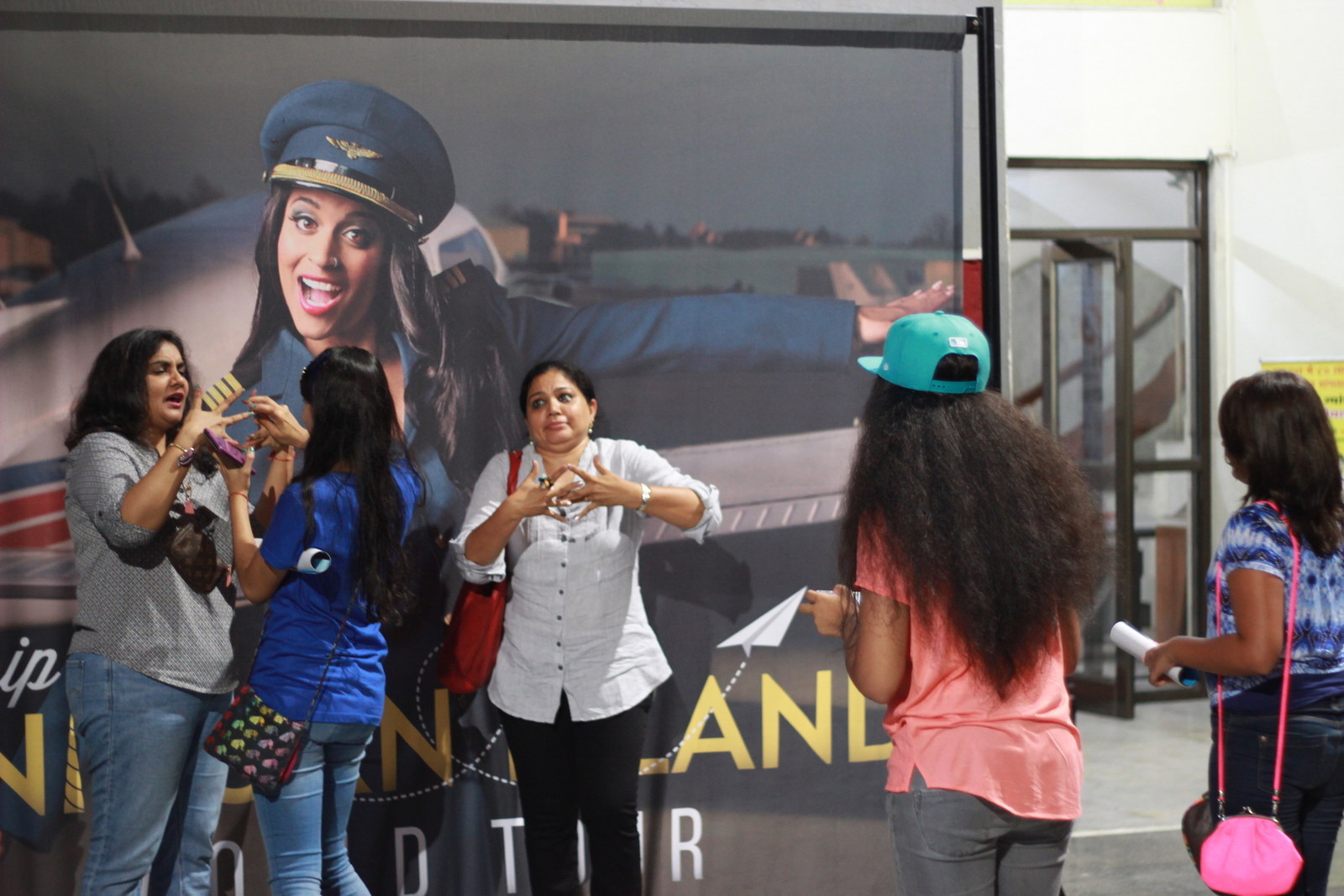 If you want to hear more about All India Bakchod, listen to this episode of BuzzFeed's Internet Explorer podcast.