Last week, far-right internet personalities Martin Sellner and Brittany Pettibone announced that they were planning to come to London deliver a speech.
Anti-fascist counterprotesters announced on social media that they would attempt to disrupt Sellner's speech. "Do not let the far-right weaponize free speech as an excuse to spread hate," one Facebook event page read.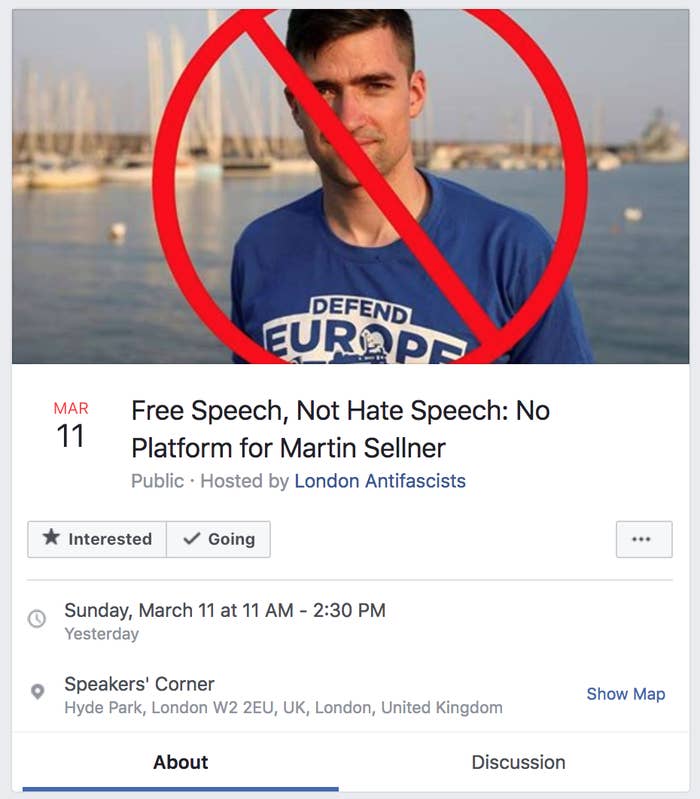 The event on Sunday didn't go as planned, however. Sellner and Pettibone were detained at Luton Airport on Friday and were then denied entry into the UK. Both were removed from the country on Sunday.
The British chapter of Generation Identity told its Facebook followers that it still intended to gather at Speaker's Corner in Hyde Park, London, on Sunday. "We can't allow either the far-left or the government to silence us," organizers wrote.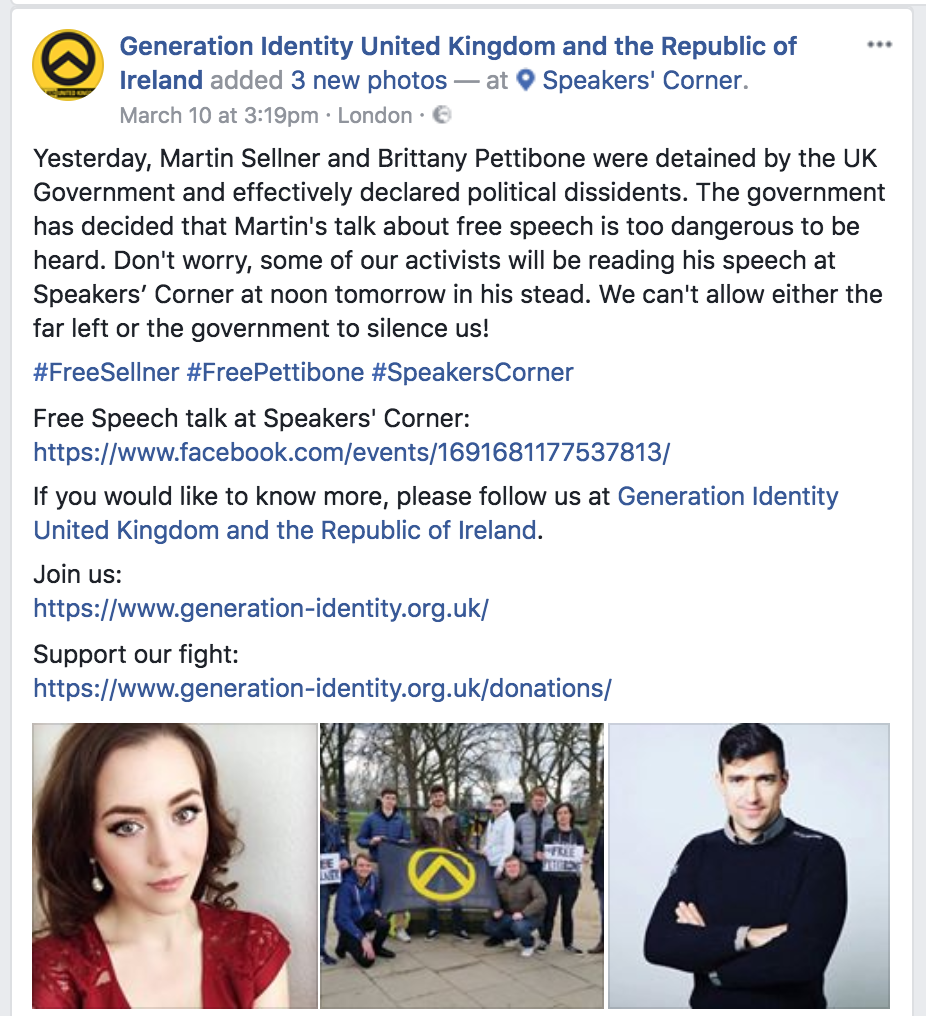 About 100 protesters gathered at Speaker's Corner in protest, carrying signs that read "free speech" and showed the word "antifa" crossed out.
And on Sunday morning, Pettibone and Sellner arrived in Austria, greeted with banners held by members of Generation Identity.
Sellner and Pettibone's denial of entry to the UK was picked up by influencers within the far-right, including Tommy Robinson, former spokesman and leader of the English Defence League and former correspondent for The Rebel Media, a far-right Canadian website.
In an interview that Robinson put on his YouTube channel, Sellner told him that he and Pettibone were detained by UK immigration authorities for three days.
On Monday morning, Lauren Southern, one of the activists Sellner and Pettibone worked with in Italy last summer, tweeted this photo taken in the back of a police car in Coquelles, France, at the British border.
Pettibone then tweeted these texts from Southern saying that she was being detained.
Robinson, once again, got involved and tweeted this photo he claimed showed where Southern was being held.
Several hours later, Southern tweeted that she was "officially banned from the UK for 'racism.'"
Photos of the letter Southern and Pettibone they claim they received from the UK Home Office were tweeted by Robinson and Katie Hopkins, a former MailOnline columnist and current correspondent for The Rebel Media.
BuzzFeed News can confirm that Sellner, Pettibone, and Southern were all detained and not allowed into the UK. "Border Force has the power to refuse entry to an individual if it is considered that his or her presence in the UK is not conducive to the public good," a Home Office spokesperson said.