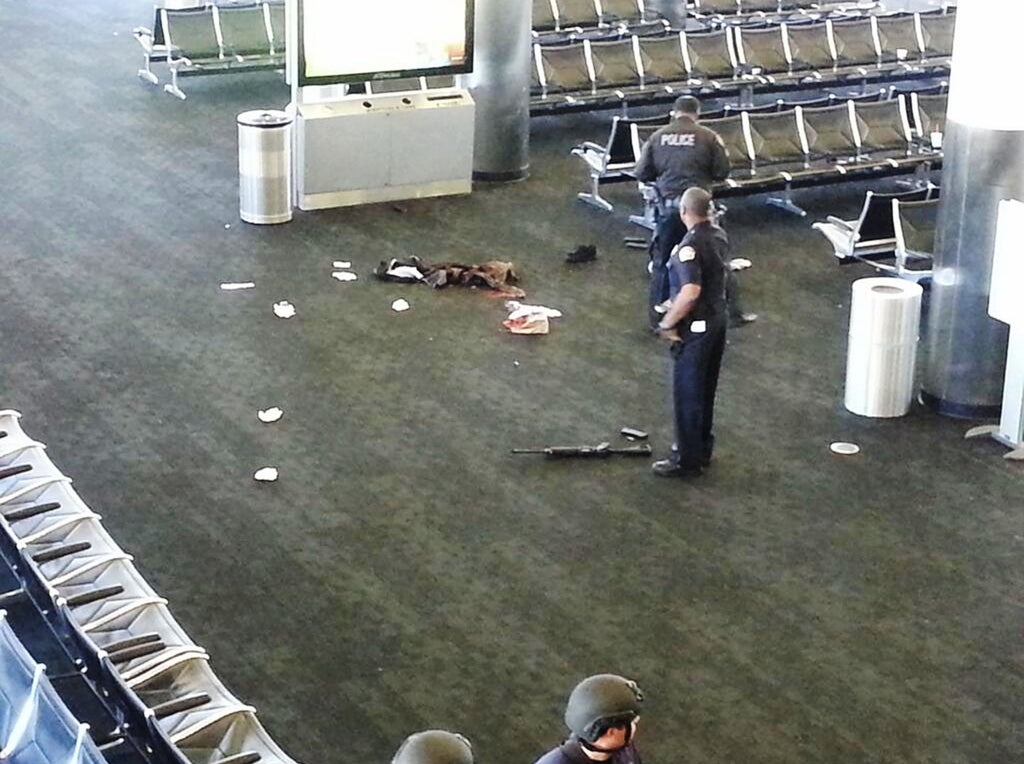 Officers stand near a weapon in Terminal 3 of LAX on Friday, and suspected shooter Paul Anthony Ciancia is seen in his California driver's license photo.
Updated — 10:30 p.m. ET
One TSA employee was killed and several others were injured Friday after a shooter opened fire at Los Angeles International Airport, sending the airport into lockdown and canceling or delaying hundreds of flights.
Five people were taken to hospitals after the shooting: the gunman, a TSA officer who died, two other people who were shot, and another person with a broken ankle, the Los Angeles Fire Department said.
The shooting began around 9:20 a.m. when 23-year-old Paul Anthony Ciancia allegedly entered Terminal 3 at Los Angeles International Airport and opened fire.
LAX Police Chief Patrick Gannon said the shooter pulled an "assault rifle" from a bag and opened fire near a security checkpoint. Ciancia was able to make it quite far into Terminal 3 before he was injured while exchanging gunfire with police and taken into custody. The gunman reportedly is in critical condition.
The shooter was wearing fatigues and carrying a bag containing a handwritten note that said he wanted to kill TSA employees and "pigs," the Associated Press reported. According to the note, Ciancia felt his constitutional rights were being violated by the TSA and he described himself as a "pissed-off patriot" upset at former Homeland Security Secretary Janet Napolitano.
In a statement, TSA administrator John Pistole confirmed one employee had died and another agent was shot and injured. The slain TSA employee was the first officer killed in the line of duty in the 12-year history of the agency, Los Angeles Mayor Eric Garcetti said.
An agency official identified him as 39-year-old Gerardo I. Hernandez.
The gunman was carrying additional ammunition that was discovered by officers after the shooting, Garcetti said. He "had more than 100 more rounds that could have literally killed everyone in that terminal today," the mayor told a news conference. He praised police officers for their heroism in quickly taking down the shooter.
According to NBC Philadelphia, the chief of police in Pennsville, N.J., said Ciancia grew up in the Salem County township.
On Friday, Ciancia told his brother in a text message he was thinking of killing himself, the station reported. Ciancia's brother then contacted Pennsville Police, whose chief reportedly asked LAPD to check in on Ciancia. Police went to Ciancia's Los Angeles apartment, where his roommates "told police everything was fine."
The shooting left 746 flights affected, including 46 that had to be diverted to other airports.
A former BuzzFeed editorial fellow, Natalie Morin, was at the airport when the shots were fired. She was in Terminal 1 when people began streaming in from Terminal 3.
"A woman came up to me and said there was a shooter, and I heard other people in the crowd saying, 'Shooter, shooter,'" she said. "All of the airport agents had no idea what was going on."
Morin was ushered out onto the tarmac for about 20 minutes before being put on a shuttle headed toward the international terminal. She was still waiting there four hours later, with more than 500 other passengers.
"I think it's weird that so many people are nonchalant about it," she said. "People are laughing, and one guy who was being evacuated with me was like, 'Oh, this is bullshit,' like it was just another inconvenience at LAX."
She later tweeted that an agent "just told all of us that the suspect is in custody and it should take 30-40 minutes until everything is clear."

More photos and videos show the chaos as the shooting occurred.
Andrew Blankstein, a reporter based in L.A., initially reported that two people were down, including the shooter.
A passenger inside a plane on the tarmac described a terrifying scene following the gunshots, with passengers panicking, unable to escape.
Evacuated passengers in this Instagram video talk about how they were evacuated from the plane after they heard gunshots.
According to CBS LA, one TSA employee was shot in the leg.
Firefighters assisted a bloodied man, helping him get onto a stretcher.
The LAPD sectioned off a possible crime scene in the terminal.



One widely repeated report was a hoax.

Last month, an employee was arrested at LAX in connection with dry ice bombs discovered at the airport. No injuries resulted from the small blasts.