This Viral Photo Of A Deputy Comforting A Baby After A Car Crash Is Amazing
Sheriff's Deputy Ric Lindley says he doesn't understand all the fuss.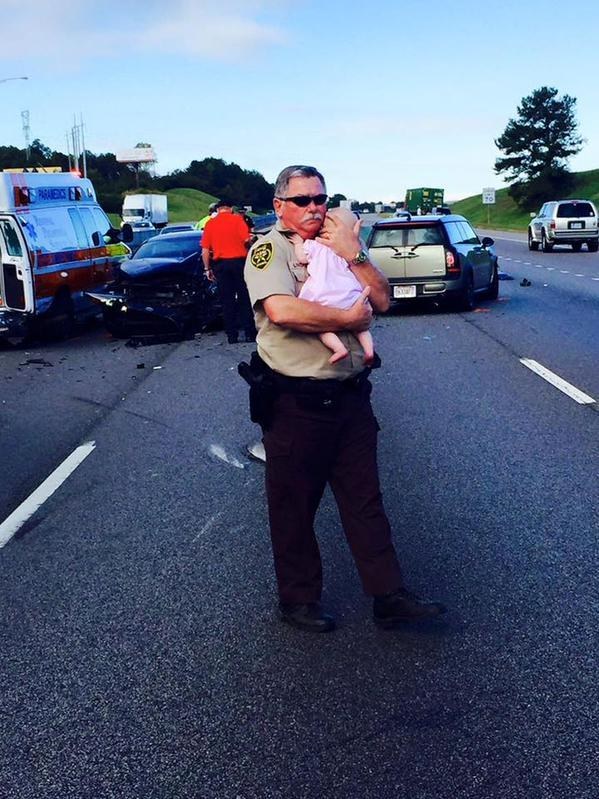 On Tuesday morning, Jefferson County sheriff's Deputy Ric Lindley was on patrol when he came across a crash on Interstate 20 in Leeds, Alabama. An ambulance, an 18-wheeler, and three vehicles had collided, though, luckily, there were no serious injuries.
Lindley and his partner Deputy Tim Sanford were the first two on the scene. About 30 yards from the scene of the crash, a young mother was outside her car trying to comfort her baby. "She was pretty well shaken up, so I asked her if I could hold the baby," Lindley told AL.com.
That's when Sanford took the above photo of Lindley comforting the little girl. "I wanted to give her mother time to regain her composure," Lindley said. "She's a young mother, and this was probably extremely traumatic for her."
Jefferson County's Facebook page posted the photo and it's now been shared thousands of times. "I did nothing heroic,'' Lindley said of his newfound viral fame. "All I did was hold a baby."
The 60-year-old former U.S. Army Green Beret said he loves kids, but he doesn't understand all the attention he's been getting. "I'm just a man. I'm not better or worse than anyone else,'' he said. "I'm just a Dad and a grandfather. That's about it."
Regardless of whether or not Lindley thinks he deserves all the fuss, commenters can't stop posting about how touched they are by the photo.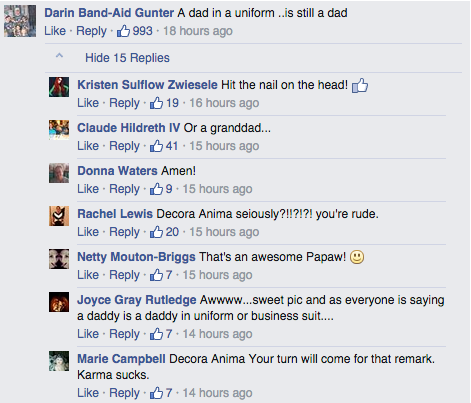 Also, some are sharing their own stories about meeting Lindley.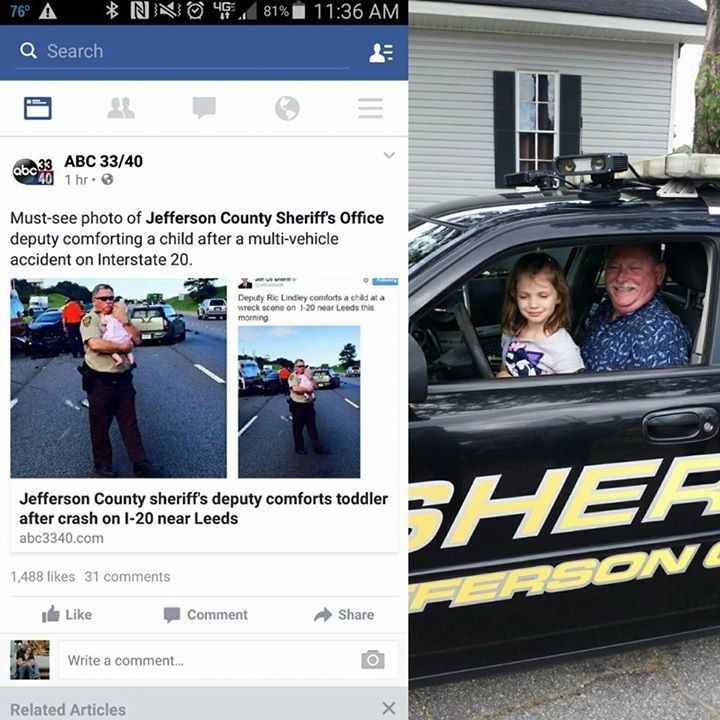 One woman, Marci Lockridge Setting, wrote about meeting Lindley at a local festival last month:
I just saw this article from an accident that happened on I20 this morning. It's really nice to see officers that are so kind and caring. It's even better when you get to see it more than once. Deputy Lindley was also helping at the Whistlestop Festival a few weekends ago (fingerprinting and other vital records for children). See the screen shot from the news FB page below, along with another picture in his patrol car at the festival.