Meet The Guy Behind The Controversial "Drunk Girl In Public" YouTube Hoax
An exclusive look at how the viral YouTube video tricked the world. BuzzFeed News' Ryan Broderick talks to Stephen Zhang.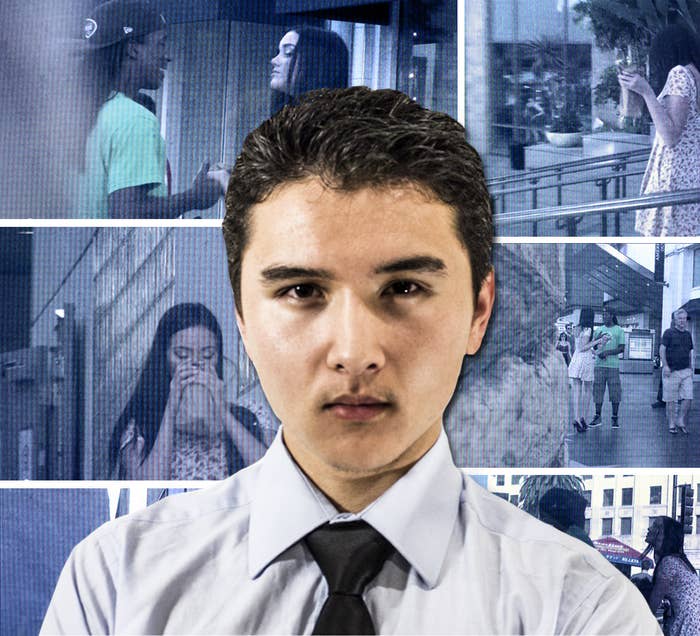 Earlier this month, a YouTube channel called Stephen Zhang Productions released a video called "Drunk Girl in Public," starring Jennifer Box, a 24-year-old model from Los Angeles.
"Today I'm Hollywood Boulevard and I've had a little too much to drink, let's see if anyone will help me get home," Box says in the beginning of the video. Then, in different scenes, men approach Box and attempt to take her home. The controversial video has been viewed over 11 million times.
A week after "Drunk Girl in Public" was posted, however, it was revealed that the men were tricked into appearing in the video. The men have told reporters that they were approached by a 22-year-old producer named Seth Leach and his cameraman Chris Olmedo, who told them they would be acting in a comedy sketch.
The man in the green shirt with dreadlocks is a local street musician named "Ashtray," another one is a local musician named Josh Blaine, and the man who appears at the end who steals Box away from another potential "helper" is Mike "Mokii" Koshak, who works for LA Epic, a party promotion company.
"The video that has me in it that's going around the web was all staged and all of the people in it were acting," Koshak posted on Facebook. "It was staged [and] does not portray myself or any of the other people in it correctly."
Jennifer Box released her own statement on YouTube two weeks ago. In a 30-second video, she explains that she was also tricked by the video's production crew and that the men who appeared in the video were actually perfect gentlemen.
"I was hired as an actress to portray a drunk girl in what was described to me as a lighthearted prank show," Box says in the video. "Had I known the damaging outcome of this video I never would have participated."
When the video was first published, though, she thanked the video's production crew on her Facebook.
"Don't even know what to say right now," Box wrote in a since-deleted Facebook post earlier this month. "Thank you Stephen Zhang, Seth Leach, Chris Olmedo, Micayla Keeley."
BuzzFeed News contacted Box for additional comment but she didn't immediately respond.
BuzzFeed News also contacted the video's producer, Leach, who said that Stephen Zhang, the owner of the video's original YouTube channel, would speak for Leach and his team.
Stephen Zhang is a 20-year-old entrepreneur who started a company called Hygo Inc. when he was a teenager. Hygo was initially an SEO consulting firm, but two years ago, the company switched to viral marketing.
Zhang said that Hygo has a dozen or so regular employees and the company's main service is helping brands, news and media outlets, and public figures drive traffic to their websites via social media.
Zhang wouldn't name any of Hygo's clients, citing privacy agreements, and refused to cite specific services Hygo provides to businesses.
"What I can say is we've worked with 13 to 14 news and media publication sites that are in the top 1,000 of the world," Zhang told BuzzFeed News. "It's impossible for me to tell you this is what we do for every single person, but generally speaking, broadly, what most of these publications want is traffic to their site and they're willing to pay for it."
Michael Krivicka, the co-founder of New York-based viral marketing agency Thinkmodo, told BuzzFeed News that firms like Hygo usually produce a piece of content that's designed to go viral or pay for ads on social media platforms to help something go viral.
"Many ad agencies buy media and pay for placement of their videos to 'help' them go viral," Krivicka said. "Part of their distribution strategy often includes paid tweets, forced pre-roll ads on YouTube, and sponsored Facebook content that pops up in people's timelines."
Krivicka said that viral marketing can be incredibly lucrative if it's done right, but the most important aspect is positive feedback. If a marketing firm makes something that goes viral for the wrong reasons, it'll backfire and ruin the brand's image.
Zhang and the rest of the staff at Hygo are currently dealing with the repercussions of having a video go viral for "the wrong reasons." Zhang has been credited as the creator of "Drunk Girl in Public," but he denies having any creative control over the production. He said that his company merely bought the copyright for the video from Leach and his production team.
Zhang said that he didn't want to name the person responsible for marketing the video as a real situation.
"I really don't like playing this kind of drama game, of blaming people and pointing fingers; I don't really want to take part in it," Zhang said. "I thought it was fairly obvious that it was scripted, and set up."
He said that Hygo wanted to buy the video, though, because the company liked its message and he thought it would be a public service.
"When I first got to college I was pretty shocked actually to see how people act when they were drunk or when someone else was drunk," Zhang said. "Honestly, only after a few parties it was very clear to me that the whole concept of taking advantage of someone was a very real issue."
While Zhang thought it was obvious that his video titled "Drunk Girl in Public" was staged, he said he regrets it ended up fooling people.
"I think that the media and the people have definitely taken it in the wrong way. It was definitely not what we intended," Zhang said. "I can definitely say that there was no malicious intent; there was no attempt to deceive."
Zhang said many media outlets posted the video without any research into where it came from or who made it. He's especially bitter toward the outlets that downloaded the video and hosted it on their own websites after he tried to make it private.
"They're just trying to have a catchy title that's going to bring visitors to their site and and bring more traffic," Zhang said.
The video has since been retitled — "Drunk Girl in Public (Awareness Skit)" — and has a new, more fleshed-out description.
"This video is meant to raise awareness for a serious issue. We do not hate men. We are not saying all men will take advantage of women, nor are we saying it's impossible for a woman to take advantage of a man," the caption reads. The comments on the video are also disabled.
"If this video has even saved one person, male or female, from a scarring experience then frankly I'm willing to jeopardize my reputation for that cause," Zhang said.
Zhang isn't done with viral videos. He posted a new one last week titled "Helping the Homeless With Thanksgiving Cheer." It follows the same setup as his last one. A young woman goes around Los Angeles talking to men, only this time she's handing out turkeys to homeless men for Thanksgiving.
It currently has around only 5,000 views, though, without nearly as much pickup from news websites.
It could be that websites don't want to pick up Zhang's video because of what happened with "Drunk Girl in Public."
Zhang said that his work with viral marketing isn't about the money. "I have no need for money right now. I'm only 20 years old; I have to live my life first," he said.
When asked directly about whether or not he thought it was a good thing that viral marketing firms like Hygo were trying to make content go viral, Zhang said it depends on who's doing it.
"I can definitely agree with you that the majority of the marketers are there for the money and there's no hiding that," Zhang said. "Each person has their own moral threshold."