The New South Park Video Game Is One Giant, Very Disgusting, Pretty OK Episode Of South Park
The only bad part of this pretty great game is that you might just wish you were watching it instead.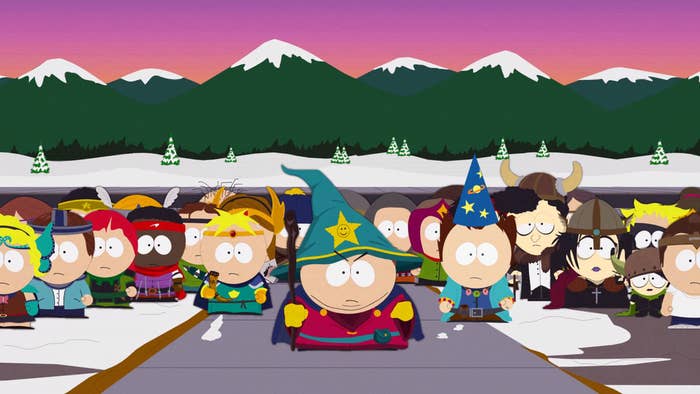 There is a scene in South Park: Stick Of Truth where you have to convincingly perform an abortion on Randy Marsh's asshole without sucking his testicles off. If you suck his testicles off you'll be shot to death by C.I.A. agents who are in South Park, posing as security guards for the construction of a new Taco Bell.
In another scene you shrink down and fight an Underpants Gnome beneath your character's parents' naked bodies as they have incredibly loud and rough sex above you. If you don't time it right you'll be hit by your character's father's nutsack.
And keep in mind, these are two of the tamer gross-out gags in the game.
While this kind of over-the-top raunch is basically unprecedented in videogames, it's absolutely nothing new for South Park, the 17-year-old show that has been gleefully offending viewers for its entire run. The last time the series tried out a new medium in a major way, creators Matt Stone and Trey Parker ended up with a feature film version of South Park that included a war with Canada and an abusive gay relationship between Satan and Saddam Hussein. It also earned them an Academy Award nomination. So it's no real surprise that the mix of high and low culture in Stick Of Truth is equal parts totally demented and genuinely inspired.
If you like South Park, you will love most of the Stick Of Truth. I say "most of" because 80% of the game is actually a joy to play through. The game lets you completely customize a character and then go and explore all of South Park, an open world full of fan service. You can collect Chinpokomon. You can help Al Gore fight Manbearpig. At one point you even go on quest for the Prince of Canada.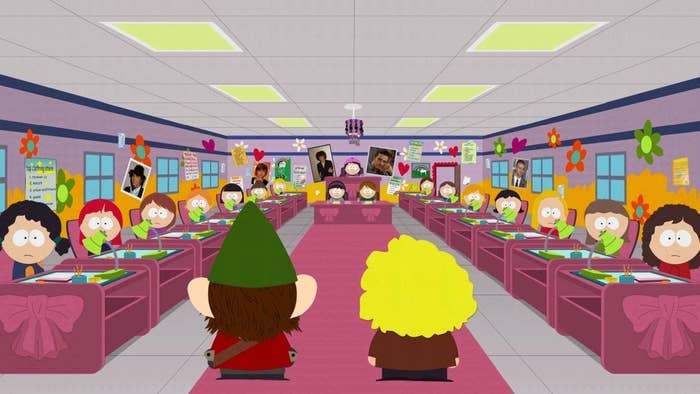 The story starts when you join Cartman's Dungeons & Dragons-like game with the other kids in town and he makes you choose a class to play as. Your options are Fighter, Mage, Thief, and Jew.
I chose Jew, simply because I had to see what that would even look like. It turns out that your character wears a Tallit and a Yarmulke and you get a set of Jewish-themed spells and summons. One of the more effective ones you get is the ability to pull out a knife and circumcise your opponents. You also can earn the ability to summon the 12 plagues of Egypt, which for the record, is totally awesome and a really effective move.
So after setting up your class and getting your mission you more or less run jobs for members of the community and slowly set-off a chain of events that causes what is basically a pretty great 10-hour-long episode of South Park. You will get abducted by aliens; you will accidentally leaks toxic goo into the sewers of town; you will fight Nazi zombies who speak in actual sound clips of Adolf Hitler's speeches.
All of this might sound very random and stupid, and it is. But, in the South Park style, it's also genuinely clever, well done, and exciting.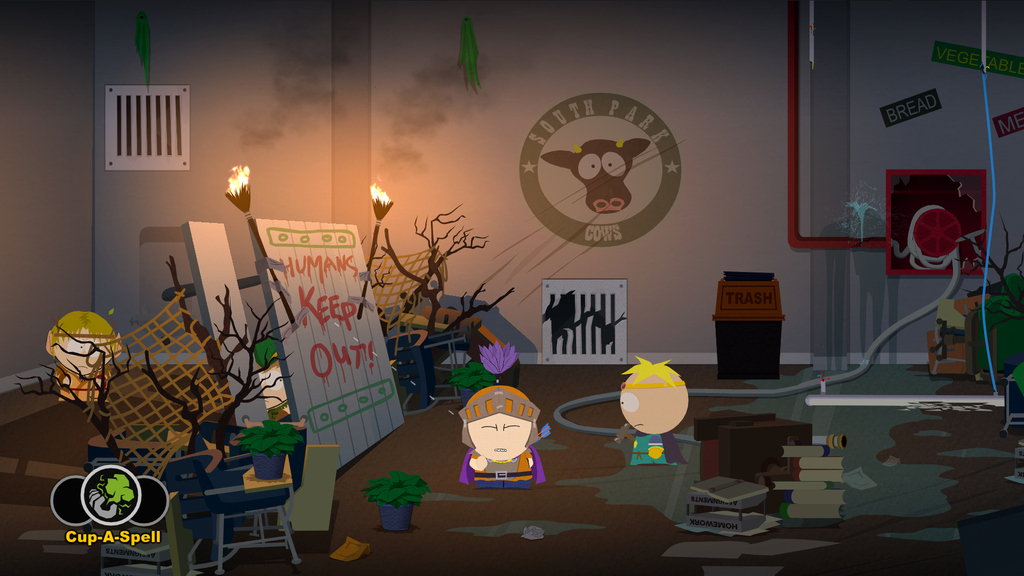 When I spoke with South Park co-creator Matt Stone last week, he told me that one of the trickier parts of building Stick Of Truth was writing a story that accommodated the plot and playability demands of a videogame.
"In a TV show, in a movie, you need plot to go from here to there to there to lead you," Stone said. "In a game you're going from here to here and you're walking. And it can't just be walking, because that's fucking boring."
And in that regard, they succeeded. The best way to think of Stick Of Truth is as a multi-parter episode of South Park, like "Imaginationland," (in which the US government tries to blow up everyone's imagination), sliced up and wrapped around a very classic-feeling RPG like Final Fantasy Tactics, jammed inside a very old school adventure scroller like Earthbound.
"The bad word is cutscene hunter," Stone said. "Trey hated L.A. Noir because he felt like 'I'm watching a bad version of a TV show and then walking around between cutscenes."
If the game were simply walking around South Park, doing quests, solving puzzles, and showing off against bad guys, we might be looking at The Next Great RPG™. But we aren't, mostly because of the game's stupid obsession with farts and other material that goes in and comes out of your character's asshole.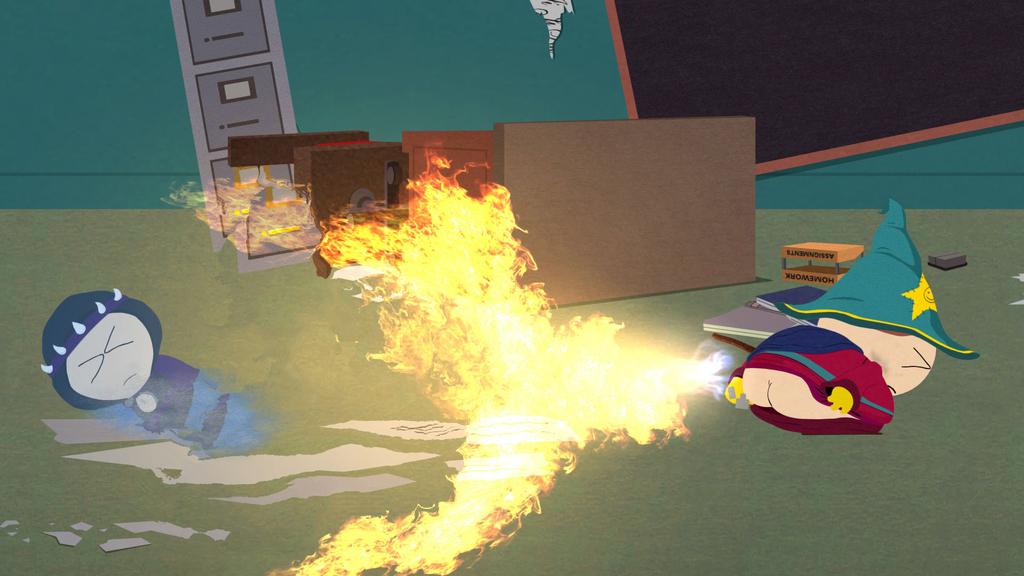 A couple hours into the game you're given the ability to fart different spells, most of which involve timing elements and button mashing. You then use these farts in battles and then also outside of battles to solve puzzles and get around obstacles. It should be a pretty great send-up of typical bullshit RPG puzzles that don't ever go anywhere.
But in reality, it ends up just being a worse version of those same puzzles. Plus, continually hearing a cartoon character fart over and over again for 10-plus hours of gameplay is an actual nightmare.
And that's odd, because according to Jordan Thomas, a creative consultant who was brought on by Ubisoft to act as a "creative therapist" for Stone and Parker, joke repetition was a serious concern for the team.
"Repeated exposure kind of drains it," Taylor said, explaining the decision not to make Stick Of Truth into an MMORPG. "The third time you've seen the intro to an instance dungeon, you're like 'fucking stop talking, I'm canceling my account if you don't stop talking.'"
For Stick Of Truth it's more an issue of "please stop fucking farting." A character constantly farting, or shitting, or dying is pretty par for course in a normal episode. But a normal episode is only 30 minutes long.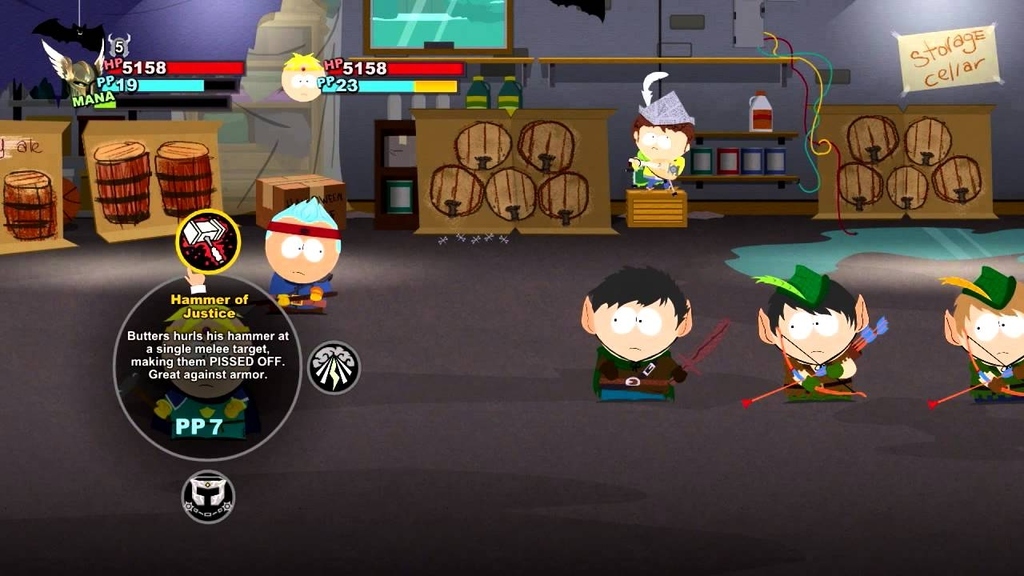 Farts aside, Stone and Taylor emphasized repeatedly to me that the customizable and immersive aspects at the core of the game are its real focus. Both stressed the fact no two players will look the same or play through the same—very detailed—game.
"If you felt like, 'wow, I just lived a South Park episode or South Park movie.' Or you felt, 'wow, I just went to South Park,' or whatever that is for you," Stone said. "Then that's what we'd consider a success."
And you will feel like you have visited South Park. The level of depth is actually the most incredible part of the game. Especially if you consider that almost all of the voice acting was done by Stone and Parker, a process Stone described as completely draining. But it works and the game moves so fluidly and does such a decent job of pulling you in that you do really feel as though you're part of an episode of South Park.
What's ironic, though, is at times the game is so good at recreating the feeling of the show that it simply makes you want to watch it. The cutscenes are so entertaining, it would have been nice if there were more, or if they were a little longer, or even just spaced out more evenly.
That's basically why Stick Of Truth is only a little better than OK, and not something as seminal as South Park: Bigger, Longer, And Uncut. The formula of two guys making up silly voices and insane jokes can be really, really effective in a two-hour movie. But applying that formula to a big-budget videogame just doesn't consistently work. There's too much to do between the jokes.
It's telling that Stone's favorite part of the game is one he describes as simple and pretty stupid.
"One of my favorite parts of the game is some of the least sophisticated gameplay in the thing. You go to the Photo Booth to get a passport photo," Stone said. "I think it's so fucking funny. It's interactive, but there's no award-winning gameplay. It's just a joke that has an interactive element."
The scene he's describing is a fight in the back of a photo lab against a pedophile and he's right, it's pretty funny. And there are so many, similar, great moments in which players get to slowly unravel the really funny jokes that were built, with care, for them. The only thing wrong with Stick Of Truth are the parts that try to go further than that.