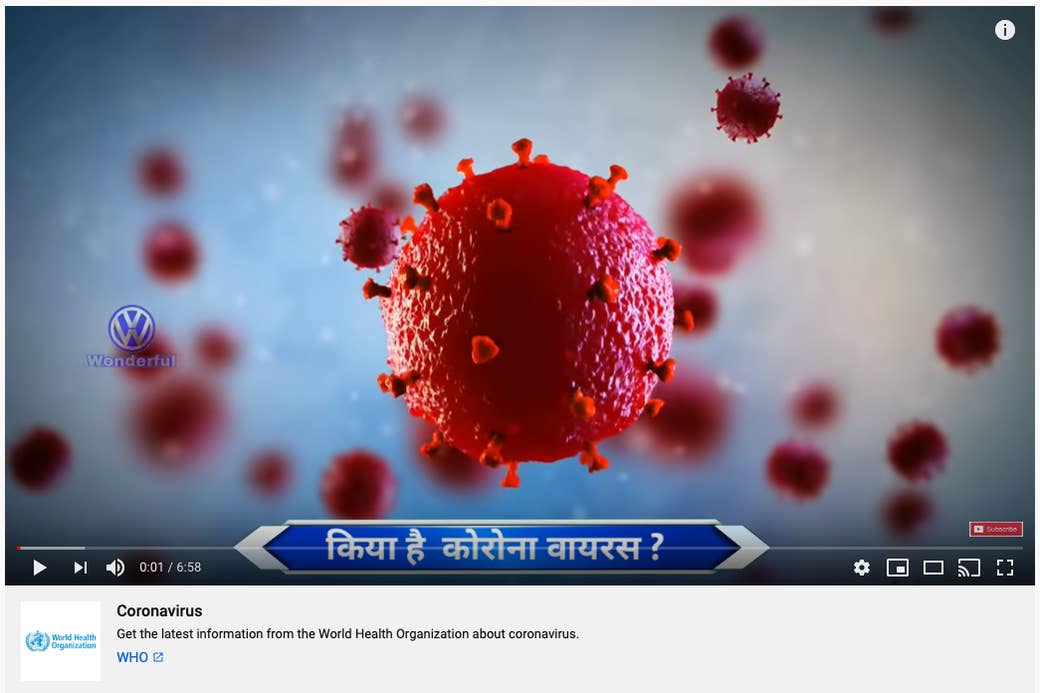 The most popular YouTube video in the world about the coronavirus was created by a channel called Wonderful Secrets of the World, which typically publishes Hindi-language videos about sports and cars, as well as roundups like "Top 5 Secret Places Hidden in Famous Locations" or "30 Amazing Facts About Human Body." The channel, the logo of which looks uncannily like that of Volkswagen, hides its subscriber count, but 16 of its videos have been viewed over a million times — the most popular being the coronavirus explainer, which has been seen 13.6 million times as of Wednesday.

Wonderful Secrets of the World isn't an outlier. It is the tip of a huge Indian YouTube iceberg of content about the outbreak. The disease has 75,280 confirmed cases, and 2,014 deaths, mostly in mainland China. Shared at high rates, these videos often combine basic facts about the novel coronavirus from Wuhan, China, with Indian nationalist propaganda and hearsay — with serious real-life consequences.
There are reports of a man in southeast India who had a urinary tract infection and killed himself on Feb. 10, mistakenly thinking he had the coronavirus.
His son told local media he was watching a lot of videos about the virus online.
"We told him that he did not have coronavirus, but he refused to let us near him. He told all the villagers to stay away. He would tell them that their kids would also end up contracting it if they came close to him," his son told reporters.
Karen Rebelo, deputy editor for Boom, an Indian fact-checking organization that reported on the story, told BuzzFeed News it's extremely difficult to fact-check YouTube videos because often it's not a straightforward question of whether the content is true or false.
"Most Indians coming online for the first time start by streaming YouTube videos because it's free," Rebelo said. She said that most fact-checking efforts in India are only being done in English and Hindi, so things are even more complicated for videos being created in regional languages. It's also hard to fact-check videos that mix truth and hoax freely together.
"It's difficult to debunk a video with half-truths. A lot of it is harmless advice, but none of the videos actually tell you to go to a doctor, which is what you should do," she said.
This mixture of false and true is exactly what characterizes the seven-minute Hindi-language coronavirus explainer by Wonderful Secrets of the World. Halfway into it, the narrator makes the false claim that "Chinese people have a huge appetite for dog meat, cat meat, snake meat, bird's nest soup, and bat soup. Scientists say this virus has spread through bats."
BuzzFeed News has reached out to Wonderful Secrets of the World via the channel's Facebook page.
The unproven claim that coronavirus spread from eating bats is one of the most prevalent rumors about the outbreak on YouTube and the wider internet.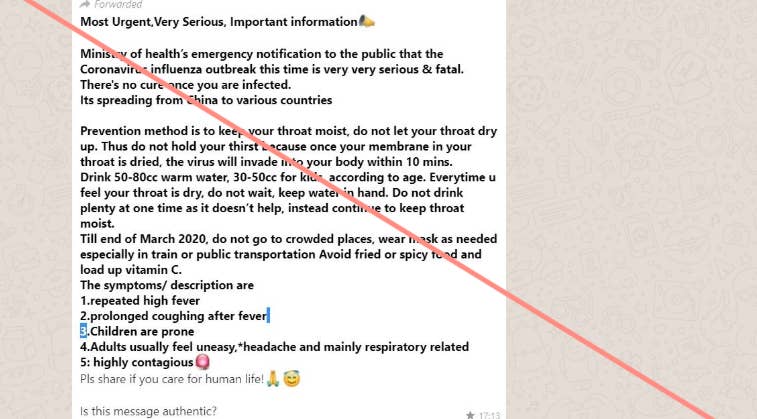 As they are in every other country, social media users in India are sharing hoaxes and rumors about the outbreak. Unverified videos from Chinese social media are shared by local Twitter influencers, viral WhatsApp forwards warn users of government advisories that don't actually exist, and people share bogus cures for the virus. But what's happening on Indian YouTube is more insidious because of how seamlessly the videos transition from fact to bogus rumor.

YouTube has implemented safeguards to protect its platform from being overwhelmed with dangerous misinformation — videos about the virus come with a World Health Organization warning and occasionally show virus-related search results that include a live blog about the outbreak from a trusted news source and hundreds of videos from verified channels. A live blog was not included in Indian search results when BuzzFeed News checked on Wednesday.
The majority of the highest-performing videos on YouTube were created by a mix of Indian news networks and Hindi-language YouTube channels, according to social metrics site BuzzSumo. Videos from mainstream Indian news networks and popular local YouTubers are being watched at similarly high rates.
Indian news networks have huge audiences on the platform. The country's most popular YouTube news channel, Aaj Tak, with 27.6 million subscribers, is the 73rd most popular channel in the world and the only news channel in the top 100, which is otherwise filled with entertainment content. The Hindi-language news network has covered the coronavirus extensively; its YouTube channel is full of clips from its broadcasts, including a fact-check titled "Will China Kill 20,000 of Its Own Citizens?" — which has been viewed 1.7 million times.
That YouTube amplifies Indian news networks over independent creators doesn't mean misinformation isn't still worming its way into videos. WION, an Indian television channel with more than 400,000 subscribers, shared an unconfirmed rumor about a Chinese outbreak tracker leaking higher infection rates in two different videos.
But there are two YouTubes: one that exists within the guardrails of what the platform recommends and another, shared off-site by users on Facebook, Twitter, and WhatsApp, where raw engagement determines what people see. And in India, YouTube's largest and fastest-growing market, those two YouTubes are almost entirely different websites.
YouTube could not be reached for comment.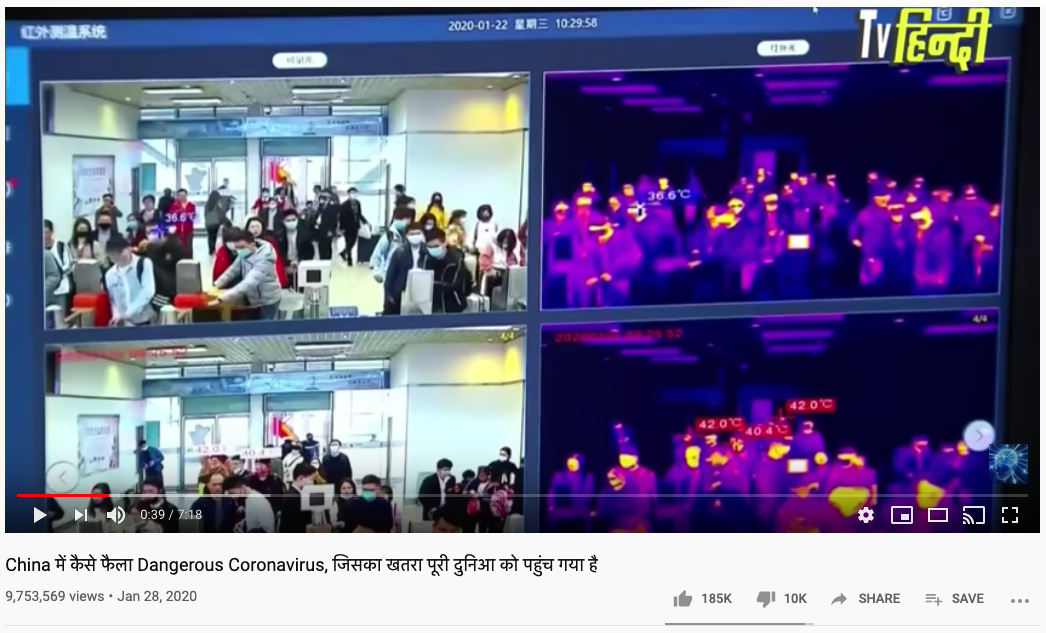 Two of the most-watched YouTube videos about the coronavirus have been viewed almost 10 million times each. Both videos, midway through their runtime, feature some variation of the coronavirus bat soup hoax. One was created by Navbharat Times, one of the largest Hindi-language newspapers. Another was created by an educational YouTube channel called Knowledge Tv and uses the same script that the Navbharat Times did, just rerecorded. They're currently the third- and fourth-most-watched videos in the world about the coronavirus, respectively.

Half-truths and rumors about the virus even appear in videos attempting to fact-check rumors. A video created by Hindi-language exam prep channel Adda247 attempted to debunk a rumor that the virus spreads through poultry (it doesn't), but then mentioned bat soup as a mode of transmission.
Pratik Sinha, cofounder of Indian fact-checking website Alt News, told BuzzFeed News that fact-checkers, particularly in India, need a way to flag misinformation to specific timestamps within videos. "YouTube videos are generally longer too, so it's unfeasible for fact-checkers to sit through entire videos," Sinha said.
"The only thing they've done is show fact-checks when people search for controversial topics. But that's not how most people use YouTube. They just jump from video to video."
He thought that, in general, the video platform isn't being scrutinized enough about misinformation. Many of the most popular coronavirus videos on YouTube from India range somewhere between four and eight minutes in length. Vetting all the facts contained within them is extremely time-consuming.

Sinha also said YouTube's current fact-checking strategy doesn't reflect how Indians actually use the site. Users don't typically subscribe to channels, where YouTube focuses its moderation most intensely, but instead stumble across videos through the site's homepage, Google Discover on Android phones, or third-party social media.
"There is a general sense of fear, so people look out for information — and YouTube becomes one of the places to look for it," Sinha said. "The only thing they've done is show fact-checks when people search for controversial topics. But that's not how most people use YouTube. They just jump from video to video."