The Letter This State Trooper Wrote After Putting His K-9 Partner To Sleep Will Break Your Heart
Massachusetts State Trooper Christopher Coscia took to Facebook today to say goodbye to a very good dog.
Dante was a nine-year veteran of the Massachusetts State Police Department's K-9 unit. He was put to sleep Tuesday after being diagnosed with pulmonary hypertension.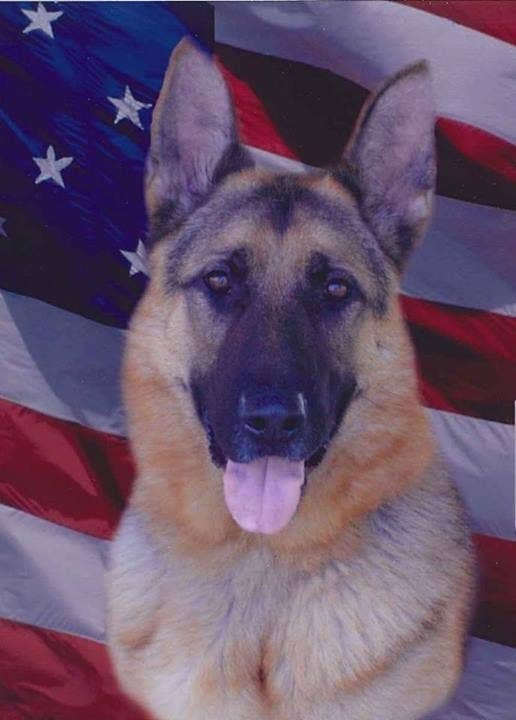 One Last RideBy Trooper Christopher CosciaIt was a cold snowy day, training was cancelled due to the snowstorm, and I was left with the unenviable task of when I should make the decision to put my partner of nearly nine years to sleep. Dante was a great dog. He was big, beautiful, black and tan shepherd. I often described him as a look-a-like for the dog in the show "Run Joe Run," for those old enough to remember that program. He had a regal look, with his big head, ears and large stature. He had his own personality. Most dogs are just dogs, but you sometimes run into ones that are somehow as much human as they are dog. A Type A dog was only to be touched by those closest to him, and sometimes not even by them.Dante was best described as a one-person dog, and as tough as he was for other people to get close to, our relationship never waivered. Every morning when I opened the door to his kennel he would jump up on me, wrap his paws around my waist, get his morning greeting and pat from me, storm up the stairs, and push the door open ready to go to work. During Dante's career he was able to answer calls in towns as far west as Lee, North Adams, and Shutesbury, and calls as far east as Brighton, and even, for a few of his last successful calls, on the South Shore. Once he was able to track and locate a guy who had just murdered his girlfriend, and another time he located a cash seizure that was several times greater than the previous largest seizure in Commonwealth history. During his career he helped to rid the streets of drugs. He was able to locate and assist in the seizure of more than 1,000 grams of Heroin, more than 8,600 grams of cocaine (one seizure alone of more than 7 lbs. that had been canned mechanically), more than 1,000 lbs. of marijuana, and more than $14,000,000 in cash.
Dante was very intelligent; one day when I was out with him I made the mistake of teaching him to open the cruiser door -- a task which took five minutes once I showed him how. From that, Dante figured out that doors open with handles, and all you have to do is grab them with your mouth and pull or turn. He took this new knowledge and taught himself to slide open the door that separated us in the cruiser, his way to always be close to me. While on patrol he would occasionally stick his head through for his occasional ear rub. When you see such a powerful, intelligent dog so helpless at times somehow made the events that follow even harder.It all started one day while taking Dante out to his kennel. He collapsed on me, falling like a rock with no control of his body. After several tests it was obvious to the vet that Dante had pulmonary hypertension, a disease of unknown cause that prevented him from getting enough oxygen to his lungs and making him collapse. The right side of his heart was enlarged, causing poor blood circulation. As the weeks went on, he started getting seizures because of the same lack of oxygen to his brain. He had one of these seizures in the yard the other day, and after I sat on the ground in the snow with him patting him calmly waiting for it to be over, I came in the house. Upon walking in, to my dismay, I realized my wife and two children had been intently watching us to make sure all was okay. But it wasn't and when I walked in the door, my wife and daughter were crying, knowing what was to be coming, possibly sooner than we were ready. My son was sitting very somberly, thinking if we don't dwell on it things it will get better. My son and daughter were 3 and 1 when I, respectively, when I got Dante. They knew him practically their entire lives.
The day came when it was time to take him to the vet for the inevitable. After more than 2,300 rides that we took together, the dog who had trouble making out to the yard just feet away sat upright in his car for One Last Ride.It was a ride I had I delayed for eight hours, just driving around with him as we did so many times, struggling with the decision to put him down. He sat upright, alert as ever, checking the perimeter always on guard. How does the dog who can barely breathe remain upright and vigilant for so long?I sit here writing this obituary in a parking lot not two miles before we reached our final destination. My story is as written, and although it jumps about it is written from the heart. I write this story with tears in my eyes and flowing freely down my face. Dante is still somehow sitting upright watching me as I write about him, every once in a while sticking his head through the cage, letting me know things will be alright. But the more he reassures me, the more I wonder if what I am doing is right. I am glad he made it through the holidays. My wife's birthday was yesterday. I did not want to do that to her; for her to remember her birthday as the day we put down Dante would forever bring a tear to her eye. Much as it does to me as I write this with every new thought and remembrance of my partner, each paragraph brings a new thought and anguish for me. Respectfully submitted.Trooper Christopher CosciaMassachusetts State Police K9 Section