This afternoon The Onion published a piece that instantly ignited a storm of controversy.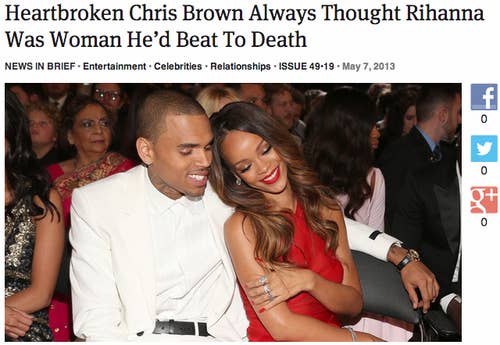 The piece graphically describes Chris Brown being heartbroken about not being able to beat Rihanna to death:
"Despite all the ups and downs, I was so sure Rihanna was the one I'd take by the throat one day and fatally assault, and even toward the end I continued to hold out hope that we'd be together until the day she died at my hands from blunt-force trauma," Brown, 24, said in a radio interview this week.
But the issue many are having though is with The Onion's decision to focus the article entirely on Chris Brown beating Rihanna to death.
Feminist blog Make Me A Sammich, whose tweet is embedded above, thought the Chris Brown article is tied to a larger editorial misogyny.
Or at least, one can hope, because these assholes obviously haven't learned anything.

Hey, The Onion? Violence against women isn't funny. It wasn't funny at the Oscars, and it isn't funny now. It's time for you to sit the fuck down and take a time out. Forever.

Beyond that, I have far too much rage to form words right now. More later.
Users on tumblr, where the post was also published, were angry the post didn't carry any trigger warning, meaning unsuspecting users could stumble across it and relieve painful past experiences with domestic violence.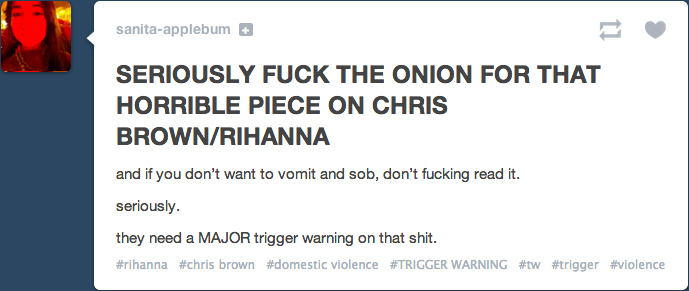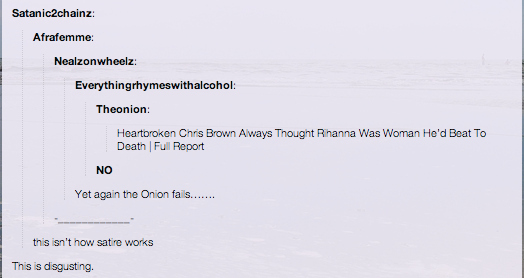 Many also point to the fact that The Onion's graphic depiction of Rihanna is not the first time they've been insensitive to women of color.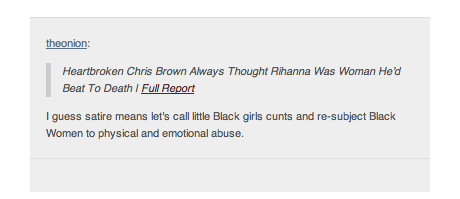 The Onion infuriated readers when they called Quvenzhané Wallis the "c" word during The Oscars earlier this year.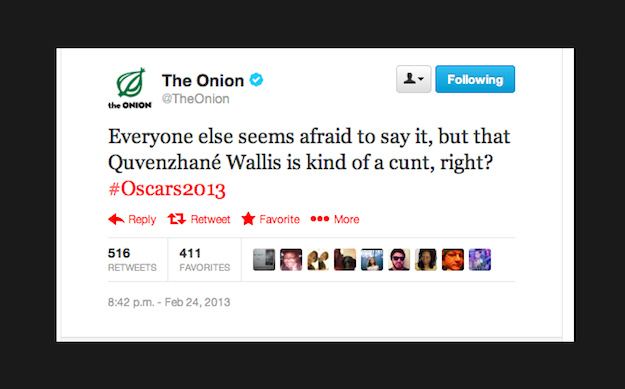 The Onion has yet to address the controversy, but BuzzFeed has reached to them for comment about the piece.