The Citizens Of A Small Town In North Dakota Are Currently Trying To Stop Neo-Nazis From Taking It Over
White supremacists plan on legally absorbing the small town's government.
The trouble in Leith began when Craig Cobb, a member of the National Socialist Movement, moved into the tiny town of Leith, N.D. and began buying up property.
National Socialist Movement Commander Jeff Schoep recieved word that the town was becoming uncomfortable with Cobb's land purchases and his promotion of the town on white supremacist websites.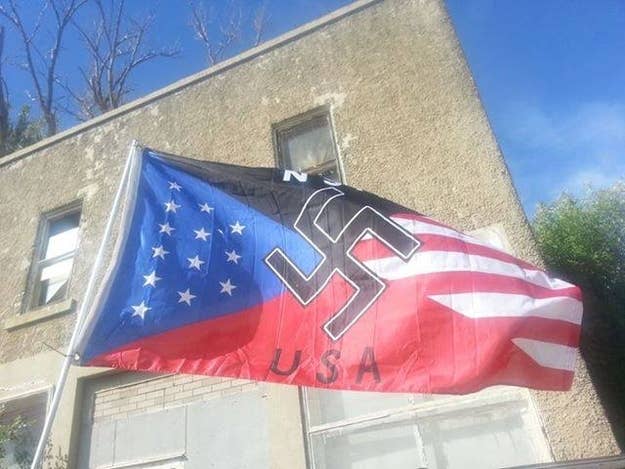 his is an excellent opportunity for the public, neighbors, etc. to come out, meet, and greet Commander Schoep, NSM members, and those related to the 'controversy' in a respectful and dignified manner. We hope this effort goes a long way to dispel the myths regarding the plans of Craig Cobb, the NSM, and other American patriots by bringing the community together for an open discussion.The goal of the far left extremists has been to polarize the community against Leith's new neighbors, by engaging in a sinister campaign to drive a senior citizen (Mr. Cobb) from his home. Craig Cobb is not alone, and will not be driven out, or forced to leave! Legal paperwork is being drafted to insure the civil rights of Mr. Cobb, and other new residents of Leith will not be violated.
NSM members held a press conference on Sunday in Leith to address members of the community.
Draping their flag and signs on the walls of the town hall.
Leith only has a population of around 20 people, which makes it incredibly susceptible to Schoepp's plans of absorbing the community.
Taking up the lead for most of the protest's is North Dakota's Last Real Indians, a politically active Native American advocacy group.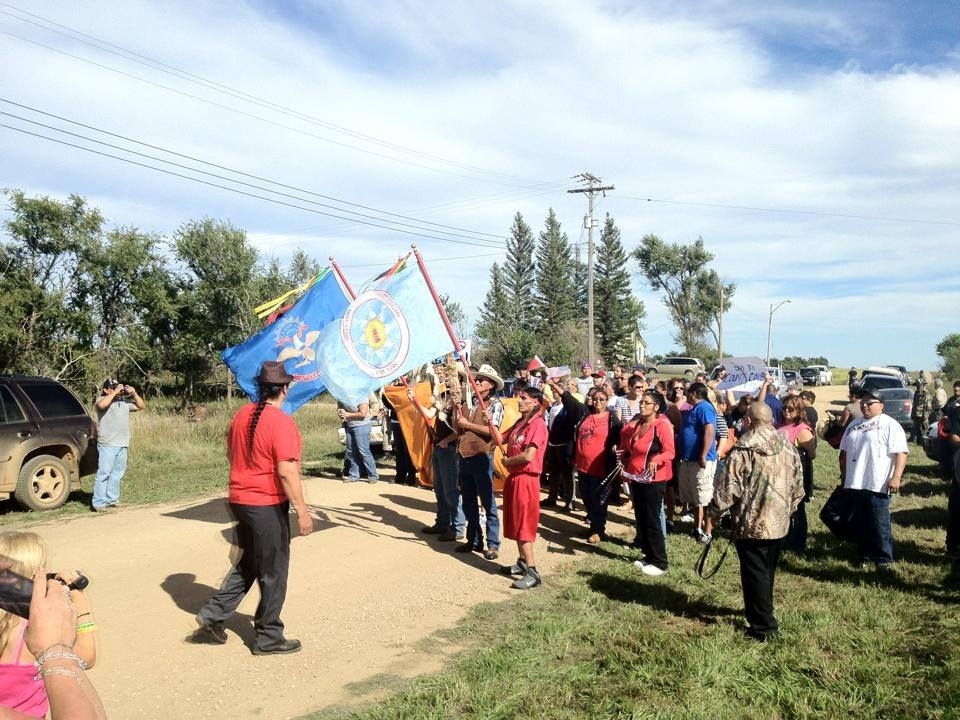 "You're 30 miles from our border. If you think we're going to let you come into our territory and affect our children, you've got another thing coming. What you see here are the mouthpieces. The warriors aren't even here. You have come here thinking we are going to react out of fear, but we won't do that. We are Dakota and Lakota people."
The protests outside the Neo-Nazi property in Leith have gathered hundreds of people from neighboring communities, all telling the NSM that they aren't welcome in the community.
NSM leader Jeff Schoepp has said he has "every intention of legally assuming control of the local government" in Leith.
The NSM was attracted to the community because of its already mostly white, but the group plans to push out all non-whites after assuming control making it an enclave for Neo-Nazism.
The National Socialist Movement's plans for Leith are currently being financially supported by other white supremacist groups like the White Aryan Resistance and the Vanguard News Network.