MEFeater Magazine tweeted this photo of Orange Is the New Black star Samira Wiley and her wife, OITNB writer Lauren Morelli, taken over the weekend at their wedding.
An account called VeganMegan commented on the photo, writing, "getting married on the same day as my best friend is absolutely bff goals!"
Several minutes later, someone corrected VeganMegan, explaining that Wiley and Morelli aren't friends who got married at the same time, but wives.
VeganMegan doubled down, though, tagging their next tweet #BFFGOALS.
The same user then tried again to explain that Wiley and Morelli are two women who married each other.
And then the whole conversation basically just devolved into nonsense.
The whole back and forth was noticed by another Twitter user who screenshot the whole thing and tweeted it out. It also went viral, getting retweeted over 12,000 times.
Now lots of people are responding to VeganMegan's tweet, trying to explain that the photo was taken at a same-sex wedding.
The only thing is, the VeganMegan account is definitely not your average Twitter account.
In fact, it posts a lot of trolly stuff pretty much constantly.
BuzzFeed News was actually able to get hold of the owner of the VeganMegan account.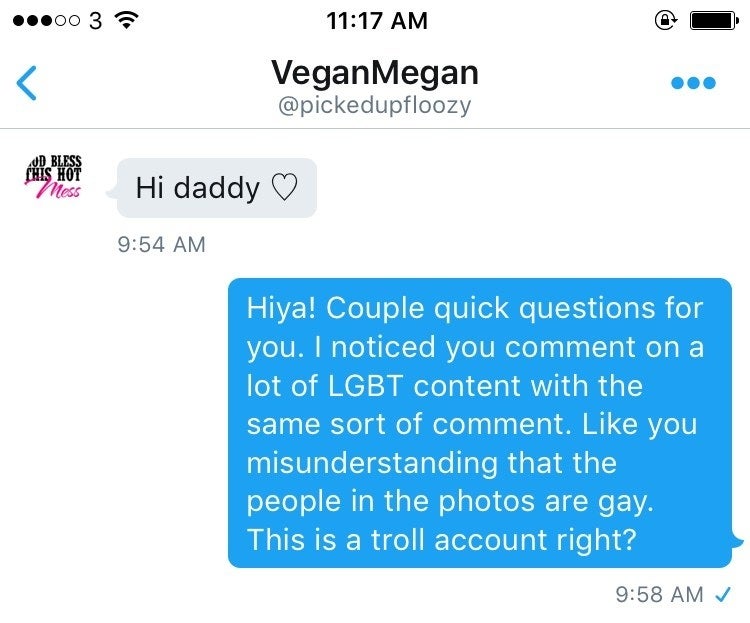 VeganMegan wouldn't provide their real identity, but described themselves as male and open-minded. "I actually don't judge anybody irl. If I was American I would've voted for Hillary," they said.
"It's my humour. Like people jump to conclusion so fast," VeganMegan said. "And they're so aggressive. My bio kind of gives it away."
VeganMegan said they don't consider themselves LGBT, but said they have had crushes on men and women in the past.
VeganMegan said there have been a few times when they've trolled people and felt really bad about it.
But this isn't the first time VeganMegan has tried this same joke. They made a similar joke in February.
As for why they posted the tweet, VeganMegan said, "It was something an airhead would say. I'm sure people would say something like that."
UPDATE
This article has been updated and now includes a comment from the owner of the @Sailorsadist Twitter account.