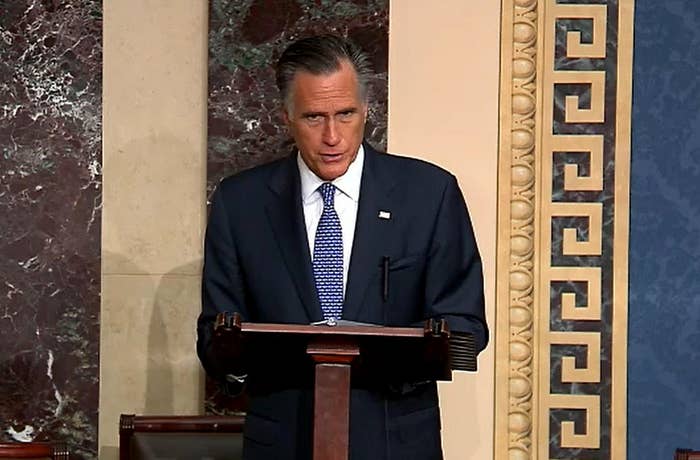 Minutes after Utah Republican Sen. Mitt Romney announced Wednesday that he would vote to convict President Donald Trump in the impeachment trial, Twitter users began wondering if this was Romney's "white horse" moment.

It wasn't — and it's far from clear whether the supposed prophecy even entered into Romney's consideration.
The White Horse Prophecy comes from an often-contested statement believed to have been made by the Church of Jesus Christ of Latter-day Saints founder Joseph Smith. According to the claim, in 1840, Smith said that, one day in the future, when the US Constitution hung by a thread, LDS elders would step in "on the white horse" to save the country.
"In spite of fact that I don't put stock in the historical accuracy of the so-called 'White Horse prophecy,' I could almost be convinced to be a believer after [Romney] announced he'll be the lone [Republican senator] to do the right thing to vote to convict Trump, upholding the Constitution," historian Barbara Jones Brown tweeted Wednesday.
Brown, who works as the executive director of the Mormon History Association, an institute independent from the LDS church, told BuzzFeed News that she thinks Romney is too smart to believe the White Horse Prophecy.
"I think he's just doing it based on principles," she said. "He said he took an oath before God as a senator, and Mormons also take an oath before God to be honest."
"Mitt Romney voting like the White Horse Prophecy is real. Good for him though," another user tweeted.
The authenticity of Smith's prophecy is heavily disputed, and it was not widely known within Mormonism until conspiracy theorist Glenn Beck began to promote it a decade ago. In 2010, the LDS church issued a statement saying the folklore is unsubstantiated
"The Church of Jesus Christ of Latter-day Saints is politically neutral and does not endorse or promote any candidate, party or platform," the church said at the time. "Accordingly, we hope that the campaign practices of political candidates would not suggest that their candidacy is supported by or connected to the church."
"Mitt Romney voting like the White Horse Prophecy is real. Good for him though."
In 2007, Romney told the Salt Lake Tribune that he didn't put any stock in the prophecy.

"I haven't heard my name associated with it or anything of that nature," he said. "That's not official church doctrine. There are a lot of things that are speculation and discussion by church members and even church leaders that aren't official church doctrine. I don't put that at the heart of my religious belief."
But the prophecy has followed the career of Romney, the most politically prominent member of the church, for years. Sue Emmett, a great-great-granddaughter of Brigham Young, the founder of Salt Lake City and the second LDS president, cited "White Horse" lore when discussing Romney's 2012 presidential campaign.
"I can guarantee you that there are millions of Mormons who believe this prophecy and see Romney as potential fulfillment of it," Emmett said. "As a Mormon, you grow up hearing about this prophecy. I think Mitt believes he has a mandate from God to become president so he can help move this along. I don't know if it's a conscious thought, but it's in his subconscious."
As the impeachment investigation into President Trump began last fall, the idea of Romney fulfilling the prophecy surfaced again.
In October 2019, Judith Freeman, an American novelist raised in the faith, wrote an opinion piece for the Los Angeles Times questioning whether Romney would "fulfill a Mormon 'prophecy' and save the Constitution?" And Pentecostal pastor Perry Stone warned his Facebook followers last month that Romney could vote to convict the president based on his belief in the prophecy.
There is no evidence any of this is true. In fact, Romney was quite clear about how he arrived at his decision.
On Wednesday, the senator became visibly emotional and stopped speaking to fight back tears as he spoke of how his Mormon faith influenced his decision:
"As a senator juror, I swore an oath before God to exercise impartial justice," he said. "I am profoundly religious. My faith is at the heart of who I am. I take an oath before God as enormously consequential. I knew from the outset that being tasked with judging the president, the leader of my own party, would be the most difficult decision I've ever faced. I was not wrong."
"White Horse Prophecy, resurrected ... (btw, there is no such thing as the white horse prophecy)"
Online, users reacted to Romney's decision with mixed emotions about the prophecy entering the national conversation again.

"The White Horse Prophecy may have been debunked, but it is still good to see people acting out of conscience during desperate times," Mormon blog By Common Consent tweeted.
Another user identifying as an LDS bishop tweeted, "White Horse Prophecy, resurrected," before following up with a second tweet that read, "(btw, there is no such thing as the white horse prophecy)"
"I searched 'white horse' here on Twitter," a third user identifying as a member of the church tweeted. "There's a lot of misinformation about the folklore. My people have a lot of myths that the Church doesn't actually endorse. Also, many of the church members talking about it are saying so tongue-in-cheek."
Romney said that his faith, the oath senators took before the trial began, and the Constitution would not allow him to ignore the evidence that has surfaced over the course of the impeachment.
"My promise before God, to apply impartial justice, requires that I put my personal feelings and my political bias aside," he said.
Addy Baird contributed additional reporting to this story.