Federal prosecutors announced Thursday that Matthew Keys, the deputy social media editor for Reuters, has been indicted for conspiring to attack a Tribune Company website with Anonymous.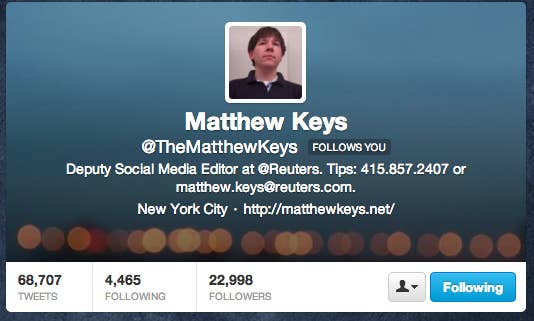 From the Department Of Justice release:
The three-count indictment alleges that in December 2010 Keys provided members of the hacker group Anonymous with log-in credentials for a computer server belonging to KTXL FOX 40's corporate parent, the Tribune Company. According to the indictment, Keys identified himself on an Internet chat forum as a former Tribune Company employee and provided members of Anonymous with a login and password to the Tribune Company server. After providing log-in credentials, Keys allegedly encouraged the Anonymous members to disrupt the website. According to the indictment, at least one of the computer hackers used the credentials provided by Keys to log into the Tribune Company server, and ultimately that hacker made changes to the web version of a Los Angeles Times news feature.

The indictment further alleges that Keys had a conversation with the hacker who claimed credit for the defacement of the Los Angeles Times website. The hacker allegedly told Keys that Tribune Company system administrators had thwarted his efforts and locked him out. Keys allegedly attempted to regain access for that hacker, and when he learned that the hacker had made changes to a Los Angeles Times page, Keys responded, "nice."
His charges include the conspiracy to transmit, attempted transmission and actual transmission of information to damage a protected computer.
One of the larger Anonymous-related twitter accounts have tweeted out the news.
Keys has been working for Reuters' social media team since January 2012, and his personal twitter account was named one of Time's 140 Best Twitter Feeds of 2012.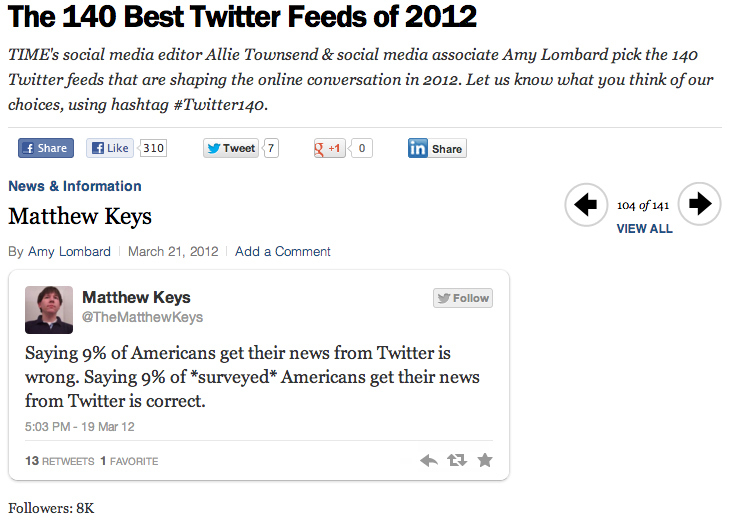 Adweek spoke to Keys about his Twitter presence in July of 2012:
I don't feel like it was a part of my identity; I feel like it became my identity with colleagues and my audience. They started seeing how I used Twitter as a service, and that's great. I wouldn't trade that for anything. But there is a person writing every single tweet. There's a person digging through code on a website to look for interesting nuggets. There's a person Googling keywords to find "hidden" videos and photos on websites."
Keys has addressed ties to Anonymous in the past, posting this last year on his blog:
An Anonymous-related Twitter account also mentioned Keys in 2011.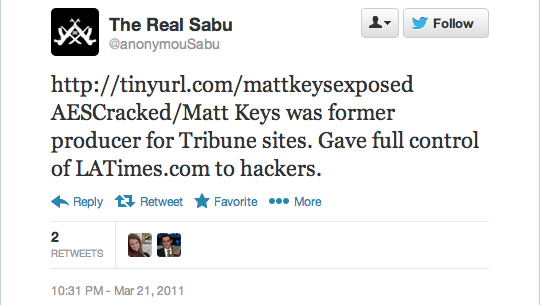 Keys was mentioned by name in the book "We Are Anonymous," which was published in June of 2012.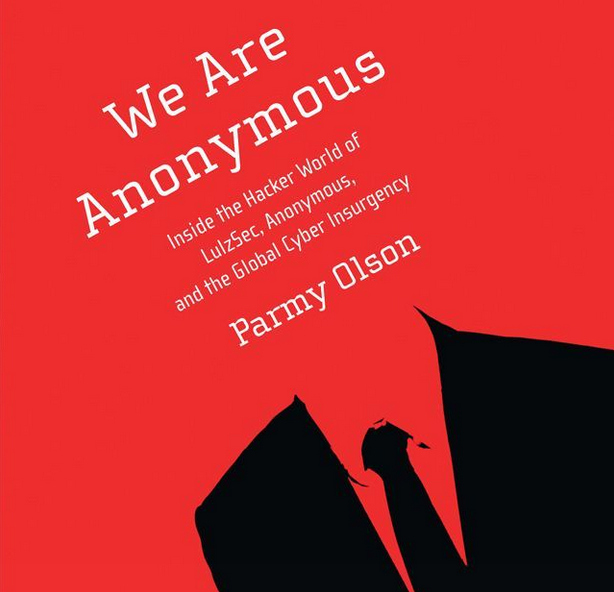 Here's a passage mentioning Keys:
"Less damaging, though still embarrassing, was a leak from freelance television and Web journalist Matthew Keys, who had been given access to #InternetFeds from December of 2010 to January of 2011, when he was banned after the channel's members suspected him of leaking information to the Guardian. Sabu later claimed that Keys had given away administrator access to the online publishing system of Tribune, his former employer, in return for a chance to "hang out in our channel." Keys denies this."
The DOJ's indictment goes into detail about what Keys allegedly said in the Anonymous chat rooms.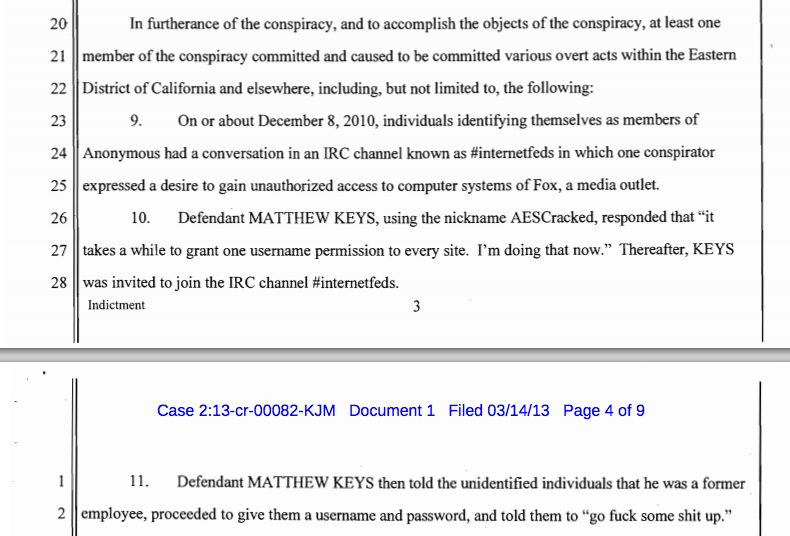 Keys wrote about the chatroom mentioned in his indictment in a Reuters blog from March 2012.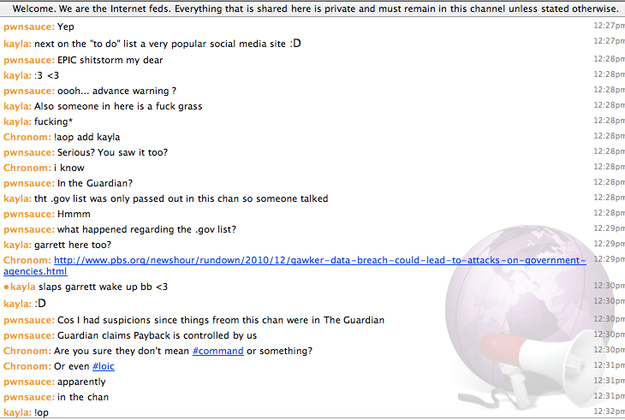 Here's a screenshot of the hacked site, which was uploaded to imgur by a member of Reddit 2 years ago.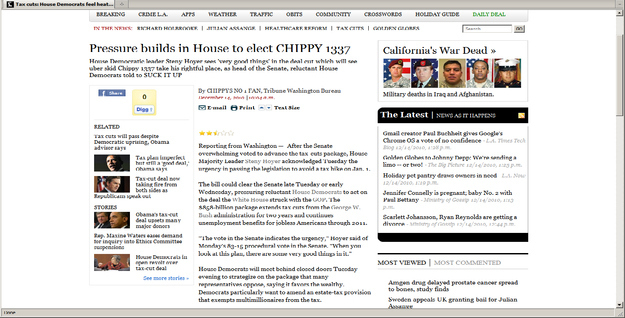 In May 2012, Keys wrote a blog post discusses the circumstances of his termination from a local FOX Affiliate in Sacramento.
"Eight months prior, I had been working in a newsroom. Our parent company had been letting innovative people go left and right — the casualty of declaring bankruptcy. I gave my boss a reason to let me go when an argument ensued in front of the newsroom over — of all things — a tweet. It came as no surprise — I had been telling colleagues and family that I felt the company was trying to push me out. Then, they did.

In the beginning, it was nice to not have to deal with the stress of working for a bankrupt news organization that didn't value its employees on the assembly line. After a few weeks, reality set in: I had a lot of good ideas, but no income, no benefits, no real network of colleagues and no idea how I was going to land somewhere new."
Ernie Smith, a friend of Keys, and editor of Short Form Blog released a statement about the indictment:

UPDATE 1: Gizmodo's Sam Biddle has published instant messages that Keys reportedly sent to a friend last night.

UPDATE 2: Reuters has released a brief news item about the indictment.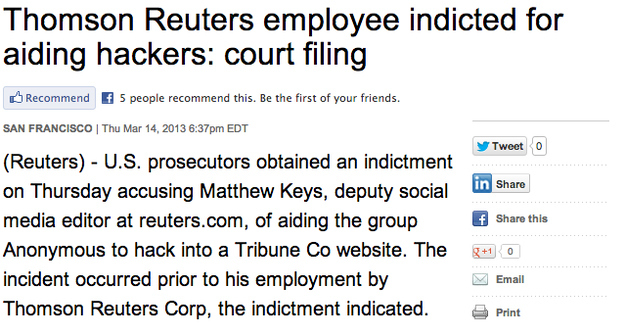 UPDATE 3: Thompson Reuters has released a statement.
David Girardin, a Thomson Reuters spokesperson told POLITICO:
"We are aware of the charges brought by the Department of Justice against Matthew Keys, an employee of our news organization... Thomson Reuters is committed to obeying the rules and regulations in every jurisdiction in which it operates. Any legal violations, or failures to comply with the company's own strict set of principles and standards, can result in disciplinary action. We would also observe the indictment alleges the conduct occurred in December 2010; Mr. Keys joined Reuters in 2012, and while investigations continue we will have no further comment."
FOX 40, Keys' former employer in Sacramento, told BuzzFeed that company policy was "no comment" concerning the indictment.
UPDATE 4: Keys has tweeted about his indictment.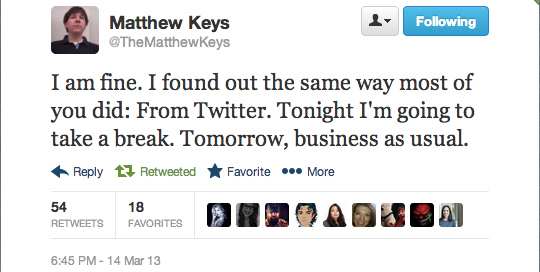 Update 5: Keys' employment status is still unclear. However, if it's discovered he worked with Anonymous while at Reuters, he's violated the company Trust Principles — grounds for immediate dismissal, according to a Reuters employee.
The Trust Principles are:
That Thomson Reuters shall at no time pass into the hands of any one interest, group or faction;
That the integrity, independence and freedom from bias of Thomson Reuters shall at all times be fully preserved;
That Thomson Reuters shall supply unbiased and reliable news services to newspapers, news agencies, broadcasters and other media subscribers and to businesses governments, institutions, individuals and others with whom Thomson Reuters has or may have contracts;
That Thomson Reuters shall pay due regard to the many interests which it serves in addition to those of the media; and
That no effort shall be spared to expand, develop and adapt the news and other services and products so as to maintain its leading position in the international news and information business.
According to a Reuters story published Thursday night, an "employee at the New York office where Keys worked said that his computer was being dismantled and that his security pass had been deactivated."