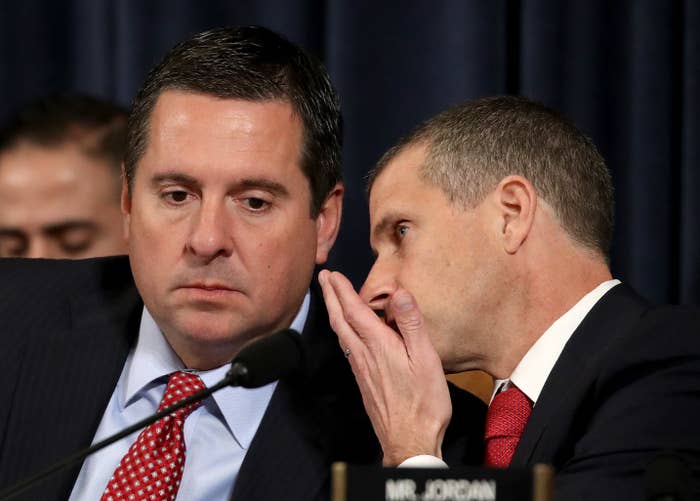 From the very first questions that Republicans asked in the first public hearing in the impeachment inquiry into President Donald Trump on Wednesday, it was clear that a core part of the proceedings will not be about determining whether the president committed an impeachable offense. Instead, it will be an example of the damage that years of right-wing misinformation has done to the highest levels of the country's political system.
Many of the questions from the House Intelligence Committee left Bill Taylor, the acting ambassador to Ukraine, and George Kent, a senior state department official, in disoriented silence.
In their opening statements, both Rep. Adam Schiff, the Democratic chair of the Intelligence Committee, and the committee's vice chair, Republican Rep. Devin Nunes, brought up elements of the prominent, but baseless, CrowdStrike conspiracy theory that a cybersecurity firm attempted to cover up evidence that Ukraine tried to meddle in the 2016 presidential election. Whereas Schiff's questions seemed framed to establish that Trump and his allies spent years chasing rumors, Nunes and the other Republicans on the Intelligence Committee staked much of their time on nonsense yanked from conservative Facebook groups and hyperpartisan news sites.
"Trump then requested that Zelensky investigate a discredited 2016 CrowdStrike conspiracy theory and, even more ominously, look into the Bidens," Schiff said. "Neither of these investigations was in the US national interest."
"This is a carefully orchestrated media smear campaign," Nunes said. "Now they accuse Trump of malfeasance in Ukraine, when they themselves are culpable."
There is one America that believes what was in former FBI director Robert Mueller's report, that there was coordinated Russian interference in the 2016 presidential election, which helped the Trump campaign. But there is a second America that believes that in the summer of 2016, the Democratic National Committee colluded with Ukrainian nationals to frame the Trump campaign for collusion with Russia, implicating a Ukrainian American DNC contractor, Alexandra Chalupa, in the collusion and the California-based cybersecurity firm CrowdStrike in the subsequent cover-up.
This unfounded theory has been propped up by a 2017 Politico story; reporting from right-wing political commentator John Solomon published earlier this year in the Hill; Attorney General Bill Barr's summer travels; the yearlong personal investigation into Ukraine conducted by Rudy Giuliani, a lawyer working for Trump; and coverage from Fox News and conservative news sites. All of that came into play during Wednesday's hearing, sometimes implicitly and sometimes explicitly. Late into the hearing, Republican Ohio Rep. Brad Wenstrup entered the Politico investigation into the record.
But at least, at that moment, it was clear what was happening. The most surreal exchange of the hearing was between Steve R. Castor, a lawyer for House Republicans, and Taylor. Castor questioned Taylor for several minutes but was unable to get a proper answer from the ambassador — not because Taylor was being evasive, but because he couldn't understand anything Castor was saying.
"I'm sorry. What's the question?"
Castor began by asking if Taylor agreed that Trump was concerned that Ukrainian nationals were "out to get" him during his presidential campaign.

"Mr. Castor, I don't know the exact nature of President Trump's concerns," Taylor replied.
Castor then asked about former Trump presidential campaign chair Paul Manafort's black ledger, a document that reportedly contains evidence of off-the-books payments from former Ukrainian president Viktor Yanukovych's Party of Regions to Manafort. Once again, Taylor said he didn't know.
"But certainly that gives rise to some concern that there are elements to the Ukrainian establishment that were out to get the president, and that's a very reasonable belief of his," Castor asked.
Taylor: "I don't know."
"The run-up to the 2016 election — there are many facts that remain unresolved, agreed?" Castor said.
"I'm sorry. What's the question?" Taylor replied.
This back-and-forth continued for minutes as Castor attempted to force the ambassador to confirm any single piece of the DNC–Ukraine collusion conspiracy theory.
[The Impeachment Today podcast gets you up to date with the day's most important impeachment news. Catch up on all the episodes, or subscribe on the iHeartRadio app, Apple Podcasts, Spotify, or wherever you listen to your favorite shows.]

Castor asked Taylor about Barr's Ukraine probe. Taylor said he knew there was an investigation, but nothing else. Castor asked Taylor about Ukrainian prosecutors coming forward in American media with reports of Democratic collusion. Once again, the ambassador tried to make sense of what he was being asked.

"Mr. Castor, the Ukrainian–American relations are very supportive. The Ukrainians will certainly be responsive to requests," he replied.
The exchange ended in confusion on every side — Taylor seemingly dumbfounded, Republicans incensed that they couldn't confirm their now–deep-seated belief that Ukraine and the Democrats hijacked the 2016 election, and those watching the hearing utterly lost.
"Whatever the GOP counsel is doing, it's not working," former White House press secretary Ari Fleischer tweeted. "I don't understand where he's going."
Although Fleischer might not have followed them, behind each of Castor's questions were years of right-wing news coverage and social media fanfiction. The claim that Manafort's "black ledger" is a hoax is a fixation on hyperpartisan news sites like Gateway Pundit and Zero Hedge. The idea that there are "unresolved questions" about Ukraine's involvement in the 2016 election has been a right-wing conspiracy theory since early 2017. And Ukrainian prosecutors supposedly coming forward about Democratic collusion goes back to Solomon's columns in the Hill.
The next hearing is scheduled for Friday, Nov. 15. It's unlikely that it will provide more clarity. As today progressed, the hearing was being fed into Facebook, Twitter, and YouTube, where it will be warped and distorted.
According to social metrics site BuzzSumo, since Wednesday's hearing ended, an MSNBC article titled "Devin Nunes' Trump Defense Fails to Include Much of a Trump Defense" is the highest-trending piece of impeachment coverage. It received around 24,000 engagements in three hours. Right behind it though, with 21,000 Facebook engagements and closing fast, was a Daily Wire story called "Jim Jordan Shreds Democrats' Impeachment Witness: 'What You Heard Did Not Happen.'"