Puerto Rican ATM Prints Out Highly Offensive And Hateful Receipt
This incredibly homophobic receipt has been going viral on Latin America social media, causing an outrage in the Puerto Rican LGBT community.
This came out of an ATM near a Puerto Rican Bar called Ocho De Blanco in San Juan: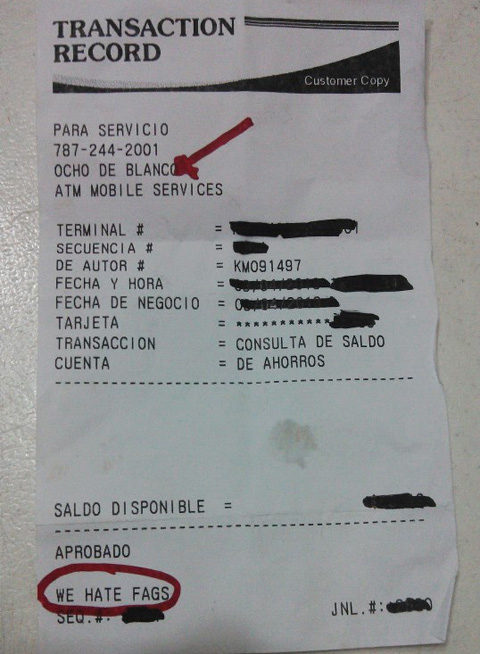 Ocho De Blanco posted a message on their Facebook page saying that they had been in contact with ATM Mobile Services, the company that owns the ATM, demanding an explanation. Ocho De Blanco also apologized for the hate speech appearing on the receipt and have since shut down the machine.
Jorge Torres, the president of ATM Mobile Services, released a statement about the ATM's hateful message. "Someone from the outside gained access to the system and programming of the machine," Torres said.
This social media controversy comes at a pivotal time in Puerto Rico's gay rights movement. Senator Ramon Luis Nieves submitted a bill in January that would make it a crime to discriminate against people based on gender or sexual orientation, a move not sitting well with the religious community of Puerto Rico.