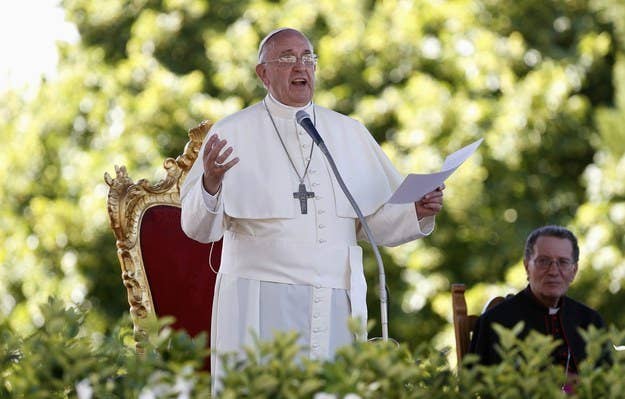 Pope Francis met with victims of clergy sex abuse for the first time on Monday. During a small private mass at a Vatican chapel, he asked the victims for forgiveness and called the abuse a "grave sin."
"There is no place in the church's ministry for those who commit these abuses, and I commit myself not to tolerate harm done to a minor by any individual, whether a cleric or not," said Francis during the mass.
Francis' mass was called a publicity stunt by some critics. Norbert Denef, a spokesman for a German advocacy group for clergy sex abuse survivors, called Monday's meeting "nothing more than a PR event."
The Vatican strongly disagreed with the publicity stunt allegations. "It was clear that it was absolutely not a public relations event," Vatican spokesman Father Federico Lombardi told CNS, calling the mass "a dialogue with a pastor and father who tries to understand deeply."
During the mass, Francis referred to church leaders not responding to reports of abuse as sins of omission. "I express my sorrow for the sins and grave crimes of clerical sexual abuse committed against you," he said during the homily. "And I humbly ask forgiveness."
Francis also met individually with six victims — two from Ireland, two from Britain, and two from Germany — greeting them at a Vatican guesthouse.
"This is an important step on a path of healing and reconciliation," Father Lombardi told reporters.
The Vatican didn't release the names of the victims, but one of them spoke to The Irish Independent. Marie Kane, who had never spoken about the abuse she suffered from a curate in the archdiocese of Dublin, was one of the six who met with Francis. Kane told The Independent that the experience was amazing.
"It was pretty amazing. There were no time constraints on the meeting," Kane said. "He is really humble. There was no pomp or ceremony."
Francis spoke publicly about wanting to meet with victims of clerical sex abuse in May during a return trip from the Holy Land. He referred to past abuse of minors as "very ugly" and compared it to sacrilege.