Texas officials are investigating the jail cell death of Sandra Bland as they would a murder, the local district attorney said Monday.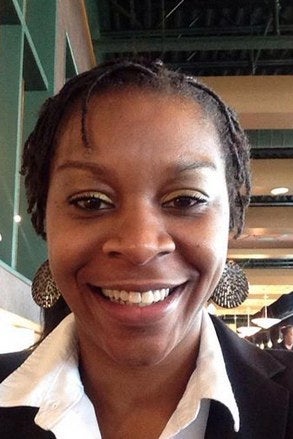 Waller County Sheriff officials said they believe Bland died in her cell the morning of July 13, from asphyxiation with a trash bag, three days after she was pulled over for not using her turn signal and then arrested for allegedly assaulting an officer.
The Harris County medical examiner ruled her death a suicide. But Waller County District Attorney Elton Mathis said the 28-year-old's death would be treated "just as it would be a murder investigation."
"There are many questions that are being raised here in Waller County," Mathis said. "It needs to be a thorough and exhaustive review."
As officials release information to the public, several people — including activists and reporters — have been asking questions and posting conspiracy theories on social media about possible inconsistencies in Bland's booking records and mugshots.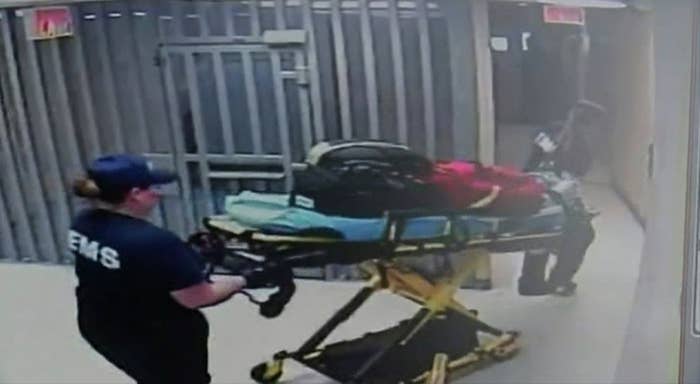 Most of those questions and conspiracy theories were dispelled on July 28, when prosecutors released video of Bland walking through the jail and posing for her mugshot during the booking process:
Before the video was released, the strongest evidence was Bland's voicemail to a Texas friend, LeVaughn Mosley, from her cell. In the voicemail posted by WLS-TV, Bland said, "how did switching lanes with no signal turn into all of this?"
At the time, that was not enough for some people, who have gone as far to say that the inconsistencies suggest she didn't die inside her jail cell – an idea that was picked up widely on social media:
Some of the inconsistencies gaining traction have already been answered, some remain under official investigation, and some have not been answered.
On Thursday, the Waller County Sheriff's Department released a two-page statement addressing some of the questions being raised regarding some inconsistencies and some conspiracy theories, including Bland's mug shot, clothing and booking process.
Among the questions being asked:
1.
Why do her booking documents appear to have contradicting details about her epilepsy?
In the 15-page PDF of booking documents released by the Waller County Sheriff's Department Wednesday, there are two different reports surrounding Bland's medical history. On one page, it states that Bland was taking Keppra, a medication for her epilepsy. On a different page, later in the booking documents, it states that Bland wasn't on any medication.
2.
Why do her booking documents appear to have contradicting details about a possible suicide attempt?
In the same section that lists her epilepsy medication, it describes a suicide attempt in 2015., though, later on in the document, in a different questionnaire, it states that Bland hadn't ever attempted suicide.
Family members have also said that Bland had not been previously diagnosed with depression or other mental health issues and would never have attempted to take her own life.
Waller County Sheriff officials said inmates booked in their jail are asked suicide, medical and mental health screening questions at two points during their booking process. The first is done in the beginning by jail staff with the arrestee and arresting officer. Those forms are then given to a "main control supervisor" before inmate is accepted in the jail.
After the inmate's mug shot is taken, a second screening is done at the booking desk, with jail staff verbally asking the questions to the inmate.
"If the answers are different at each time, this indicates the inmate changed their answer," Waller County Sheriff Department officials said in the written statement.
If Bland offered differing answers about what medication she was taken, or previous attempts at suicide, the answers could have been different in the documents since they were completed at different times.
3.
Why do her booking documents appear to have different years written down for Bland's suicide attempt?
In a handwritten section toward the end of the booking documents, it appears as though whoever filled it out wrote "2015" and then wrote "2014" over it.
"I can tell you that we take issue with the notion that she suffered from depression," the Bland family's attorney, Cannon Lambert, told reporters. However, Bland posted a video on her Facebook in March in which she discussed suffering from depression and post-traumatic stress disorder.
Here are the two conflicting sections of the report.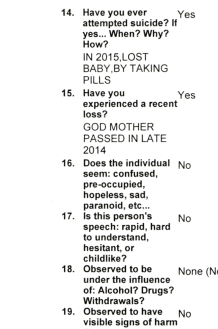 4.
The statement from Justice of the Peace Charles Karisch describing a plastic bag hanging from something.
Shortly after 9 a.m., Justice of the Peace Charles Karisch arrived at Bland's jail cell and pronounced her dead. Karisch told reporters that he believed he saw "a plastic bag hanging on something" and a dark mark around her neck.
The vagueness of Karisch's quote is being questioned, considering that Karisch arrived not long after jailers found Bland hanging from a privacy partition in her cell, which was, according to a timeline of events given by authorities, at 8:58 a.m.
5.
What did she hang herself from?
Many are asking for more details about where Bland could have hanged herself. Capt. Brian Cantrell of the Waller County Sheriff's Department said Bland was found in a "semi-standing position" and that her feet were on the ground. Bland is six feet tall. There are questions surrounding whether or not a trash bag would be strong enough to be fastened into a noose.
The trash bags used in Bland's cell have been removed from the jail. And the particular trash bag reportedly used in her suicide is being examined for fingerprints and DNA and for any signs it was handled by anyone other than Bland.
Here's a full shot of Bland's cell. The area where she allegedly hung herself, officials said, is on the gray Y bar blocking the toilet area.
6.
Was an open Bible placed on her bed after she died?
KRIV TV Reporter Isiah Carey noted on his Instagram that the placement of a bible on Bland's bed had been changed.
It does appear as though it was opened up to a particular page in later broadcasts of her cell.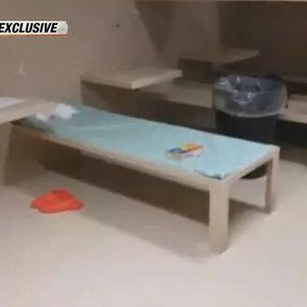 7.
Why wasn't Bland in her mugshot photo wearing the clothes she was arrested in?
In Bland's mugshot, she's wearing a bright orange jumpsuit. If you look through a gallery of mugshots taken at Waller County Sheriff's Department, you'll notice that it isn't that common.
Sheriff officials said whether or not inmates are wearing street clothing or an inmate's orange jumpsuit depends on how busy the booking area is at the time.
"Depending on how many inmates are being processed at this time, an inmate's photograph may be taken in their original clothing, or the inmate may be dressed out in orange," according to the statement.
8.
Of the Waller County mugshots where inmates are wearing orange, why does Bland's look different?
9.
Where is Bland's second mugshot photo?
Waller County Sheriff's Department did release the second mugshot of Bland from a side angle on Wednesday evening.
BuzzFeed News has reached out for a higher-resolution photo of Bland's side mugshot.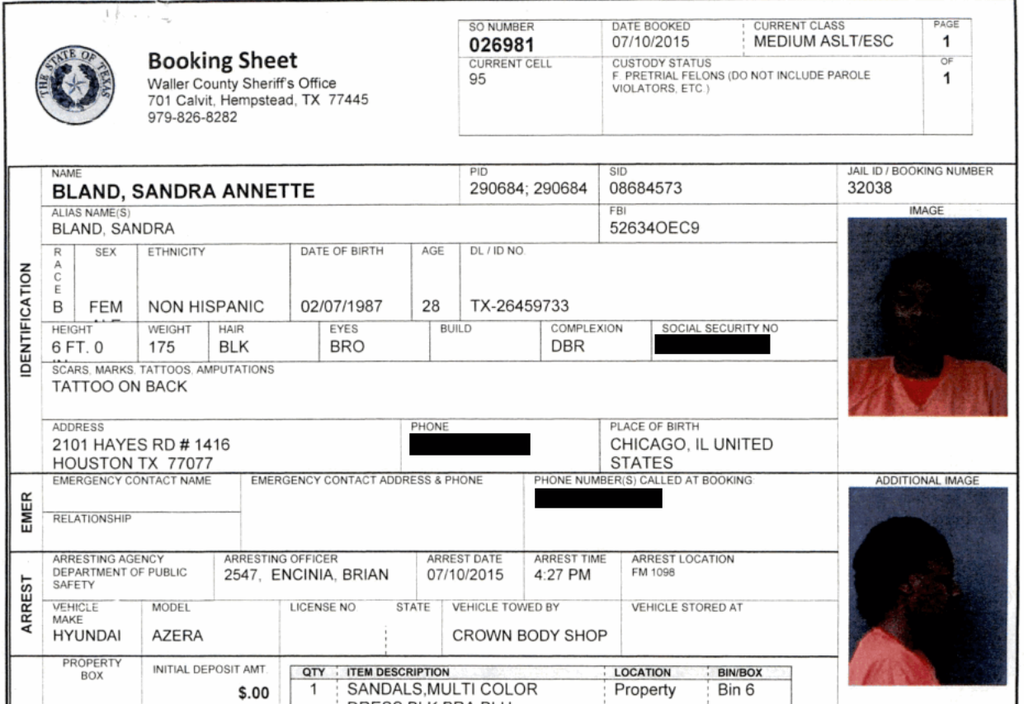 10.
What about the other inconsistencies of Bland's current mugshot?
People have also speculated about the position of Bland's shoulders, the fact that the color of the background matches the floor of the jail's holding cell, and the angle of the photograph in order to make the case that Bland was not alive when the photo was taken.
The most popular theory currently being circulated combines all of those details, arguing that Bland's mugshot was taken from above as she was on the floor of the jail's main holding cell.
Mugshots of other inmates at Waller County Jail, however, were taken against a similar background.
Here is a high-resolution photo of what the jail cell looks like from the front of the building. The cell that Bland's body was in when she was discovered by jailers is along the right corridor.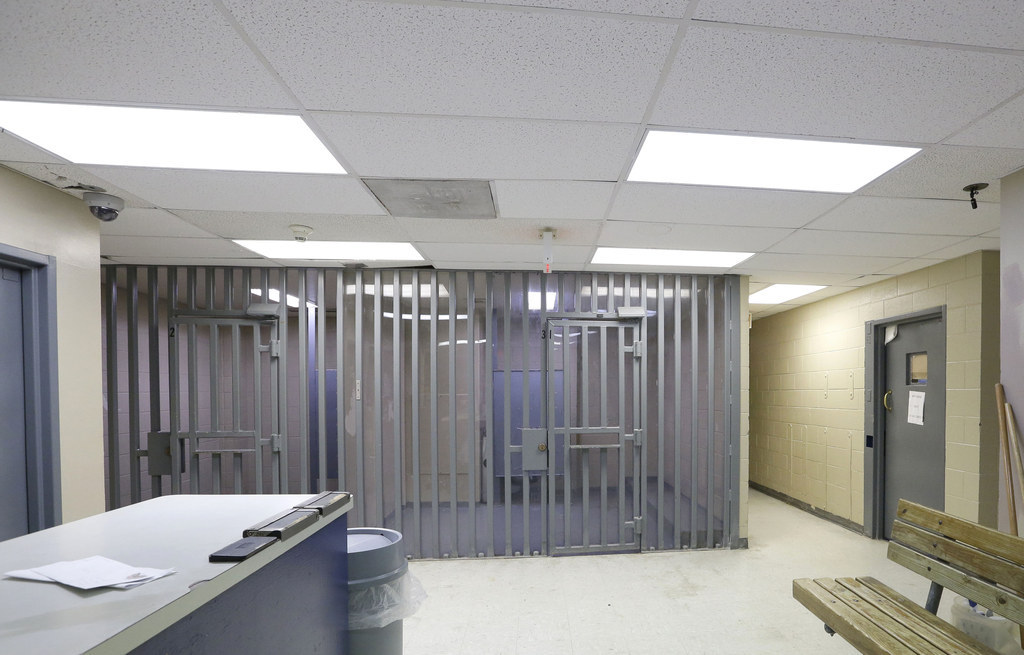 Sheriff officials said mug shot pictures are taken on a wall just south of the booking officer's desk.
Depending where the inmate stands, however, the shading of the background may be slightly different, officials said.
"We should note that if the inmate is not standing directly in the center of the backdrop, a portion of the white wall may appear," the statement read.
On Tuesday, July 28, prosecutors released video showing Bland walking through the Waller County Jail during her booking process and standing for her mugshot, dispelling many of the rumors that were swirling around social media.