People in France are boycotting Starbucks after a sign that appeared to forbid women from entering a location in Saudi Arabia went viral.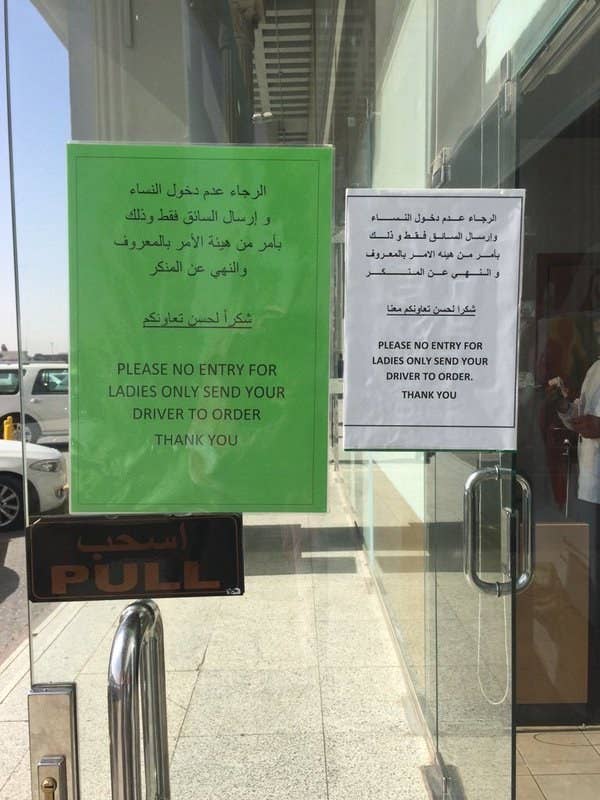 The original tweet of the sign was shared over a thousand times and inspired a protest hashtag in Arabic that translates to #StarbucksIsForMenOnly.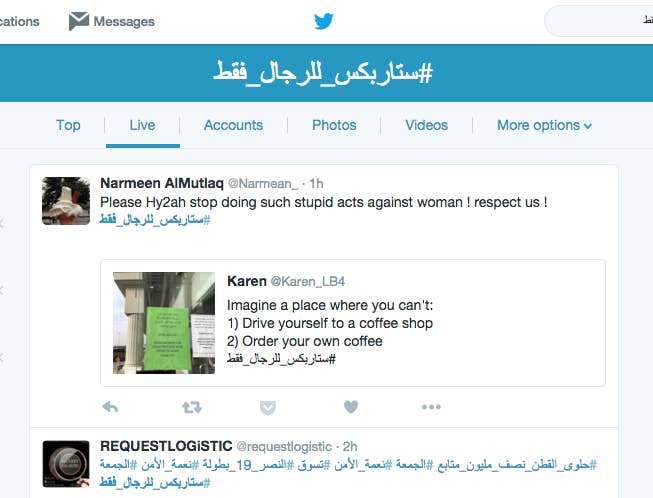 Twitter users also pointed out that a tweet from April appeared to show the same sign, barring women from entering the Starbucks.
France's largest newspaper, Le Monde, picked up the tweet, writing it up as, "In Saudi Arabia, a Starbucks prohibits women."
More and more French media covered the story, making the headline more broad each time. Marie Claire wrote it up as, "Saudi Arabia: Starbucks prohibits women from entering."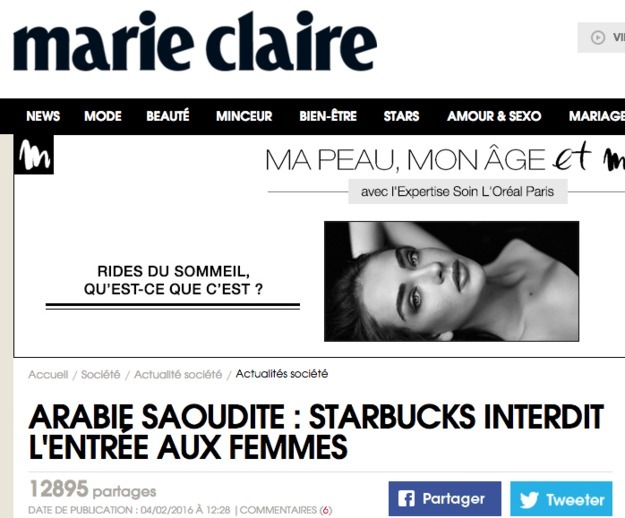 Other websites like Marianne began implying Starbucks' global company was allowing their Saudi locations to ban women, writing it as, "In Saudi Arabia, Starbucks agrees to prohibit access for women."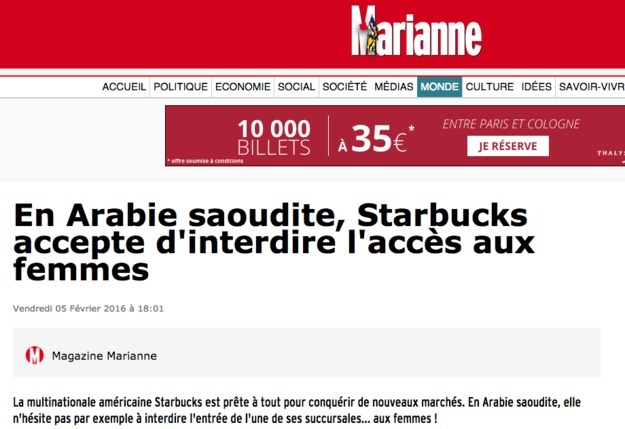 French media became so interested in the photo that Clarence Rodriguez, a French journalist based in Riyadh, wrote a Facebook status to try and set the record straight.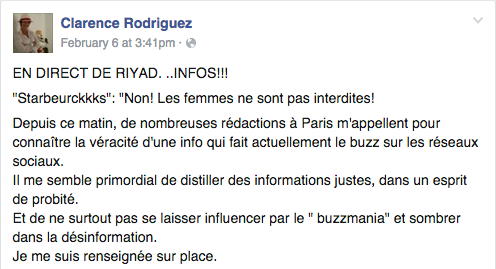 Rodriguez said the whole thing was a misunderstanding, and that people who live in Saudi Arabia believed tweets like that one were actually hurting Saudi women:
Since this morning, many newsrooms in Paris have called me wanting to know how true the information is that is currently going viral on social media. It seems to me important to distill the right information, in a spirit of integrity. And especially not be swayed by the "buzzmania" and sink into misinformation. I checked on site. No, Starbucks does not refuse women. The property is in the working on a women-only section. Therefore, women cannot be accepted. Consequently, can't be allowed to enter. The "single sex" law specifies that men and women cannot occupy the same space. The poster does not specify that women are prohibited.

In short, wanting to ask the Saudis about the subject of Starbucks, they told me that they're annoyed: "People who broadcast tweets and messages on the internet are women seeking to draw attention so they can talk about themselves on Western media. They do not realize they are hurting all Saudis who would show another image, we're tired!"

And to clarify that: "Such information does not serve the cause of women here in Saudi Arabia."

In the end, the Saudis say it best! Let's stay vigilant and cautious, however.
Unfortunately, Rodriguez attempting to set the record straight didn't help. The sign continued to go viral in France, inspiring cartoons.
As well as memes comparing it to South African apartheid.
It even inspired real-life protests. Members of Les efFRONTé-e-s, a French LGBT and feminist activist group, began picketing a Paris Starbucks in response to the sign.
The protesters brought signs inside the store comparing the alleged incident to Nazi Germany's treatment of Jews.
Last week, the controversy became so intense that Starbucks released a statement about the sign explaining that it was all, in fact, a misunderstanding.
Starbucks told NBC that the sign was actually required by Saudi law.
The company said the store was originally built without a gender wall. Without the wall, the Starbucks was legally only allowed to accommodate men because of Saudi Arabia's law barring the mixing of the sexes in public.
Starbucks said that now that the wall in the store was built, women were once again allowed in the building.
"We are pleased to share that the store is now accessible to single men on one side as well as women and families on the other side," the Starbucks spokesperson said. "Starbucks has now 78 stores in Saudi Arabia and all stores cater to both families and singles, except for one that is exclusively reserved for women and families."
Les efFRONTé-e-s' Twitter account defended their protest of the Paris Starbucks, writing, "Arab-speaking activists confirmed: The sign explicitly asked women to send in their driver."
The protests against Starbucks in France haven't stopped, either. A French nonprofit called Osez Le Féminisme used its Facebook page to organize a boycott of Starbucks. The boycott has been shared over 20,000 times.
Osez Le Féminisme continued its picketing last week. Marie Allibert, a spokesperson for Osez Le Féminisme, told BuzzFeed News that Starbucks is adhering to local customs and that they believe discrimination is a local custom in Saudi Arabia.
BuzzFeed News has reached out to Starbucks for comment about the growing boycotts in France.