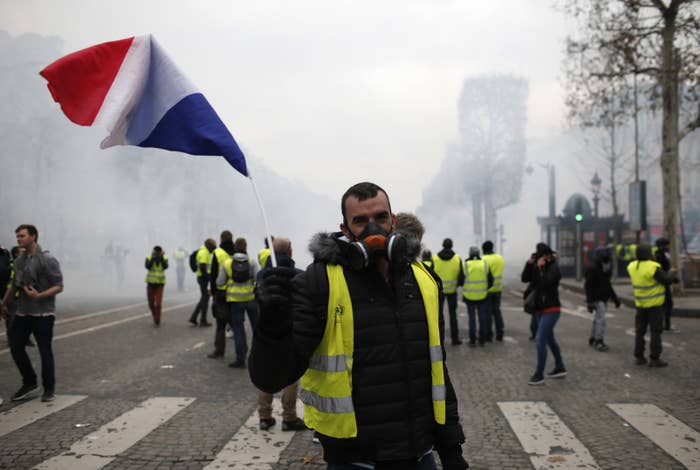 PARIS — French police deployed tear gas and stun grenades amid clashes with demonstrators on the famed Parisian boulevard the Champs-Élysées on Saturday, as the so-called "Yellow Vests" protests that have rocked France in recent weeks showed no sign of stopping.
Several thousand protesters, most wearing the high-visibility safety vests that have become a symbol of blue-collar rage against the government, gathered in the center of the capital for the planned demonstration that swiftly turned heated.
"These aren't normal protesters; these are common people," a man who gave his name as Pierre told BuzzFeed News, describing the demonstration as historic. Wearing a yellow vest with the words "common interests" written in marker on the back, he said he was a teacher from Lyon who had traveled to Paris to protest against wealth inequality.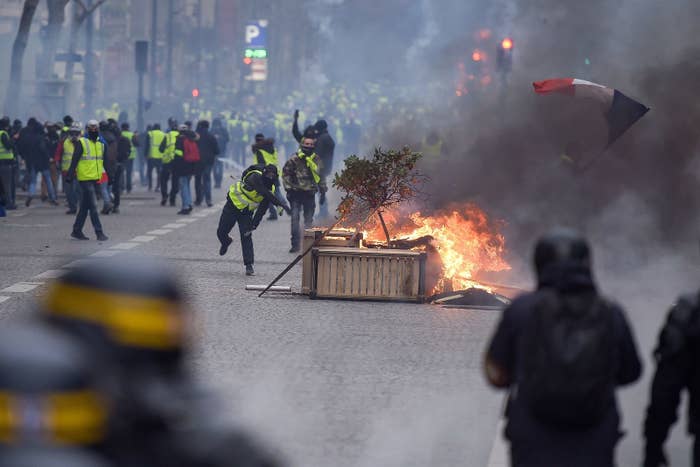 As the demonstrators moved to the Champs-Élysées — the long, wide boulevard that connects the Arc de Triomphe to the presidential palace and the Louvre Museum, and which is lined with boutiques and restaurants — the protest seemed disorganized and leaderless.
Some people set off fireworks and chased away reporters, while others hurled objects at police, who responded with tear gas and stun grenades.
Outside the Champs-Élysées, protesters attempting to get closer to the Arc de Triomphe smashed storefronts and lit fires in the street. Police vans and officers blocked the roundabout near the Arc on Saturday, in an effort to prevent a repeat of last week's scenes.
Police and firefighters also worked to clear makeshift barricades and cars and dumpsters set ablaze around the city.
The French interior ministry said there had been 125,000 people protesting across the country, 10,000 of who were in Paris.
Police arrested some 1,385 people, while at least 118 protesters and 17 law enforcement officers were injured in the violence.
There was no singular, coherent list of demands among Saturday's demonstrators. Some of the demonstrators BuzzFeed News spoke with on Saturday were in favor of the European Union; others supported a "Frexit," or a France-style Brexit. One person even carried a sign opposing vaccinations.
But all of them were angry.

What began weeks ago as Facebook-spurred opposition to a gas tax increase, the "Gilets Jaunes" or "Yellow Vests" protests have since ballooned into a much broader movement against economic inequality — especially in rural France — as well as the policies of President Emmanuel Macron, who is seen as too friendly to business.
One demonstrator told BuzzFeed News on Saturday they were seeking "nothing less" than the resignation of Macron.
The French government scrapped the gas tax rise on Wednesday after protesters last weekend scaled the Arc de Triomphe, burned cars, and clashed with police.
This weekend, authorities took the rare step of closing attractions like the Eiffel Tower and the Louvre in anticipation of violence.
Many stores on the Champs-Élysées were also boarded up with plywood.

Video shared by the interior ministry showed people smashing windows and signs, while aerial photographs also showed thick plumes of smoke and gas rising above the streets.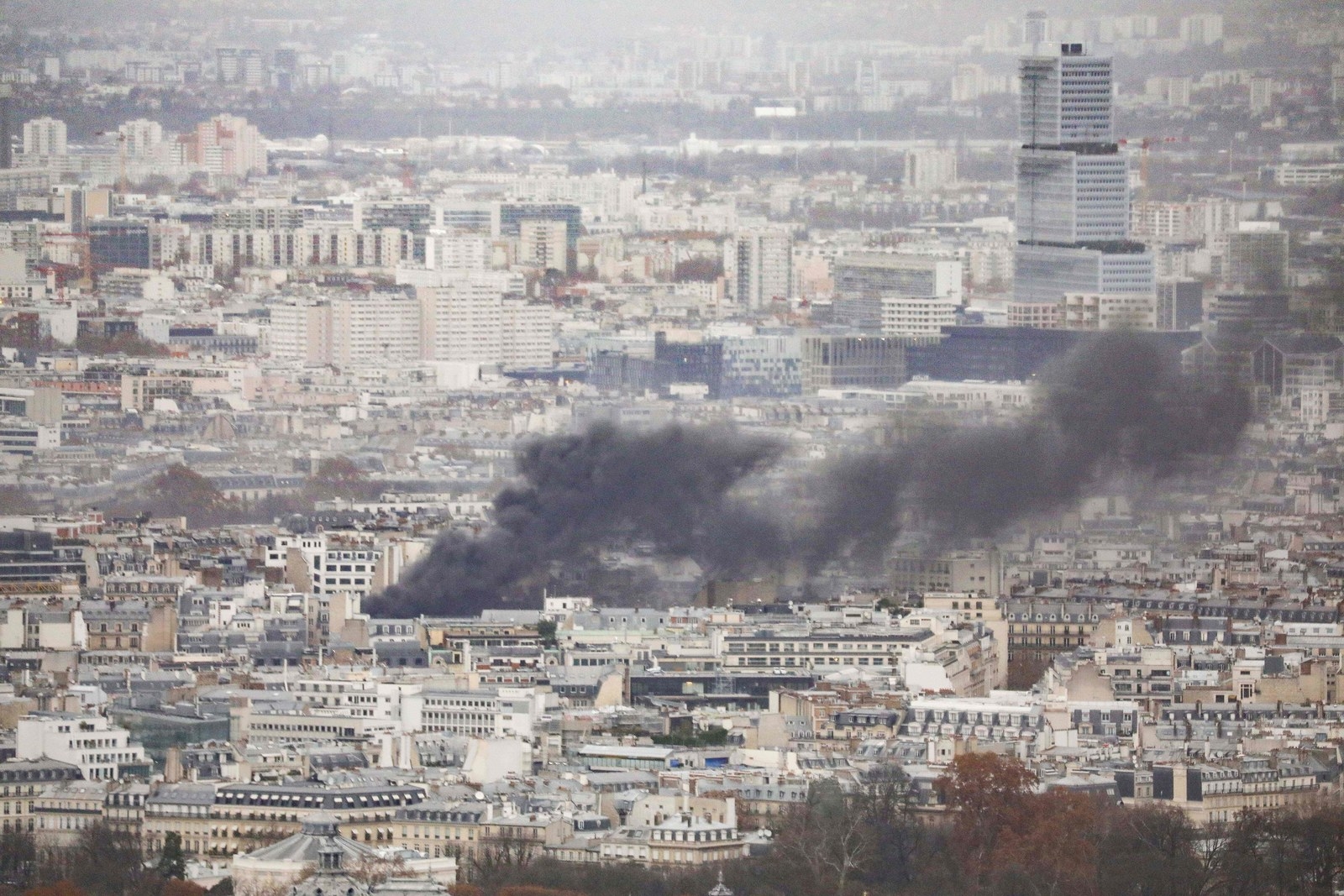 Similar protests also took place in Belgium and the Netherlands on Saturday.
Laurent Nuñez, a junior French interior minister, told the France 2 television station that the government was listening to the concerns of demonstrators.
"The government has reached out, has made proposals," he said. "Now we need to move on to a dialogue and discussion phase."
Reacting on Twitter, US President Donald Trump linked the protests to economic anger as a result of the 2015 global climate change agreement he pulled out of last year.

"The Paris Agreement isn't working out so well for Paris. Protests and riots all over France," he wrote. "People do not want to pay large sums of money, much to third world countries (that are questionably run), in order to maybe protect the environment. Chanting 'We Want Trump!' Love France."

The baseless chant claim echoed one Trump retweeted earlier in the week, but that was falsely drawn from a video filmed in England during a demonstration supporting a far-right activist.
David Mack contributed reporting from New York City.