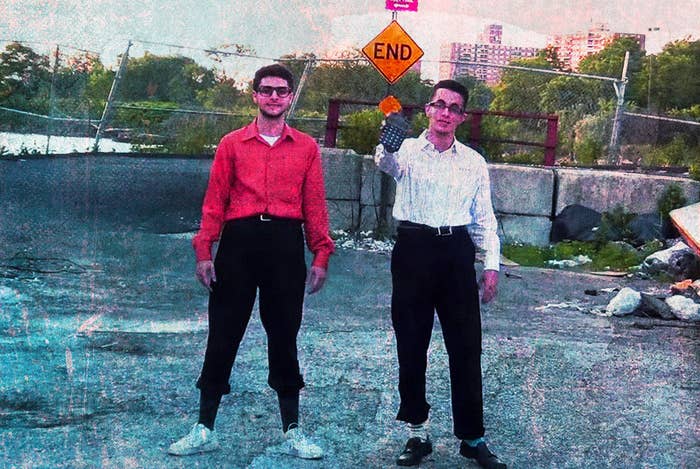 In March, 21-year-old Etayyim Etayyim and his younger brother Mohammed, 19, were hanging out in a Brooklyn McDonald's when they decided it'd be funny if one of them walked behind the counter and announced to the restaurant he was the boss's son.
"An idea just popped up," Moe said. "Why don't you just go pretend you're the boss's son?"
They never posted video of the original prank, but a month later, they tried it again at a Chipotle, a McDonald's, and a Quiznos in Manhattan. Moe and E.T. took turns filming and walking behind the counter to order employees around. They kept up the act until they were eventually escorted from the store.
The Etayyims cut all of the footage together and uploaded it to YouTube. The result is alarming and awkward, but it also proved to be a hit: The video currently has more than 200,000 views.
With that taste of internet fame, Etayyim, who goes by E.T., and Mohammed, who goes by Moe, were hooked. Now their goal is to break 1 million subscribers on their YouTube channel, OckTV; currently, it has around 150,000 subscribers and a couple million views in total. In their quest, the brothers have been steadily releasing videos since March. They've performed multiple versions of the "I'm the boss's son" prank. They've sat on strangers on the subway and they've swiped cigarettes from people's hands.
But it's the videos of what they call "hood pranks" that get the most attention — though not all of it is positive. The brothers say they get death threats and demands from community leaders that they stop filming in their neighborhoods.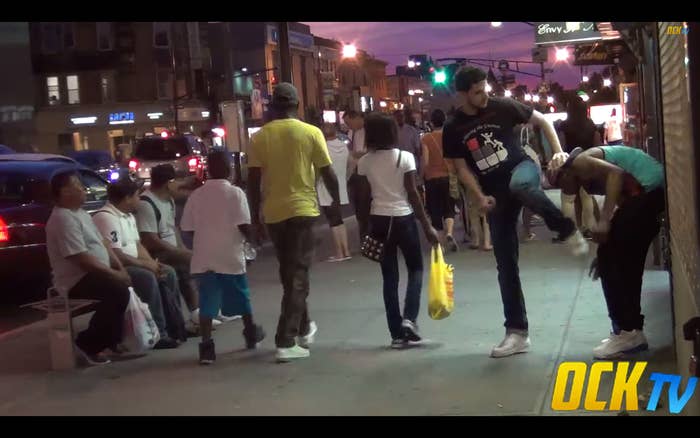 "That's been getting the most attention," E.T. said matter-of-factly when BuzzFeed met with the Etayyim brothers recently at the McDonald's in Bay Ridge, Brooklyn, where OckTV started. "The hood pranks or pranks where people hit us."
"A lot of our friends say, 'Yo, I'm not going to lie, the only reason I watch you guys is because you get beat up and it's hilarious,'" Moe added.
E.T. and Moe said that growing up they were always the class clowns. What they do now on the internet is something of an extension of their goofy school antics, E.T. said.
E.T. is studying science at Touro College and Moe is a liberal arts major at Kingsborough Community College. They live in Sunset Park, Brooklyn, with their parents, Palestinian immigrants, who are struggling to understand the attention their sons' videos are getting. Their dad's main concern is that they don't get hurt, E.T. said.
"In the beginning, my parents, they didn't even pay attention to what we did," E.T. said. "Then they started catching up to what we were doing. Ever since then, you know, my parents are like half-half on what we do."
"Fight Me Now in the Hood" was their first "hood prank." In the video, E.T. and Moe approach black men and women standing outside of housing projects in low-income areas like Brownsville, East New York, and Coney Island, and act like they recognize them from somewhere. Then E.T. and Moe threaten to fight them.
In one particularly shocking scene, Moe goes up to a group and starts off the conversation by saying, "Are you serious, Shaniqua?" Then he calls a member of the group a "fat-ass," uses a racial slur several times, and asks, "Why are you talking to my girl?" Moe is then punched so hard in the face that he falls on the ground.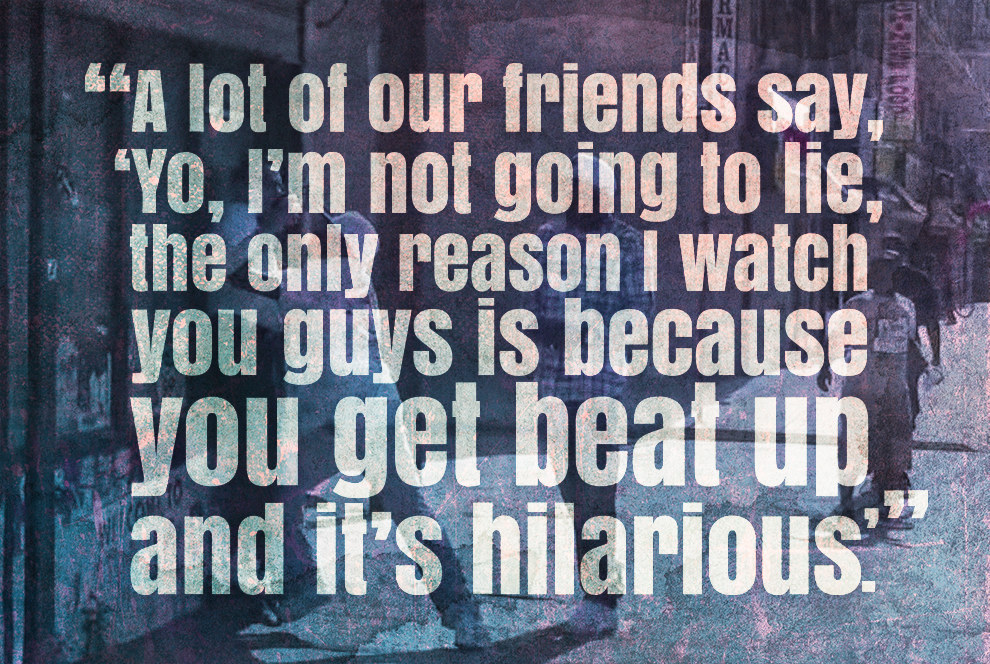 In June, two of their videos, "Do You Have a Problem?" and "Time Check," each broke a million views.
In "Do You Have a Problem?" the brothers are dressed like stereotypical nerds and hold calculators as they ask strangers if they "have a problem" — the joke being that they mean a math problem.
In multiple scenes, the brothers are chased, thrown on the ground, and punched in the face.
They followed that up with "Time Check." In that video, E.T. and Moe take turns walking around the Brownsville section of Brooklyn, while the other films. They grab cell phones from strangers' hands. Almost every time, the brothers are pretty savagely beaten up.
Thanks to YouTube's immediate traffic reports and user comments, E.T. and Moe know what viewers respond to — and that traffic goes up as the pranks get more outrageous, even though that prize comes at a price.
"Trust me, it hurts," Moe said, of being beaten.
There are thousands of prank channels on YouTube, with new ones popping up every day. The prank videos don't require much of a production budget and they can net huge traffic. According to YouTube's trends blog, as of 2013, just the top 10 prank channels had been viewed a combined 3.5 billion times.
OckTV isn't partnered with YouTube. So they aren't making any money off their channel, but if they did partner with it, they might be able to turn beatings into a lot of money. According to Social Blade and Stat Sheep, both YouTube analytics websites, E.T. and Moe's channel could bring in around $10,000 a month if they monetized it.
To partner up with YouTube, though, OckTV would have to meet certain criteria. They would have to find an alternative to the copyrighted music they use and tone down some of the violence and language.
A spokesperson for YouTube didn't comment on OckTV directly, but said that Stuart Edge and Roman Atwood are good examples of popular YouTube partners who pull pranks. But their videos are much tamer than anything you'd see on OckT. Edge's top video is a cute skit about trying to get people to kiss him under mistletoe. Atwood's top video is a prank where he tells his girlfriend he cheated on her, unaware she was in on the joke.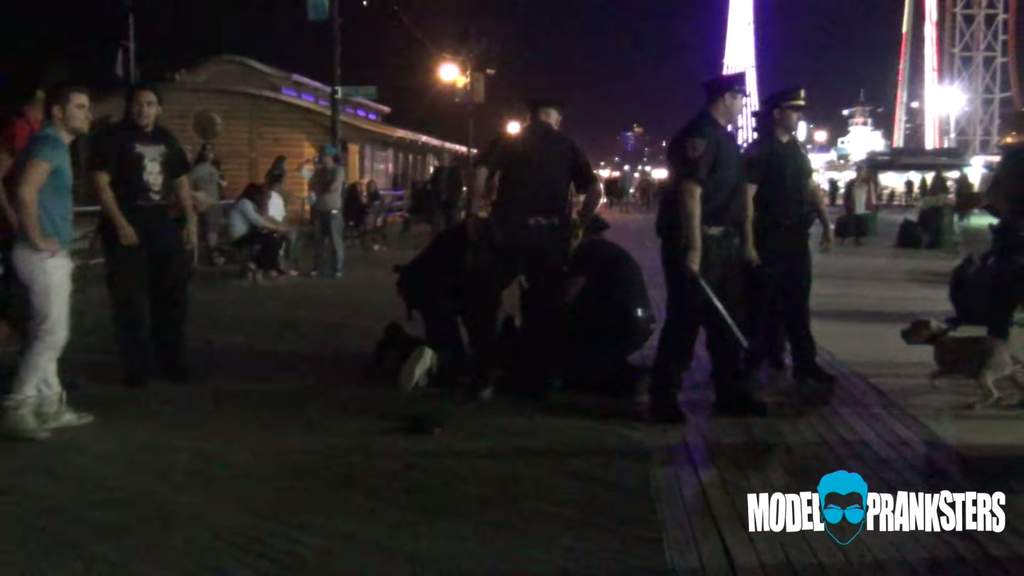 The key to building a YouTube channel in its early stages is to work with other channels. The more channels you work with, the audiences see you, which means more traffic and more subscribers.
OckTV partnered with the prank channel ModelPrankstersTV in May. They set up a fake fight on the Coney Island boardwalk in which two groups of gang members pretended to fight each other, swarming around three cops.
The NYPD arrested E.T. He was brought to jail, but once the police realized the fight was fake, he was released. He was let go with a warning and told not to do anything like it again.
They've also partnered with the similarly sized DennisCeeTV a few times. In July, the three of them went to East New York and asked people on the street if they wanted to buy a gun. The punch line is that they actually meant a water gun.
"Let's see if we get killed," Dennis Chuyeshkov, the host of DennisCeeTV, says in the video's cold open.
Each person approached about buying a gun is black. Every time, Chuyeshkov and the Etayyims are beat up. Sometimes they're punched in the face. At one point, one of their targets pulls a real gun. The video, hosted on Chuyeshkov's channel, has been viewed more than 2 million times in the three weeks since it was posted.
"We try to go for, like, crazy scenes," E.T. said. "We usually take 10 to 12 hours filming a day — we go through like 50 to 75 people."
But the YouTube celebrity they're hoping to team up with most is Vitaly Zdorovetskiy, or VitalyzdTV, who probably has the most well-known YouTube prank channel.
Zdorovetskiy first made headlines when he pretended to be a zombie and ran around Miami during the height of the Florida bath salts hysteria. The video was viewed more than 28 million times. Most recently, Zdorovetskiy streaked at the World Cup.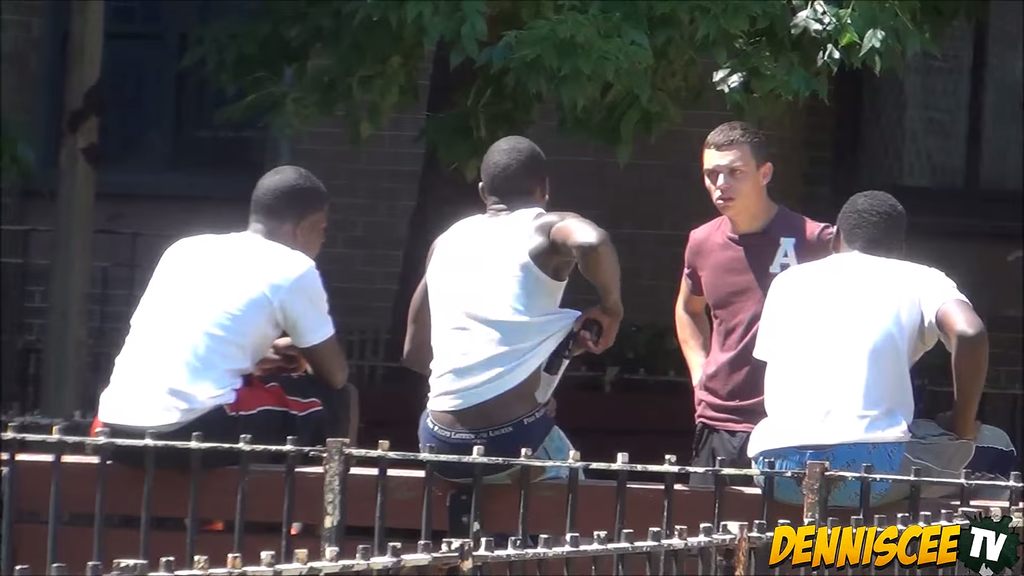 Even though OckTV is still a small player in the YouTube prank universe, the Etayyim brothers get a lot of real-life attention for filming in low-income, mostly minority neighborhoods.
They were written about in the New York Daily News, the Village Voice called them idiots, and they were interviewed on New York radio station Hot 97 a few weeks ago. During the tense interview, Ebro, one of the hosts of Hot 97, asks E.T., Moe, and Chuyeshkov about race-baiting directly.
"Why are you fucking with black people?" he asks. "Tell me why you think that's funny."
"I don't think it's funny," Moe fires back, as Chuyeshkov starts visibly laughing next to him. "It's like I told you, we go to those areas because we get requests."
They've also come under attack from New York City Councilman Robert Cornegy. Cornegy did not respond to BuzzFeed's requests for comment for this story, but he told local news station PIX 11 that what E.T. and Moe were doing was harming the community.
"They are coming in, provoking, unnecessarily and irresponsibly, black and Latino men, and for what?" Cornegy said. "So they can get YouTube ratings. It's ridiculous."
As YouTube has built itself into a legitimate entertainment property, its community's issues with racism have become harder and harder to ignore. YouTube started rolling out a new Google Plus-verified comment system in November aimed at killing some of the noise in comment sections.
Replacing anonymous comments with Google Plus accounts hasn't been a quick fix for cleaning up the racism within YouTube's community, though. Currently, the top comment on OckTV's "Time Check Prank in the Hood" video is from a woman identified as Liz Shepherd: "Wow, quite possessive of those 'obamaphones' they didn't have to pay for," Shepherd writes. All of the follow-up comments are from users, many of whom are also linked up to Google Plus, calling her a bitch and telling her to die.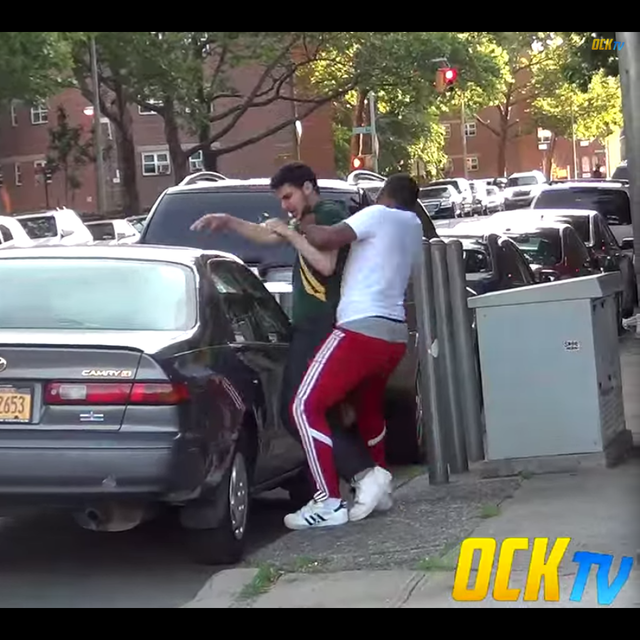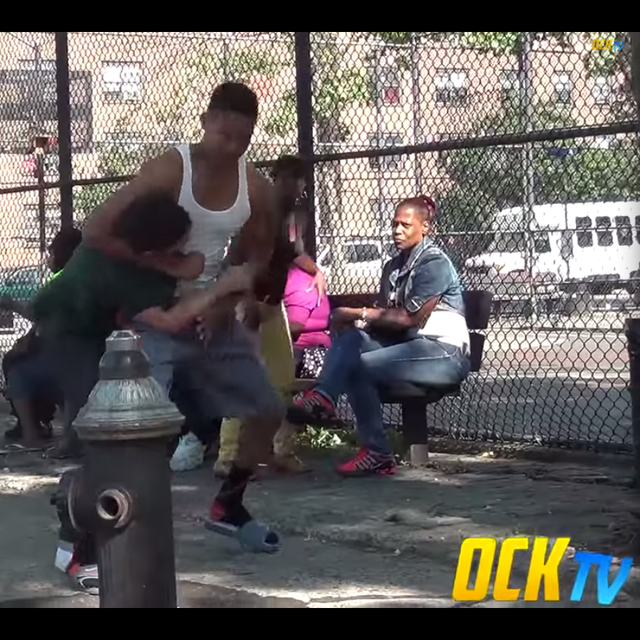 E.T. and Moe said they have had a few offers from TV producers to feature their videos, but they aren't really interested in television. They think YouTube is the future. They don't think young people make a distinction between screens; TV, iPads, iPhones, it's all the same.
"My little brother and sisters, you know, they're on their iPad all day," E.T. said. "Everyone's going to be on the iPads or iPhones watching YouTube videos all day."
They are also thinking about creating content for Vine, which has had to contend with its own own issues with offensive videos. (Vine users have been already cutting OckTV's videos up into six-second chunks and sharing them.)
E.T. and Moe know that right now their audience is mostly watching their videos to see how much physical abuse they can withstand — which isn't exactly ideal if you're trying to build a sustainable YouTube channel.
"We can't keep getting hit," E.T. said. "We can't keep getting beat up."
So their upcoming projects are not hood pranks. In one recent video, a three-way collaboration with DennisCeeTV and another channel called ModelPrankstersTV, the four guys drive a Lamborghini around the city and try and pick up women.
They also posted a variation on the Lamborghini prank, but instead they tried to pick up grandmothers.
The brothers don't think OckTV is something they're going to do forever — but they also don't mind seeing how far it can go. They want to partner up with more channels and hopefully go to the giant YouTube convention, Vidcon, next year.
"We do all this for entertainment purposes and not for racial purposes," Moe said. "We don't want to be known for crazy things — we want to be known for social experiments, all that other good stuff."