PYEONGCHANG, South Korea — One of the central focuses of the 2018 Winter Olympics' opening ceremony on Friday night was harmony on the Korean peninsula. In front of an estimated 35,000 spectators in the stands, in frigid conditions, South Korean women's ice hockey player Park Jong-ah and North Korean player Jong Su Hyon brought the Olympic flame up the flight of stairs to the Olympic cauldron.

But outside the stadium, Koreans with a very different attitude toward Korean unification were doing a very different kind of torch-lighting.
A small but rowdy group of several dozen anti-unification activists gathered on a street corner across from the Olympic Stadium in Pyeongchang, clashing with police as they attempted to burn photos of North Korean leader Kim Jong Un. On three different occasions, police had to rush into the crowd and remove someone trying to get their lighter to work in the freezing temperatures. On the third attempt, when the lighter finally caught, police swarmed the demonstration, effectively ending it.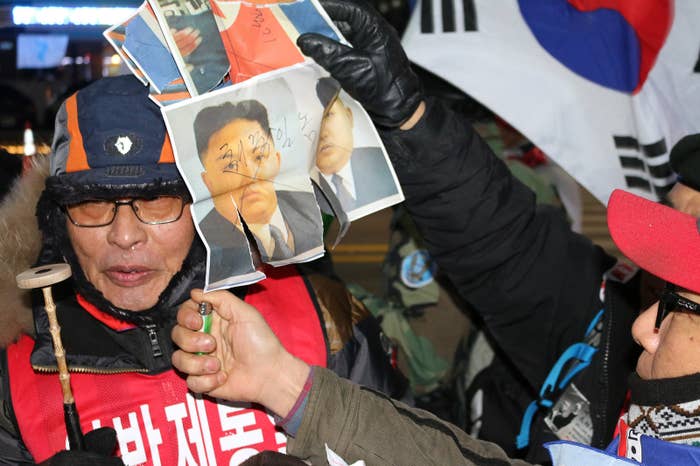 The protest was another in a series of demonstrations that have been happening all across South Korea in the weeks since it was announced that the two Koreas' women's ice hockey teams would be competing as a unified Korean Olympic team.
"The fact that North Koreans are coming down here is deplorable," Nam In-soo, the president of the Freedom Korea National Defense Corps, the group organizing the bulk of the anti-unification protests, told BuzzFeed News Friday night. "The fact that Koreans have been preparing for this event for more than 10 years, and the Moon Jae-in government should really listen carefully to Korean people about hosting this Olympics."

When they learned that BuzzFeed News was an American outlet, the FKNDC members began chanting, "Trump! Trump! Trump!"
"We want President Trump to bomb the shit out of North Korea," Nam said. "North Korea has continued their provocation after the end of the Korean War, so we can't believe them."
The FKNDC members, who traveled over five hours from Pohang, a city in the south, to voice their outrage over unification, were a small group of older and largely right-wing activists. But their views aren't actually in the minority right now — according to recent polls, 50% of South Koreans oppose the unified flag. And another survey carried out last month found that the majority of young people in South Korea don't like the idea of both Koreas sharing the same Olympic team.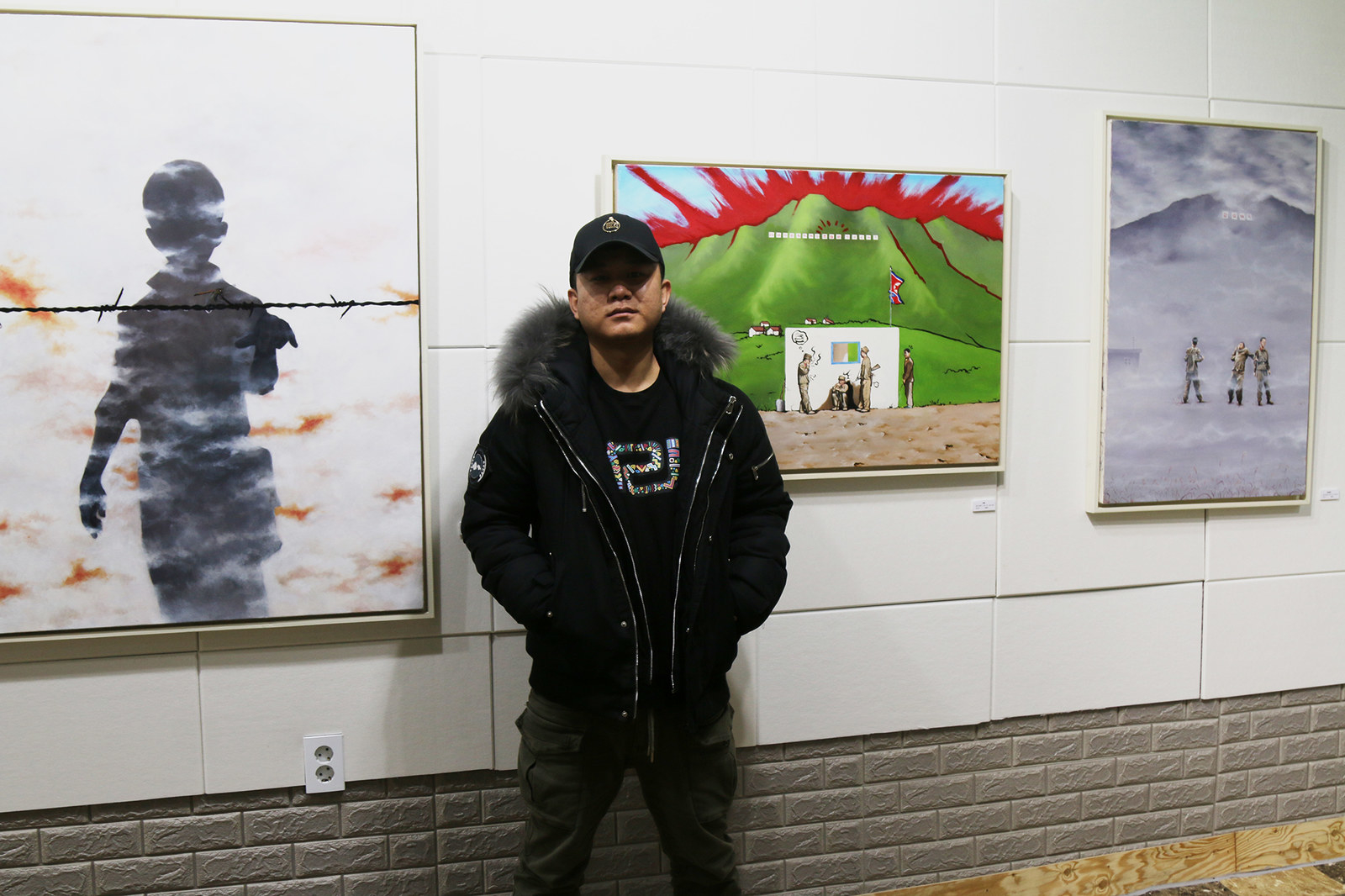 A week before the opening ceremony, Kang Chun-hyok, a North Korean defector turned artist and rapper, told BuzzFeed News that he thought the unified teams were sort of a PR stunt.
"It will add to more confusion in South Korean society, and it will be used politically eventually," he said.
Kang escaped North Korea with his family over 10 years ago, and he gained national recognition in South Korea when he performed on the talent show Show Me the Money. In addition to rapping, he's also an artist, and his art gallery in Seoul held an exhibit last week that featured six of his pieces along with works created by other North Korean defectors.
"I think North Korea is taking advantage of the Olympics," he said. "It is good to see a united team, but it is being used politically after all, isn't it?"
He said the whole thing reminded him of a line from a South Korean film called Steel Rain. "There is a famous line that is really touching for me: 'People of a divided country suffer more from those who use the separation for political advantage, rather than the division itself. It is the reality of division and real pain.'"
The FKNDC and other groups may have seized the combined team as an opportunity to protest, but they didn't appear to be winning over many converts from their position outside the Olympic venue. A young man named Na Byung-joon, who had come up from Seoul to see the ceremony, told BuzzFeed News on Friday that the team was actually pretty cool.
"I'm feeling pretty positive about the combined team," he said. "I think it's a really good thing long-term."
Na also said he wasn't really a fan of the conservative protesters demonstrating in the area.
Blurring the line further, a member of a different anti-Olympics activist group said he actually liked the idea of the Korean peninsula team. Lee Gyung-ryul, a protester with No Olympics Anywhere, said he thought the way the Korean government combined the teams was a little haphazard, but was happy they did it.
"I think it's significant that for the past 10 years, both sides of Korea have not been involved together in any sports events," he said.
When asked about whether he thought it was weird to be against the Olympics altogether, but be proud of the combined team, he agreed it was weird. "We've actually been discussing that within our organization," he said.