This is Liquid Death. It's water sold in a tallboy, and the startup behind it just raised $1.6 million in seed funding.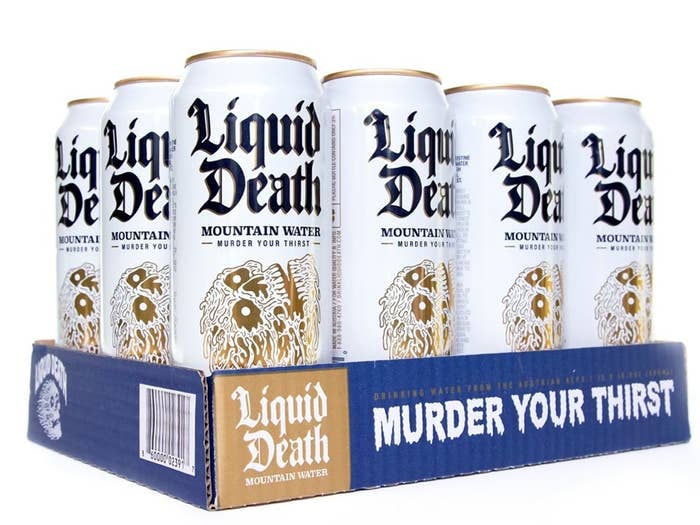 Liquid Death was dreamed up by cofounder and CEO Mike Cessario, a former creative director for Netflix. In an interview Tuesday with Business Insider, Cessario said he was inspired to launch Liquid Death because of his background in the punk and metal scenes.
"We knew the easiest crowd for us is anyone into heavy metal, punk rock, and that kind of world because they immediately get the joke and get the humor and have never seen anything like it," Cessario said. "What makes this appealing for such a large group is that it feels like a niche thing."
Cessario said Liquid Death's cans look cooler than bottled water, and believes that straight-edge and vegan punks would like the fact that the company plans to donate 5 cents from every can sold to clean up plastic garbage from the ocean.
"If you think about it, it makes sense; everything metal and punk is extreme," Cessario said. "Being vegan is extreme, protesting the deforestation is extreme. There are more vegans at a heavy metal show than Taylor Swift show. We are by far the most sustainable option for packaged water, which is a big driver for why people want to buy from us."
The video is titled "Liquid Death — Hey Kids, Murder Your Thirst" and features an anthropomorphic version of the punk water killing people with a huge ax. It's very extreme.
At one point the water punches through a dude's neck and uses it to drive a convertible up onstage during a metal show and then runs over the whole band.
According to Peter Pham, cofounder of Science, the startup incubator that invested in Liquid Death, it's their fastest-growing incubated company since Dollar Shave Club.
The site also has an option called the Liquid Death Country Club that gets you "one FREE VIP 12-PACK added to your first order," a bunch of Liquid Death merch, and invites to private Liquid Death shows.
According to the site's "About Us" section, the whole thing is meant to promote switching away from plastic bottles.
"We started Liquid Death with the diabolical plan to completely obliterate bottled water marketing clichés by taking the world's healthiest beverage and making it just as funny and stupid and entertaining as the unhealthy brands across energy drinks, soda, and beer," it reads. "Also, plastic water bottles are shit. But aluminum cans are far and away the most sustainable beverage container by virtually every measure. #DeathToPlastic."
While Cessario seems confident the punk community will be psyched that his startup raised $1.6 million to sell cans of water to them, some people aren't as convinced.
Most people just thought it was fake.
There were also some points made about the fact that maybe other sources of water could use a $1.6 million investment...
But people mainly just cracked jokes about it.
BuzzFeed News has reached out to Liquid Death for comment.