Leading Pakistani Politician Injured After Terrifying Fall During Rally
Imran Khan, a popular Pakistani politician, took an impressive fall from a makeshift lift during a recent election rally.
Imran Khan has been called the "Ron Paul of Pakistan" and he's a frontrunner for the next Prime Minister of Pakistan.
He also used to be a champion Cricket player.
During the rally he was standing on a lift when he suffered a terrifying fall after too many people got on it at the same time.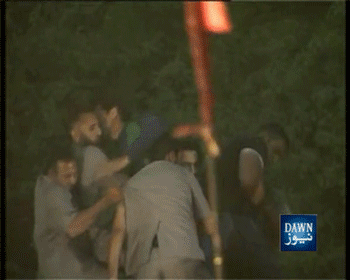 He was rushed to a hospital for treatment immediately after the 15 foot fall and is currently in stable condition.
Hundreds of supporters gathered outside of the hospital chanting "Love live Imran Khan."