On Sunday night, centrist candidate Emmanuel Macron defeated far-right populist Marine Le Pen in an election that morphed into the latest battleground for the wave of right-wing populism rippling through the US and Europe.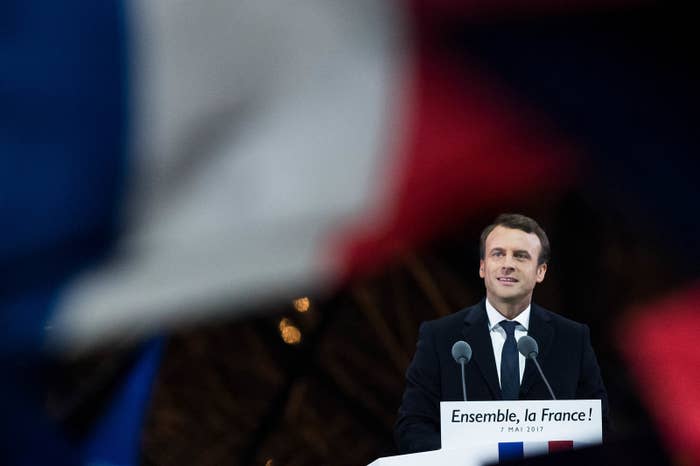 The closest equivalent to 4chan that exists in France is a website called jeuxvideo.com (JVC), which translates to "videogames.com."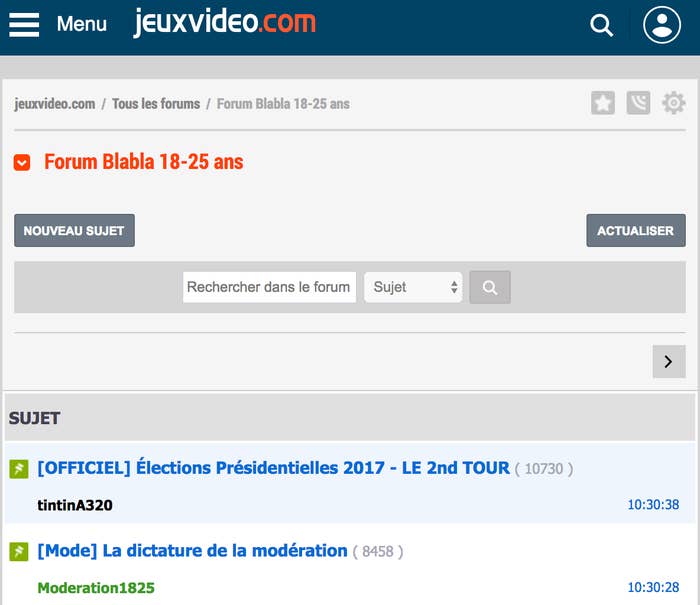 JVC has been the number one stop this election cycle for every young French person flirting with far-right ideology. The name of the board, "18-25," refers to the age group of its users.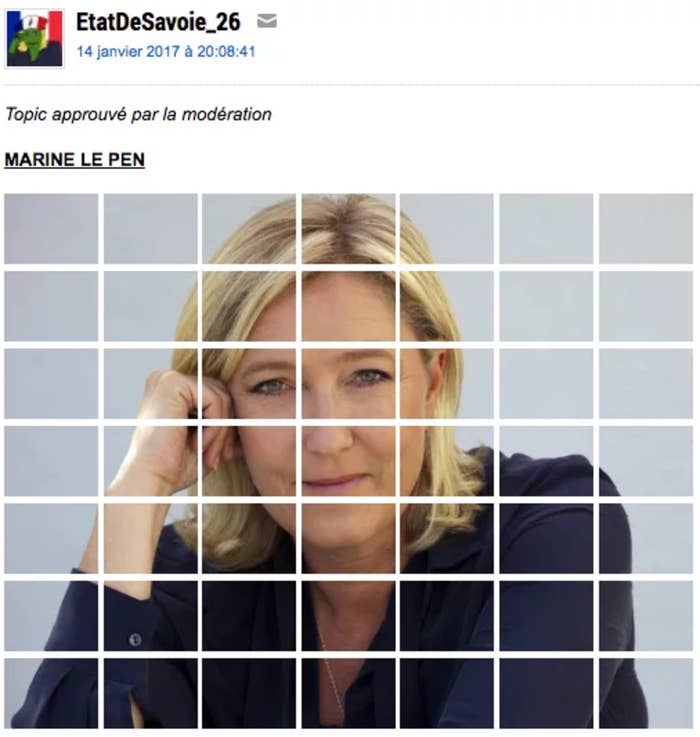 BuzzFeed News interviewed two of the moderators of "La Taverne des patriotes" — the tavern of patriots — in February. Users going by The French Resistance and Chepamec told us that they didn't identify as being "alt-right" at all.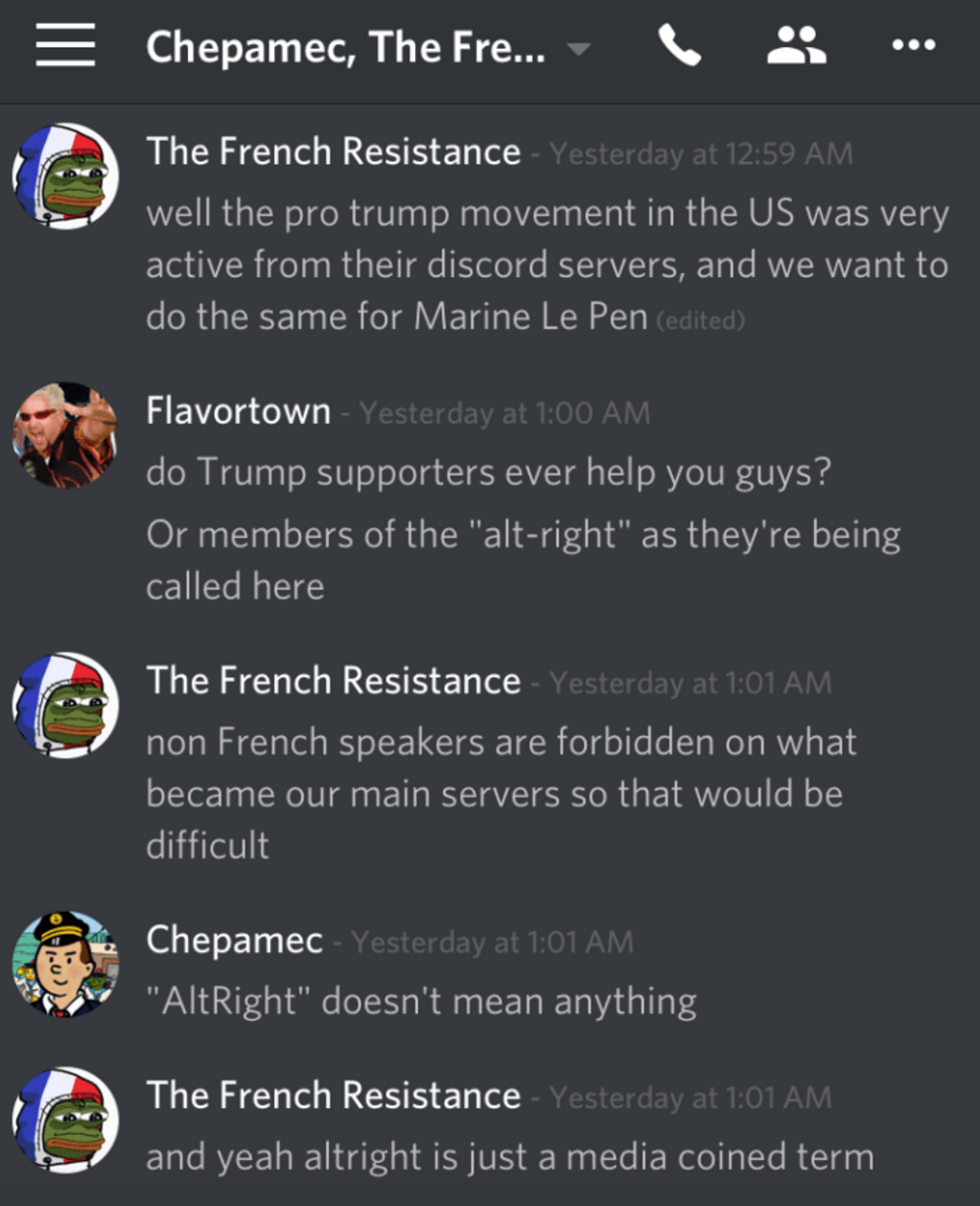 In terms of memes, the two moderators said the closest things the French far-right had to Pepe the Frog were a red coffee cup used by National Front vice president Florian Philippot in YouTube videos and screengrabs of a Spanish comedian named El Risitas laughing.
The JVC community were also behind an attempt at their own version of the #MAGA hashtag that Trump supporters now swarm social media with. French users tweet the hashtag #Patriosphere.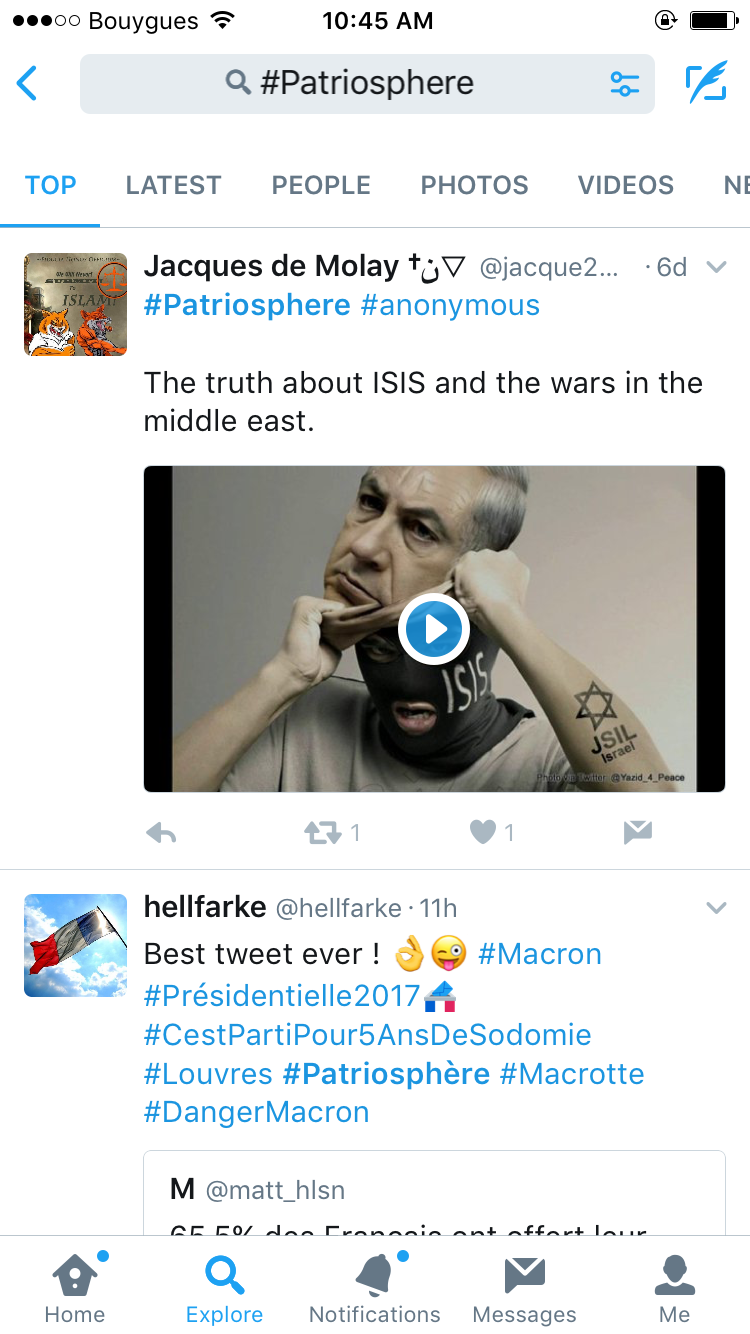 The moderators of "La Taverne des patriotes" told BuzzFeed News that they could mobilize the #Patriosphere to manipulate national trending topics on French Twitter.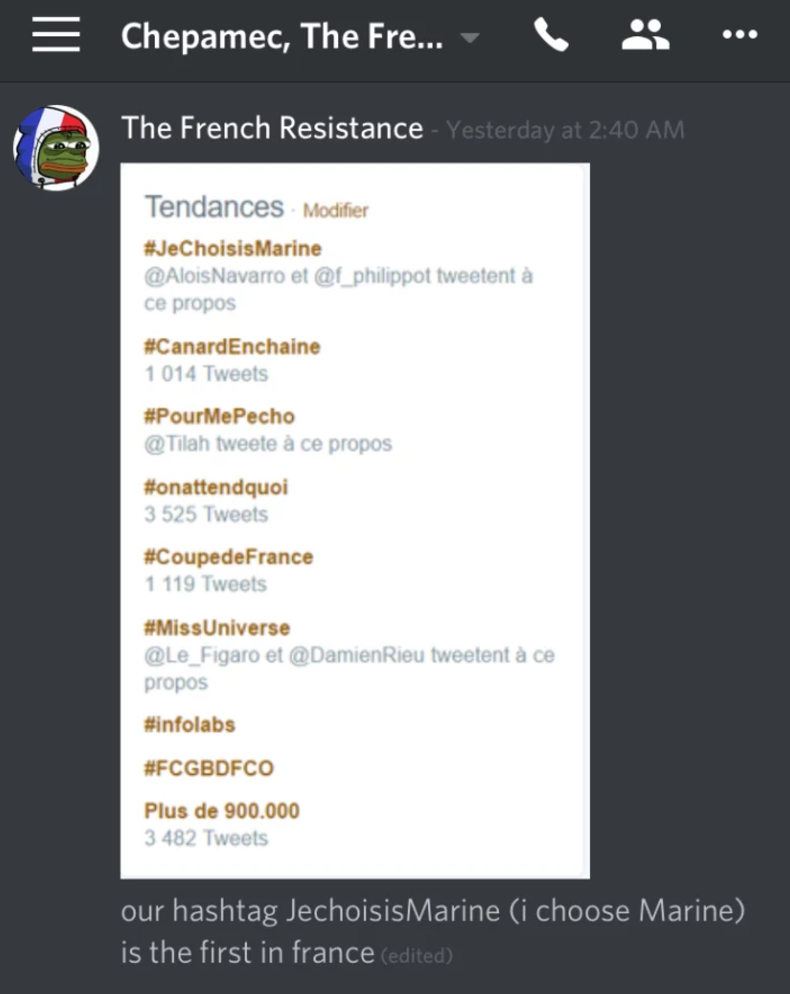 National Front members appear to be actually aware of the #Patriosphere and have attempted to work with them.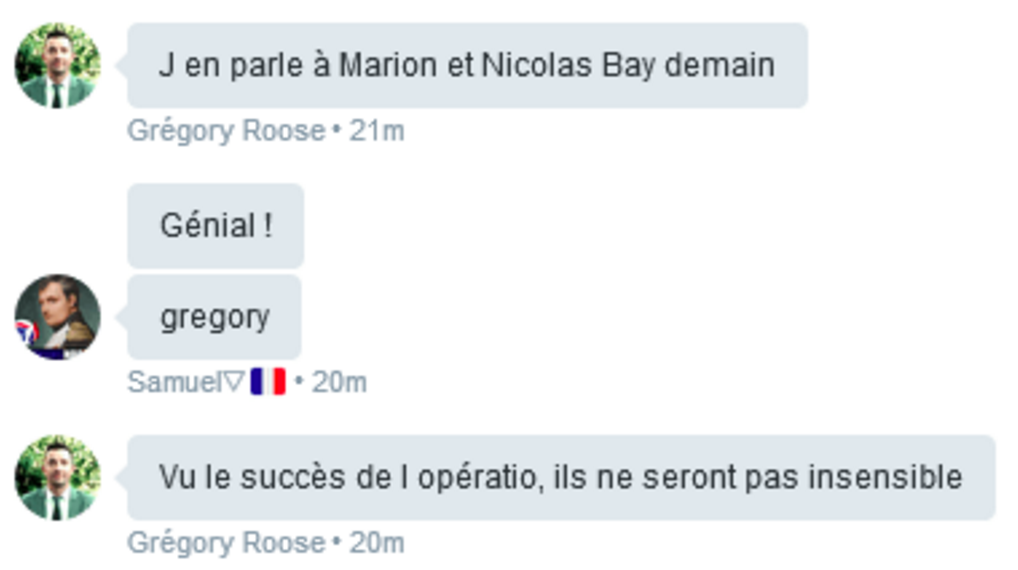 In January, the #Patriosphere started networking with Trump supporters in a Discord room called "The Great Liberation of France." It contained bilingual strategy rooms, a French meme glossary, and a room for organizing Twitter bots.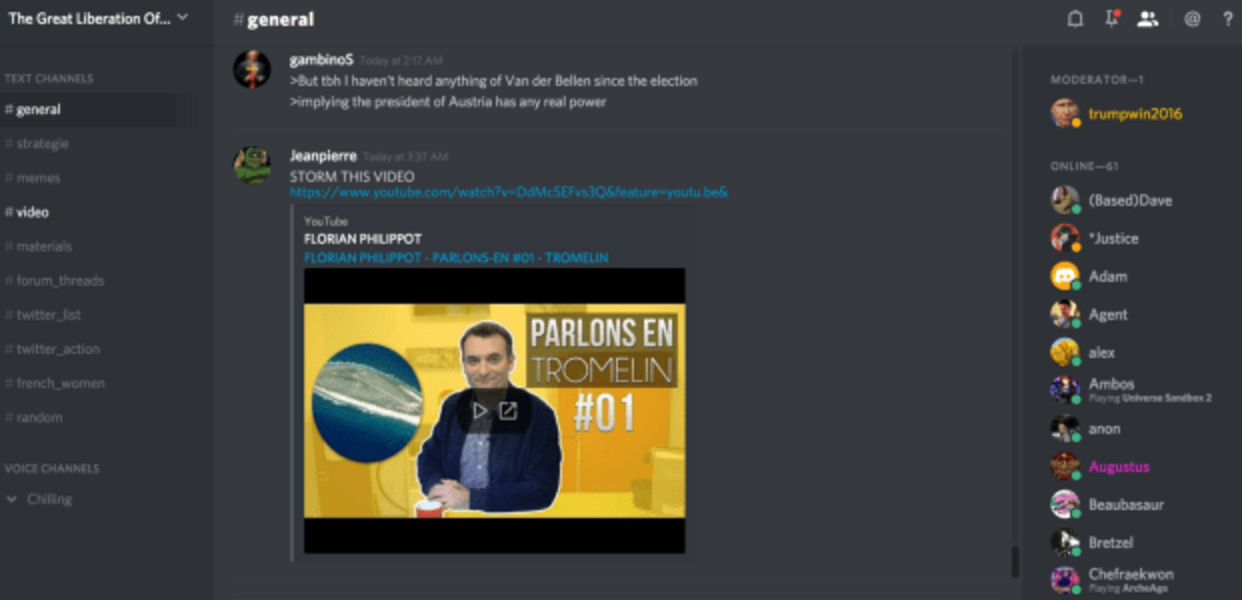 The large majority of the work being done in The Great Liberation of France involved creating fake Facebook and Twitter accounts to manipulate French social media users.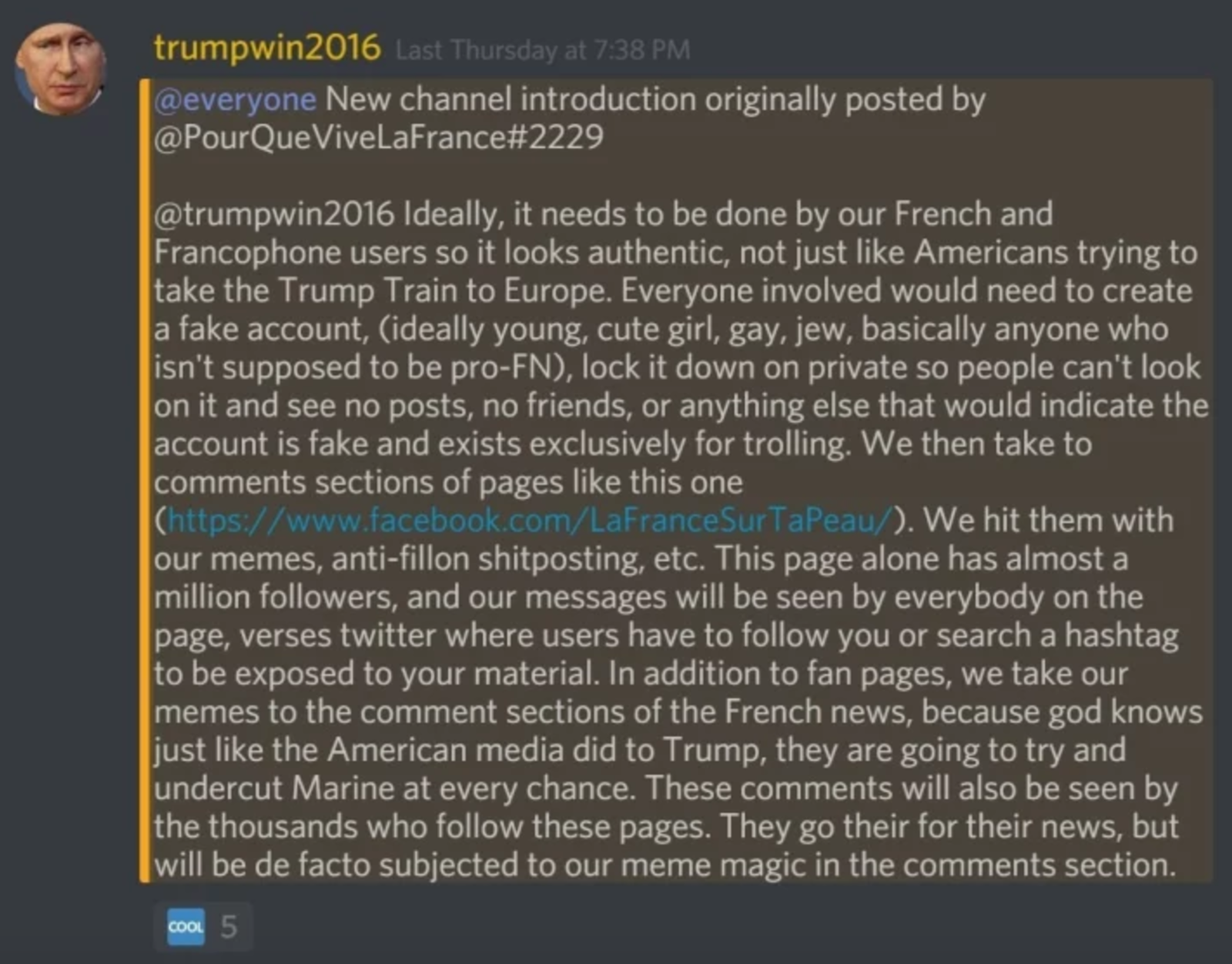 The room linked to a Google document called "MEGA GENERAL". (MEGA stands for Make Everything Great Again.) The document had detailed instructions on how Trump supporters could create convincing French social media accounts.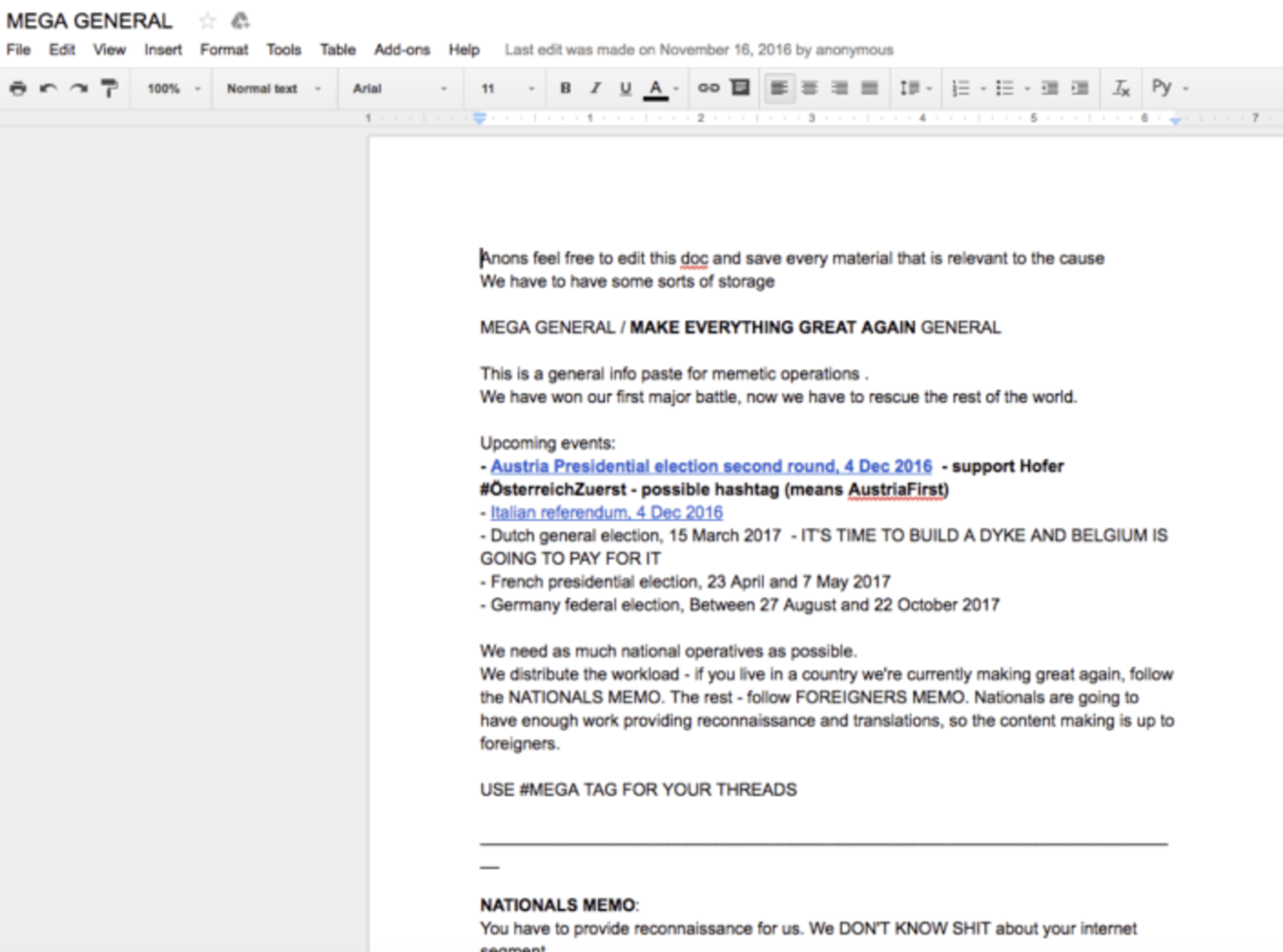 Outside of these fairly small Discord servers, most of the Le Pen buzz on Reddit and 4chan was actually just from Trump supporters sharing memes about the National Front.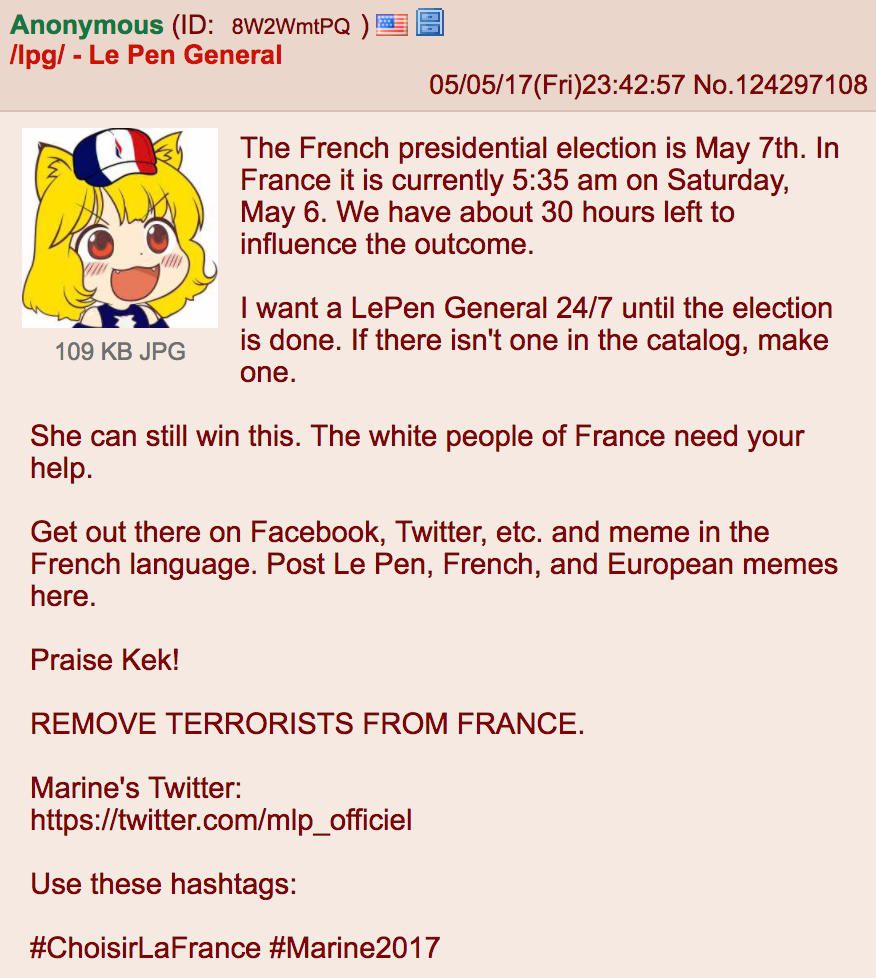 After Trump's victory in November, American far-right internet users started fantasizing about trying to hijack elections in other countries, such as France.
The Discord rooms helped American users learn more about the National Front. "The Great Liberation Of France" networked directly with two subreddits, r/Le_Pen and r/The_Europe.
BuzzFeed News saw several decent-sized social media campaigns migrate from "La Taverne des patriotes" to "The Great Liberation Of France" to 4chan to the r/Le_Pen and r/The_Europe subreddits to Twitter at large.
On the day of France's first round of elections, Twitter exploded with National Front memes. The #JeVote hashtag was full of Pepe photoshops and Trump memes. Almost all of them, however, were in English, not French.
This inability to properly engage French social media users continued after the first round of voting.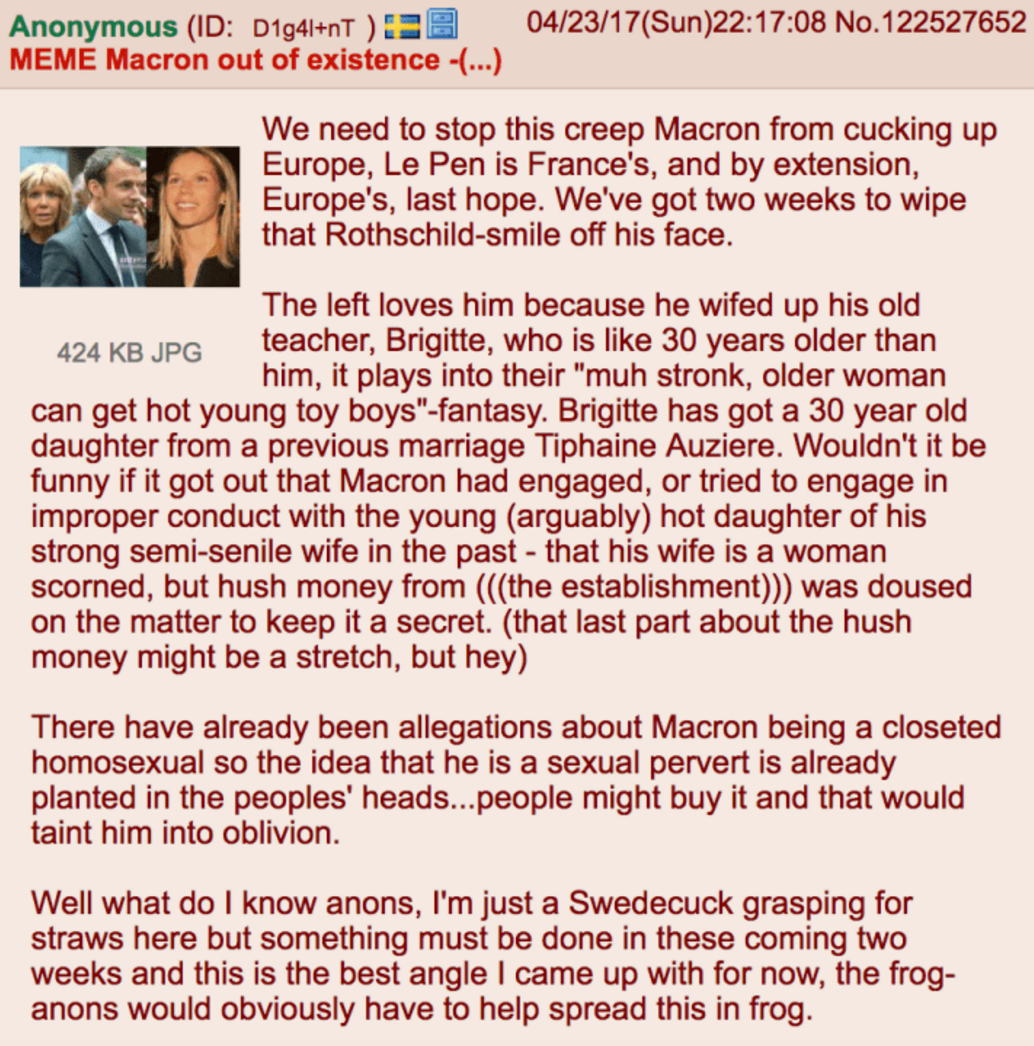 The morning it was announced that centrist candidate Emmanuel Macron would be facing off against Marine Le Pen, 4chan launched several threads trying to organize a misinformation campaign against him.

Users suggested spreading a rumor that Macron was having an affair with his wife's daughter. They hunted Google for images of Macron standing too close to his 30-year-old step-daughter, Tiphaine Auzière.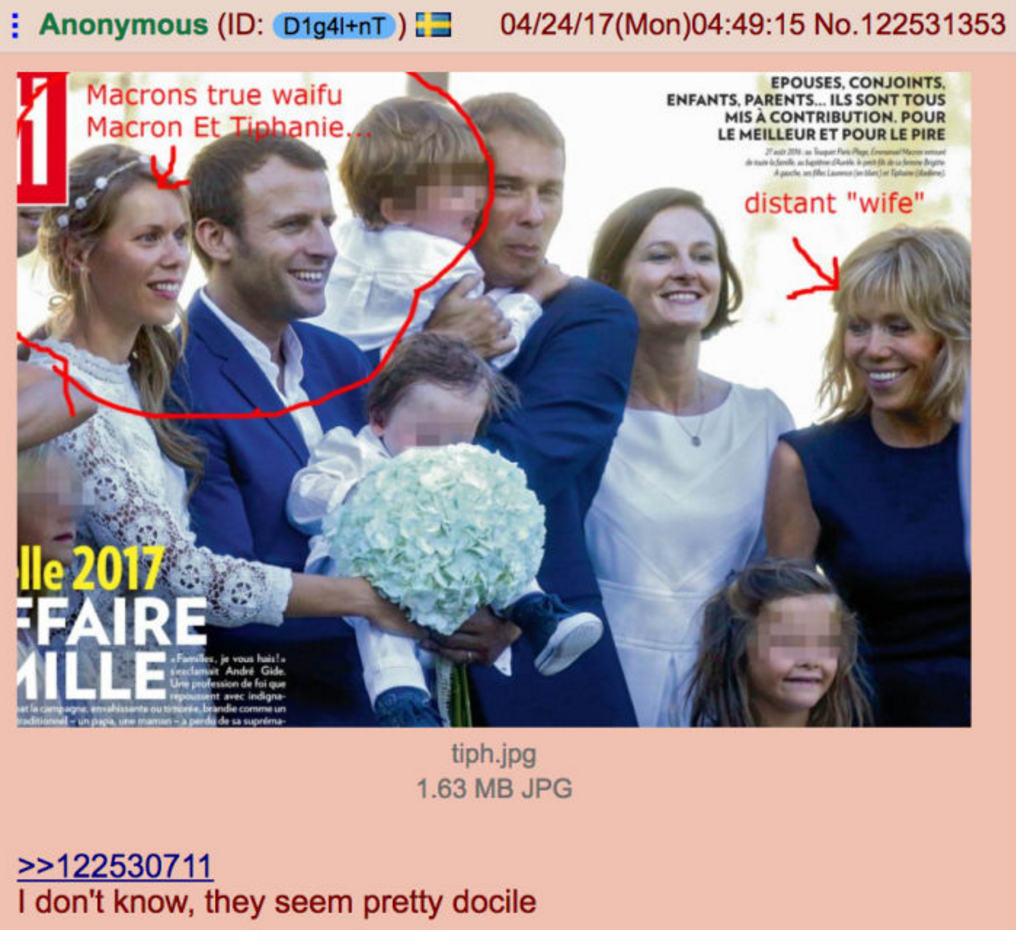 They discussed how they wanted to create an air of suspicion around Macron in the days leading up to the final round of voting.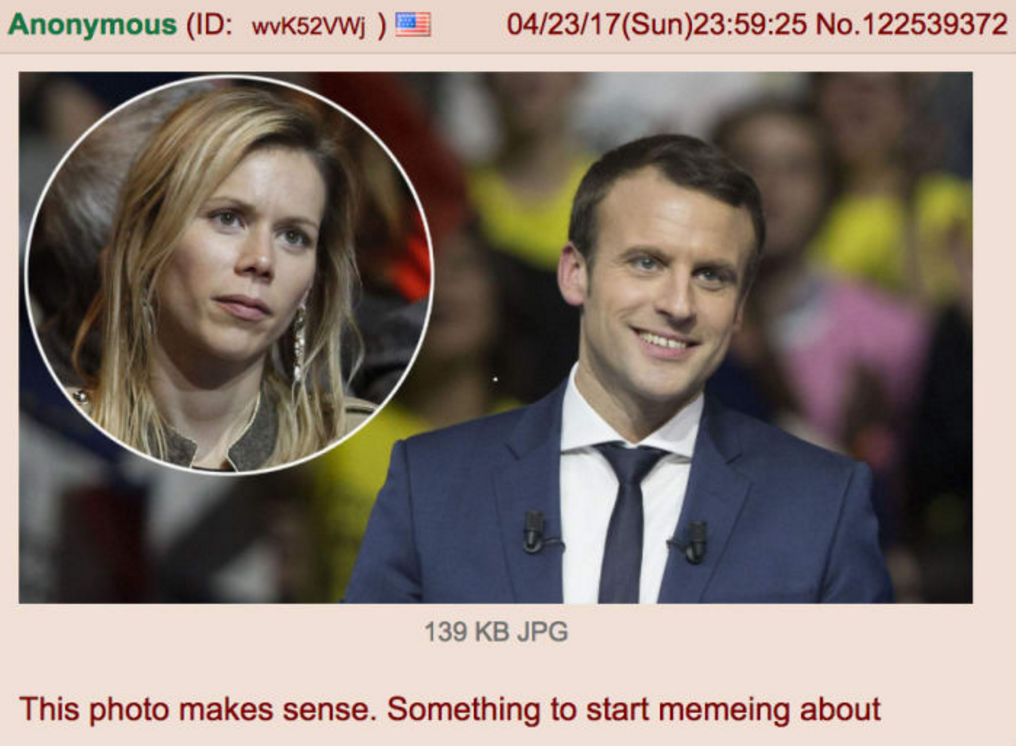 Several French users did try to point out, however, that probably none of this would work because historically French voters have cared very little about the personal lives of their presidents.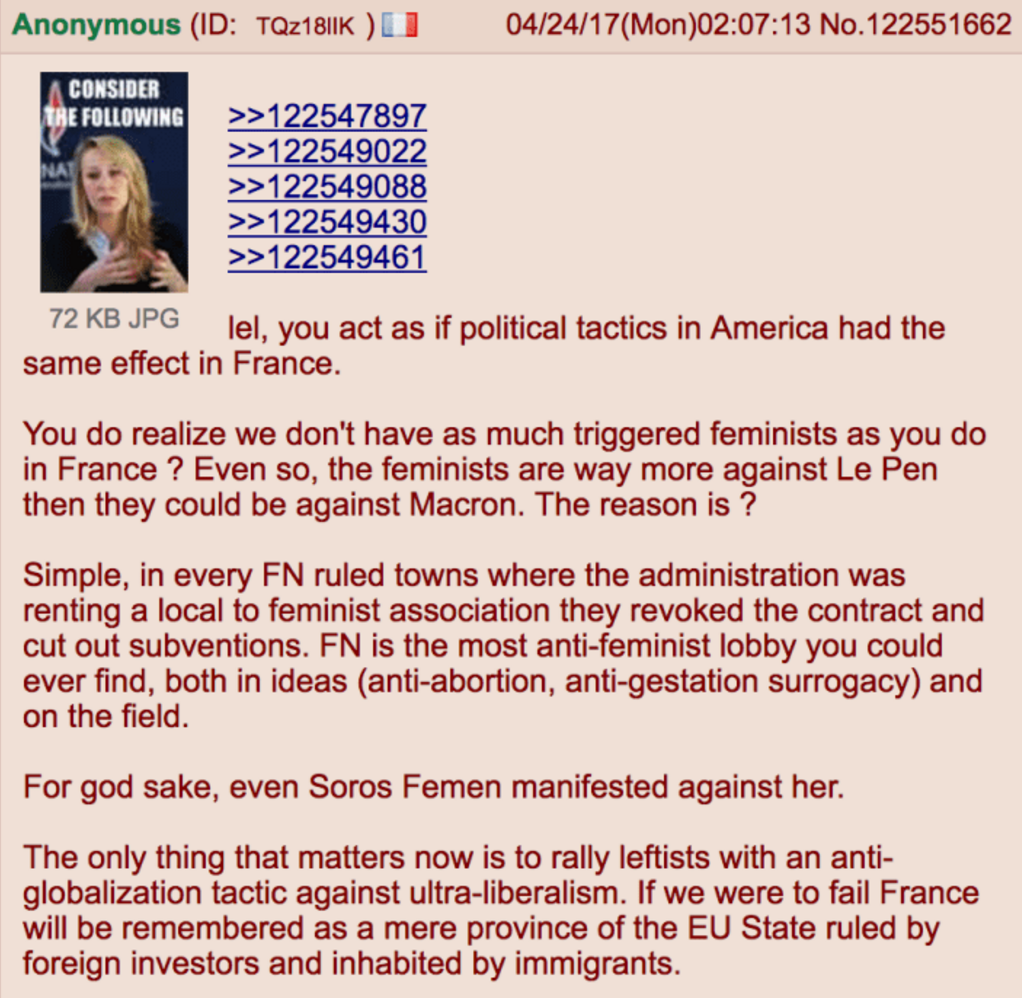 But a few English-speaking Twitter accounts ran with the rumor. They even started tweeting at WikiLeaks asking if they could leak "dirt" on Macron.
This kind of weaponized fake news didn't really have much traction in France, for three main reasons:
First is that it doesn't appear that anyone on 4chan actually bothered to translate the fake news into French. Second is that the purveyors thought fake news tricks that worked in the US would work in France — not taking cultural differences into account. And third, the French simply don't use Facebook — the engine that drives fake news in the US and in other parts of the world — that much.
According to a Pew report in 2016, about half of all adults in the US are on Facebook. Similar data pulled about France around the same time shows only about a third of the country is using Facebook, which means there are fewer French people having their world-views determined by Facebook's algorithms.
Also, in terms of publishers, French media has been much slower to migrate over to Facebook. According to NewsWhip, which tracks social media trends, Le Monde has remained the most consistently huge publisher on French Facebook.
There simply isn't the same culture in France of websites aggregating far-right Twitter memes for Facebook audiences, like Breitbart, InfoWars, and TheBlaze do in the US. In the case of the French election, the memes went to Twitter and died.
And the French press as a whole, actually, have been incredibly aggressive in their fake news crackdown.
Jacques Pezet, a fact-checking journalist working in French for LibéDésintox and in German for Correctiv, told BuzzFeed News that debunking hoaxes has been a popular genre of reporting in France since at least 2008, when LibéDésintox was founded by daily newspaper Libération.
After LibéDésintox, the second-biggest fact checking unit in French media is led by Le Monde.
According to a study of 28 fake French election news stories conducted by Le Monde fact-checking journalist Adrien Sénécat, formerly of BuzzFeed News, this article by far-right satire site BuzzBeed was the most-shared hoax of the election.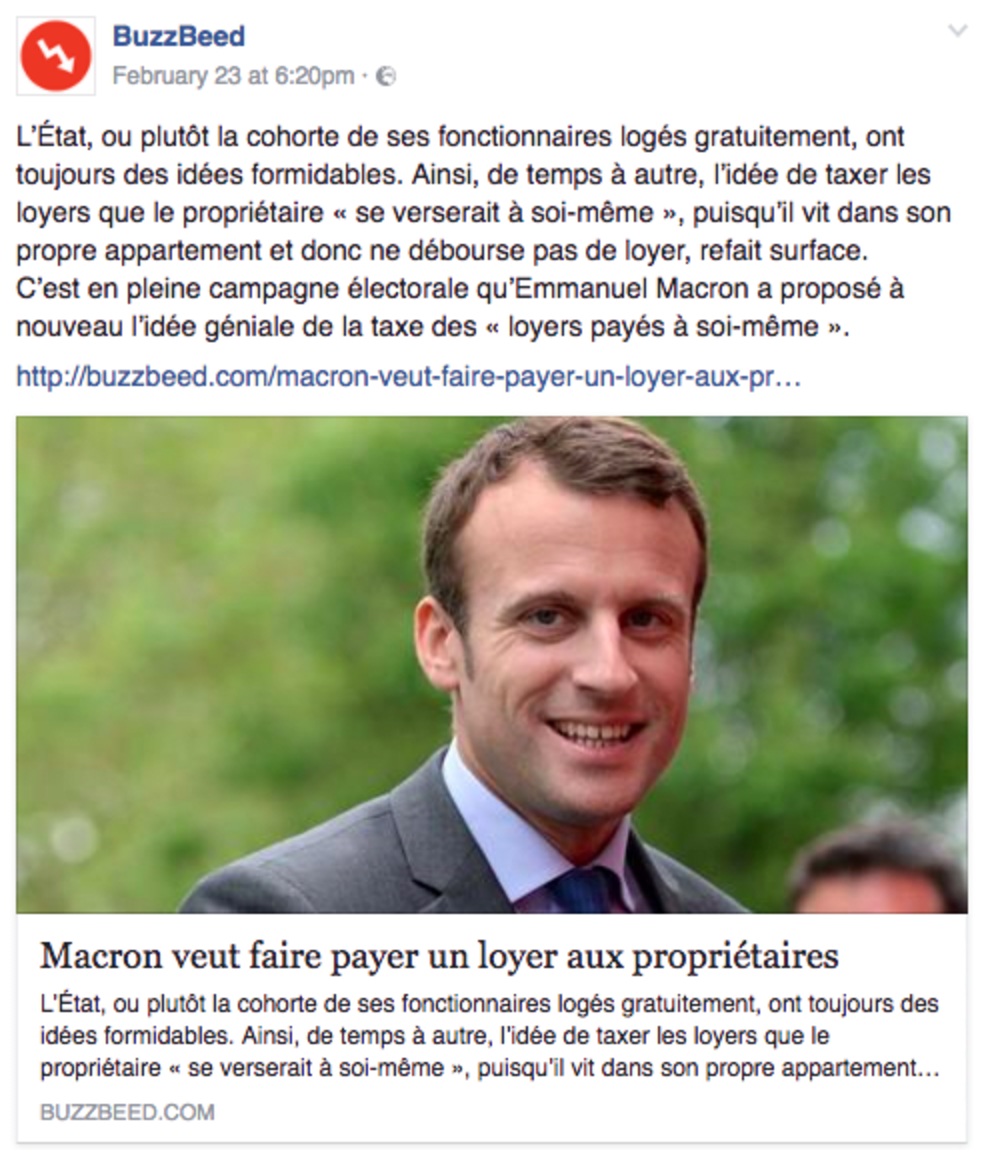 Still, English-speaking 4chan users continued to use tactics from the playbook they believe helped Trump win the 2016 US election.
BuzzFeed News reached out to the moderator of "La Taverne des patriotes," who was formerly known as "The Great Liberation Of France" but is now going as "Le Chevalier". He explained that doxxing and harassing vocal anti-Le Pen protesters was "typical of retarded American politics."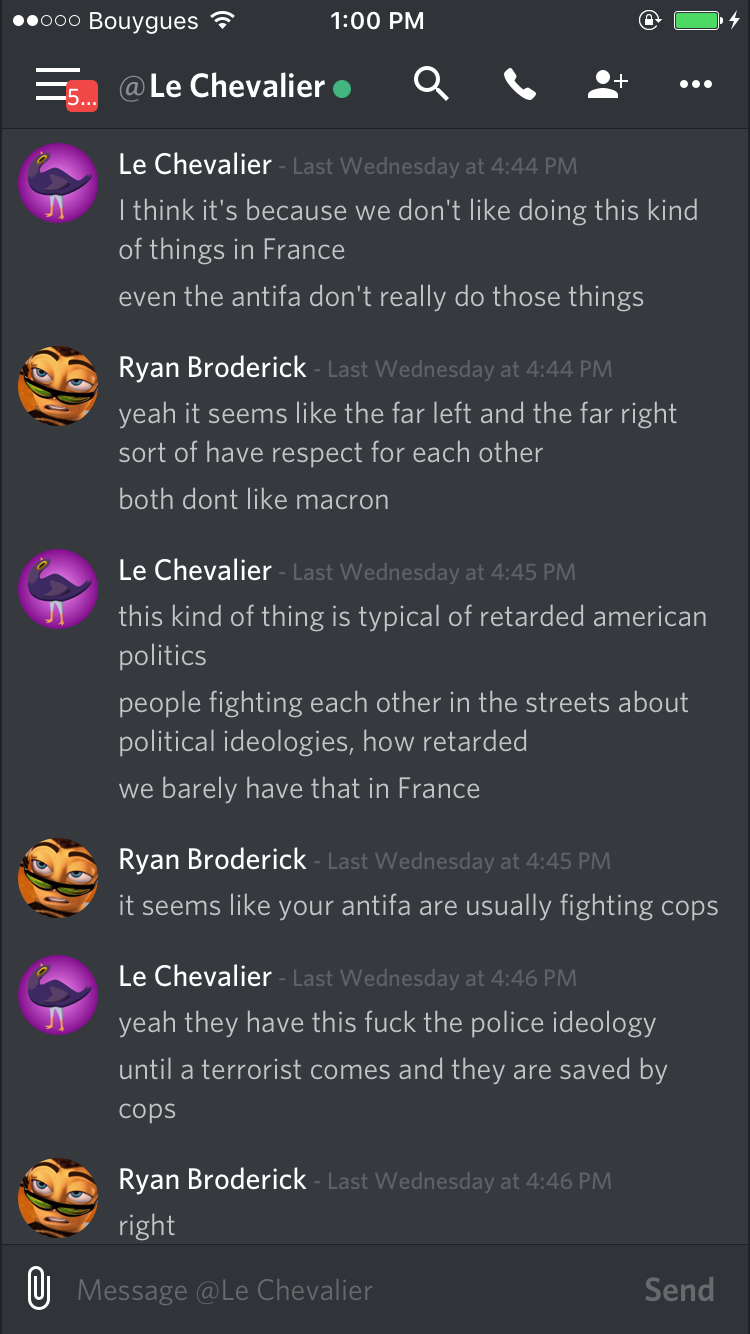 Then, last Wednesday, four days before the final round of voting, a user on 4chan posted what they claimed were documents that proved Emmanuel Macron had a private bank account in the Cayman Islands.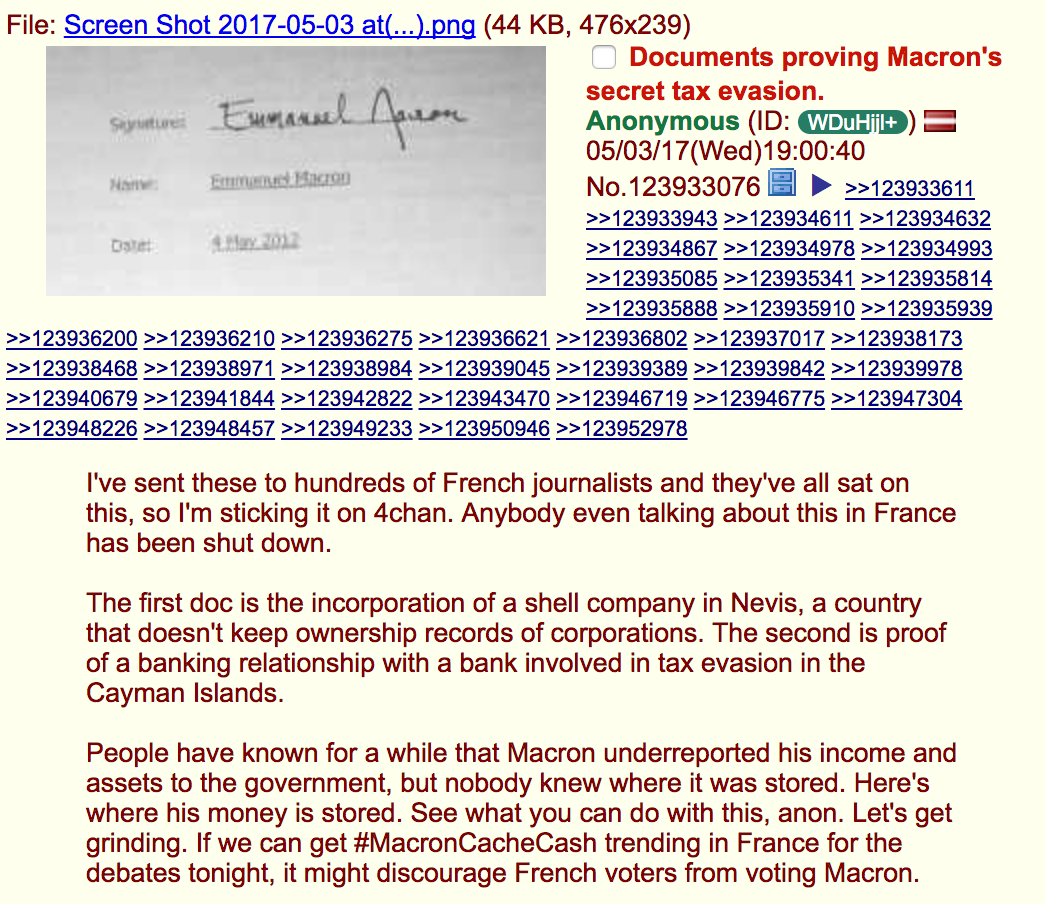 Then, on the Friday before the final vote, more pictures of a document allegedly linking Macron to a Cayman Islands bank account were posted. A victory thread was started on 4chan.
And then, finally, after weeks of 4chan users plotting exactly how to attack Macron's team, an anonymous user posting from an American IP address released 9 gigabytes of memos and emails stolen from Macron's team.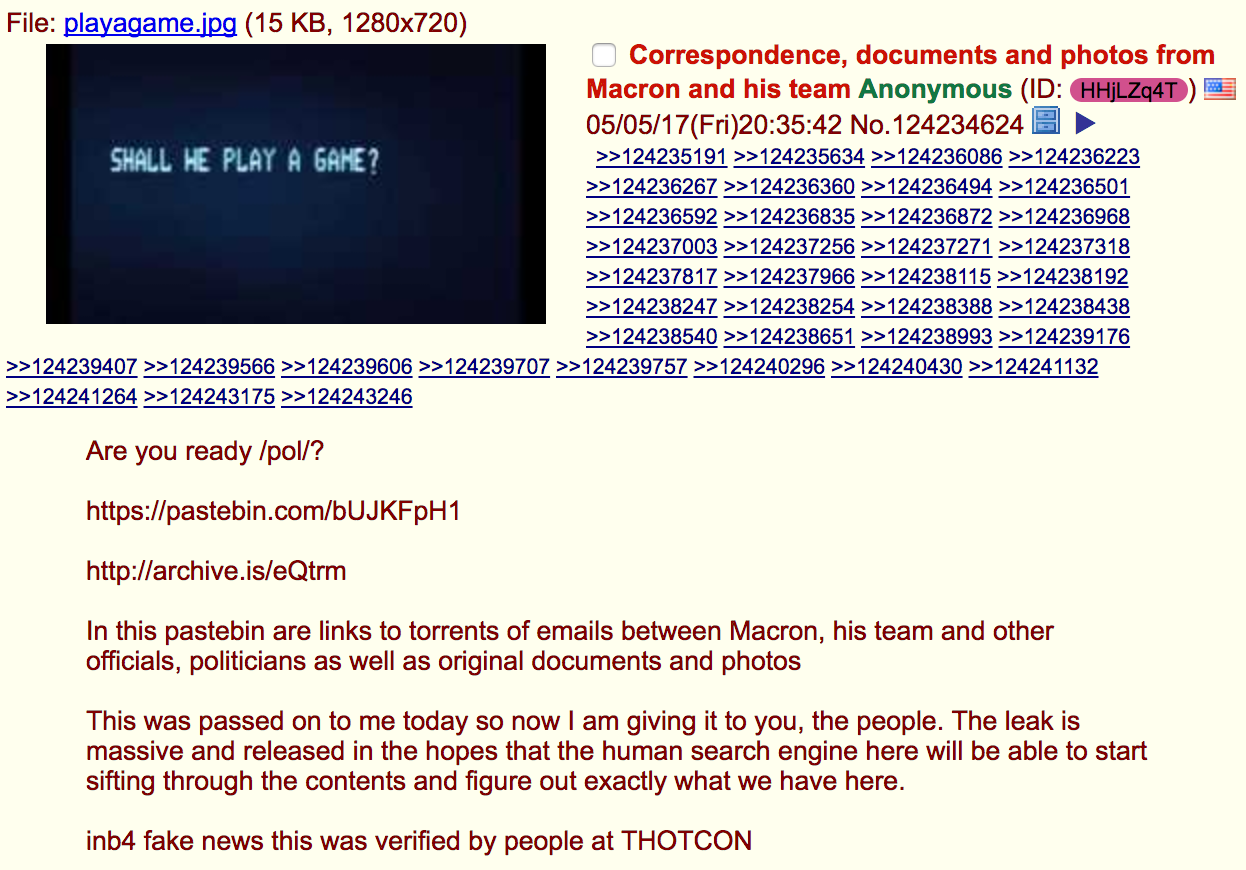 The leaks were published minutes before midnight in Paris, and American far-right Twitter users eagerly spreading them clearly didn't know about France's pre-election media blackout.
In France, there is a pre-election campaigning ban that is respected by both politicians and the media. French law makes political commentary, TV spots, and candidates posting on social media illegal 48 hours before polls close. Even right-leaning Fdesouche — France's the closest equivalent to The Drudge Report — only had time to fire off one article that simply aggregated WikiLeaks' tweets before the blackout went into effect.
Which meant most of the social media chatter about Macron's emails was driven by far-right pro-Trump Twitter bots. And, once again, no one seemed to bother translating the tweets into French.
Also, it may be a criminal offense in France to even begin publishing what's inside the emails.
The leaks were quickly picked up and tweeted by Jack Posobiec, the Washington bureau chief for right-wing news site The Rebel. Posobiec tagged them #MacronLeaks.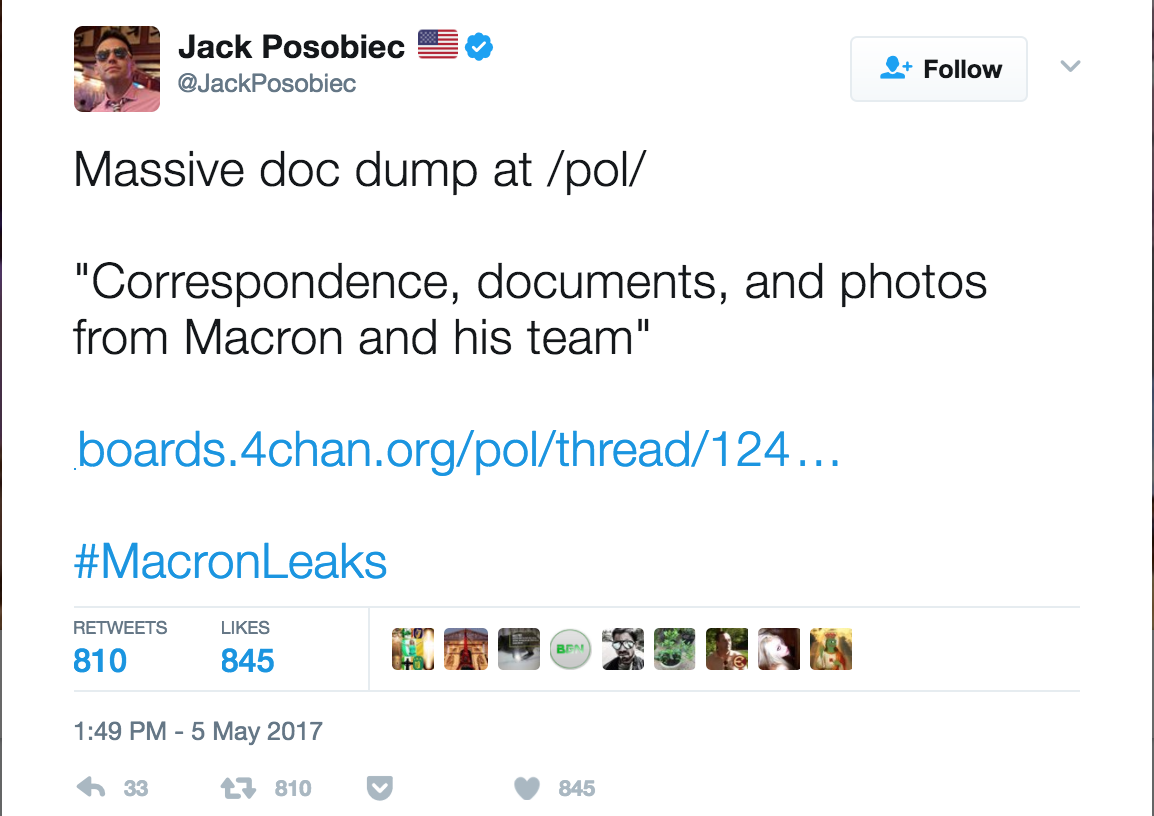 And then that hashtag was picked up by WikiLeaks' official Twitter account. The hashtag went viral and that's when all hell broke loose for Macron's team. Well, that is, everywhere except for in France.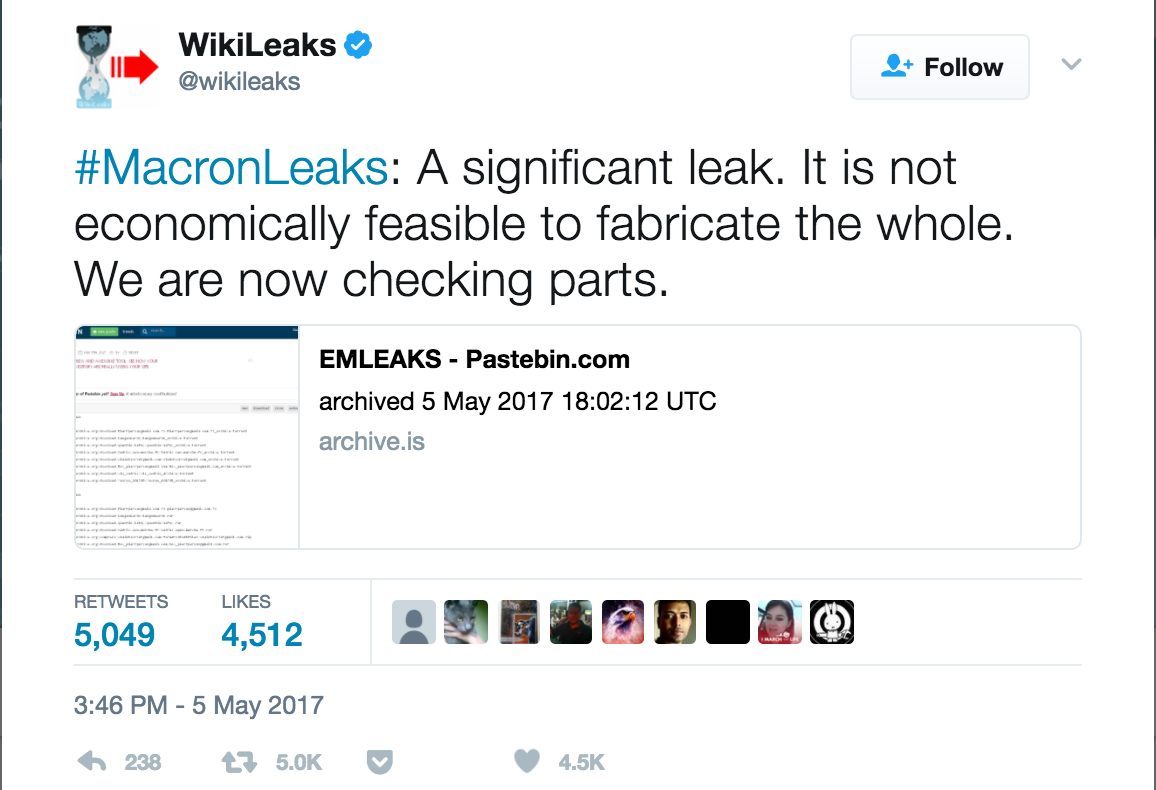 Compare the Google news results as of Monday morning for "Macron email" in the US and French editions.
What happens next for the global far-right movement is unclear. Germany's elections are in September and from the looks of it, the American far-right learned a very real lesson this week.
Outside Your Bubble is a BuzzFeed News effort to bring you a diversity of thought and opinion from around the internet. If you don't see your viewpoint represented, contact the curator at bubble@buzzfeed.com. Click here for more on Outside Your Bubble.