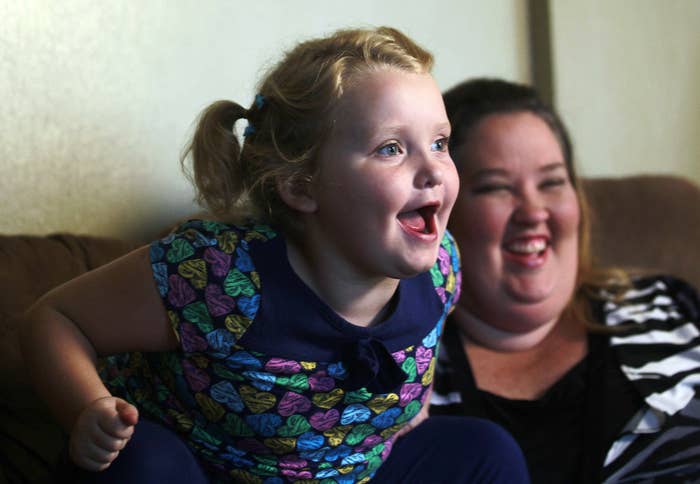 When TLC's Here Comes Honey Boo Boo — a spin-off featuring the family of Alana Thompson, one of the breakout stars of Toddlers & Tiaras — premiered in 2012, critics called it repellent and disturbing, which was not a completely unfair assessment: The family's favorite meal is a mix of butter and ketchup that Honey Boo Boo's mother, who is known as Mama June, microwaves into a red slime and pours on to spaghetti for the girls. They call it "sketti."
It was also a show, however, about a family that enjoyed spending time together and, despite their issues, seemed to genuinely love each other. The majority of the episodes are shockingly mundane — as the show goes on Alana doesn't even do beauty pageants very often. It seems like the only really outrageous thing about Here Comes Honey Boo Boo was that TLC had the gall to a let poor family from Georgia show the rest of the country how they lived. American audiences gawked along at a family that hung out in garbage dumps and ate roadkill. Its first season was one of TLC's highest-rated shows ever.
But gawking at the real lives of rednecks is only entertaining if it's not too real. The news that Mama June is dating convicted sex offender Mark McDaniel was a bridge too far; TLC canceled the show last week, shelving an entire completed new season of episodes. TMZ also learned that TLC is offering to pay for counselors and tutors for the children. The day after the show was canceled, Alana's sister Anna — now 20 — claims she was allegedly sexually assaulted by McDaniel when she was 8 years old. She told People magazine that McDaniel "would try and touch me and all that stuff."
It's an extreme case, but this isn't even the first legal issue for Mama June; in 2008, she was charged with theft of child support payments. None of this legal murkiness is that unusual in the pantheon of hillbilly reality television, which takes as its starting point the premise that it's OK to watch poor (usually white) people from the American heartland struggle to cope with the realities of modern life.
The phenomenon hit its stride in 2012, when Duck Dynasty, Here Comes Honey Boo Boo, My Big Fat American Gypsy Wedding, and Buckwild all came out within months of each other, and followed on the heels of the success of shows like 16 and Pregnant, Teen Mom, and Toddlers and Tiaras. All of these shows raise the same question: With 45 million Americans living below the poverty line, are we supposed to laugh at these people, pity them, or relate to them? Why — when several of these shows have imploded under the weight of their subjects' own struggles — do they keep getting made? Is the pressure of being the "right kind of redneck" too much to bear?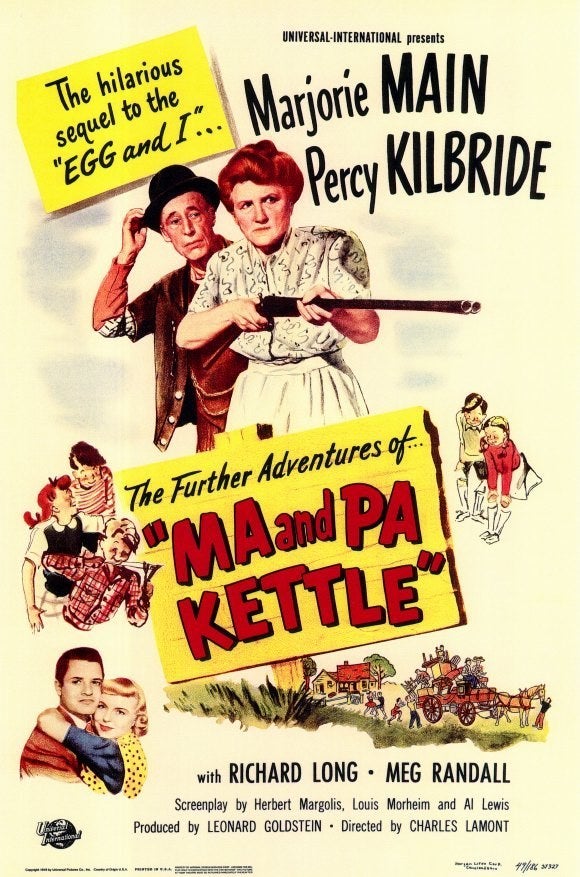 America has long been comfortable laughing at hillbillies. The hugely popular Ma and Pa Kettle films of the late '40s and '50s were spun out from a 1946 film adaptation of a rural slice-of-life novel called The Egg and I. In their first movie, the Kettles and their 15 children move to a modern home and struggle to learn how to live with all the expensive gadgets Pa Kettle wins in a tobacco slogan-writing contest.
There ended up being 10 Kettle films in total, and at the height of their popularity, Marjorie Main and Percy Kilbride — the actors who played the titular Ma and Pa Kettle — were the biggest stars in the country.
The Beverly Hillbillies were no different. Paul Henning created the show for CBS in 1962, based on his experiences living in the Ozarks. The show was panned by critics, but became one of the most popular TV shows ever made. Henning went on to make two spin-offs for CBS, Petticoat Junction and Green Acres.
CBS then doubled down on hillbilly/rural America-based programming so heavily — including the shows Hee-Haw, The Jackie Gleason Show, Mayberry R.F.D. — that by the late '60s, the network had earned the nickname "The Country Broadcasting Network." The oversaturation led to backlash, and CBS began its "rural purge," canceling 15 shows between 1970-1971. Not even Lassie was spared.
But the famous pop culture hillbillies of 20th century were actors reading from scripts. Their versions of poverty and ignorance ended when the episode was over. It was safe. Today, the real Pa Kettles and Jed Clampetts of the world are speaking directly to people like them. But when you take real Americans who've been living under the poverty line and pull them into the pop culture spotlight, the dark reality of what it means to be poor in America comes with them.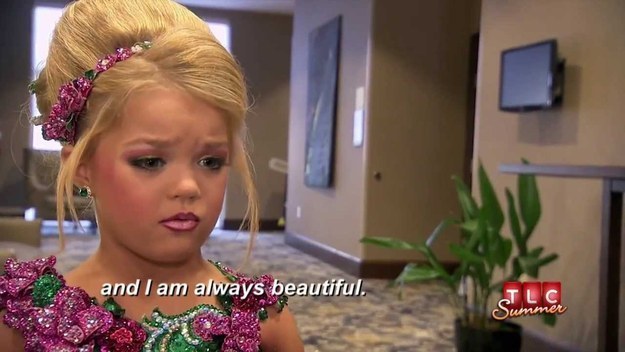 In his book Hillbilly: A Cultural History of an American Icon (Oxford University Press, 2005), author Anthony Harkins argues that American pop culture becomes obsessed with rural hillbilly culture during moments of economic tension, and mass media rednecks help the American middle class blow off some steam and feel a little more secure: "Well, at least I don't have it as bad as those people." Harkins' theory corresponds roughly with the rise of the "hicksploitative" reality TV phenomenon of the last five years, although it might downplay the transformative effect of having a marginalized group be represented on TV, and it's a bit of an oversimplification to write off the popularity of something like Here Comes Honey Boo Boo or Duck Dynasty as merely an exploitative guilty pleasure for the middle class.
TLC premiered Toddlers and Tiaras and MTV premiered 16 and Pregnant in 2009, at the height of the Great Recession. Both shows are unnervingly similar — even down to the format. Take two or three young women, who are usually from lower-middle-class towns in the American South or Midwest, and then follow them around as they either have a baby or compete in a toddler beauty pageant.
They were huge hits and spun off into their own reality franchises, with dozens of imitators on a diverse array of cable networks. It's not surprising: The shows are cheap to produce and give a viewer an addictive mix of schadenfreude, existential horror, anthropological fascination — a feeling of "I might have it bad right now, but at least I'm not a pregnant teenager crying in a Burger King parking lot in Georgia or a pageant mom hot-gluing rhinestones on my 4-year-old in the lobby of an Alabama Hotel Marriott."
MTV's short-lived Buckwild is a good watershed moment in the new era of hillbilly reality shows. It followed nine young people from Charleston, West Virginia. It was marketed as a "redneck Jersey Shore." It caused national outrage. In one episode the stars shoot a potato gun at each other; in another they fill the bed of a dump truck with water and jump into it from the second-story window of a house. Most episodes end with the cast getting blackout drunk at a house party and fighting each other until the police have to intervene.
The outrage wasn't surprising. The Buckwild cast took the American redneck lifestyle to its logical endpoint: mouth-gaped yokels literally sitting naked in the mud, drunk on moonshine, and having sex with each other. But living that way isn't sustainable.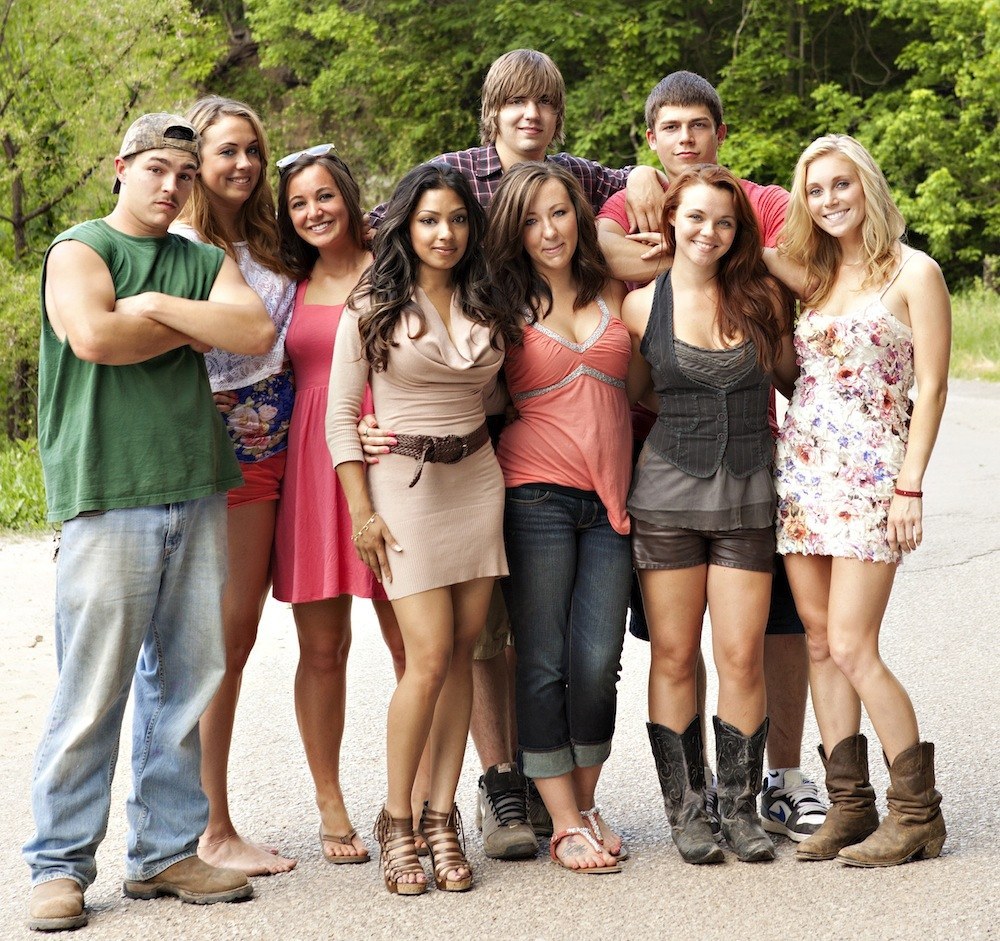 In February 2013, Buckwild cast member Salwa Amin was arrested by police during a drug raid and charged with possession of a controlled substance with intent to deliver. Amin pled guilty and was sentenced to one to five years in prison in January 2014. A few days after Amin's arrest, cast member Michael "Bluefoot" Burford was arrested for an aggravated DUI.
Buckwild wasn't canceled, however, until the death of 21-year-old breakout star Shain Gandee, who was fired from his job as a sanitation worker several months before filming. In April 2013, Gandee's body was discovered, along with the bodies of his uncle David Gandee, and friend Donald Robert Myers, in their truck. An autopsy ruled that Gandee, his uncle, and Myers died of carbon monoxide poisoning after their truck got stuck in the mud while the three were off-roading.
That same year, though, other networks were having issues with their authentic hillbilly stars being a little too authentic.
Phil Robertson, family patriarch of A&E's Duck Dynasty, was given an indefinite suspension by A&E after calling "homosexual behavior" sinful in a GQ interview in December. A&E had to release a statement saying that Robertson's views were personal ones and didn't reflect the company's views on homosexuality. Robertson was reinstated by A&E nine days later. A few months after, in July, Joann Wells, star of My Big Fat American Gypsy Wedding spin-off Gypsy Sisters, was arrested for allegedly stealing thousands of dollars from Target. TLC refused to comment on the incident. In August, Will Hayden, a cast member on the Discovery Channel's Sons of Guns, was arrested and charged with repeatedly raping a child. Discovery canceled the show after Hayden's arrest.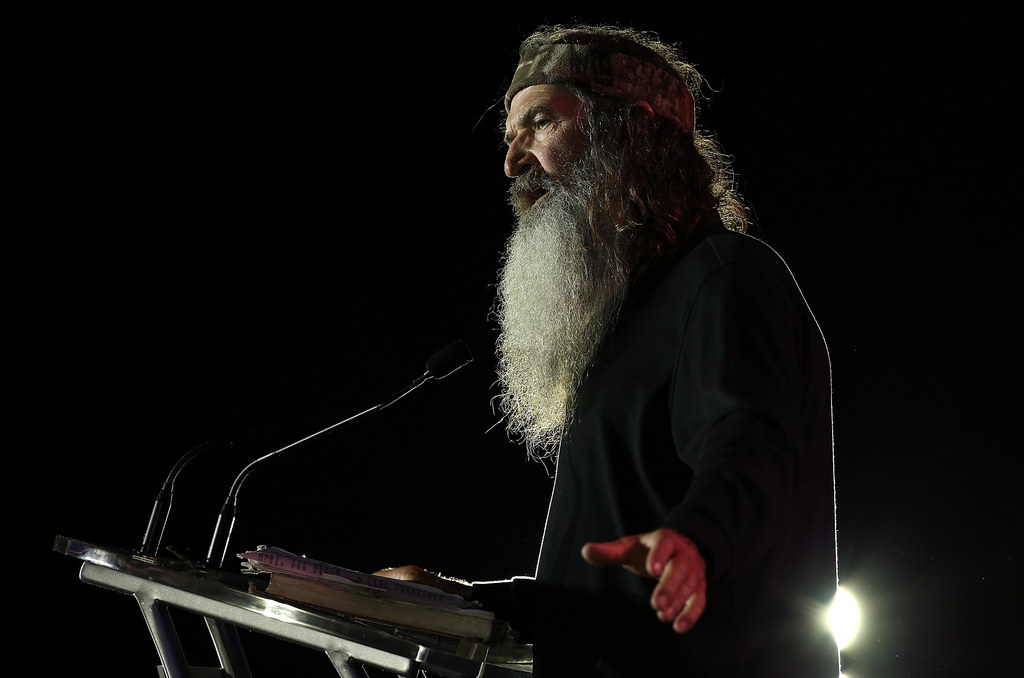 The legal troubles of reality stars are not exclusive to rednecks, obviously. Stars from the Real Housewives franchises, Mob Wives, and Jersey Shore have seen their fair share of controversy. But those shows, unlike their hillbilly counterparts, are far more interested in excess and cartoonish party culture.
And the appeal of this new wave of redneck reality TV is more complicated than just middle-class viewers gawking at the poor. There are just as many — if not more — viewers tuning in to see families that actually look like them depicted on television. A lot of people genuinely love Duck Dynasty — it's a ratings powerhouse and launched a book that sold more than a million copies on Amazon. The show has 8 million Facebook fans. People are not watching Duck Dynasty out of a mean, snarky irony. It's also safe to assume a lot of their fans share the same religious values as the fundamentalist Christian cast.
The problems arise when these authentic hillbilly "real-life characters" start acting in a way offscreen that doesn't comport with the relatively safe, contained version we see of them on-screen. You're going to have a problem if you're trying to re-create The Beverly Hillbillies with real people — people who are currently fighting a serious meth problem, don't believe in evolution, and are mired in poverty. Their issues don't vanish under a spotlight — they usually get worse.
The reality-TV hillbilly isn't going away any time soon. This week MTV is premiering a new show called Slednecks, which has been described as "Buckwild in Alaska." In the trailer there are scenes of naked skiing, backwoods keggers, and drunk guys in diapers chopping wood. Hopefully there won't be another Shain Gandee or Jenelle Evans or Mama June — but it also doesn't seem too unlikely.