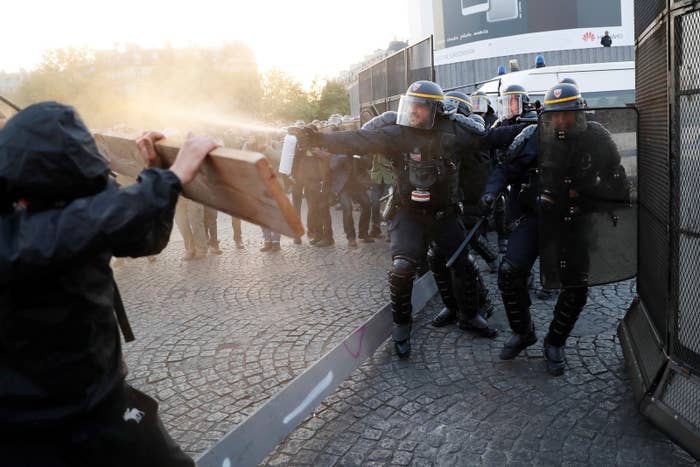 PARIS — Hours before the results of Sunday's election were decided, Louise Guley joined hundreds of young protesters in Place de la Bastille after it seemed clear that no left-wing candidate would make it to the final vote in two weeks. Guley, who voted for the New Anticapitalist Party leader Philippe Poutou, said she plans to abstain in the second round of polls.

"We knew that whatever result was going to come out, we were probably going to be unhappy about it," Guley, a 21-year-old Parisian, told BuzzFeed News. "I don't know what I'm going to accomplish by abstaining, but I know what I'm not going to accomplish by voting."
The result of Sunday's elections in France has exposed deep ideological tensions between the country's far-left and its more moderate voters, leaving many young people feeling like they have no options to vote for on May 7 — and instead planning to abstain entirely from the final round of voting. That disenchantment was seen in protests that erupted across Paris on Sunday night as it became clear that the pro-EU centrist and former investment banker Emmanuel Macron and the far-right populist leader of the National Front Marine Le Pen were the two victors of the first round of France's two-round election system.
Guley said she believes that by supporting Macron in this election, she's actually helping Le Pen win in 2022. "It's very symbolic. I don't want to give my voice so he can do anything about it. It's not going to change a lot of things and that's the reason I do a lot of activism on the side," she said.
Some voters on Twitter went so far as to declare their support for Le Pen, arguing that her economic plan is closer to that of Jean-Luc Mélenchon, the former socialist minister who led the hard-left coalition, backed by the French Communist Party. And they are not alone. Although voters switched between Le Pen and Mélenchon in relatively small numbers in the months leading up to Sunday's election, their supporters have a lot in common on several economic issues.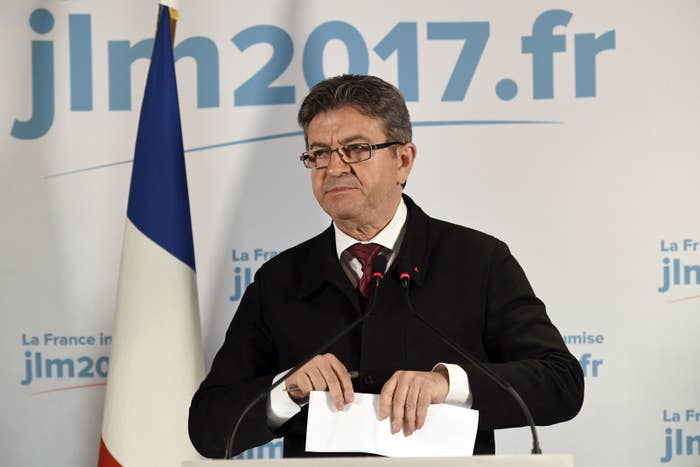 According to some polls, 40% of Mélenchon's voters refused to choose between Macron and Le Pen, indicating they could stay home on May 7. "Mélenchon's voters are the most inclined to say they will abstain in the second round," Cécile Lacroix-Lanoë, research manager at polling firm Kantar Public France, told BuzzFeed News. "By comparison, only 28% of Fillon voters and 19% of Hamon's said the same."

For Macron, the risk isn't losing the election, according to Lacroix-Lanoë. "The real issue could be his legitimacy and his ability to build a parliamentary majority if the abstention and blank ballots are very high, or his share of the vote isn't high enough," she said.
In Le Pen's case, she doesn't just need to hope for a low turnout, she needs to convince millions of people who didn't trust her in the first round to vote for her in two weeks' time.
Macron currently leads Le Pen by more than 20 points across most polls (they show that about half of Mélenchon voters will opt for Macron in the second round). Pollsters who accurately predicted the first-round results say they are confident their numbers will be right again in two weeks' time.
"Most Fillon [the conservative candidate] and Hamon [the Socialist candidate] voters will vote for Macron over Le Pen. So the real issue for her is to turn Mélenchon's vote into a Le Pen vote," Bruno Jeanbart of the firm OpinionWay told BuzzFeed News.

"For many on the left, Le Pen is a fascist and you don't vote for a fascist… A run-off is often about the rejection of one of the candidates. As we say in French, 'in the first round, we choose; in the second, we eliminate,'" Jeanbart added.
Still, some experts are concerned that high levels of abstention, especially among the left, could see the gap between the two candidates narrow. An editorial in the newspaper Le Monde on Monday warned the left to not underestimate the danger posed by Le Pen, and urged Macron to not commit the same mistakes made by Hillary Clinton.
A Mélenchon supporter from Aix-la-Chapelle in western France told BuzzFeed News that she initially supported him because he seemed like the least corrupt candidate. The 21-year-old, who identified herself as Paula, said Mélenchon wasn't perfect, but following his defeat, the best option is to abstain.
"I think Le Pen and her party is a vast and dangerous joke. She works with emotions and particularly fear of the unknown," she said. "Macron is just trying to confuse people into thinking that being extremely liberal economically and caring about social justice can go hand-in-hand, but it just doesn't work and makes society always more unequal. It's really just all about himself and his millionaire friends in the end."
Paula said she believes that the best way for her voice to be heard is to not vote at all.
"It'll send a first message to the people, I guess, and then we'll work on finding other ways," she said.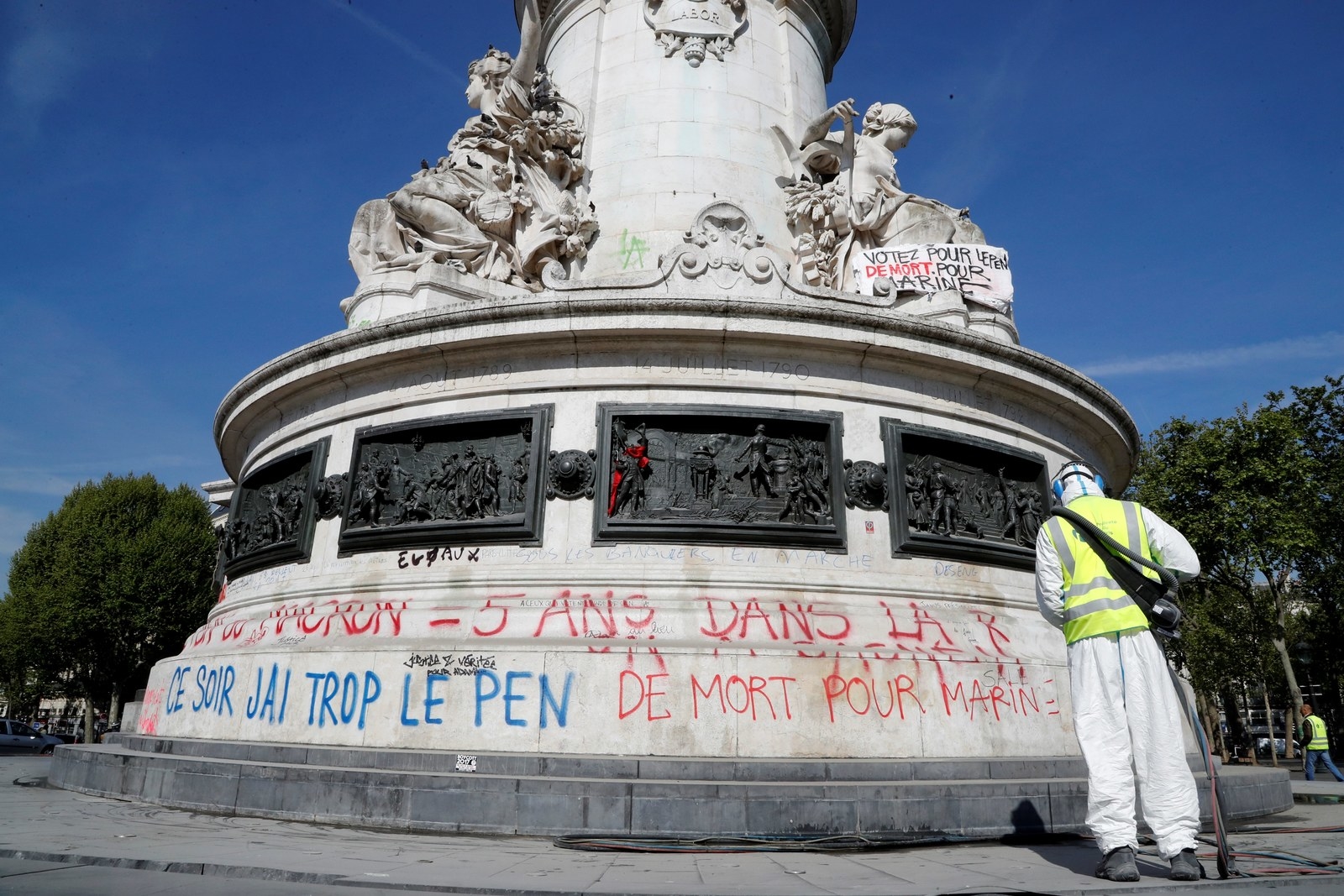 Not every voter on the hard left in France is convinced abstaining is the best course of action, but many are definitely thinking about how to best navigate the second round.

Antoine Figli, a 23-year-old from Marseille, also voted for Mélenchon Sunday night. Figli told BuzzFeed News he's also seriously considering abstaining. "A lot of people I know are thinking about abstaining and I think a lot of them will because they are tired of being forced to vote for the 'least bad,'" he said.
Figli said if he does vote, he'll vote for Macron, but believes he will be "a disaster for poor people and workers in general." He said that he believes Le Pen is the French Donald Trump and is worried that she might win, but he is upset because he feels forced to vote for Macron simply to keep Le Pen out of office.
"I think it is very possible for Marine Le Pen to be elected and that is the only thing that would make me go out and vote against her," he said.