At least 58 people were killed and more than 500 were injured in a shooting on the Las Vegas Strip late Sunday night. Police have confirmed that "one suspect is down" and they do not believe there are any more shooters. Authorities are looking to talk to a "female companion" as a possible person of interest. Within minutes of reports of the shooting hitting Twitter, trolls started flooding social media with fake information.
3.
Details of this fake victim, "Taylor Joshuas," are being spread by an anonymous troll account.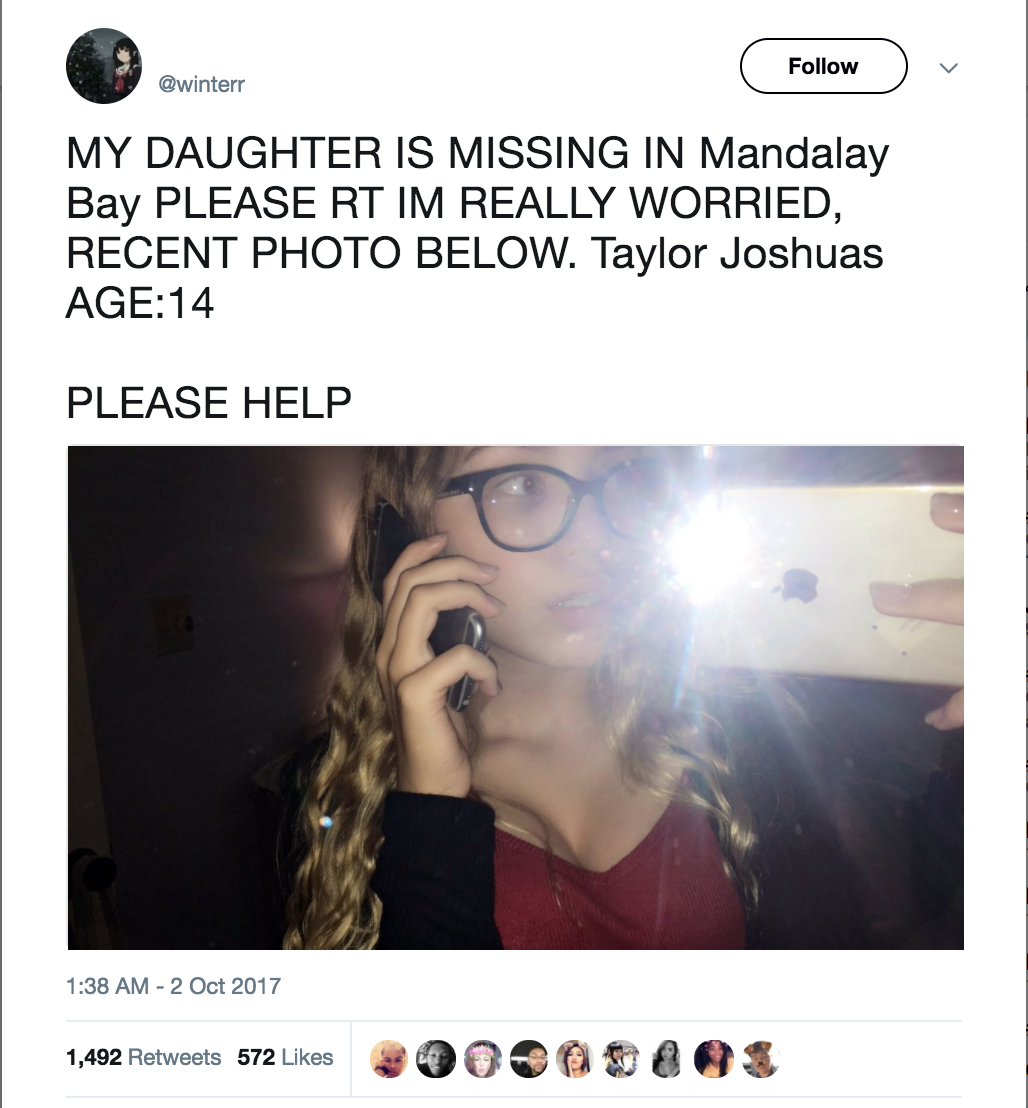 4.
This account is circulating a photo of Mesut Özil, a German soccer player who plays for Arsenal.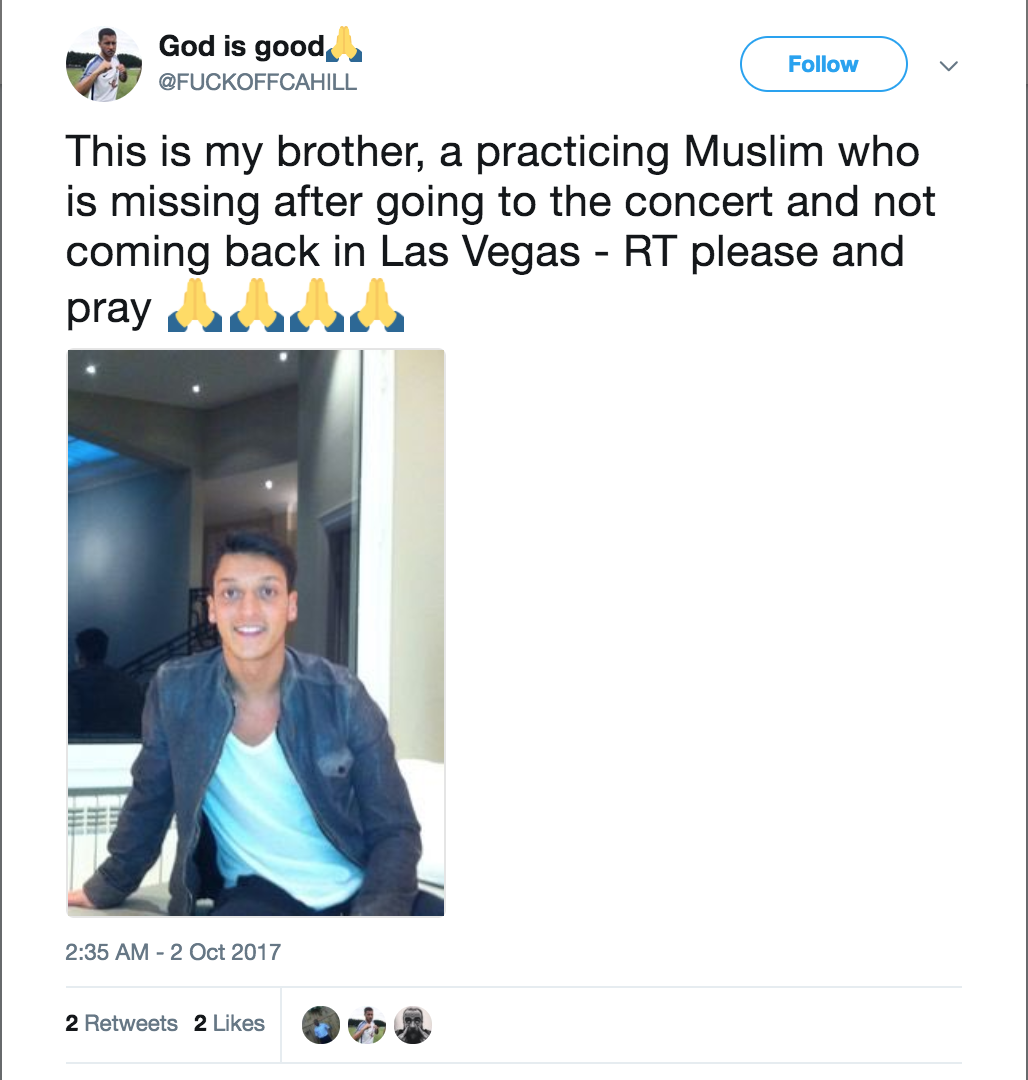 5.
A Twitter user is claiming this is a photo of his brother who went missing after Sunday's shooting. The picture is actually of a suspect connected to a murder case in Mexico.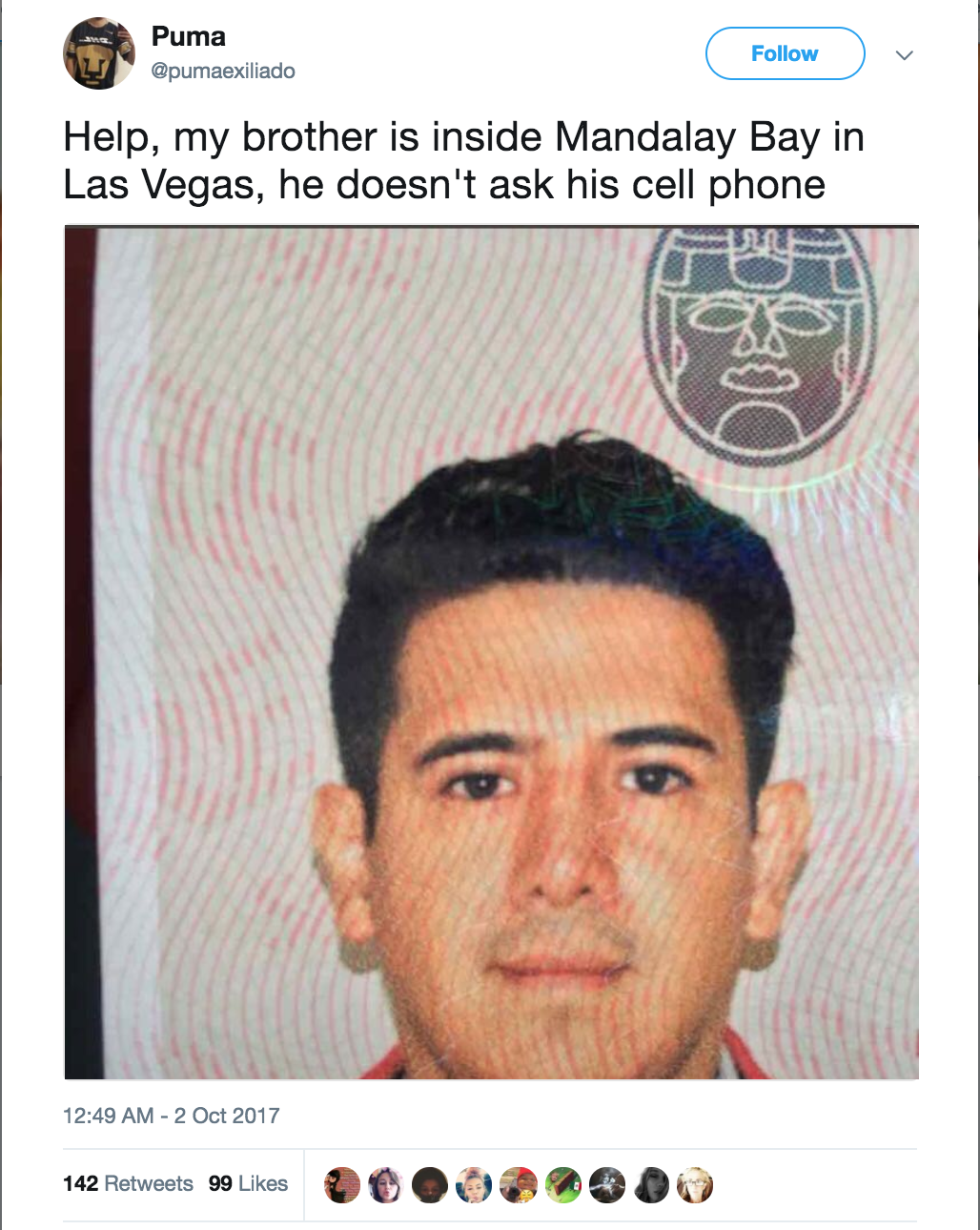 6.
A couple of accounts have gone viral using this photo of porn star Johnny Sins.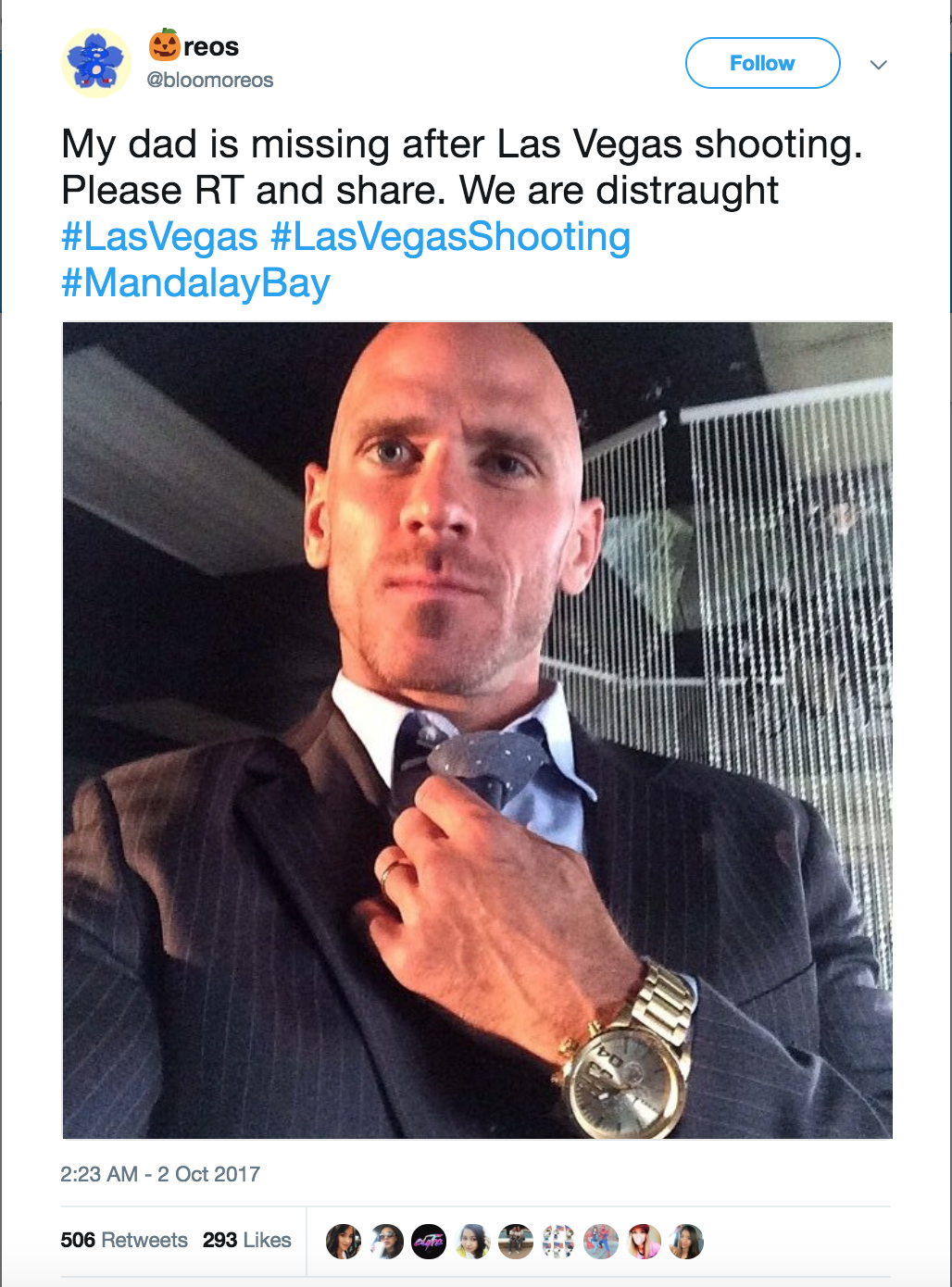 7.
This account is trying to spread Sins' photo and also uses as its avatar a photo of a popular YouTuber named John who hosts a channel called The Report of the Week.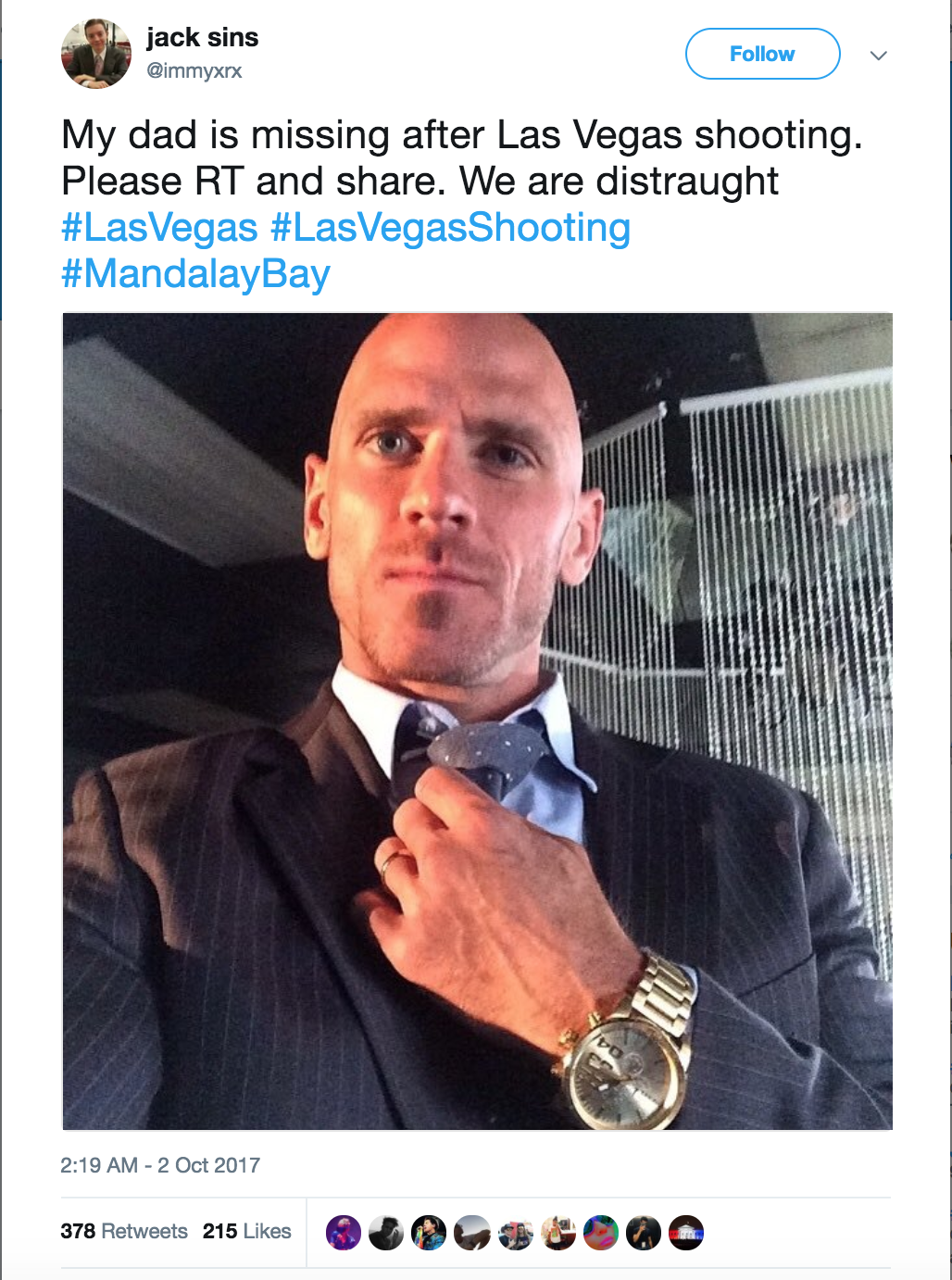 8.
This account has been retweeting fake missing person tweets and tweeted, "If you're actually using twitter to search for your missing relative in a mass shooting it's safe to say they're dead" after posting their own fake tweet.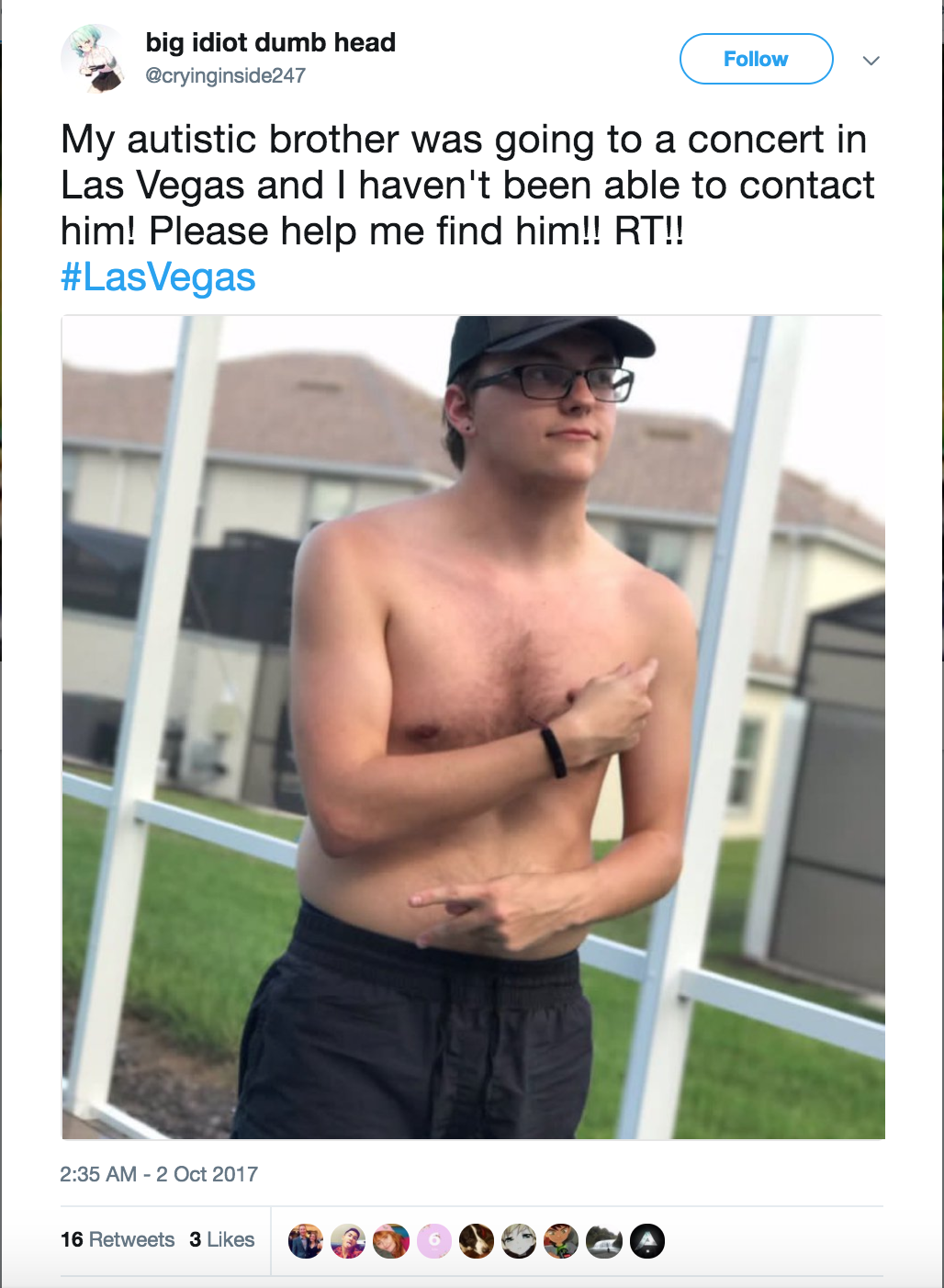 9.
This user tweeted a photo of their "son" Brandon and then immediately followed up their tweet with another post advertising their Instagram.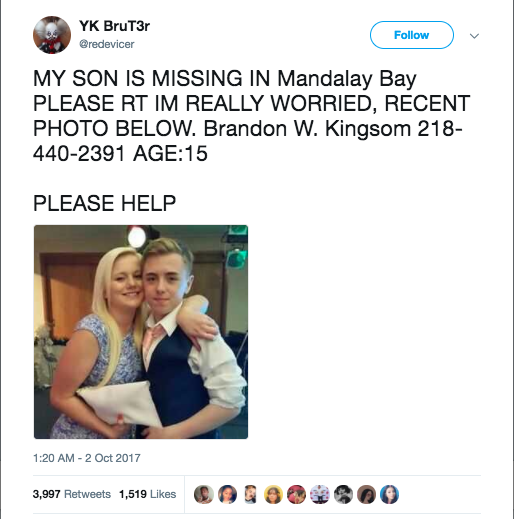 11.
4chan users are claiming this Instagram account — which has only one photo on it — belongs to the alleged shooter, Stephen Paddock.
12.
Far-right trolls are spreading a conspiracy theory that the shooter is actually a man named Geary Danley.
13.
Popular far-right news site the Gateway Pundit wrote up the Geary Danley shooter conspiracy, describing him as being associated with an "anti-Trump army."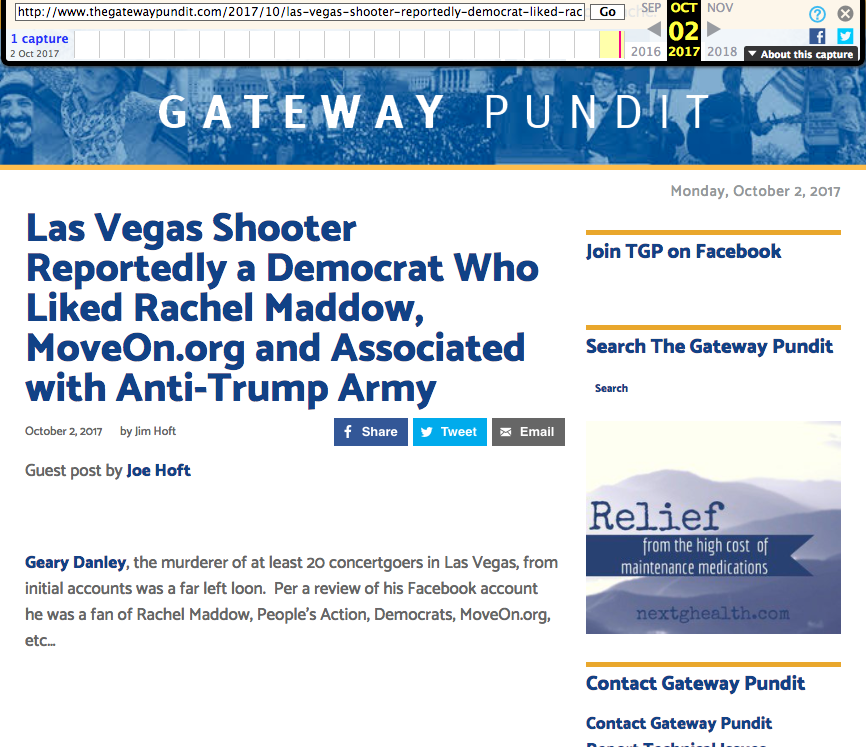 14.
One of the 4chan threads about Danley made its way into Google's Top Stories widget.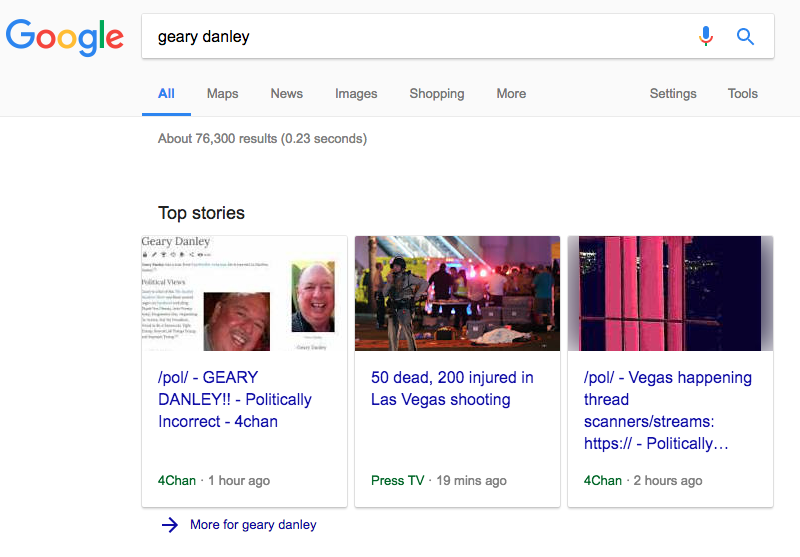 15.
Conservative media personality Wayne Root tweeted that the shooting was a "coordinated Muslim terror attack" with shots fired at multiple hotels.

16.
Several far-right communities are pushing a conspiracy theory that Stephen Paddock, the man identified by police as the alleged shooter, is affiliated with anti-fascist communities.
17.
Posts from a fake "Melbourne Antifa" page are going viral within far-right communities on Facebook. The Melbourne Antifa page wrote that one of their "comrades" was behind Sunday night's shooting.
18.
Marilou Danley — who was briefly a person of interest for law enforcement — did not warn the concert audience that they were going to die. According to police, she wasn't even in the country at the time.
19.
A YouTuber named Steven Haffley started a rumor that Stephen Paddock was seen at an anti-Trump rally in Reno, Nevada, in August 2017. There is no proof that Paddock was ever politically active.
20.
A woman was not removed by security before the concert for warning people they were all going to die.