On Wednesday, Fast Company released a profile of a new startup called Bodega that aims to "make bodegas [the IRL kind] and mom-and-pop corner stores obsolete."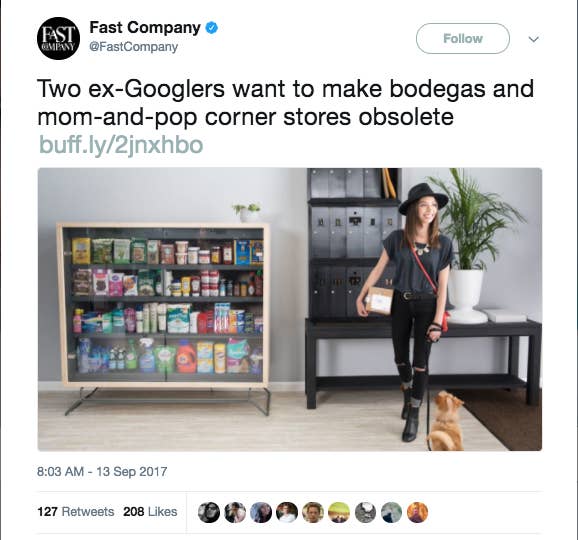 The startup was founded by two ex-Google employees, Ashwath Rajan and Paul McDonald.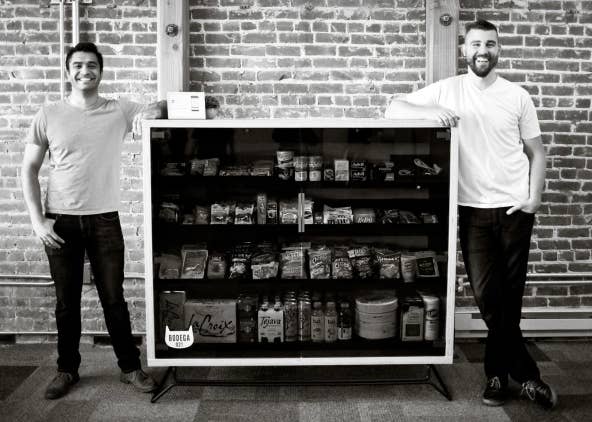 In case you were wondering, this is what a Bodega unit would look like. It's basically a vending machine you can buy shampoo out of.
In the Fast Company article, McDonald says that the project is all about giving people a more personalized shopping experience.
The duo's vision is a bunch of these little customized boxes full of stuff in front of apartments and vending machines:
"Each community tends to have relatively homogenous tastes, given that they live or work in the same place," McDonald explains. "By studying their buying behavior, we're hoping to eventually figure out how the needs of people in one apartment building differ from those in another. We could customize the items in one dorm versus the next."
Of course, the startup is named Bodega, named for the corner stores typically run by members of New York City's Latino and immigrant communities. McDonald was asked by Fast Company if he felt like using that as its name was insensitive:
I asked McDonald point-blank about whether he's worried that the name Bodega might come off as culturally insensitive. Not really. "I'm not particularly concerned about it," he says. "We did surveys in the Latin American community to understand if they felt the name was a misappropriation of that term or had negative connotations, and 97% said 'no'. It's a simple name and I think it works."
McDonald may not find anything culturally insensitive about naming a startup after the very institution it intends to replace, but a lot of other people do.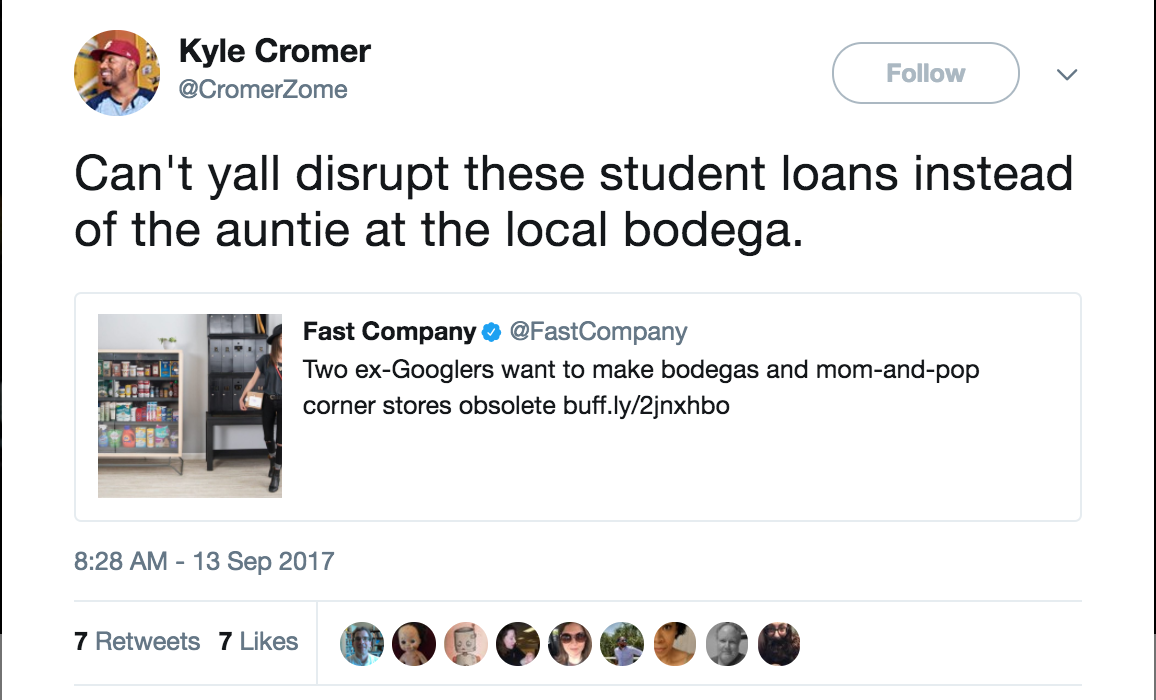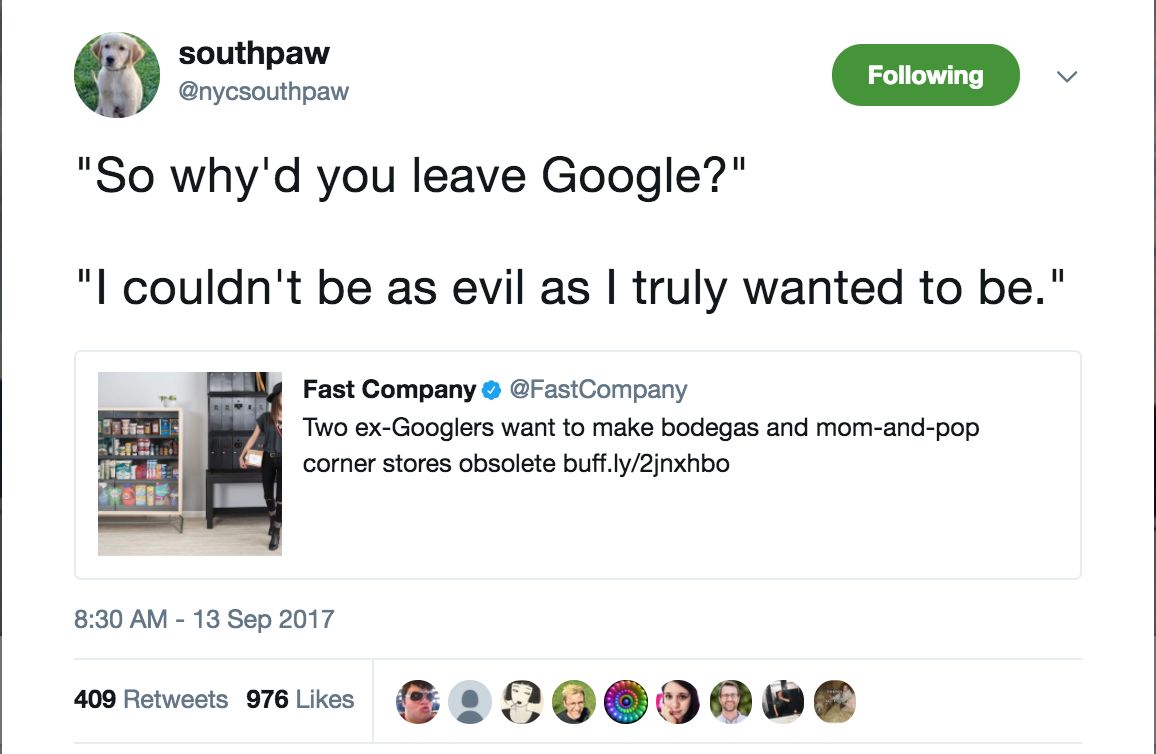 People on Twitter were not exactly thrilled about the idea.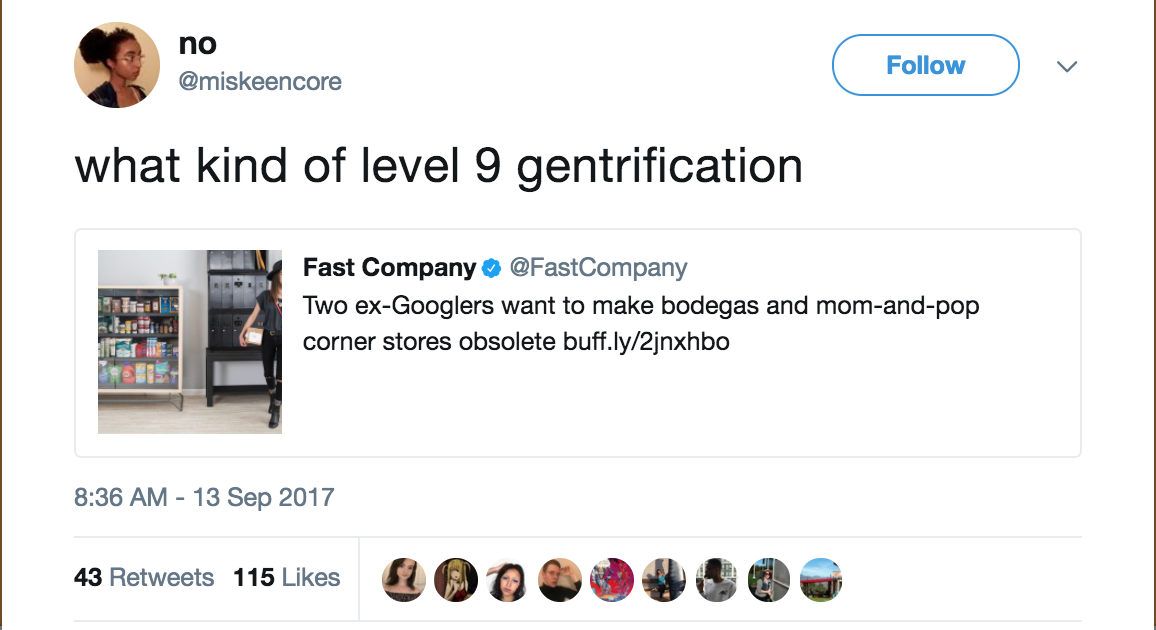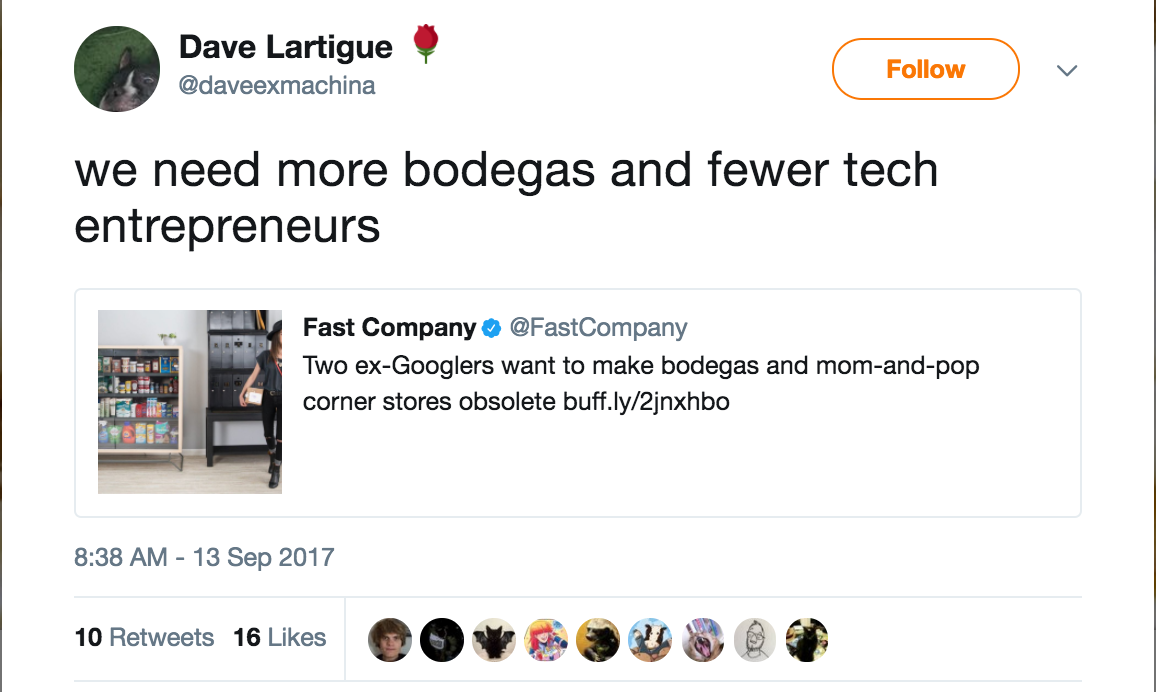 "To compete with bodegas and also use the 'bodega' name is unbelievably disrespectful," Frank Garcia, chairman of the New York State Coalition of Hispanic Chambers of Commerce, who represents thousands of bodega owners, told Fast Company in the profile.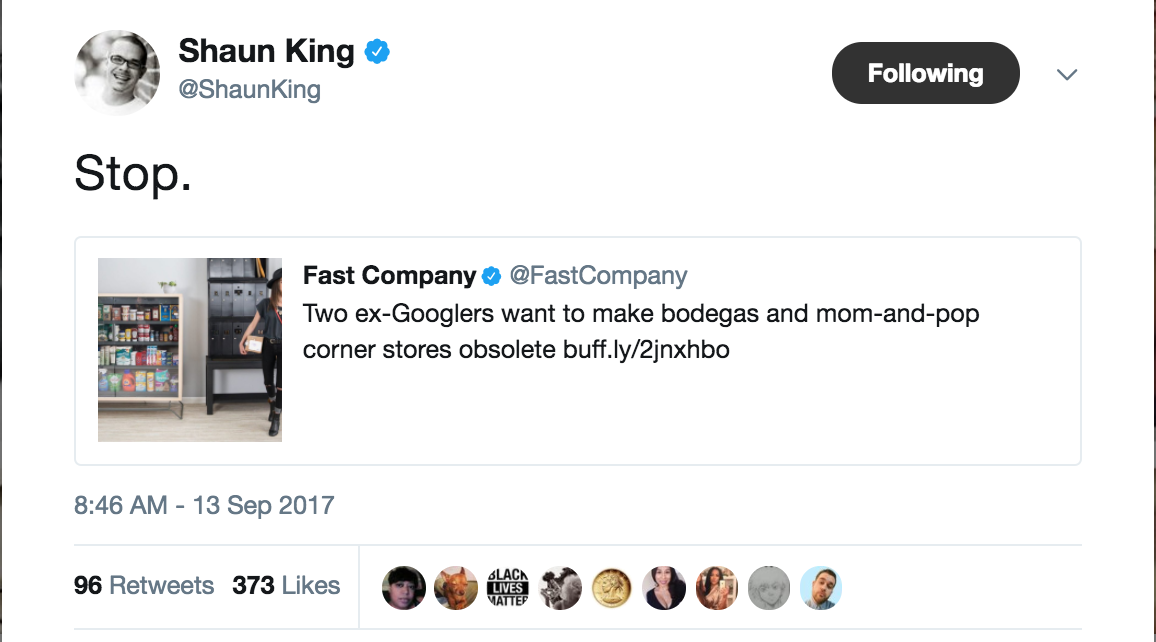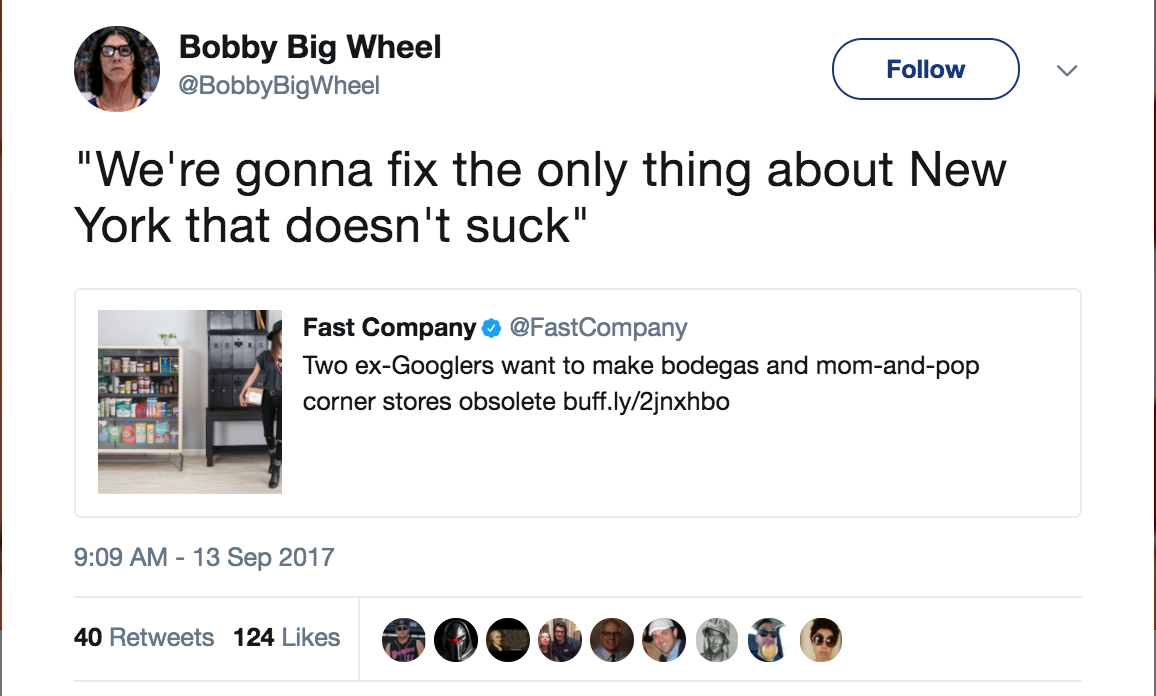 Or as someone on Twitter put it...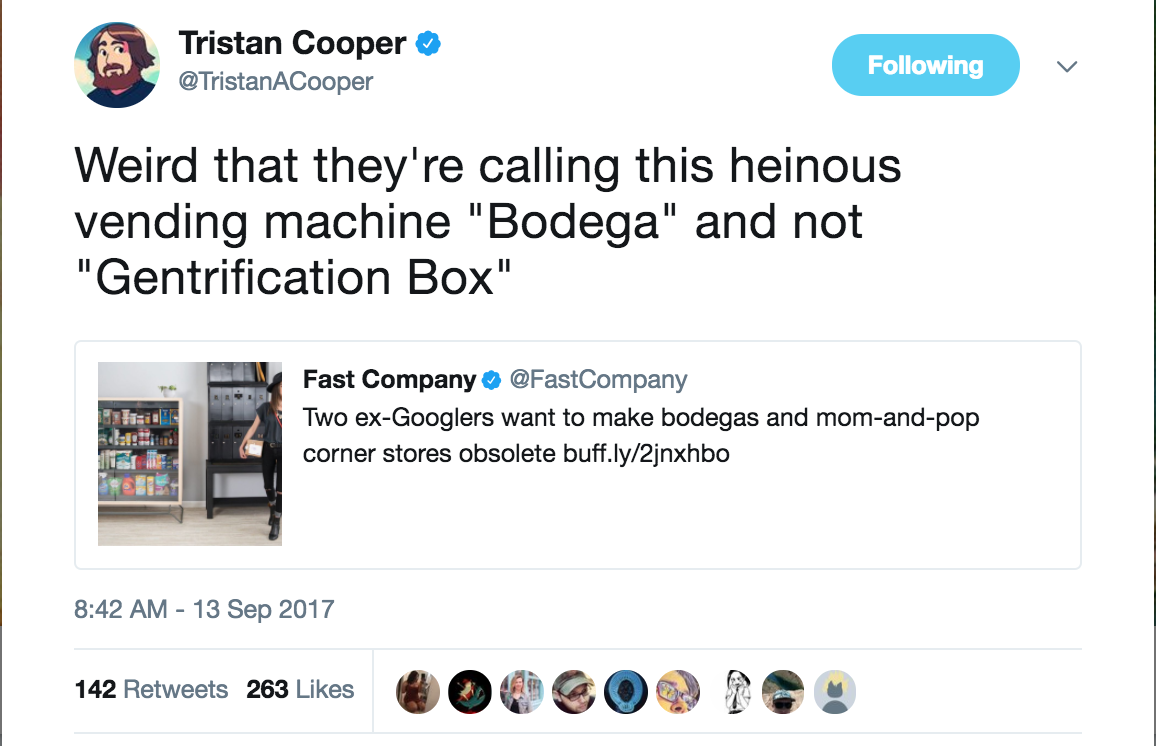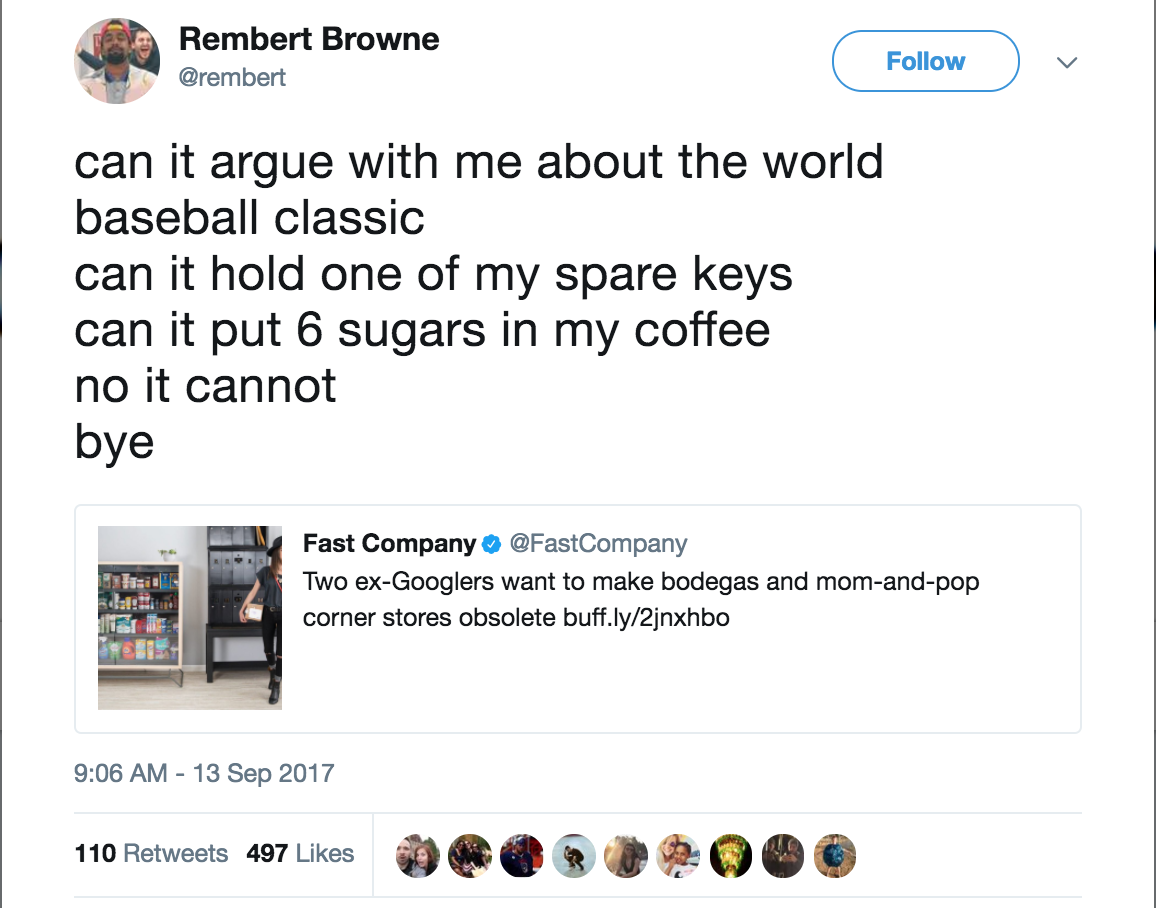 Also, let's be real: We're talking about a vending machine here, people.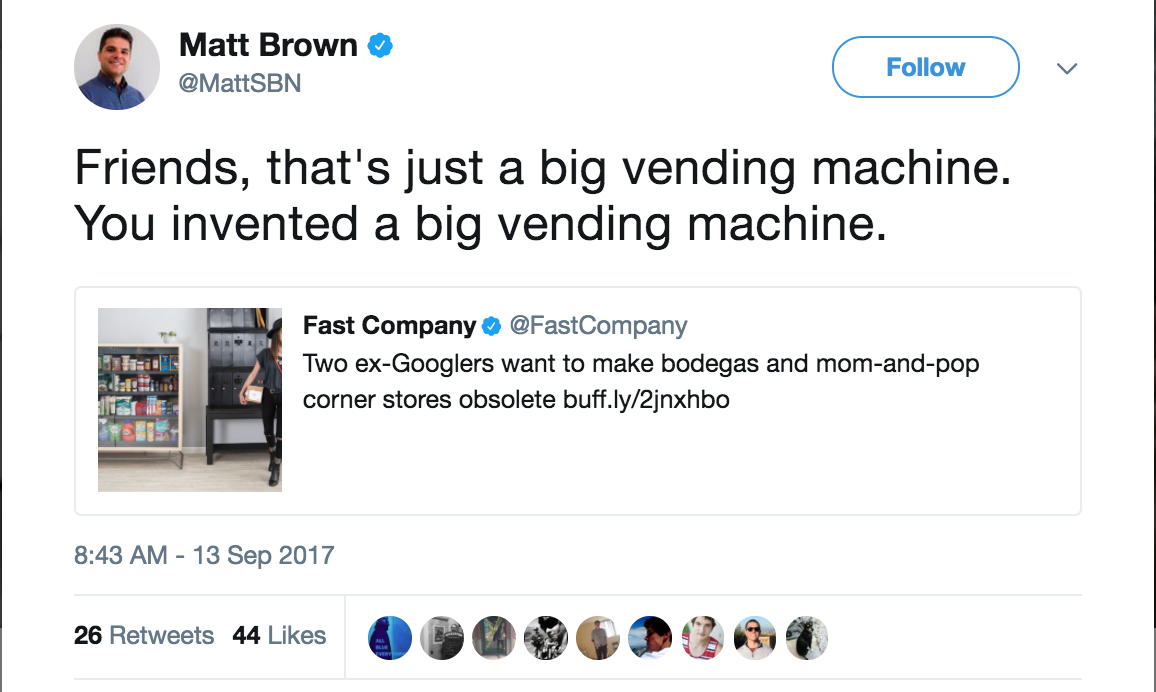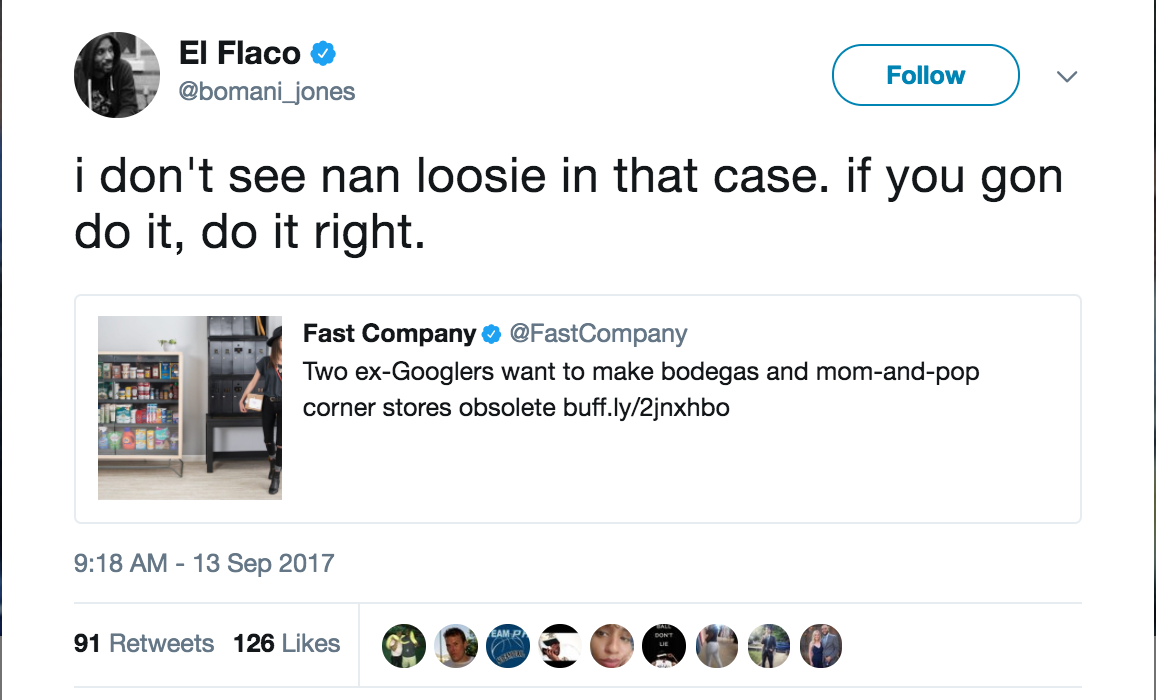 After BuzzFeed News published this story, the Bodega team responded to the criticism generated by the Fast Company story in a blog post.
"Today we announced Bodega, and while we were hoping for a big response, the reaction that we got this morning certainly wasn't what we expected," co-founder McDonald wrote.
The company denied they were trying to put corner stores out of business, but said they were instead trying to bring commerce to places where it doesn't currently exist.
"Challenging the urban corner store is not and has never been our goal," McDonald wrote.
The co-founder acknowledged, however, that the company's name had "sparked a wave of criticism on social media far beyond what we ever imagined."
"Despite our best intentions and our admiration for traditional bodegas, we clearly hit a nerve this morning, we apologize. Rather than disrespect to traditional corner stores — or worse yet, a threat — we intended only admiration," he said. "We commit to reviewing the feedback and understanding the reactions from today."