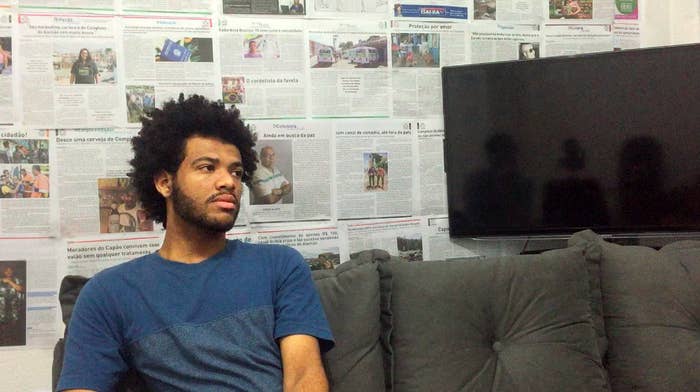 RIO DE JANEIRO — In a tiny office on the edge of a favela, Rene Silva is busy with his phone, shooting off WhatsApp messages at rapid-fire speed. The walls of the room are covered in newspaper front pages, a pile of old digital cameras stacked next to the door of the windowless room.

Silva, 22, runs Voz das Comunidades, or "Voice of the Community," which is a website, a Twitter account, a Facebook page, and a YouTube channel that covers anything that affects the lives of those living in Complexo do Alemão, a tightly clustered favela that houses around 70,000 people, known for both its signature cable car that dangles above it and the drug traffickers who control the area. The stories Silva and his team focus on range from updates about roadwork to the moments of intense violence that regularly punctuate lives of those living in Rio's favelas.
In 2012 Voz das Comunidades' coverage of the community attracted the attention of Coca-Cola, which has since partnered with Silva a couple of times. This year, the beverage giant invited him to carry the Olympic torch as it traveled through Brazil on its way to Rio, where the opening ceremony for the 31st Olympic Games took place. In many ways, Silva's journey and Rio de Janeiro's path to the Olympics are one and the same: a kid from one of Rio's roughest neighborhoods who got the world to notice him and his community — for better or worse.
Silva started his publication when he was only 11; it began as a leaflet he published using his school's photocopy machine. He said the first staff of the newspaper were just kids in his class who had an interest in writing or photography. Bit by bit, the paper started growing.
"It became a reference for our community, because we started to solve lots of social problems through our paper," Silva said. "People had their problems solved, neighborhood problems. The paper was also a place to show the talents of our community."
Today, it is an indispensable part of Complexo do Alemão. In the last month alone, Voz das Comunidades live-tweeted a shootout between the military police — Brazil's aggressive state law enforcement — and residents. Law enforcement brought in a caveirão, one of the military-grade assault vehicles that Rio's police force uses to patrol favelas. Intense gunfire broke out. Several cars were shot at and a van was set on fire. Few days later, as things were quiet, Silva did a story on the cars that were illegally parked on a public road near the office.
Using online tools to tirelessly document the lives in the favela is exactly what put Rene Silva in the center of Brazil's national news when he was only a teenager.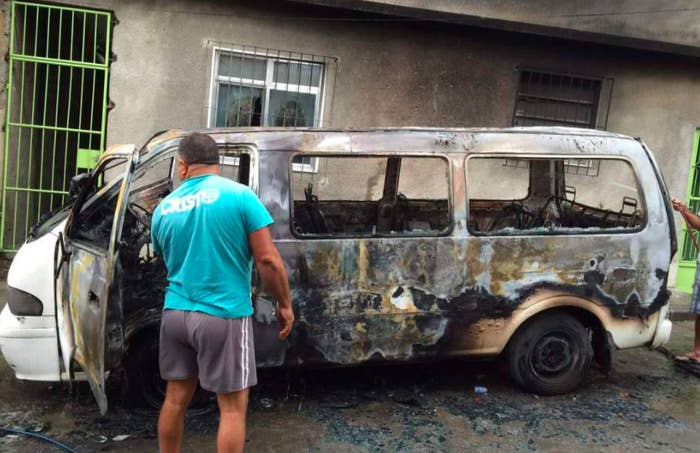 In November 2010, military police launched a raid on Complexo do Alemão, targeting nearly 500 drug traffickers believed to be inside the maze-like shantytown. The raid was part of Rio's well-publicized push to "pacify" its more violent favelas ahead of the 2014 World Cup and the 2016 Olympics. The conflict turned into a full-on war that lasted days and left 42 people dead and hundreds injured. Silva was tweeting about the raid on the Voz das Comunidades account the entire time.

"I had 500 followers," Silva said. "Less than two hours later, I had about 15,000."
In the months leading up to and during the Olympics, city officials were quick to show off the so-called "Disneyland favelas" as an example of how Rio was successfully tackling its intense wealth disparity and gang violence. The pacification efforts also helped a handful of favelas slowly begin to gentrify, filling up with hostels and Trip Advisor–rated bars and restaurants — while pricing out the communities that had been living there for generations. Amnesty International reported a noticeable surge in police violence as the city began to enter the roughest favelas to prepare for the Olympics.

Silva said his main focus with Voz das Comunidades has always been to fight back against a long-held notion in Brazil that anyone living in a favela is a thug or a drug dealer. He said that mainstream media would only ever write about the violence in his community, but never what the lives of residents were like. That's exactly what Silva did when the raids on Complexo do Alemão began in November 2010.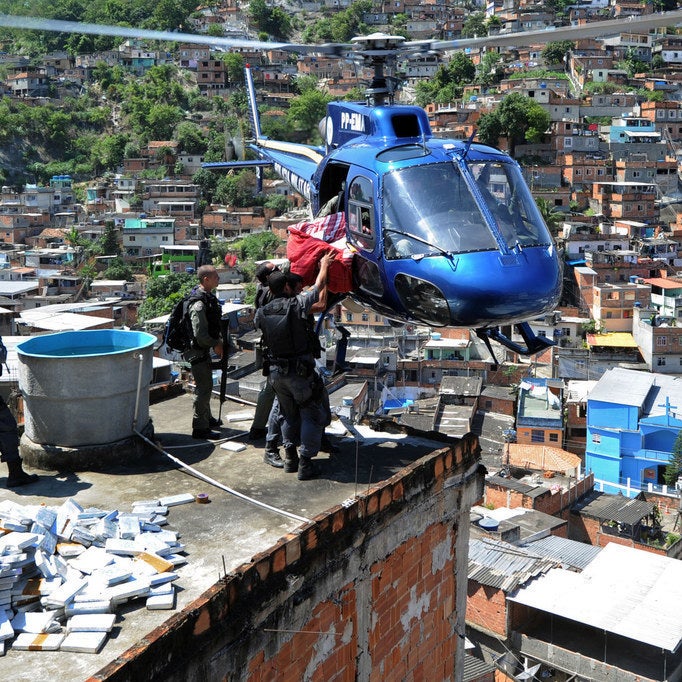 When the government forces occupied Complexo do Alemão after a group of bandits started burning vehicles in the favelas in 2010, Silva enlisted two friends to help him report from the favela. He said he was motivated by a lack of dedicated coverage from the mainstream media.

"Their coverage was focused on the police work, but they didn't show how the residents felt, what was happening to thousands who live in this area," he said.

Silva used Twitter to inform people outside the community that he was safe — and corrected journalists from mainstream publications, providing them accurate names of streets and neighborhoods where incidents were taking place. He also managed to set up a live video feed on his roof using his phone.
"I reported when we had bus lines being interrupted, streets being closed. Parents couldn't take the kids to school, they couldn't go to work," he said. "We highlighted all these problems that affected the community."
By the end of the raid, Silva's name was all over the news, as news anchors on major channels started using his reporting on TV and credited him by name. He was 17.
"I didn't know what was going on," Silva said. "But I knew I was doing right by the community, because I was showing another point of view."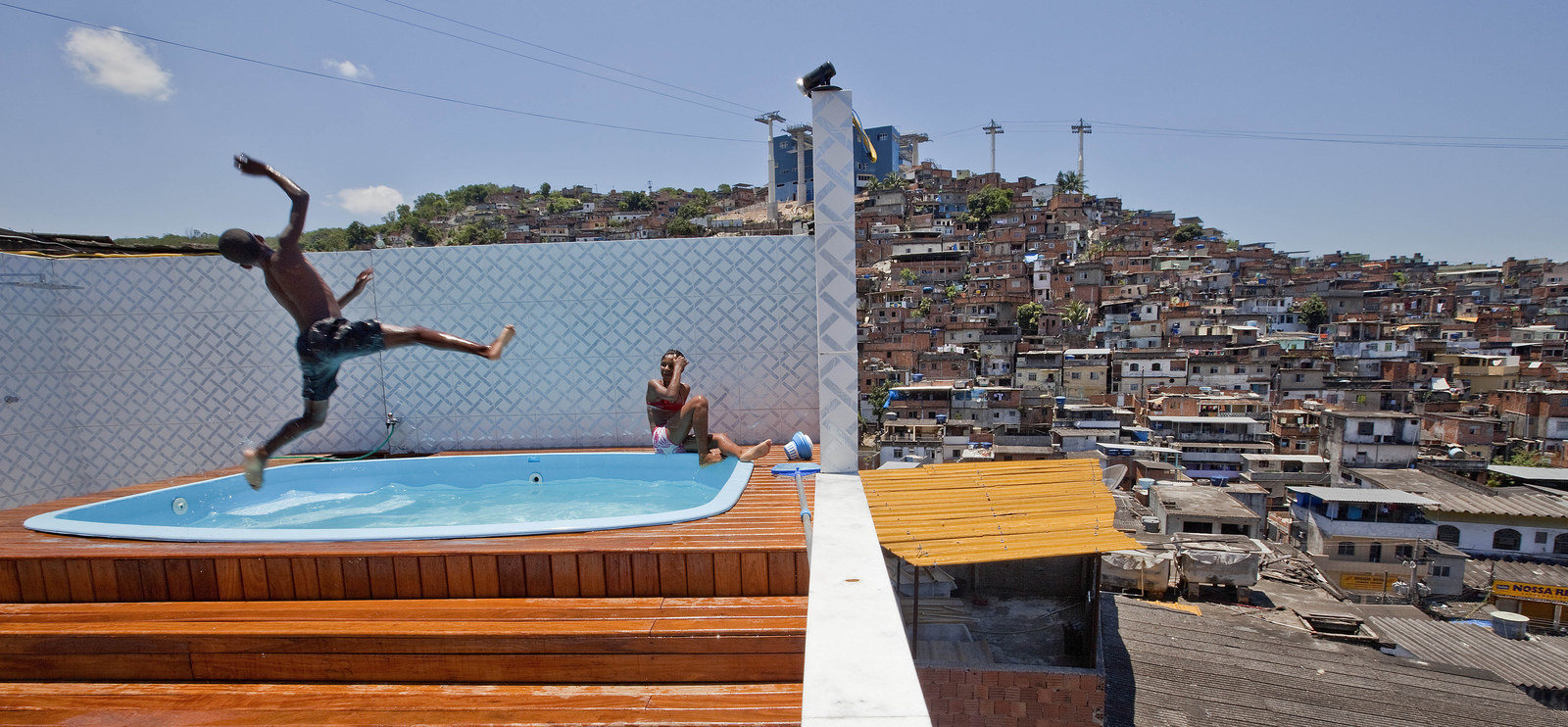 After Voz das Comunidades gained national attention, in 2011, Silva was contacted by Coca-Cola and asked to cover "Desafio da Paz," or "Peace Challenge" in Complexo do Alemão. The event was meant to mobilize local artists, activists, and politicians.
The following year, Cola-Cola sponsored Silva to become a torchbearer for the London Olympics, and four years later, for the Rio Games.
"In 2012, when I carried [the torch] in London, I understood the Olympic spirit very well," he said. "On churches, subway, everywhere in the city, you could see excitement about the games."
But he said that carrying the torch in Rio was a very different experience. "I got criticized," he said. "People tend to talk about Olympics by mixing it with politics and they don't get the Olympic spirit."
While many saw the Olympics as a once-in-a-lifetime moment to promote Rio and Brazilian culture, there were massive protests against it. Demonstrators followed the torch relay through Rio and tried to extinguish it with buckets of water. Some of the protests were so bad that the torch had to bypass Copacabana Beach entirely. At one point, riot police were called in to disperse crowds.
Silva's leg of the torch run wasn't in Rio, however. He ran through Iguaba Grande, a city west of Rio. He said it was a huge deal for people there.
"We don't know how long it will take until we get another chance to host the games and for the torch to pass through that city again," he said. "If you don't enjoy that moment, you lose it."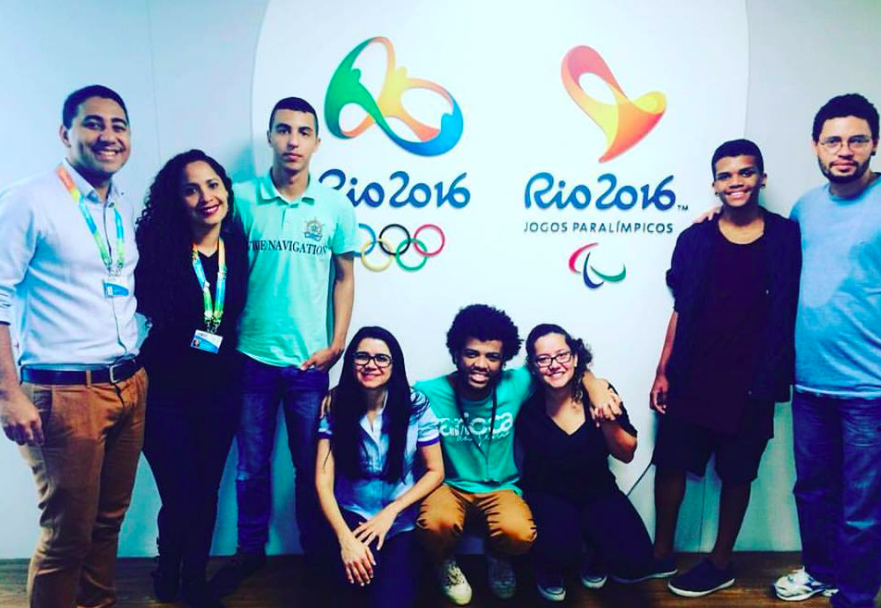 But Silva says he is hopeful.

"It is very important to always stay optimistic about the future of our city, our country," he said. "We have been through this moment of transformation that would have never happened if we didn't host the Olympics."

With the Olympics over, Silva says he now wants to focus on making his publication and its social media channels better and faster at communicating outside of the community. Next year, he hopes to head to San Francisco to find investors and supporters, so he can begin building an online community not only for his favela or the city of Rio, but for the entire country.
Silva said the Olympics put an enormous pressure on Rio to face some of its very real issues and figure out how to fix them — and he thinks that same mindset should be applied to fixing problems in the rest of the country.
"Everybody has a smartphone, and WhatsApp, Facebook, and Instagram are accessible to everyone," he said. "We want to use these tools, so people can communicate better and improve the quality of life wherever we live."