Former White House Press Secretary James Brady Dead At Age 73
Brady's family reports that the former White House press secretary, who went on to become a fierce proponent of gun control after he was shot in the assassination attempt on Ronald Reagan, died Monday.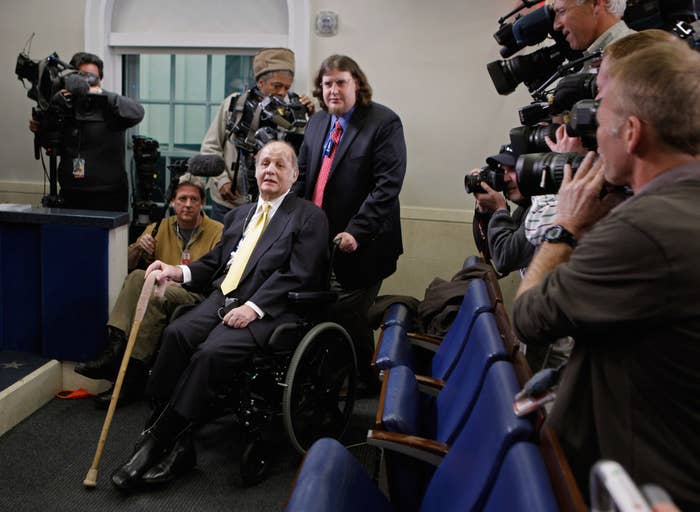 Former White House press secretary James Brady died Monday at the age of 73. Brady served President Ronald Reagan as assistant and press secretary from 1981–1989.
In 1981, Brady was shot in the head during John Hinckley Jr.'s attempted assassination of President Reagan. Brady was permanently disabled due to the gunshot wound. The bullet hit Brady just above his left eye, passed through his brain, and exited the other side, causing brain damage.
After the assassination attempt, Brady became an outspoken supporter of gun control.
"Jim touched the lives of so many and has been a wonderful husband, father, friend and role model," his family said in a statement Monday. "Jim Brady's zest for life was apparent to all who knew him, and despite his injuries and the pain he endured every day, he used his humor, wit and charm to bring smiles to others and make the world a better place."
The briefing room at the White House is named for Brady and in 1993 President Bill Clinton signed the Brady Handgun Violence Protection Act, which instituted background checks for purchasing a handgun.
Michelle and I send our deepest condolences to the family of former White House Press Secretary James Brady on his passing. Jim is a legend at the White House for his warmth and professionalism as press secretary for President Reagan; for the strength he brought to bear in recovering from the shooting that nearly killed him 33 years ago; and for turning the events of that terrible afternoon into a remarkable legacy of service through the Brady Campaign to Prevent Gun Violence. Since 1993, the law that bears Jim's name has kept guns out of the hands of dangerous individuals. An untold number of people are alive today who otherwise wouldn't be, thanks to Jim.

Every day, reporters and White House staffers walk past a plaque marking the day in 2000 that the White House Briefing Room was renamed the James S. Brady Press Briefing Room. It reads, "May his courage and dedication continue to inspire all who work in this room and beyond." Those words will endure, as will his legacy. Our thoughts and prayers are with Jim's wife Sarah, who has been Jim's steadfast partner in advocacy, and their children Scott and Melissa.
Statement by Press Secretary Josh Earnest and Former Press Secretaries Jay Carney, Robert Gibbs, Dana Perino, Scott McClellan, Ari Fleischer, Jake Siewert, Joe Lockhart, Mike McCurry, Dee Dee Myers, Marlin Fitzwater, and Ron Nessen:
Jim Brady defined the role of the modern White House Press Secretary. With his passing we lost a friend and mentor, and the country lost a selfless public servant who dedicated his life to service, even in the face of tragedy. Jim always did his job with the highest integrity. He had a true affection and respect for the press, relished a good sparring with the front row, and was an unfailing defender of the President and the value of a free press. Jim set the model and standard for the rest of us to follow. It's been a genuine honor for each of us to stand at the podium in the briefing room that will always bear his name. Our thoughts and prayers are with Jim's wife Sarah and his children Scott and Melissa.