Facebook's moderation policies concerning rape-based content are, once again, under fire.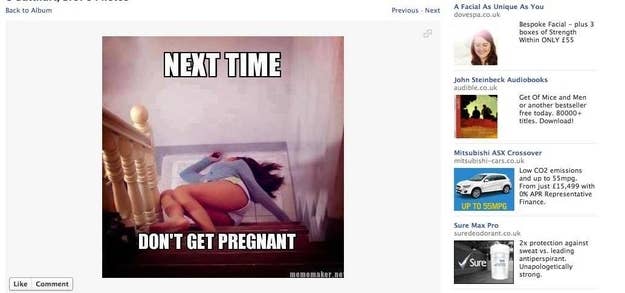 Collecting anti-women, rape culture–promoting Facebook pages that have yet to be taken down by Facebook's moderators.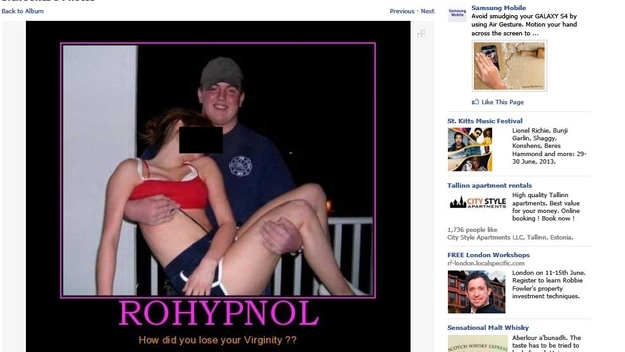 Women, Action, and The Media has been chronicling the growing outrage.
Many of these images passed Facebook moderation — that is, they were reported as violating Facebook standards, and Facebook declined to take them down. Some of them came down later when media stories highlighted specific pages. Some of them are still live on Facebook.
Facebook's moderation issue concerning rape culture content is nothing new, however.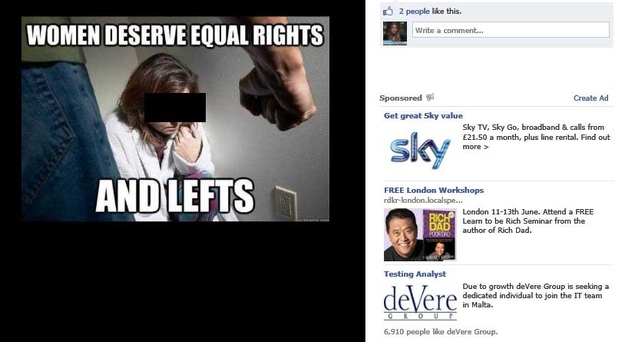 "It is very important to point out that what one person finds offensive another can find entertaining, just as telling a rude joke won't get you thrown out of your local pub, it won't get you thrown off Facebook," Facebook told the BBC in a statement. Ha ha, yeah, like those highly-entertaining rape threats people always scream at women at the pub. What pubs are Facebook employees going to?
Many who have tried reporting rape content are met with opposition from Facebook itself.
Section 3, Point 7 of the Facebook Terms Of Service states: "You will not post content that: is hate speech, threatening, or pornographic; incites violence; or contains nudity or graphic or gratuitous violence."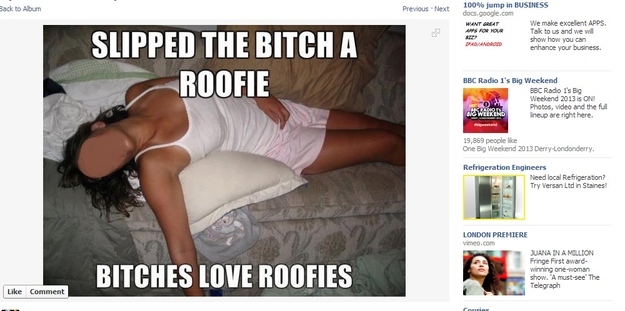 Outraged users' newest tactic for trying to put pressure on Facebook to become more vigilant about rape content is by approaching advertisers.
Dove's Facebook page is inundated with comments asking the company to stand up to Facebook's policy on rape content.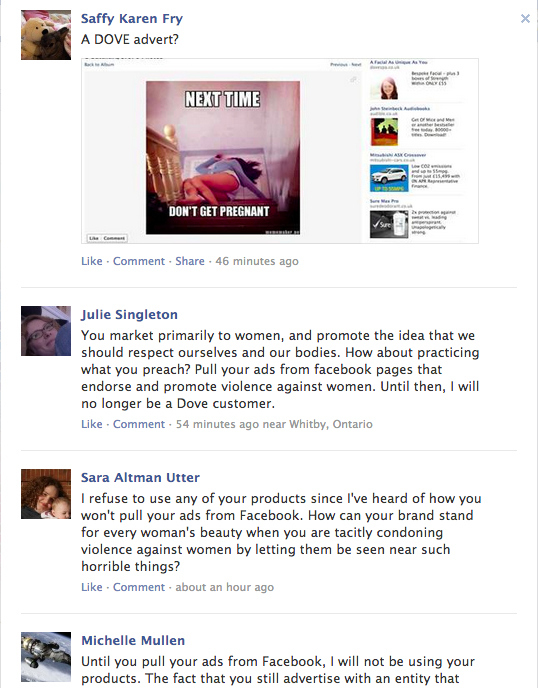 Over the weekend they tweeted that they were currently working with Facebook to resolve any issues.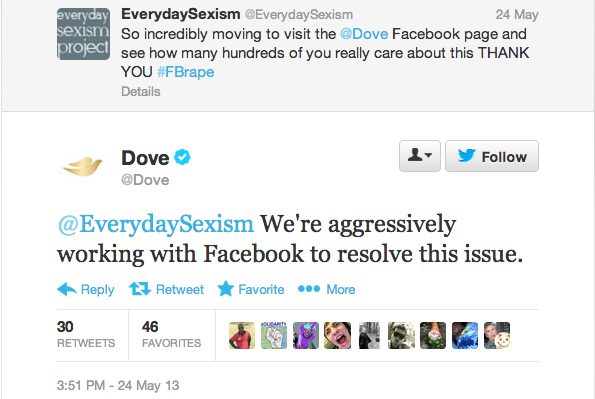 Users are also tweeting directly at Sheryl Sandberg, chief operating officer of Facebook and self-described on Twitter as a "mother of 2, wife of awesome guy, friend to many great women."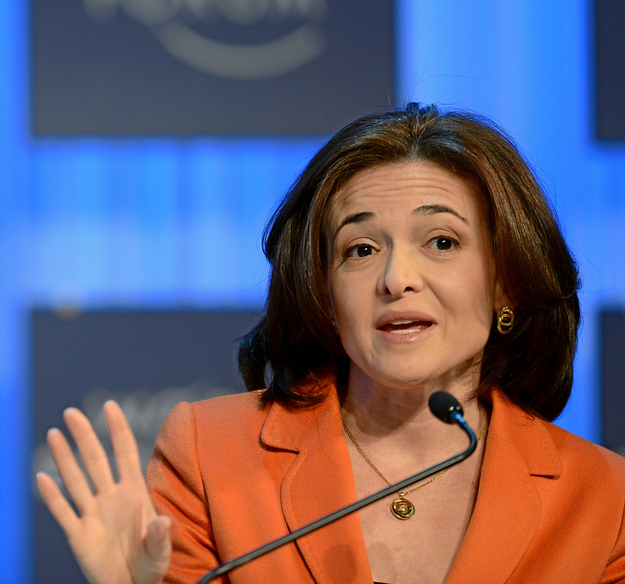 Perhaps the best example of Facebook's double standards about moderation is the fact that this topless photo of a breast cancer survivor was removed after 24 hours.
But the page "This Is Why Indian Girls Are Raped" required multiple reportings, being banned and then unbanned, before being finally taken down for good.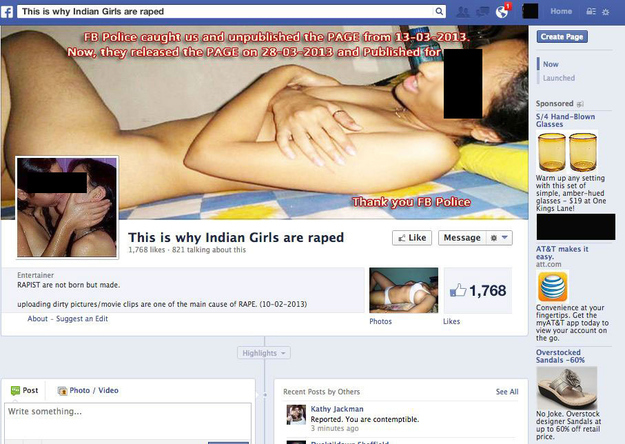 Woman, Action, And The Media published an open letter to Facebook last week about Facebook's failure to remove rape content:
In a world in which hundreds of thousands of women are assaulted daily and where intimate partner violence remains one of the leading causes of death for women around the world, it is not possible to sit on the fence. We call on Facebook to make the only responsible decision and take swift, clear action on this issue, to bring your policy on rape and domestic violence into line with your own moderation goals and guidelines.
UPDATE: Facebook has responded to criticism that they were not treating rape advocacy as hate speech.
In recent days, it has become clear that our systems to identify and remove hate speech have failed to work as effectivelyas we would like, particularly around issues of gender-based hate. In some cases, content is not being removed as quickly as we want. In other cases, content that should be removed has not been or has been evaluated using outdated criteria. We have been working over the past several months to improve our systems to respond to reports of violations, but the guidelines used by these systems have failed to capture all the content that violates our standards. We need to do better – and we will.
Facebook's note already has some pretty interesting comments.