Facebook was aware of a Mexican fake news operation for months and allowed it to spread misinformation and publish political dark ads during the crucial months leading up to the country's July 1 election.

It also appears that Facebook's moderation team waited to delete a major source of fake news in Mexico until after the Atlantic Council, a think tank that the company partners with, could study and publish a report on them.
A spokesperson for Facebook confirmed to BuzzFeed News last week that it had isolated a digital marketing firm in Mexico called Victory Lab as a source of fake news in an internal report the company prepared months ahead of the election. However, Victory Lab's Facebook page and its founder Carlos Merlo's personal page were only deleted immediately following the Atlantic Council's report about them. The pages were deleted after Mexico's window for campaigning had closed, meaning the report and Facebook's ensuing intervention happened after any candidate in Mexico would be able to publicly talk about it.
It also appears that a representative for Facebook notified members of the Atlantic Council to a BuzzFeed News story about Victory Lab before its publication.
Both decisions call into question the Atlantic Council's current partnership with Facebook to independently monitor misinformation and other vulnerabilities in elections around the world.
"The effort is part of an initiative to help provide credible research about the role of social media in elections, as well as democracy more generally," a press release about the partnership said in May.
"On the financial relationship between Facebook and the Atlantic Council, Facebook is a key supporter of our work, specifically that of the DFRLab's," a spokesperson for the Atlantic Council told BuzzFeed News this week. "Intellectual independence is the entire foundation of our work. Facebook has decided to support us, but does not have veto or influence over the scale and scope of our research and reporting."
The Atlantic Council spokesperson also said they did not know what the internal decisions were at Facebook that led to them shut down Victory Lab's pages. But they suspected it was based on the attention generated by their research and BuzzFeed News' report.
The Atlantic Council is an American think tank that was founded in 1961 to encourage cooperation between North America and Europe after World War II and provide a forum for international political and business leaders. In the last few years, the nonprofit has put a huge amount of resources into digital security and misinformation via its Digital Forensic Lab. The DFRLab is a collective of journalists and researchers that regularly publishes reports about fake news and bots on social media.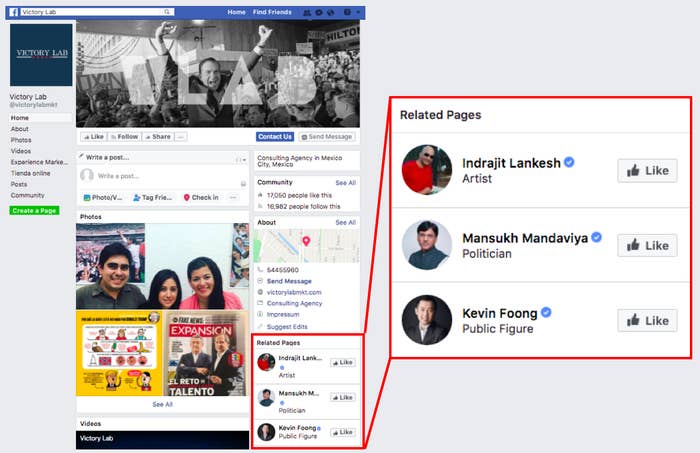 Last week, while investigating claims made by Merlo, Victory Lab's founder, BuzzFeed News reached out to Facebook for comment. Merlo claimed that his firm has access to 4,000 fake local news pages that he uses to push fake stories and dark ads purchased by Mexican politicians. Merlo said some of the pages have been in Victory Lab's possession since 2016.
BuzzFeed News sent an email to Facebook on June 26 asking whether the platform had any sort of safeguard to stop digital marketing firms from operating this way. The email asked for a general comment and outlined Merlo's tactics without naming him or his firm. Within the hour, three separate spokespeople for Facebook responded, including a member of a UK-based company called Teneo Blue Rubicon, a subsidiary of the Teneo international advisory firm, which does "reputation campaigning" consulting for Facebook.
The next day, a spokesperson for Facebook, Tom Reynolds, called BuzzFeed News at 11:26 a.m. Mexico time. The call lasted approximately 15 minutes. However, Reynolds repeatedly declined to give BuzzFeed News a comment on the record and, instead, suggested contacting the Atlantic Council as a source.
Reynolds also repeatedly demanded that BuzzFeed News reveal the name of the digital marketing firm. BuzzFeed News declined. Reynolds then asked directly if BuzzFeed News' story was about Victory Lab, admitting that Facebook was aware of the group.
BuzzFeed News did not agree to contact or share information with the Atlantic Council and ended the phone call by once again asking for an on-the-record statement from Facebook. The call ended at 11:41 a.m.
At 11:55 a.m., BuzzFeed News received an email from Graham Brookie, who was named the director of the Atlantic Council's Digital Forensic Research Lab in June. For the last year, Brookie served as the Atlantic Council's managing editor and, according to his bio on the council's website, he has worked in various positions at the White House and National Security Council.
BuzzFeed News called Brookie, who said that he and Reynolds used to work together. He also said that he would be happy to give an embargoed on-the-record comment about Merlo, explaining that the DFRLab was planning on publishing a report about Victory Lab's network of fake Facebook pages the next day.

At no point in the conversation on June 26 did BuzzFeed News agree to Brookie's embargo.
When reached for comment later about how the Atlantic Council learned of BuzzFeed News' upcoming story on Victory Lab, both Reynolds and Brookie declined to comment.
After the phone call, Brookie emailed BuzzFeed News again, attaching a PDF of the DFRLab's embargoed research on Merlo, writing, "This is under embargo until NOON tomorrow, but we're working through right now whether it makes sense to publish earlier."
At the end of the day on June 27, Reynolds emailed BuzzFeed News again, providing the following statement:
"We are working day and night to reduce the spread of false news and misinformation, using a combination of advanced technology, machine learning and human review. First, we remove content that violates our Community Standards. For example, we took down 837 million pieces of spam and 2.5 million pieces of hate speech and disabled 583 million fake accounts globally in the first quarter of 2018 — much of it before anyone reported the issue to Facebook. Then we reduce the distribution of content that undermines the authenticity of the platform, like clickbait and false news, while also working with third party fact checkers. This includes disrupting economic incentives for traffickers of misinformation. Finally, we work to inform people by giving them more context on the stories they see, including giving them more information about articles and promoting news literacy. We still have more work to do, but we are firmly committed to fighting false news and improving authentic communications on Facebook."
The next day, Reynolds sent another on-the-record statement, this time naming Victory Lab specifically.

"Facebook has been investigating Victory Lab's alleged activities, along with other similar entities, citing the group's efforts in an internal company report prepared months in advance of the Mexican election," Reynolds wrote.
On June 30, the DFRLab released its report on Merlo around 1 p.m. Mexico City time. Several minutes later, Merlo contacted BuzzFeed News, saying his personal Facebook page and Victory Lab's Facebook page had been taken down.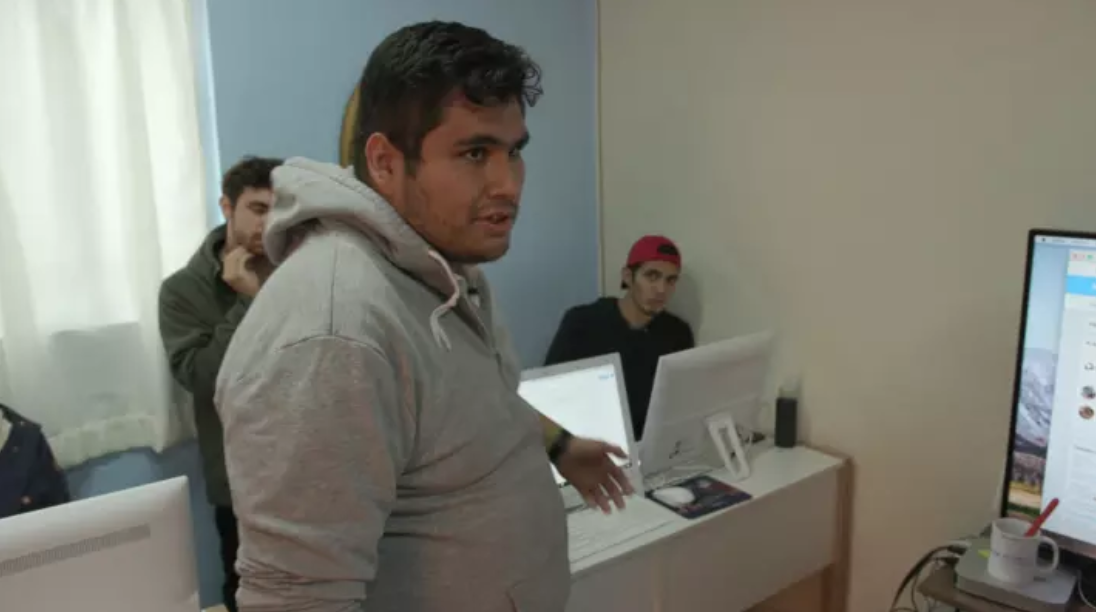 DFRLab's report, written by the Atlantic Council's information defense fellow, Ben Nimmo, was largely dismissive of Merlo and Victory Lab. It argued that because of Merlo's reliance on bots and fake Facebook pages from outside Mexico, his tactics didn't actually have much impact on the election.

However, as BuzzFeed News reported, Merlo was still making large sums of money to artificially boost the engagement on posts for Mexican politicians over the last six months. Merlo said he has 17 small Victory Lab offices scattered around Mexico, each of them employing 15 to 20 young people. Merlo wouldn't specify the exact amount of money he charges for his services, but he said that he bills $10,000 USD for a fake trending topic on Twitter, which is on the lower end of what he offers.
Merlo said he's spent the last six months making fake news and dark ads for politicians across Mexico. And although much of Victory Lab's Facebook traffic comes from outside of Mexico, he said the fake news stories politicians had purchased were being used as talking points in political campaigns. The most common thing candidates for public office in Mexico commissioned were fake negative stories about themselves so that they could accuse their opponents of spreading them, he added.
As for why Facebook chose to take down Merlo's pages after the release of DFRLab's report, Brookie said he wasn't sure why they chose to do it then.
"I wouldn't be privy to what caused Facebook to take action against Merlo's accounts, as making us aware of internal investigations is not part of their support of our work," Brookie said.
A spokesperson for Facebook told BuzzFeed News that the two groups are collaborating across a host of areas, including their communications teams.
"While we can never stop all attempts to abuse our platform, we can do everything possible to stay ahead of those who would abuse Facebook," the spokesperson said. "That includes increased investments in our security and ad review measures, as well as increases to our ad transparency and enforcement. We now have about 15,000 people working on security and content review. We'll have more than 20,000 by the end of this year."
CORRECTION
A request to speak over the phone about Facebook's fake news efforts was made by Tom Reynolds. An earlier version of this post misstated this to Graham Brookie.