Everything You Need To Know About The Syrian Electronic Army
Anonymous isn't the only hacker organization causing headaches for media companies and politicians.
Today, the AP Twitter account was hacked, announcing explosions at the White House in which President Obama had been injured. And the hacking group taking credit calls itself The Syrian Electronic Army.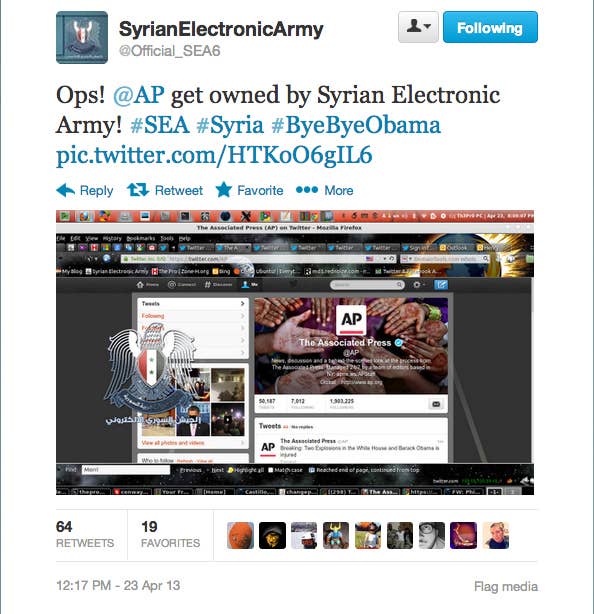 The S.E.A. has taken credit for numerous hackings in recent weeks, including the 60 Minutes Twitter account.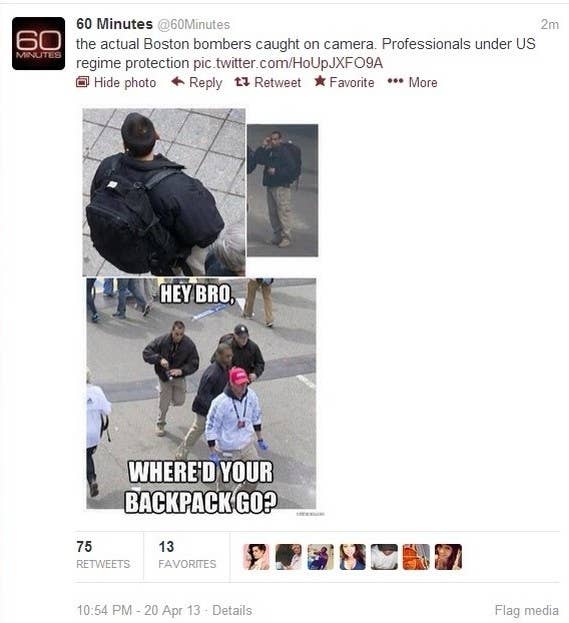 Two weeks ago, the group took over a BBC weather account.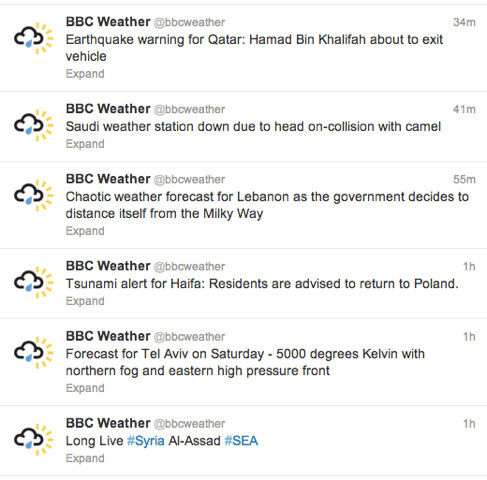 And earlier this month, they slowly took over NPR's website.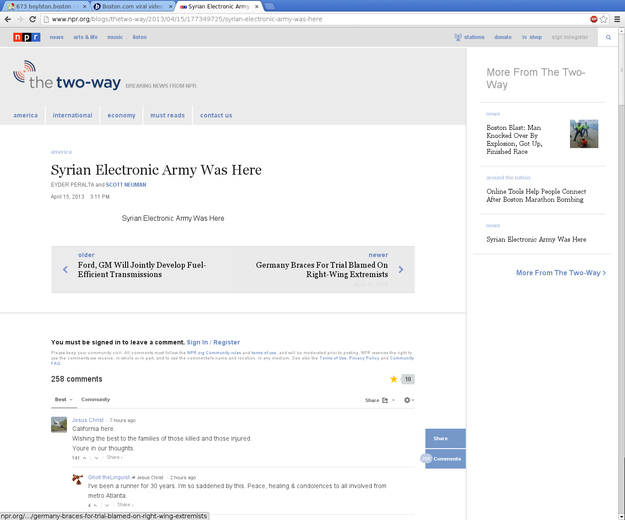 As for why they took over NPR's site, the group hinted it was because they felt NPR was biased towards the pro-democracy rebels in Syria:
Though it wasn't explicit about its motivation, the SEA gave a hint, and it isn't hard to flesh that out. "You can ask @deborahamos," the SEA tweeted.

That's the account of Deborah Amos, the NPR reporter who in March won a prestigious Peabody award for her coverage of people caught up in the ongoing Syrian civil war. Her most recent NPR story, published April 9, concerned a wealthy young Syrian woman on an underground, pro-democracy mission.
The group have a few websites, many of which seem to go in and out of activity. One currently running is leaks.syrianarmy.com, which actually has an About page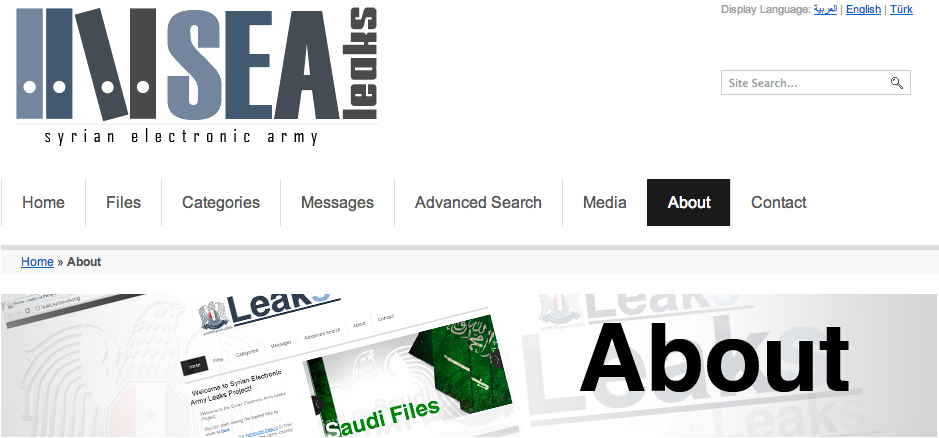 The group describe themselves as supporters of Syrian President Bashar al-Assad and his regime:

About the website

This website was designed and coded by Syrian people who belong to the Syrian Electronic Army, whose personnel were honored to collect information by hacking into the email systems of certain countries that became Syria's enemies.

The Mission

The Syrian Electronic Army did not stop its mission that it initiated since it was founded: to show the truth about Syria... but in the mean time, the Army continued to developed its skills in order to uncover facts which were not known before that may affect the international public's opinion.
Their main site, syrianelectronicarmy.com, not only has an Arabic and English version, it has a ton of info about what they do and even how to join.
From a separate About page on their main site:
So who are we exactly? And what is our cause? We are a group of enthusiastic Syrian youths who could not stay passive towards the massive distortion of facts about the recent uprising in Syria, and this distortion is carried out by many Facebook pages that deliberately work to spread hatred and sectarian intolerance between the peoples of Syria to fuel the uprising.
Some of the most comprehensive coverage on the Syrian Electronic Army can be found in a piece that VICE published 2 weeks ago.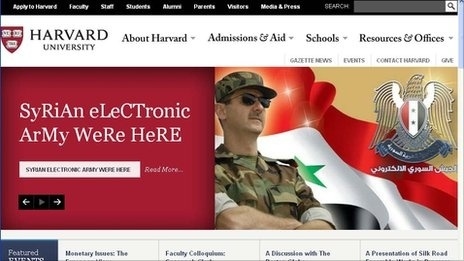 VICE interviewed a member of The Syrian Electronic Army who went by the username Th3 Pr0:
The SEA started at the beginning of the Syria crisis. Young Syrians came together to defend their country against a bloody propaganda campaign by media organisations such as Al Jazeera, BBC and France24. We're all Syrian youths who each have our specialised computer skills, such as hacking and graphic design. Our mission is to defend our proud and beloved country Syria against a bloody media war that has been waged against her. The controlled media of certain countries continues to publish lies and fabricated news about Syria.
From the about section of the blog belonging to VICE's source inside The S.E.A.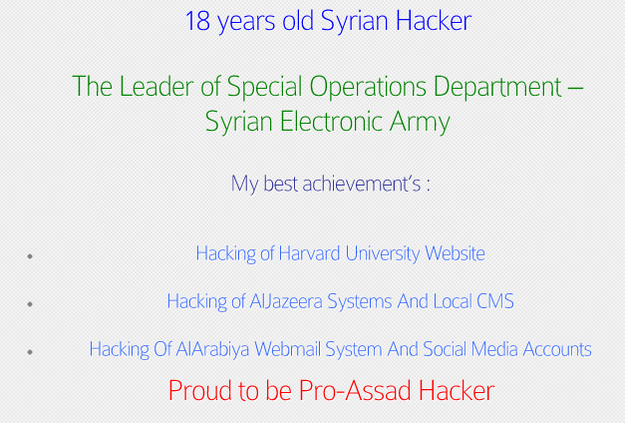 The S.E.A. also has a contentious relationship with Anonymous, presumably because Anonymous has vowed to oppose the Assad regime. Both groups have addressed each other on YouTube.
VICE asked their source from The S.E.A. about their dealings with Anonymous:
Anonymous isn't one organisation; there are many taking on that name, some of whom claim to be genuine fighters for justice but are actually FBI and CIA agents. By attacking Syria they're simply following the agenda of the US government. They're not a threat to us – we've hacked several of their websites and released the personal details of their members.
The Syrian Electronic Army's main adversary, though, is Twitter. Twitter has attempted to close down S.E.A. accounts as quickly as they appear.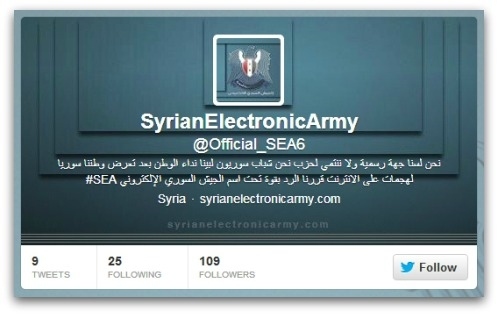 Naked Security, an online security blog, covered Twitter's fight to keep the platform safe Monday:
Twitter appears to have decided to put a stop to the Syrian Electronic Army's Twitter account as well. Sure enough, @Official_SEA has now been suspended. How did the Syrian Electronic Army respond to their Twitter suspension? Well, they created a new account called @SyrianCyberArmy. And when that one was shut down, they created yet-another-Twitter-account - @SEA_Official3. Guess what? Yep, that one has been shut down too.
The group is currently on their 6th Twitter account. As of Tuesday afternoon, it has yet to be suspended.