Everything You Need To Know About Oberlin College's Race Problem
Oberlin College cancelled classes Monday to address the drastic rise in hate incidents on campus. WARNING: This post contains photos of hate speech.
On Monday, classes at Oberlin College were cancelled so college president Marvin Krislov could meet with students about racist, homophobic, and anti-Semitic aggression on campus in past weeks.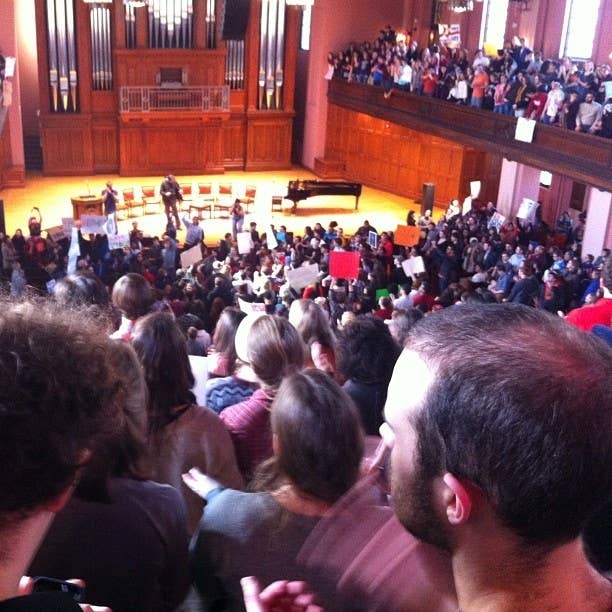 The Oberlin Review has a comprehensive timeline of the precipitating events.
Feb. 9: The science center is vandalized, LGBTQ posters are destroyed, and Black History Month posters are defaced with the word "nigger" and swastikas drawn on them.
Feb. 12: A note is found in the Multicultural Resource Center that reads "Nigger + Faggot Center."
Feb. 16: Racist notes are found in Burton Hall. "Whites Only" is written above a water fountain, "Nigger Oven" is written inside the elevator and "No Niggers" is written on a bathroom door.
Feb. 17: A strong-arm robbery of a student near West College Street and Cedar Street takes place. The student reports that he was approached by an individual who made a derogatory remark about his ethnicity and then knocked him to the ground.
Feb. 26: Posters are defaced in King including those advertising "Year of the Queer" and the Affirmative Action panel, at least one of which has a swastika drawn on it.
Feb. 27: A swastika is drawn onto the outside window of West Lecture Hall in the Science Center is seen being removed by custodial staff.
A Tumblr called Oberlin Microaggressions has documented the incidents.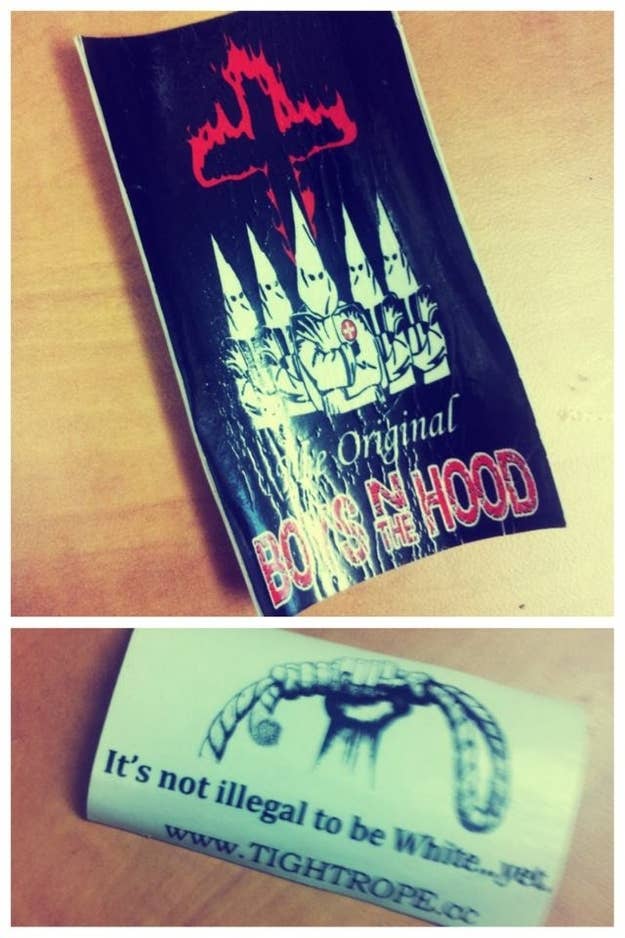 The tumblr also includes a link to this twitter account (which has, it should be noted, only seven followers).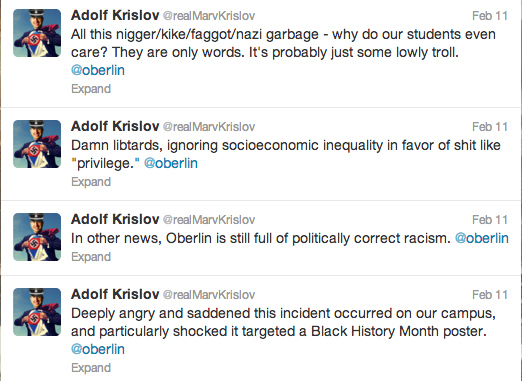 Gawker speculates that these events might be related to the fraught relationship between the college and its town.
Max Read points to a general culture of social unease between the school and its Ohio town as a possible reason for the rising rate of hate incidents:
This source also speculated that the incident is likely related to Oberlin's infamous "no-trespass list," "a list of townies and college alumni who are banned from all college property," managed by the college and kept secret from the town. The college has long denied the list's existence—but last week it was leaked to the local paper by the Oberlin Police Department, with whom the list was shared. This list contains a number of "successful and well-connected" alumni, and we've heard that Oberlin's legal counsel is "reeling" over the leak of the list, which was meant to be kept confidential.
But Read also concedes that Gawker's received just as many tips from students claiming that the hate incidents have nothing to do with the social politics of the town surrounding the campus.
Monday's campus-wide meeting came only hours after KKK robes were allegedly spotted on campus, at 1:30 AM that morning.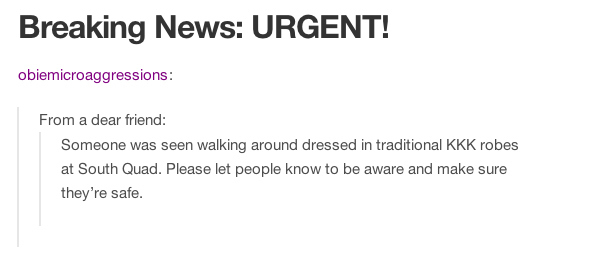 (However, The Guardian reports the KKK sighting may have been a misunderstanding.)
Lt Mike McCloskey of Oberlin police told the Guardian on Monday that officers were still following up the KKK sighting, but suggested that the only witness may have been mistaken.

"Officers checked the area and were unable to locate anybody. College security later saw a student wrapped in a blanket."
Students packed into the 1,200-seat campus chapel for yesterday's meeting.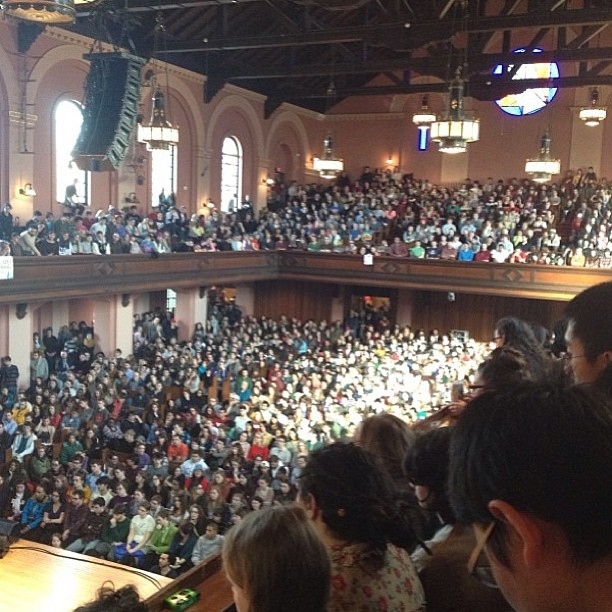 "From what we have seen we believe these actions are the work of a very small number of cowardly people," Mr. Krislov said.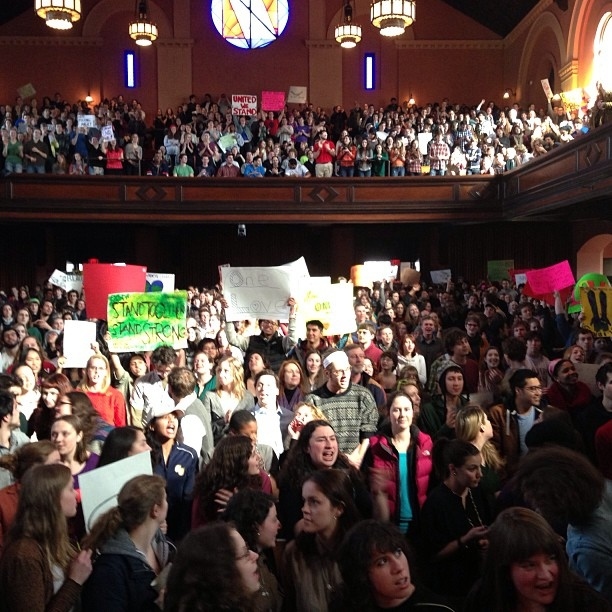 That said, there are no known suspects in the hate incidents.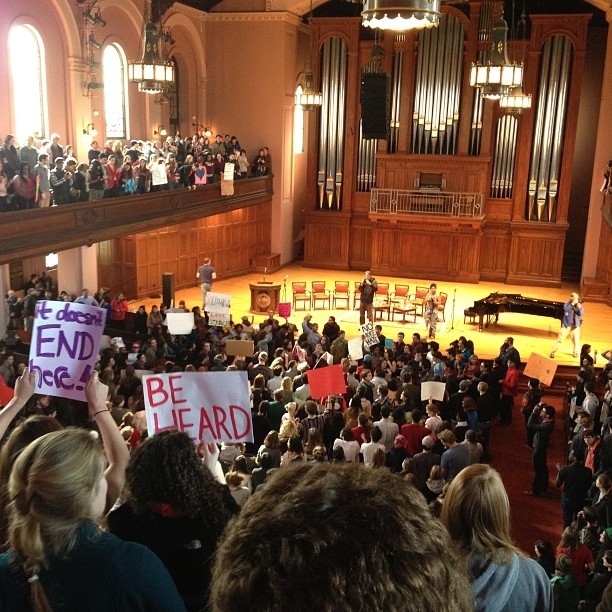 obiemicroaggressions.tumblr.com