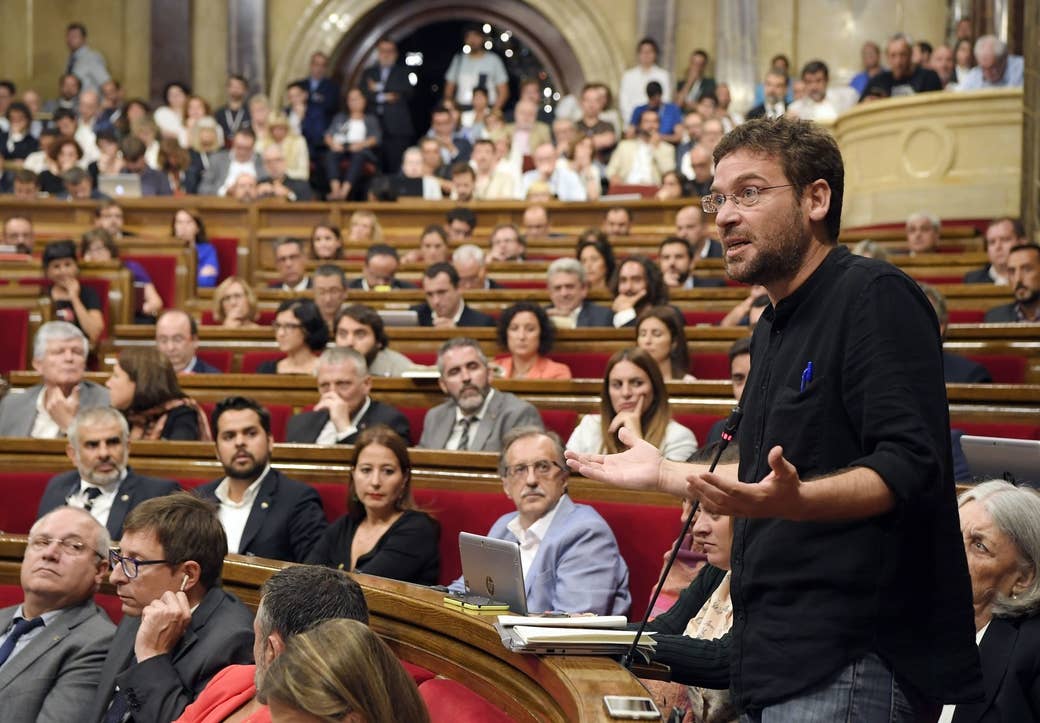 BARCELONA — While the unionist Ciudadanos party won the most seats of any one party in Catalonia's snap parliamentary election, Thursday's vote was actually a huge victory for the region's pro-independence movement. More than half the seats in Catalonia's 135-seat parliament will be occupied by pro-independence parties. Spanish Prime Minister Mariano Rajoy's own right-wing People's Party alone looks to lose 60% of their seats.
But there's one person who most certainly won't be sitting in one of those seats, even though — thanks to a YouTube video that's been viewed almost a million times — he most likely did more than a little to help Thursday's overwhelming pro-independence win.
"The situation on Oct. 1 changed everything," Albano Dante Fachin told BuzzFeed News as he cleaned out his office inside Catalonia's parliament building on Thursday night. Oct. 1 was the day Catalonia held a referendum on whether to separate from Spain, a move the Spanish government had tried desperately to prevent. Police and other armed forces were sent into the region to try to keep people from the polls, but Catalan leaders still declared a victory for the independence movement.
After the vote, the Spanish senate triggered Article 155 of the country's constitution, which stripped the region of its autonomy. Thursday night's snap election was called by Rajoy after he used his new authority to dissolve the Catalan parliament and imprison eight politicians. Catalan President Carles Puigdemont fled to Brussels, where he has been campaigning via livestream and social media.
It's been a hectic election full of vicious identity politics, disorienting misinformation, and increasing paranoia among Catalans about Spanish governmental overreach. Seven major parties were vying for seats on Thursday.
But for most voters, instead of thinking of things in terms of right and left, it was a decision between a pro-Catalan independence voting bloc and a rival bloc of parties that have campaigned on Catalonia remaining a part of Spain. For Catalans, it came down to a race between the left-wing progressive party Esquerra Republicana on the "independentista" side and economic liberal party Ciudadanos on the unionist, a victory for either deciding the region's future relationship with Madrid.
There was one party, though, that tried to stay out of the independence debate. Podemos, a left-wing anti-corruption party that was founded in 2014 out of Spain's Occupy Wall Street equivalent, resisted choosing a side. But thanks to Fachin, its now-former general secretary, it ended up having one of the biggest impacts on this week's vote.
Fachin shocked Catalans last week after he announced via YouTube video that he was resigning from Podemos and voting for a pro-independence party. The video has currently been watched over 800,000 times and, according to Spanish media, it's the most watched video of the election. His decision to vote for an independence party to protest Spain's crackdown on the region, and not because he agreed with the results of the Catalan referendum, became a lightning rod on social media.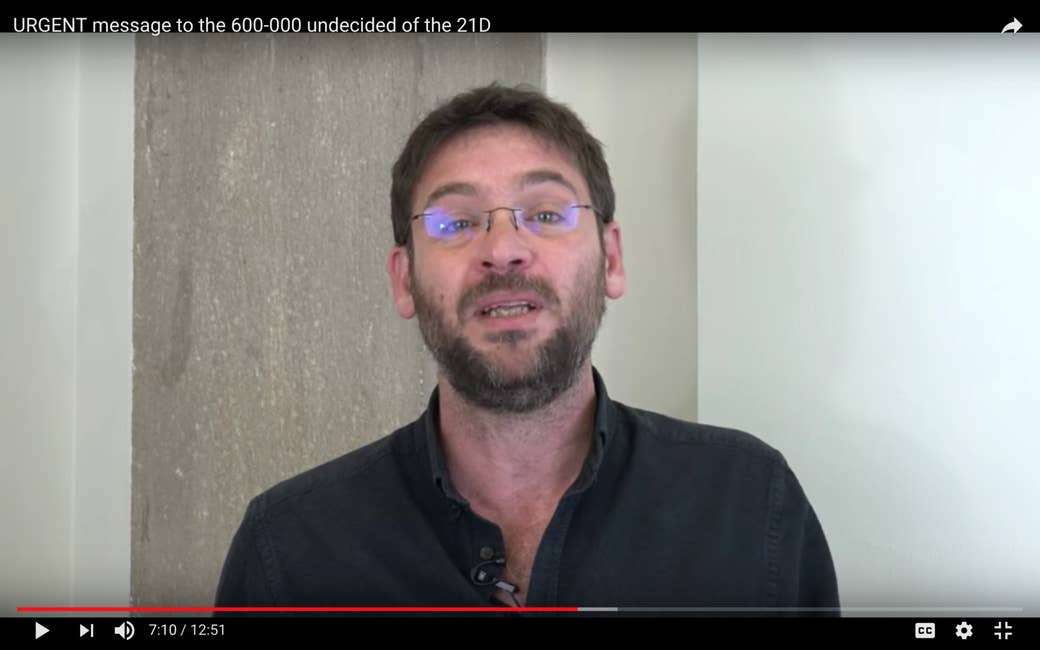 The scruffy 41-year-old laughed while packing up a tiny suitcase and said that since his resignations, he's been having to use a civilian guest pass to get into the parliament building.
"When Rajoy dissolved the parliament, we lost our membership to the parliament, but we could still come here," he said looking around the little white room. "I was working here all month, because, until they elect a new parliament, I was staying here. You know, free electricity, free air conditioning…"
Fachin, originally from Argentina and one of the first two Catalan parliament members to not be born in Spain, didn't set out to be a politician, much in the same way he didn't set out to become a leader in the fight against Spanish repression. YouTube, he said, is to blame for both.
He was working a tiny newspaper in the city of Girona, where he still lives, writing about corruption in the Spanish health care system. "But no one cared because it was a very little newspaper in a little town," he said. "So I said, what can I do? So we recorded a video on YouTube — a half an hour video — explaining how the health care system works. It was the worst video."
But the video went viral, racking up over 2 million views. A few months after that, Podemos reached out and asked if he'd like to be a minister in parliament. "There were elections and the Podemos party said, 'Hey, you've been denouncing all these things on YouTube, do you want to do this from parliament?" And I said 'of course,' because, well, they have cameras, so I don't have to record it," he said with a shrug.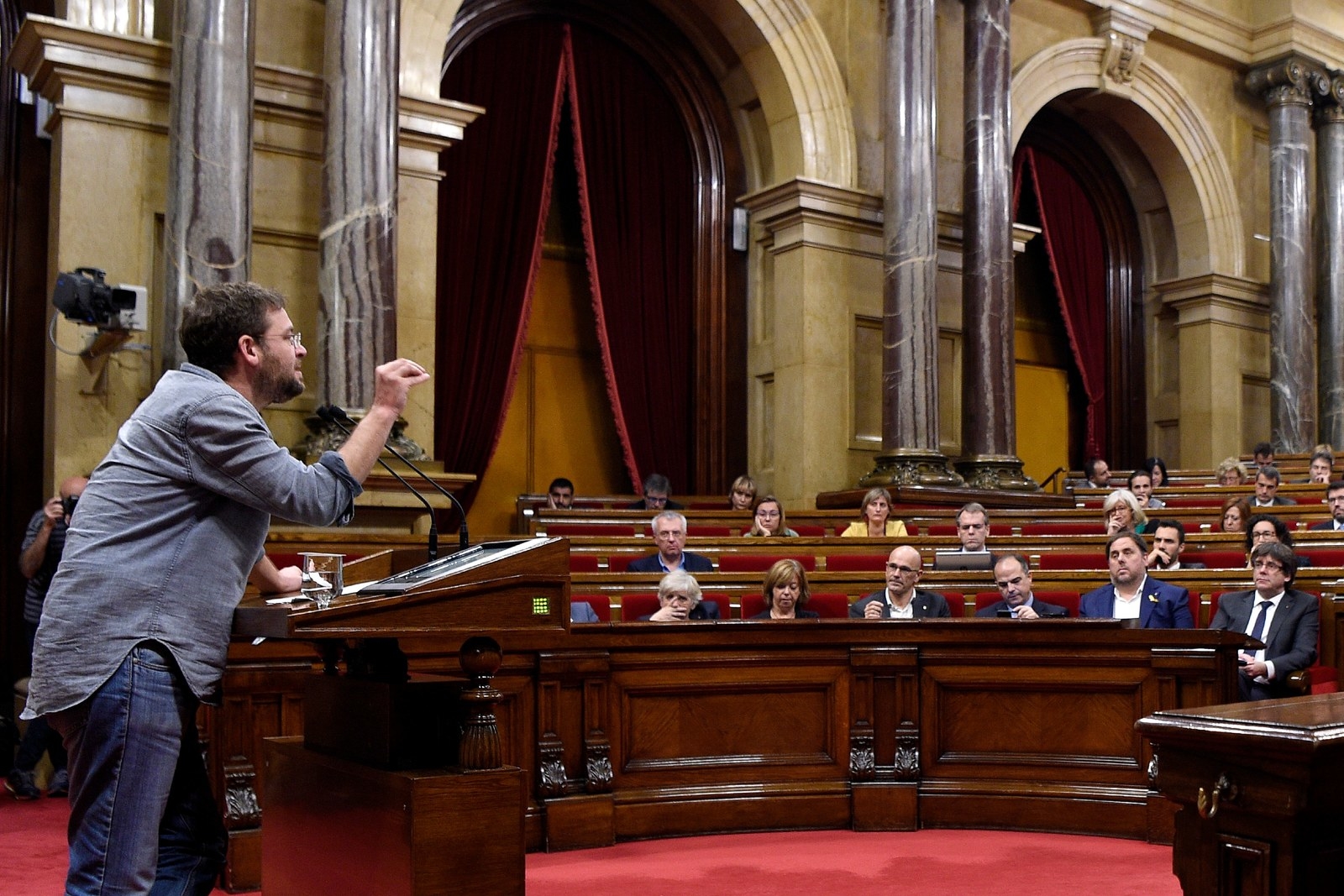 Fachin's strategy has remained the same for the last three years. One time, he was trying to get data on Spain's health care system. He said he asked a minister with the health care commission for it over and over to no avail. "So, I came down here to my office with my phone and made a video," he said. "Forty minutes later, I had the minister here. And I thought, Wow, I had to become a member of parliament, I went to the commissioner of the health care system, I asked there, and what was the solution? Making videos!'"
It's obviously hard to measure how much Fachin's most recent video affected Catalonia's election, but according to his impact on social media, he pretty much dominated the conversation. He said he's tried to stay consistent and transparent about what he believes and he thinks that by resigning, he proved to people that he wasn't all talk. He's also articulated a strange middle ground in an incredibly polarizing election.
"Maybe it feels like credibility," he said. "There are many people who are not independentist, but they cannot accept what happened here on Oct. 1 or our politicians being put in jail."
The attention hasn't been all good, he said. He heard on the news Thursday that Spanish police were investigating him. He's come out of this election in a weird spot. He's no longer a member of Podemos and, as of Friday morning, no longer a member of parliament. When asked what he'll do next, his eyes lit up.
"YouTuber," he fired back immediately. "I don't know, can you do videos for YouTube from jail? I can write good videos. If YouTube brought me here, YouTube will take me out."