Applebee's Server Gets Stiffed By Pastor Who Gave Her Tip To God, Promptly Gets Fired By Applebee's
"I give God 10%, why do you get 18%," a local pastor wrote on her receipt before tipping her nothing.
The Applebee's server, who goes by Chelsea, posted this on Reddit Monday.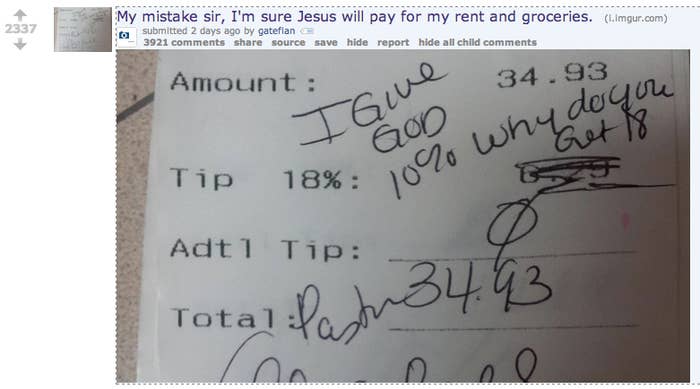 "They had no problem with my service, and told me I was great. They just didn't want to pay when the time came."

"[The tip] was only compulsory because it was a table of 20. Parties up to eight at my work may tip whatever they'd like, but larger parties receive an automatic gratuity. It's in the computer, it's not something I do."

Consumerist has now learned that Applebee's fired the server after the receipt hit the front page of Reddit.
Chelsea spoke to Consumerist about the fallout after she posted the receipt to Reddit:
"I originally posted the note as a lighthearted joke... I thought the note was insulting, but it was also comical. I posted it to Reddit because I thought other users would find it entertaining."
The original photo Chelsea posted contained the pastor's signature. After it began to go viral, the customer contacted Applebee's and demanded that not only Chelsea be fired, but everyone who worked at that location be fired.
Chelsea told Consumerist that she was just trying to blow off some steam by anonymously posting it to Reddit, not lose her job. Before posting the receipt, she had worked there without incident.
HuffPost Comedy has started a petition to get Applebee's to rehire her.

UPDATE: The Smoking Gun has found more info about the pastor, Alois Bell, who left the non-tip.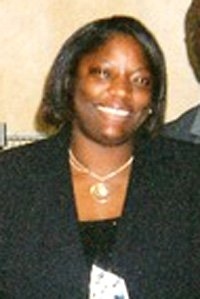 In a TSG interview, Alois Bell said that the online firestorm created by the receipt has left her stunned. "My heart is really broken," said the 37-year-old Bell. "I've brought embarrassment to my church and ministry."
UPDATE #2: Applebee's Facebook and Twitter are being flooded with angry comments.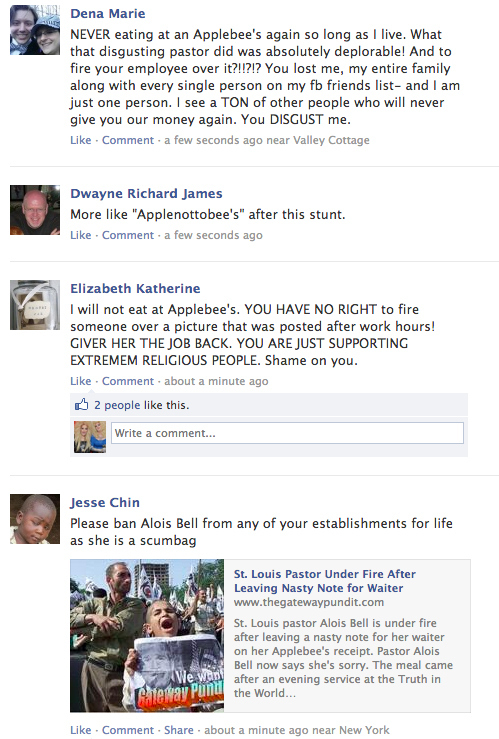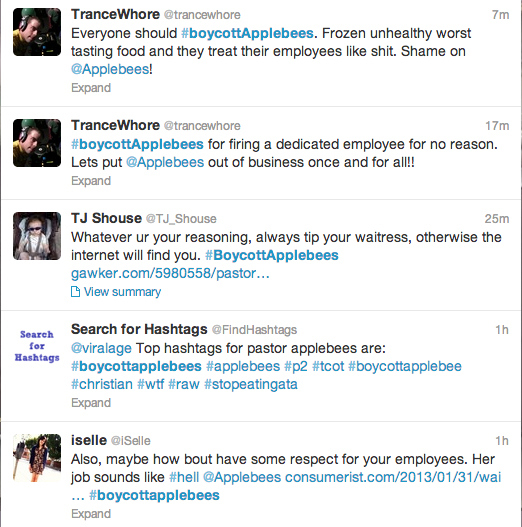 UPDATE #3: The pastor's Twitter and Facebook accounts have been pulled down after the story began to pick-up steam, but her page on The Black Preaching Network is full of irate users.