Anti-Muslim Protesters Call For Retribution After London Machete Murder
The Woolwich area of South London is full of members of the English Defense League protesting law enforcement in a tense stand off over Wednesday's violent attack.
The English Defense League have organized a march on the Woolwich area of South London.
The EDL are a far-right street protest group that focuses heavily on anti-Islamism and immigration in England.
The protests were brought on by the incredibly violent near-beheading that took place in Woolwich earlier Wednesday afternoon.
After news broke that the man who was hacked to death was a soldier, killed in what investigators are calling an act of terror possibly motivated by radical Islam, the EDL organized.
They quickly took to Facebook after the murder, calling on EDL members to stand up to Islam in England.
As EDL members protested on Woolwich, the EDL's Facebook page was calling for people who couldn't reach the town "take a stand" where they live.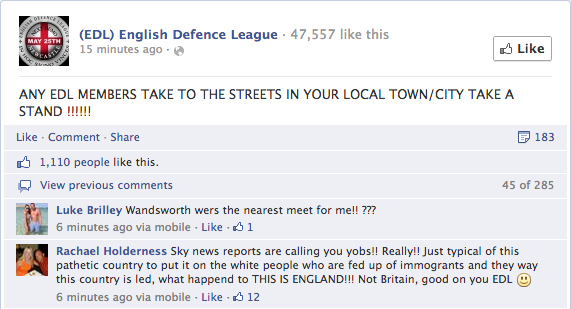 As of Wednesday night, the biggest concern for London law enforcement are EDL members and sympathizers attacking immigrants.
Londoners tweeting from the protest describe a tense stand off between masked EDL members and law enforcement.