Atlanta Newspaper Sent A Tweet About A Man Buying 40 Acres And A Mule With Lottery Winnings
Updated: The racially charged message has been deleted. The Atlanta Journal-Constitution has apologized. "We are working to address this situation internally."
The Twitter account for the Atlanta Journal-Constitution sent out this tweet on Wednesday morning and then was quickly deleted.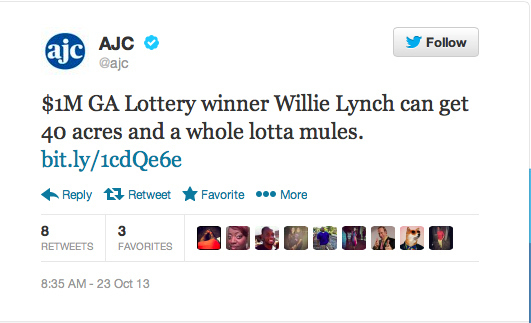 The tweet linked to a story about Willie Lynch, a Powder Springs, Ga., resident who bought a winning $1 million lottery ticket.

And while the tweet was yanked down, it didn't stop people from seeing it or the subsequent screenshots.

Needless to say, readers weren't thrilled...


The Atlanta Journal-Constitution has apologized for the tweet, saying they're working on addressing what happened.
The Atlanta Journal-Constitution sincerely regrets an earlier Twitter message that contained an inappropriate statement. We took immediate action to apologize via social media and on our website and will issue an apology in Thursday morning's print edition. We do not condone such offensive messages and are reviewing our procedures to ensure this type of error does not happen again. Additionally, we are taking the appropriate disciplinary action with the individuals involved.