An Abstinence-Only Class In Texas Suggests Students Who Have Sex Are Like Chewed Up Gum And Used Toothbrushes
"People want to marry a virgin, just like they want a virgin toothbrush."
Katie Gustainis Vela posted this screenshot of the curriculum being used to teach the middle schoolers of the Canyon Independent School District in Texas about sexual health.
Today, virgin means not having participated in any sexual activity of any kind.Toothbrush or stick of gum demonstration can be used here to show the difference in used versus new.Encourage students to stay like a new toothbrush, wrapped up and unused. People want to marry a virgin, just like they want a virgin toothbrush or stick of gum.
Think Progress found another screenshot of the curriculum, which emphasizes guarding your body like you would "keep people out of your yard."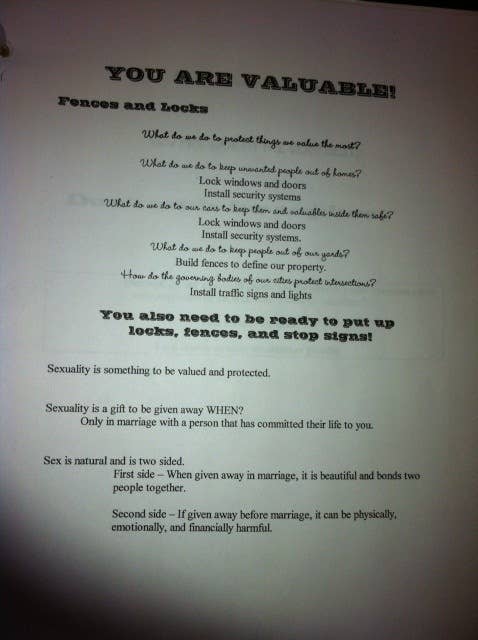 Canyon Independent School District provides human sexuality instruction in grades 5, 6, 7, and high school health through the Reality CHECK program. The district School Health and Advisory Council (SHAC) recommends course curriculum and instructors to the school board of trustees for approval. Instructors present lessons to 5th, 6th, and 7th graders in same-gender groups. Co-educational high school health classes are used as the forum for high school instruction. Abstinence from sexual activity is presented as the preferred choice of behavior in relationship to sexual activity for adolescents both physically and emotionally.