A Woman Discovered A Two-Way Mirror In This Bar's Bathroom, Owner Says It's There To Stay
The owner, Ronnie Lottz, told reporters it's part of the bar's Halloween theme.
The comedian noticed a mirror positioned opposite to one of the toilets in the bathroom.
In the video, she opens the door the mirror hangs on and discovers a utility closet behind it.
But on the other side of the door, you can clearly see through the glass of the mirror into the women's room.
Tamale Rocks began tweeting about her discovery Sunday night.
BuzzFeed News attempted to contact the owner of Cigars & Stripes, but a message said the bar had disconnected its answering machine. Its owner, Ronnie Lottz, told Jezebel that he would burn the place down before removing the mirror:
Do you know that mirror's been there for the longest time. That woman opened the door. I mean she opened the door, there's nothing in there. Open the door and pee and do what you want. Quite frankly I'm enjoying people calling, because I'm selling chicken wings.

Look, this woman is looking for a viral video. There's a big movement in reality TV to be outraged about feminism.
Lottz said the bar used to have a monster that popped up in the mirror and scare patrons. Nevertheless, Cigars & Stripes' Yelp page is filling up with users disgusted by it.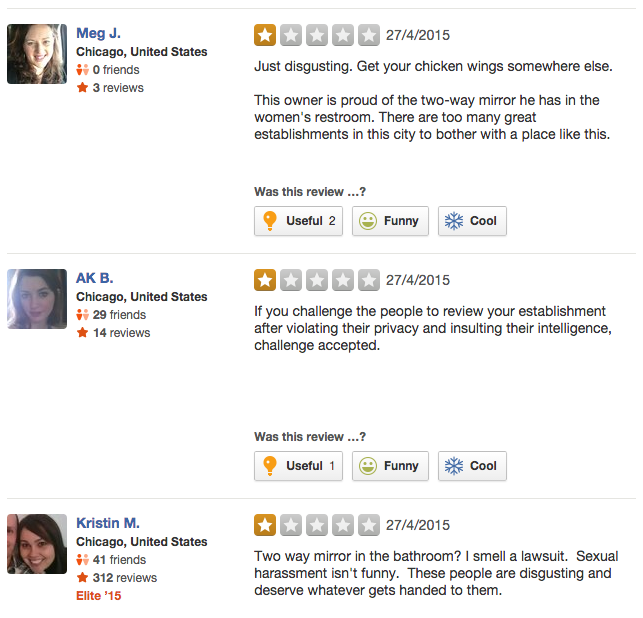 But some users on Yelp, as well as on Facebook and Twitter, are claiming that the door with the two-way mirror is typically left open.