A Filmmaker Convinced Everyone That A Migrant Instagrammed Himself Sneaking Into Spain
It turns out the viral Instagram account was all the creation of a Spanish filmmaker.
Last week, an Instagram account going by @abdoudiouf1993 began posting from what appeared to be Dakar, Senegal.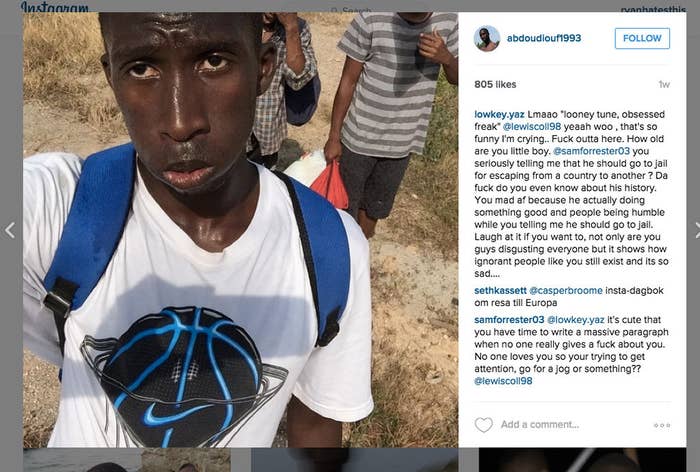 Diouf appeared to be a man from Senegal in his early 20s, preparing for an illegal crossing into Spain.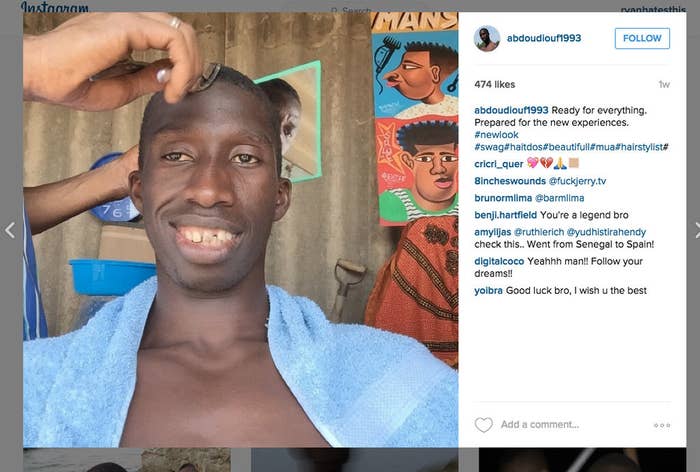 Users discovering Diouf's account were split in their reactions: Some were cheering the young man on, while others were telling Diouf that he was not welcome and that he was breaking the law.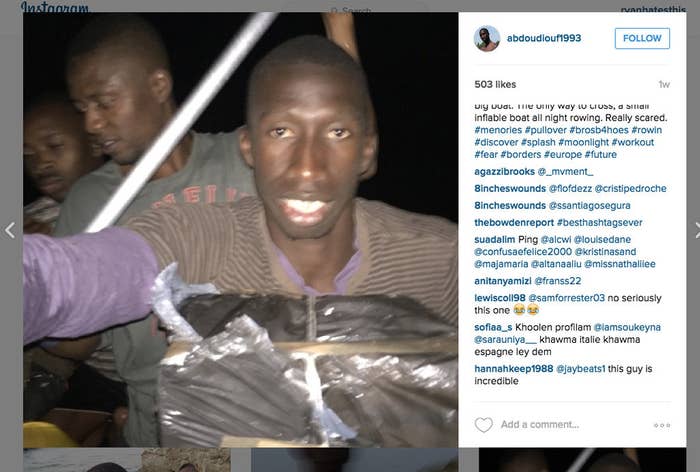 In Diouf's last update, he claimed that he had been taken to a "cie" or Centros de Internamiento de Extranjeros (internment center) in Tarifa, Spain.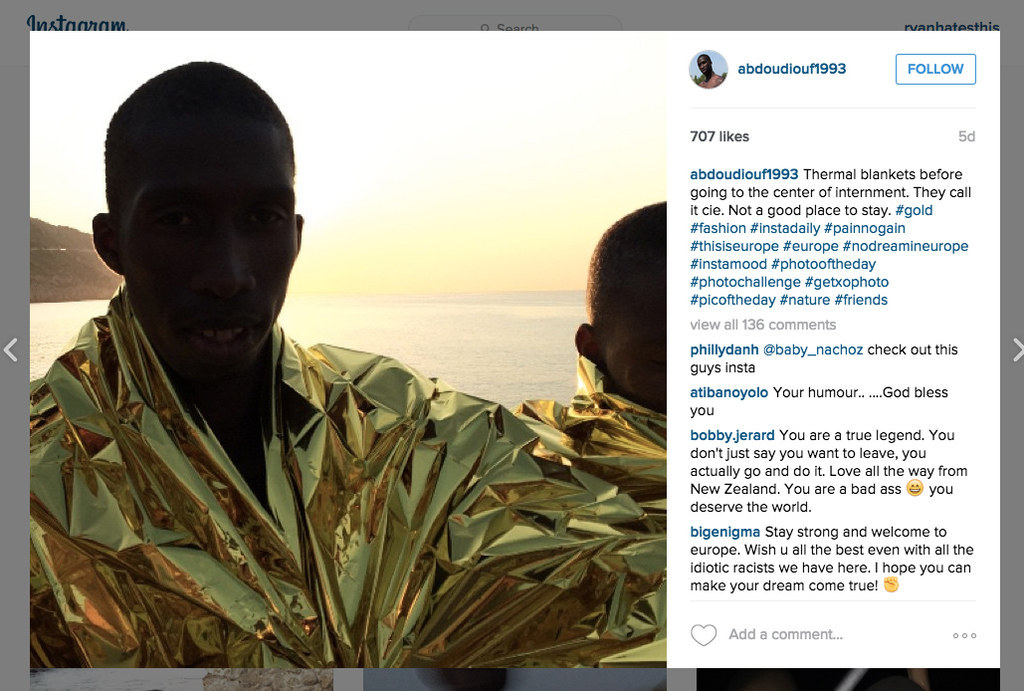 BuzzFeed News attempted to contact the C.I.E. in Tarifa, but were unable to get a comment from authorities about Diouf's status.
The Instagram account was written about in a widely-shared Huffington Post article.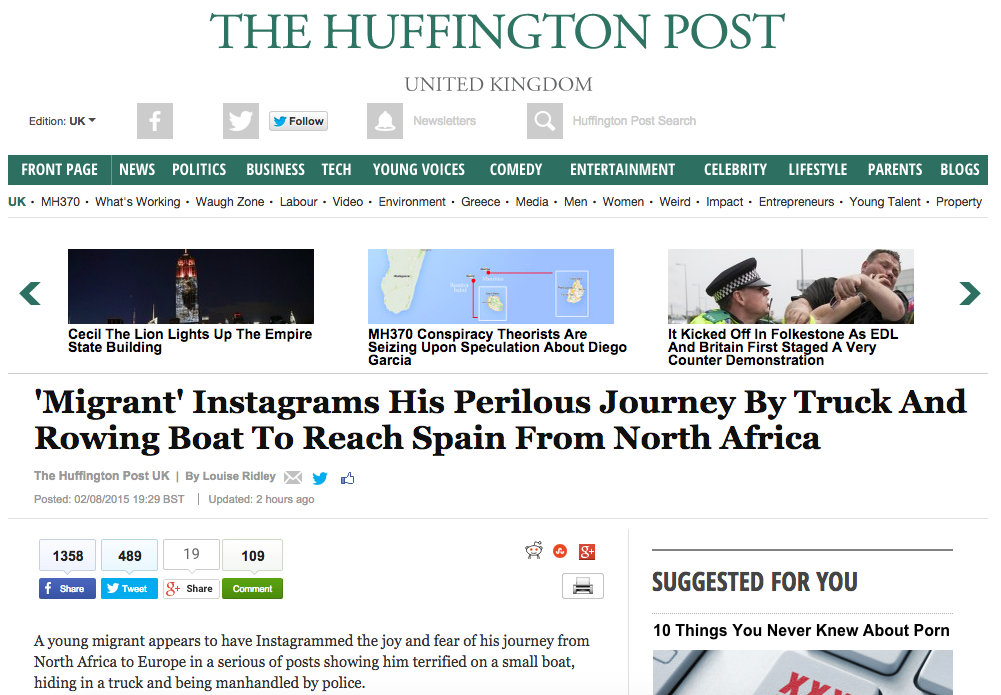 The Huffington Post reached out to Diouf, who reportedly told them he was in Spain. The article read:
A young migrant appears to have Instagrammed the joy and fear of his journey from North Africa to Europe in a serious of posts showing him terrified on a small boat, hiding in a truck, and being manhandled by police.

Abdou, who appears to be in his early 20s and uses the Instagram account abdoudiouf1993, began posting around a week ago and claims to have walked for days across the desert, slept outside with "no food" and paid thousands of euros for a place on a boat to make the illegal crossing to Spain.

He describes being cold and scared on the week-long, dangerous journey from Senegal, and says he is making the trip for a "better future".
Not everyone was convinced that Diouf's story was real, however.
A quick search on Facebook reveals that Abdou Diouf is one of the more common names in Senegal. Though, none of the accounts associated with that name were the same man on Instagram.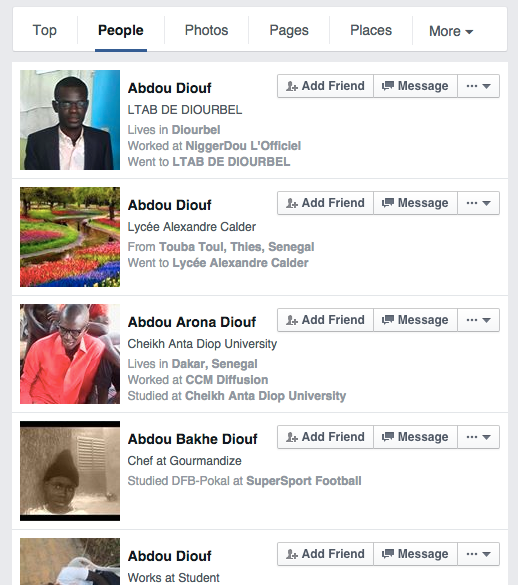 There was no other trace of Diouf online, which seemed strange for someone so active on Instagram.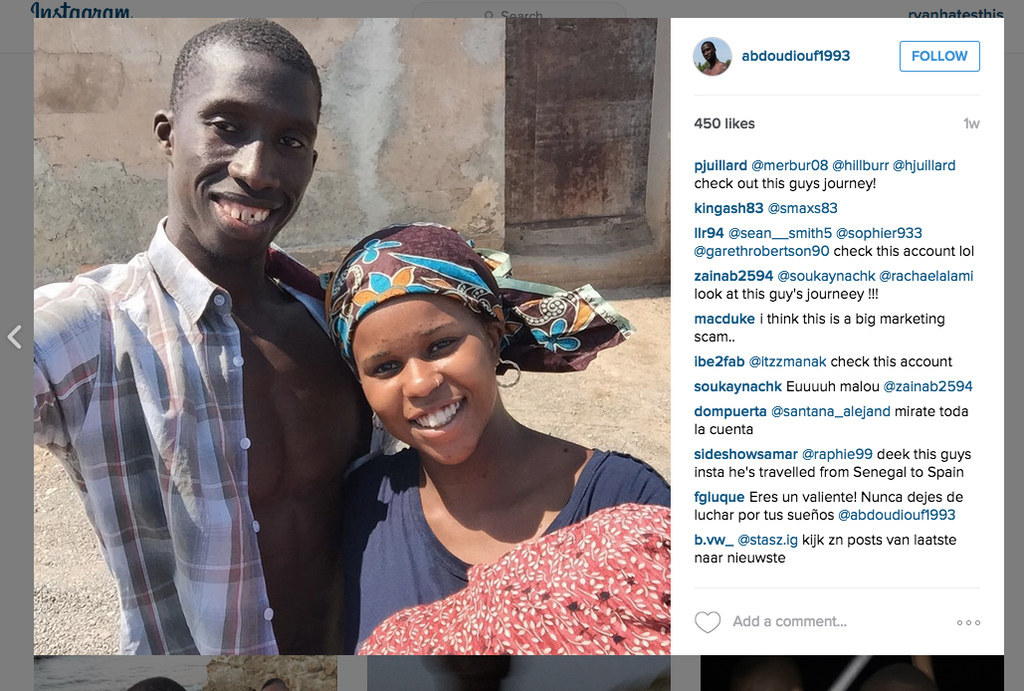 The director of the short, Tomás Peña, first spoke to El País in broken English, pretending to be Diouf. Then he admitted that he had created the hoax:
The goal was to play with this "western and decontextualized attitude," where hashtags contrast "with the image we see," the producer of short film said. The idea was to "denounce the western frivolity" which makes us take selfies at any point, and "the fact that something hasn't been lived if it hasn't been shared."
Peña told El País that he could have taken the stunt further, but decided not to.
"New travellers who have not chosen to be displaced. Here is the spot by Volga for GETXOPHOTO," the festival wrote on their Facebook page.
So who is Abdou Diouf in real life? Peña told BuzzFeed News that he was played by a young Spanish beach handball player named Hagi Toure.
Peña said Toure works as an extra for films and commercials, and that the short film was all shot in one day.
Additionally, GETXOPHOTO has released this press release about the stunt:
The creative agency and production company Volga presents this year's press campaign for the GETXOPHOTO photography exhibition.

Directed by the Barcelona studio Manson, this years campaign in formed of a 60-second video and linked Instagram account that acts as a reflection on the way we process and share images of displacement and migration, in established media and on social networks

The piece is also a comment on how the use and importance of photography has changed radically in the last few years, with the image of travel inexorably linked to it's 'reality'. In this way photography is key to the social construct of 'travel' in a globalized society.

If this is true for industrial tourism - the endless search and sharing of 21st century takes on pastoral ideals - it applies equally to the increasing numbers of those who's journeys are the result of necessity. Migrants and refugees, displaced by dictatorial regimes, the horrors of war and environmental and economic disasters.