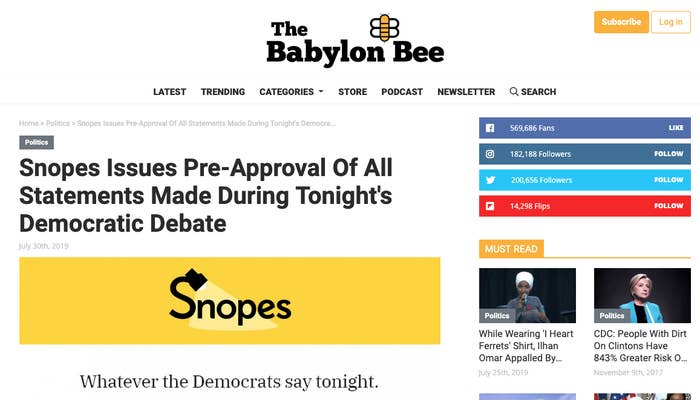 The Babylon Bee, a Christian satire site with half a million followers on Facebook, has accused fact-checking site Snopes.com of trying "to discredit and deplatform us." That accusation added fuel to the larger narrative that fact-checking websites are targeting conservative humor in an effort to de-platform right-wing publishers.
"But now we know Snopes actually has an agenda here — and that is to abuse its power as a Facebook-recognized fact checker to blacklist the Babylon Bee, to get the openly Christian satire site algorithmically hidden and demonetized, which will effectively put it out of business," conservative media outlet Breitbart declared.
"We have no way of limiting the reach on a particular platform"
Thomas's account of the matter has been disputed. The man who allegedly yelled at Thomas subsequently came forward, claiming he was a Democrat and denying telling the legislator to go back to where she came from. Publix in a statement said it was "cooperating with local law enforcement as they look into the matter."
"This real-world incident stirred up a good amount of online anger on both sides, and soon afterwards the Babylon Bee published a version of the story that altered some key details," Snopes's fact-check read. "The Babylon Bee has managed to confuse readers with its brand of satire in the past. This particular story was especially puzzling for some readers, however, as it closely mirrored the events of a genuine news story, with the big exception of the website's changing the location."
Babylon Bee promptly rebutted Snopes's allegations on Twitter and in an issue of its newsletter in which it threatened to take legal action against the publication. "By lumping us in with fake news and questioning whether we really qualify as satire, Snopes appears to be actively engaged in an effort to discredit and deplatform us. While we wish it wasn't necessary, we have retained a law firm to represent us in this matter," the newsletter read.
Snopes subsequently updated its story, apologizing for any wording that might have seemed to imply the Babylon Bee was actively trying to deceive readers. But by the beginning of this week, trolls were actively peddling a conspiracy theory claiming Snopes is trying to de-platform the Babylon Bee by getting Facebook to flag its stories as fake news.
Mikkelson finds the entire thing is ludicrous. "We don't have the means or the ability to do that," he told BuzzFeed News, adding that Snopes picks what to fact-check based on reader emails. "We write about what the most people are asking about," he explained. "The question you should be asking is not: 'why is Snopes addressing material from a particular site so often?' But, 'what is it about that site that makes its content trigger the fact-check threshold?'"
Babylon Bee founder Adam Ford declined to comment, referring BuzzFeed News to his comments on Twitter and the publication's newsletter.
The Snopes–Babylon Bee feud has been building for a while now. Last year, when Snopes was working as a Facebook partner, a Babylon Bee article titled, "CNN Purchases Industrial-Sized Washing Machine To Spin News Before Publication," was flagged by Snopes and its publishers were given a warning by Facebook. The platform later apologized. But recently, far right internet personalities like Infowars' Paul Joseph Watson, and right wing figures like Ben Shapiro, have been using the controversy to paint Snopes as the leading edge of a campaign by the platforms to silence conervative voices.
"I'm flattered that people seem to think we wield such power," Mikkelson said. "The purpose is to inform people, not punish the people who are spreading it."
UPDATE
This post has been updated to note that Facebook last year threatened to reduce the Babylon Bee's distribution on its platform citing a bungled Snopes fact check of one of its satirical articles; to characterize Ben Shapiro as right wing; and to remove a description of the notion that Facebook had unfairly hurt the Bee as a "conspiracy theory", although there is no evidence the publication was targeted by Facebook for being conservative, and Snopes is no longer connected to Facebook's fact checking program.