21 Beautiful Moments Of Humanity From The Ongoing Refugee Crisis
Even in the worst of times, people can still be kind to one another.
1.
When this little boy offered to share his toys with refugees arriving at Munich's central train station.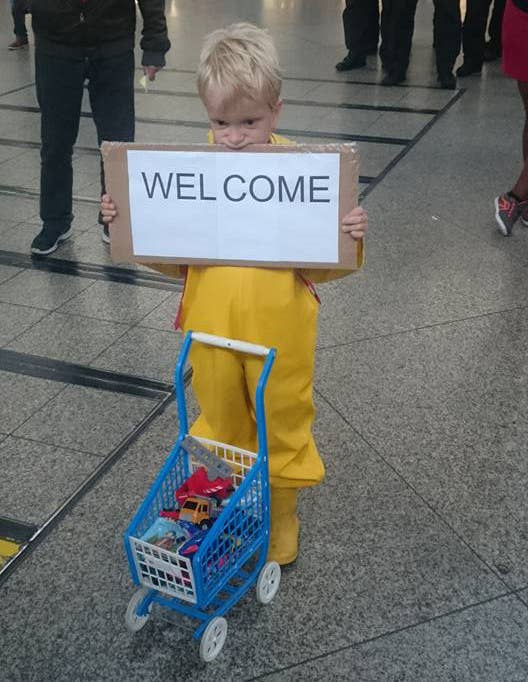 2.
When Sandra Tsiligeridu and a group of her friends saved a Syrian refugee they found stranded at sea near the Greek island of Kos. He was clinging to a life vest and had been adrift for 13 hours.
3.
The Munich police officer who took a moment to let a little boy try on his hat.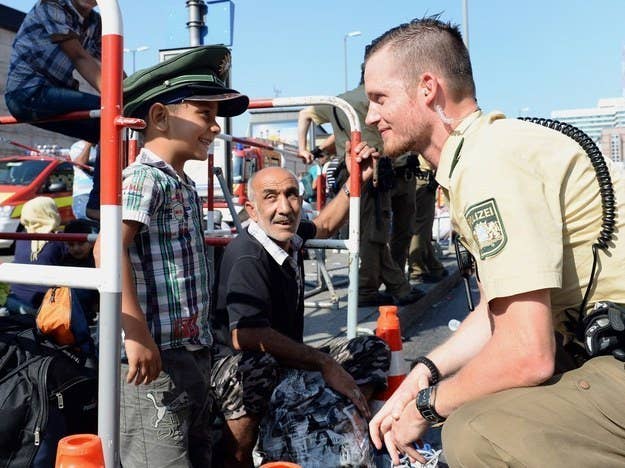 4.
And the little boy who ran off with one.
5.
When Antonis Deligiorgis decided to dive into the water and single-handedly pull 20 Syrian refugees from the water after seeing their boat hit jagged rocks and disintegrate off the coast of Rhodes, Greece.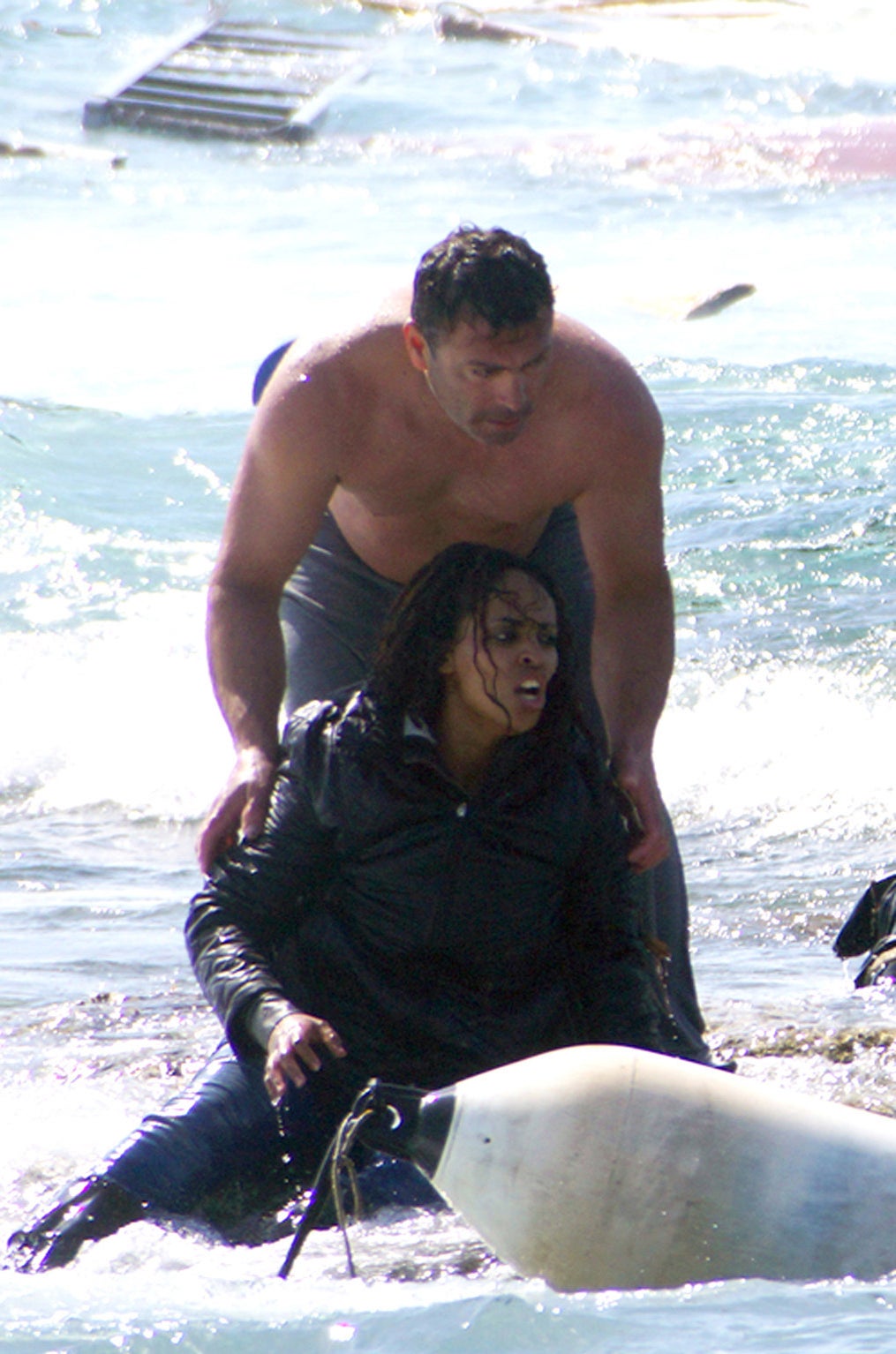 6.
The $50,000 in donations raised for this Syrian man in a Palestinian refugee camp after he was photographed selling pens to support his family.
Abdul Haleem al-Kader hopes to use the money to bring his family to Europe. "All I want is to educate my kids," Kader told BuzzFeed News, "send them to school, help them to get their education."
7.
These Hungarians lining the highways with food.
8.
And providing water for refugees walking on foot to Austria.
9.
The citizens of Oer-Erkenschwick, Germany, who gathered together with signs to welcome Syrian refugees.
10.
The 25,000 more in Vienna who took to the streets to let the world know that refugees are welcome in their city.
11.
And the 10,000 Australians who rallied in cities all across their country, demanding their government does more to help.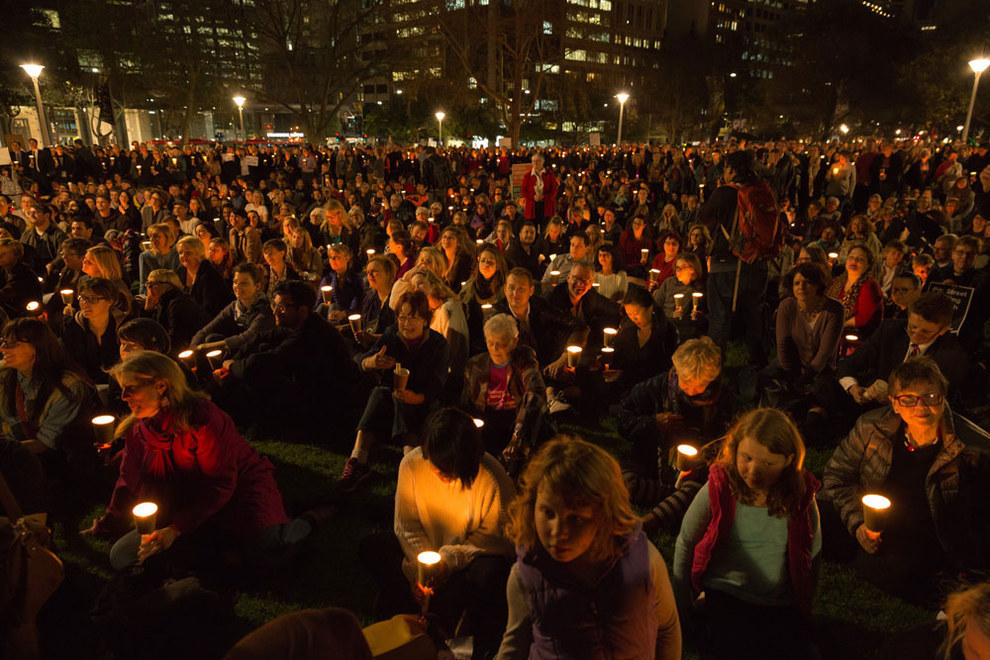 12.
When artists from all over the world began creating beautiful and heartbreaking works of art in honor of Aylan and Galip Kurdi, the Syrian toddlers whose deaths at sea last week horrified the world.
13.
With some tributes happening halfway around the world, like this wall of graffiti in Sorocaba, Brazil.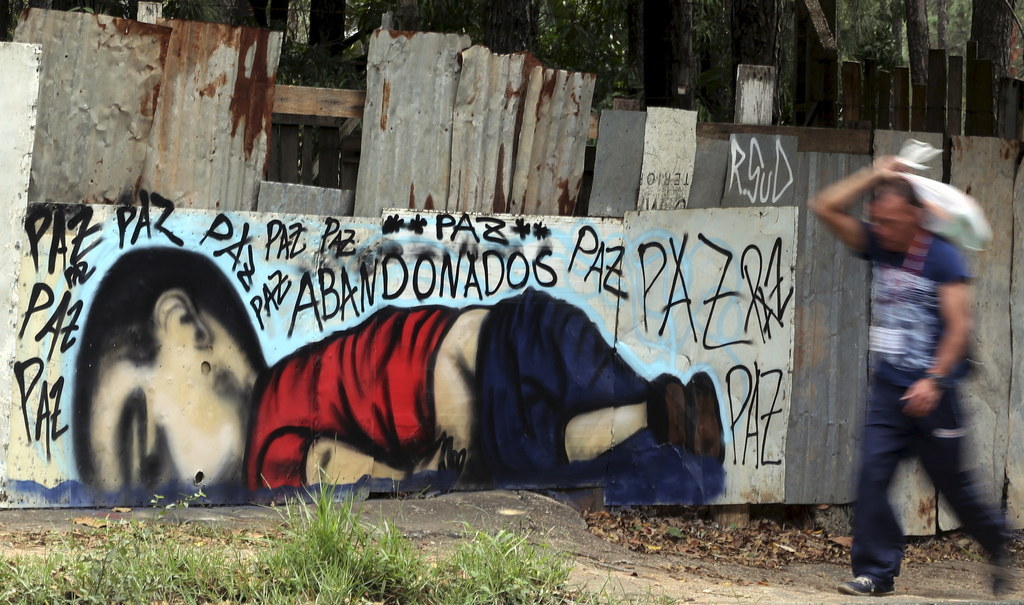 14.
Or the person in Australia who placed an obituary for Aylan Kurdi in the Sydney Morning Herald.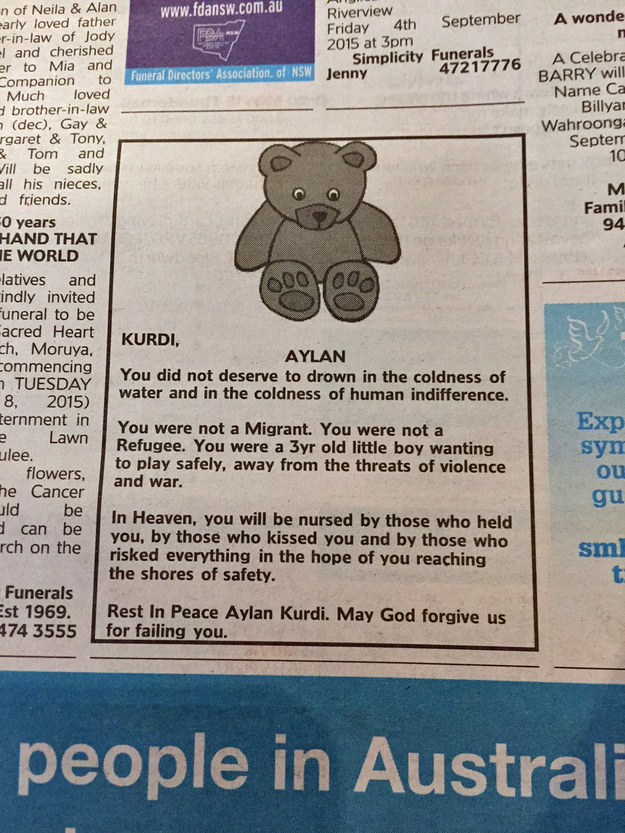 AylanYou did not deserve to drown in the coldness of water and in the coldness of human indifference.You were not a Migrant. You were not a Refugee. You were a 3yr old little boy wanting to play safely, away from the threats of violence and war.In Heaven, you will be nursed by those who held you, by those who kissed you and by those who risked everything in the hope of you reaching the shores of safety.Rest In Peace Aylan Kurdi. May God forgive us for failing you.
15.
The moment Laith Majid, a Syrian father, was photographed breaking down in tears of joy as he and his son and daughter arrived on the Greek island of Kos.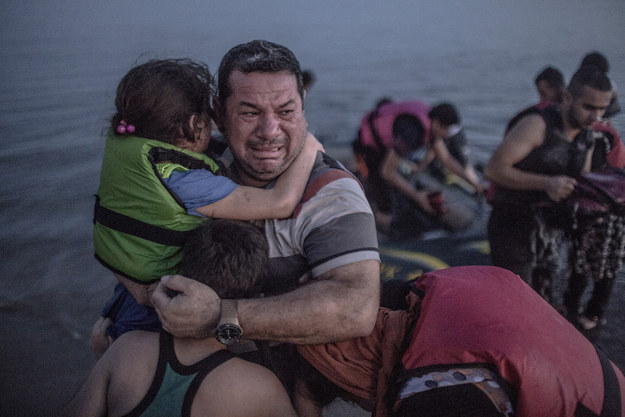 16.
And this photo of Majid and his family taken three weeks later at a camp housing refugees in Berlin.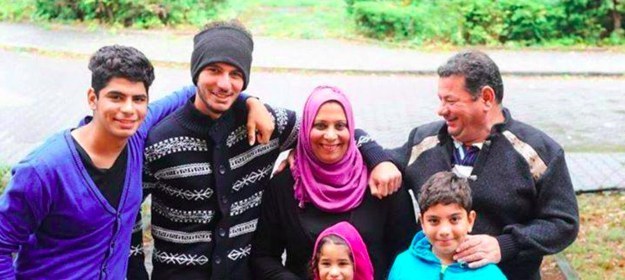 17.
When German and Austrian activists broke Hungarian law to assemble a 140-car convoy to transport refugees back to Austria.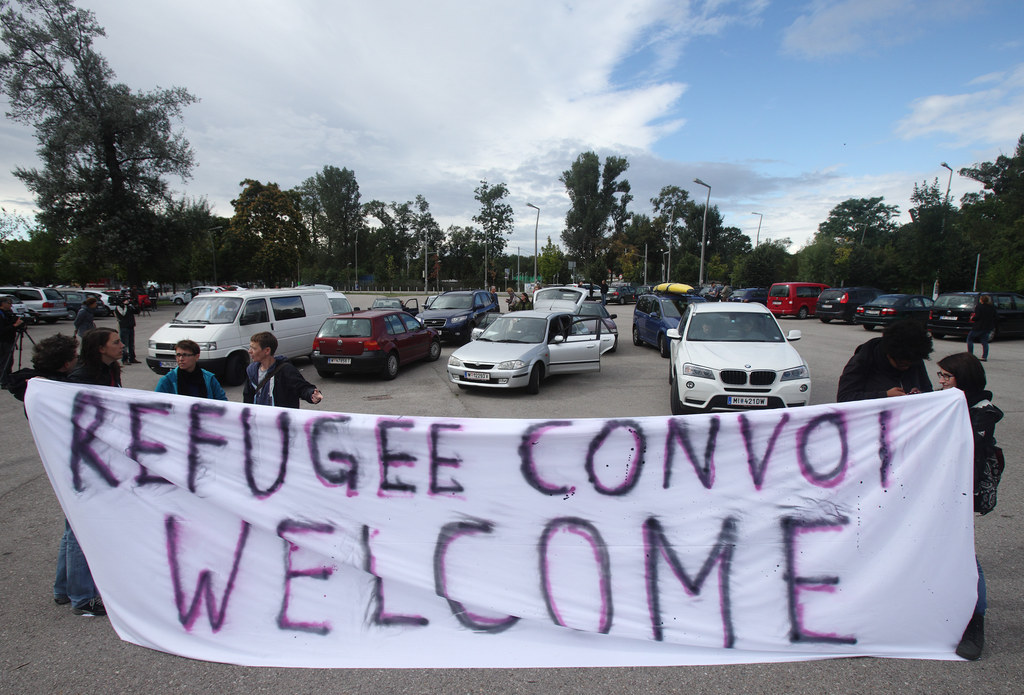 18.
The German football fans that used a game as an opportunity to make a statement.
19.
And the German train conductor who let a sleeping volunteer ride for free.
There is a guy behind me wearing a Caritas shirt [a German NGO], who just explained to refugees in three different languages how to get to the platforms for trains to Munich. He fell asleep even before he touched the back of the seat.As the conductor came, an old passenger asked to pay for a first class ticket for the man, because these people deserve support. I also wanted to pay for his ticket.But the conductor refused and said: 'I didn't see the shirt at first glance. I'll let him sleep. That's the least I can do.'What's up with our country? #thatsthewayitgoes #refugeeswelcome #trainofhope
20.
These Syrian refugees taking a victory selfie after arriving at a beach on the Greek island of Kos.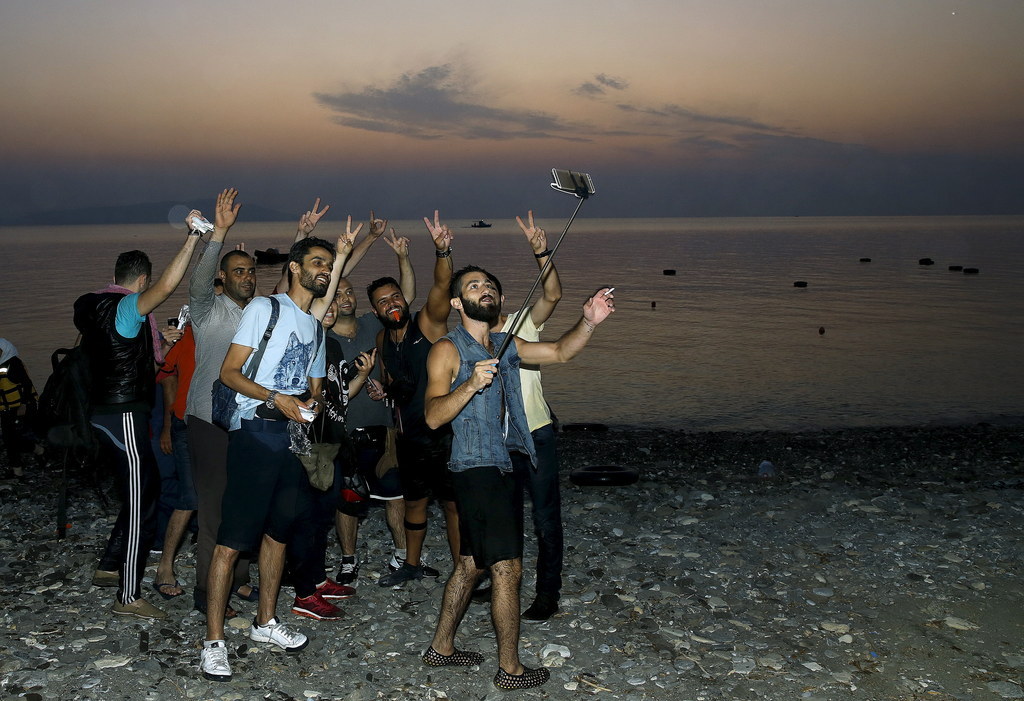 21.
And when this German railway station decided to give arriving refugees a standing ovation.