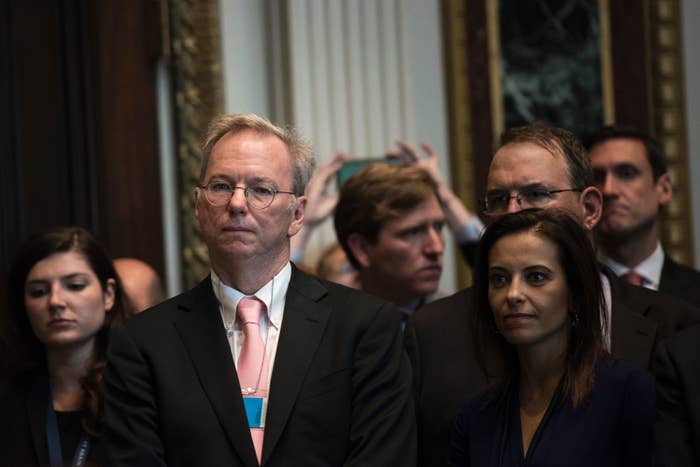 Two Google executives donated to senators serving on the senate intelligence committee that began investigating Russian election meddling in January.
In March of this year, according to federal election filings, general counsel Kent Walker made four donations totaling $5,400 to both Democratic Sen. Martin Heinrich and independent Sen. Angus King. In May, he donated $2,700 to Democratic Sen. Mark Warner, the ranking member of the intel committee.
In April of this year, Eric Schmidt, the former CEO of Google and the executive chairman of Alphabet, also donated $2,700 to Heinrich.
Silicon Valley tech companies like Google and Facebook have faced the scrutiny from Congress over the role of the platforms during the 2016 election, and how foreign actors may have tried to use them.
Last month, Google and other tech giants (including Twitter and Facebook) were called to testify before the congressional intelligence committees. A Google official confirmed to BuzzFeed News that representatives from the company will testify before Congress on Nov. 1.
Much like donations made by Facebook executives to intel committee members reported by BuzzFeed News earlier this month, the donations aren't particularly large, are isolated to a small number of the committee's fifteen members, and Walker has donated to Heinrich and Warner in the past. (He gave $1,000 to Warner in 2007 and $1,000 to Heinrich in 2012.) Both Schmidt and Walker have long track records of donating to Democrats. In this cycle both executives have supported Sen. Claire McCaskill (whose campaign has raised more than $2.9 million between July and September for the tough re-election bid she faces in 2018, according to the Associated Press), and Walker gave two donations totalling $5,400 to Sen. Jeff Flake, the Republican from Arizona.
"We have clear policies in this area. Employees can make personal political contributions in their own capacity, these personal donations do not represent Google support for a candidate or issue," a spokesperson for Google told BuzzFeed News.
Senators Warner and Heinrich also received donations from Facebook executives in 2017.
A spokesperson for Warner declined to comment on the donations made to his campaign and offices for the other senators did not immediately respond for comment.