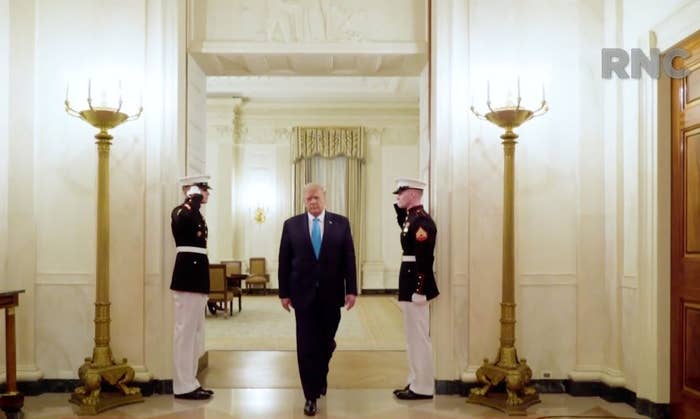 President Donald Trump used the White House and his presidential powers as a backdrop for the Republican National Convention on Tuesday in segments where he pardoned an ex-felon and participated in a naturalization ceremony.
The segments broke political norms of separating official government business from political campaigning and have raised questions about whether they violate the Hatch Act, which restricts federal employees from participating in partisan political events.
In the first segment broadcast from the White House, Trump surprised Jon Ponder, an ex-felon who served a 63-month sentence, with a full pardon after a video that outlined his background story. Ponder runs a reentry program for former inmates that works with the Las Vegas Police Department to assist them with readjusting to life after leaving prison.
Trump asked Ponder's wife to join them as the video shifted to shots of the president signing the pardoning document.
Trump has tried to bolster his criminal justice reform platform and has pardoned and commuted sentences of other ex-felons, including Alice Marie Johnson, who served 21 years for a nonviolent drug offense.
In another segment that was broadcast from the White House, Trump attended a naturalization ceremony for five new American citizens that was conducted by acting Department of Homeland Security Secretary Chad Wolf.
"Thank you for hosting such a patriotic celebration here at the White House today," Wolf told Trump.
Trump gave a speech welcoming the newly naturalized citizens to the country that was interspersed with footage of him posing for photos with each of them and their citizenship documents.
The optics were in sharp contrast to Trump's record on immigration. His administration has drastically cut the number of refugees allowed to come to the US this year to 18,000, down from the target of 110,000 during the end of the Obama administration. And in April, Trump signed a presidential order temporarily banning green cards for certain groups of people outside the US, a sweeping move restricting legal immigration. Trump later extended the green card ban until the end of 2020.
The Trump administration also implemented what was known as the public charge rule, which allowed the government to deny permanent residency to immigrants who officials believe are likely to use public benefits. Federal courts blocked the administration from enforcing the policy in New York, Connecticut, and Vermont during the coronavirus pandemic.