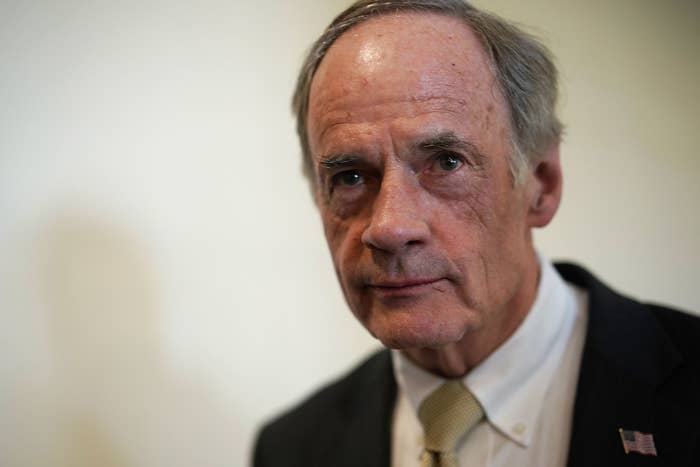 There's a Christian rapper performing onstage at a black gospel festival whose wholesome, Chance the Rapper–style bars are nearly drowning out Sen. Tom Carper's voice when he says that he's worried about his primary election.

Carper prides himself on an extensive record of serving the state and an ability to reach across the aisle, while serving as a check on the Trump administration. He's now seeking a fourth term as senator and facing a challenge from his left, and hoping he can still compel voters to turn out for him on Election Day.
"I always run like I'm 20 points behind and like my opponents are 10 feet tall," the 71-year-old senator says earnestly after bowing in front of Ms. BBW (Big Beautiful Woman) Delaware (whom the senator jokingly calls his wife) and ducking behind a black college student whom Carper said he'd want to be his center if he were playing quarterback.
He's facing a primary challenge from Kerri Evelyn Harris — a queer, black Air Force veteran who's running on a platform of progressive issues (canceling student debt, a $15 minimum wage, Medicare for All) in a political moment that's seen progressive candidates of color defy conventional definitions of electability and polling in shocking primary victories.
Delaware has become a fairly reliably blue state in recent years, but to the chagrin of grassroots activists and national progressive groups, the state's senators have continued voting along centrist Democratic lines.
"I was realizing we needed to be stronger in supporting progressive policies and we didn't just need to keep electing someone that's nice to us in person and then votes in favor of corporations over people when they go to Washington," Harris said of her decision to challenge Carper. "I can't settle for being told, 'we need to wait a little longer' and 'that's how the system works' — if that's how the system works, then the system needs to change."

There's (infamous) precedent in the state for an outsider coming out of nowhere to knock out the establishment. In 2010, Rep. Mike Castle was defeated by tea party candidate Christine O'Donnell in a special Senate election. Sen. Chris Coons subsequently defeated O'Donnell.
Carper says in the early days of the primary, he asked Castle for advice on the challenge — Castle said don't take anything for granted. "We didn't work for it, we didn't prioritize the primary, and people didn't know there was an election. They got out their vote and we didn't. Don't take anything for granted," Carper says Castle advised him.
In the lead-up to Thursday's vote, Carper's campaign has rolled out a robocall from former vice president Joe Biden (the other looming figure in Delaware politics) and an endorsement from the state party.
He's also particularly proud of his campaign's billboard on the southbound lanes of I-95 reminding primary voters that there's actually an election happening Thursday.
"They're red, white, and blue and say 'Democratic primary.' Next line down: 'Thursday, September 6th.' Next line down: 'Please vote.' Next line down: 'Senator Tom Carper,'" he says while walking along the Christina River in Tubman-Garrett Park, a former wasteland he helped secure the funding to revitalize as governor in the '90s. "People say, 'I've never seen a billboard that says please vote.'"
But Delaware's election comes at the tail end of an exuberant primary season for progressives, and Carper's no exception.
Harris is backed by a host of progressive organizations that have sought to put establishment Democrats on notice for their voting records, like the Working Families Party, Justice Democrats, Our Revolution, and Democracy for America. The groups have propelled progressive political candidates, like Andrew Gillum in Florida and Alexandria Ocasio-Cortez in New York, to victory.
Justice Democrats, the organization that largely staffed Ocasio-Cortez's campaign, has seen staff migrate from New York's 14th congressional district to Delaware to turn out voters ahead of the primary election, and the Working Families Party has been heavily spending on the race, including for canvassing and digital ads that have targeted Carper on his vote to confirm Brett Kavanaugh for a DC circuit court position. The senator now says Kavanaugh showed his "true colors" on the bench and that he won't support him for the Supreme Court.
Harris has trailed Carper in the scant amount of publicly available polling on the race, and the senator has raised over $3.5 million dollars while Harris raised a little over $120,000, according to FEC reports. But Harris and Ocasio-Cortez, who joined her on the campaign trail across Delaware on a rainy Friday, say those numbers are just a small obstacle in the way of the political movement they're trying to build.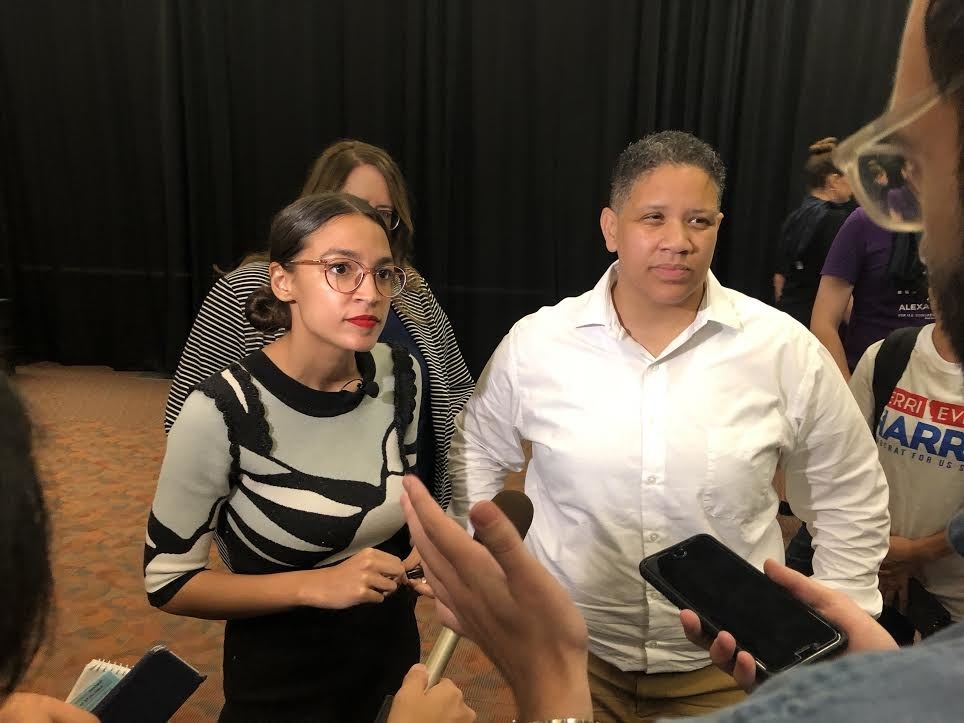 "We've changed the definition of viability, to be quite honest, it used to be numbers — fully how much money you brought in — but we've brought in people, which is far more important," Harris said of progressive campaigns that have focused on expanding the electorate and building coalitions of voters that have pushed progressive candidates to victory in recent primaries. "I always say we may be outraised, but we'll never be outworked."

In the wake of Ocasio-Cortez's June win over Rep. Joe Crowley, national political outlets have scrambled to not miss the next insurgent candidate to upset the establishment. "Is [insert progressive candidate here] the next Alexandria Ocasio-Cortez?" became a common frame of a wave of coverage of progressive candidates in the wake of the June primary, but Carper's campaign has fought to neutralize that narrative.
"I'm not Joe Crowley, and the people that know AOC and Kerri say that, with all due respect, Kerri's not AOC."
"I'm not Joe Crowley, and the people that know AOC and Kerri say that, with all due respect, Kerri's not AOC," Carper tersely explained to BuzzFeed News in a recent interview. Carper's campaign has also released an ad reminding voters that he's home often and takes the Amtrak from Delaware to Washington to fight for them.

Carper, a skilled retail politician, has been continuously representing the state in some capacity since 1976: as state treasurer, in the House, as governor, and in the Senate. It's a record Carper's proud of and one that Harris has said has disconnected him from the struggles of working-class Delawareans. She has pointed to his votes to roll back sections of Dodd–Frank protections that could potentially increase the likelihood of redlining — a Jim Crow–era practice of denying black homeowners mortgages in certain neighborhoods — as reason to change the perspectives in Congress.

Harris, a former mechanic who says she cut grass and worked at a gas station frying chicken to make ends meet for her children, has positioned her experiences as an advantage to voters: If she goes to the Senate, she argues, they'll have a senator who understands the struggles Delawareans face every day. She reminds voters that she's "in the trenches" with them despite running for Senate, recalling that in the early days of her campaign she dug into her jar of quarters just to afford gas to canvass.
"We have people who we elect who look down on us because we're struggling to make ends meet, and they question whether we have the ability to balance a budget — but they're millionaires and we have yet to see a budget that works for us," Harris declared at a recent town hall at the University of Delaware. "We need diversity of experience in our legislative body. If everyone's looking through the same lens, we're never going to have legislation that fully encompasses all of us."