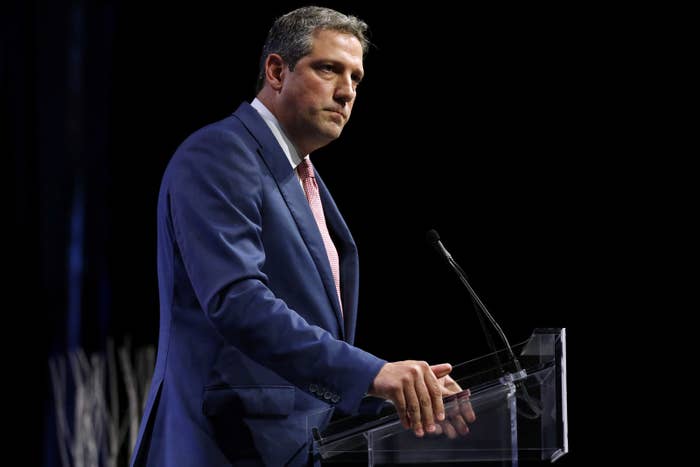 Tim Ryan, a representative from Ohio who challenged House Minority Leader Nancy Pelosi in 2017, pointed to exit polling that said Pelosi was a polarizing political figure to make his case for new leadership in the wake of Democrats reclaiming a majority in the House after the midterms.
"It's a strategic challenge ... Leader Pelosi should be commended for her all of her good work over the years, and made history ... and I was with her to help make that history," Ryan said on BuzzFeed News' AM to DM on Wednesday. "But now she's a very unpopular figure in many parts of the country ... the exit polls yesterday had her negatives at 55%, on par with Donald Trump."
Ryan said that electing new leadership is in the best interest of new members of Congress to make sure that they can get reelected. Through the course of midterms, a cadre of Democrats running in conservative-leaning districts campaigned explicitly on not supporting Pelosi's bid for speaker of the house.
Ryan, who decisively won reelection in a district Hillary Clinton won in 2016, said that the lesson for Democrats of his success is that the party should be focusing on bread-and-butter issues like jobs, education, and the opioid epidemic to win elections.
"I want to play a role in getting the kind of Midwest, blue-collar progressives back front and center of our party," the Ohio representative told BuzzFeed News, pointing to his own reelection and Sen. Sherrod Brown's as proof of the style working in a Republican-held swing state.
Later in the interview, Ryan refuted the notion that blue-collar candidates need to be white men to win their elections, something that lawyer Michael Avenatti suggested recently. "That's not what I'm saying — I think we saw both in Florida and in Georgia, we saw two very, very skilled African American candidates who came very, very close to winning in two red states," Ryan said, pointing to the gubernatorial campaigns of Andrew Gillum and Stacey Abrams, respectively.
"I'm not talking about what color — I kind of think we need to get past that, we need an agenda that resonates with everybody: white, black, brown, gay, straight — how we're going to lift people up. And there's a lot of different people that can do that."
Ryan, who has contemplated a run for president, delivered a raucously applauded stump speech focused on progressive ideals and pushing back on the president's attacks on prominent black figures like Rep. Maxine Waters and Lebron James to grassroots activists at the Netroots Nation conference in August.
Later in the interview, Ryan offered Americans a unique strategy for pushing back against Trump — meditation.
"Donald Trump's whole strategy is: How do I get people in fight or flight mode? How do I use fear to scare people into thinking I'm the strong man that's going to come in and save them — and mindful practices and meditation practices get your mind out of fight-or-flight mode."
CORRECTION
Hillary Clinton won Ohio's 13th congressional district in the 2016 presidential election. An earlier version of this post stated that Trump won the district.